Labrador Retriever Rescue of Utah
Rescue Update
At this time the Labrador Rescue is no longer in operation, We will however continue to post courtesy listings for needy Labs in the State. If you are an owner who needs to re-home a Lab, or an owner who needs to return a Lab, please e-mail the Rescue at utahlabrescue@hotmail.com. We will not be able to take in owner surrenders, but will gladly post them on our sites pending they meet certain health and temperament requirements. If you would like to make a donation to our Veterinarian, All About Pets, to help pay off the remaining balance from Labs saved, please call them at 801-375-5300 to make a donation. Any amount is greatly appreciated!


---
BIG Thank You's!!!
We wanted to thank everyone again for all the support through the years! It's been a wonderful experience, and we are so grateful for the lives saved and the kindness shown by all the shelter staff, volunteers, Veterinarians, and those who have donated. Thousands of lives have been saved, making our cause a successful one - we hope that our efforts will have made a positive impact, and that owners will continue to spay and neuter, and ethical breeders do rescue work and take back their own.
Thank you especially to our loving foster homes and volunteers! Without you this Rescue would not have existed and thousands of Labradors would not have been saved. You truly are angels!
To our wonderful Veterinarian's: Dr. Daines at the Salt Lake Spay and Neuter Clinic in Murray, and All About Pets Veterinary Services in Provo - Thank you so much for your kindness and excellent services to both the public and rescue groups! We appreciate the amazing work you've done, and the ethical services provided to Rescue and the public, thank you!


---
Who We Are...
We are Utah's first and only Labrador Retriever specific Rescue, started in the fall of 2002. The Rescue has also taken in many other sporting breeds such as Pointers, Spaniels, Weimaraners, Setters, and even some x-large working breeds. The Rescue was an all-volunteer run program where foster homes were used instead of kennels. Volunteers donated their time and money to help provide loving and safe homes for rescued dogs until their adoptive forever families were found.

Our goal is to educate the public about the Labrador and its over breeding here in our State. Through this education we hope to lower the rate of irresponsible breeding, increase the number of adoptions from City shelters and Humane Societies, which will lower the extremely high amount of purebred Labs and mixes being euthanized at our shelters every day. We hope that one day the shelters will be empty instead of full of Labradors, and that our Rescue will no longer have a need to exist! :) Please remember to spay/neuter your pets - the majority of Lab puppies in a litter will end up in a City shelter, and gassed to death, before their 2nd birthday. Labradors are the #1 killed breed across our State, and the Country. While they make fantastic family pets, their beginning years can be trying as they grow quickly, are large, and are very rambunctious and need training and activities to keep them out of trouble. If you are looking for a family pet getting a mature adult is the best choice - they are trained, out of the hyper puppy/young adult stage, and are eager to please and be a part of the family/home. If you have any questions about the Labrador breed, or the Rescue, please don't hesitate to contact us.


---
In Loving Memory Of Peykos...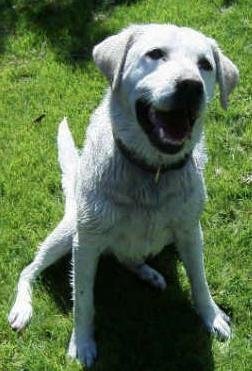 Peykos was a fun-loving, beautiful, sweet Lab that we loved so dearly. He was originally a rescued dog, but was adopted by the Rescue founder. He was a joy in her life, a wonderful companion, and dear friend. He will be sorely missed, but never forgotten, and always loved. The No Lab Left Behind program was started in Peykos' honor to help rescue and re-home loving seniors like Peykos from our City shelters.
---
Labrador Retriever Club and Rescue of Utah
Email: utahlabrescue@hotmail.com
Click here for a list of adoptable dogs at this shelter

---

[Home] [Information] [Shelters] [Search]