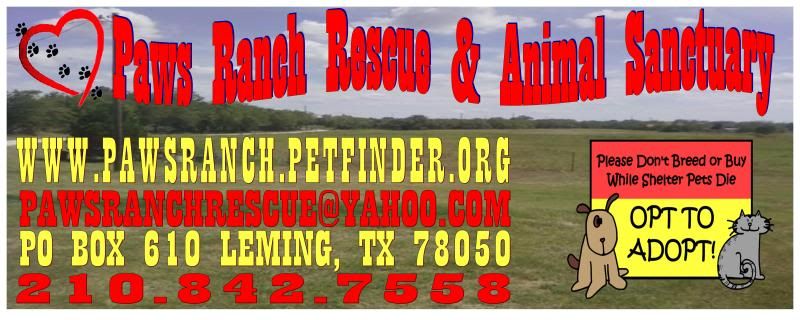 ---
Our Featured Pets...
News: Please, Visit us on our new site Click here
Have an old Car, Truck, RV, or Boat sitting around on your property? Have it haulled away for FREE and Turn it into a Tax Deductible Donation to Paws Ranch!!! Just click below to get started. Thank You!!!
Who We Are
Paws Ranch Rescue and Animal sanctuary 501(c)(3) non-profit organization (PRRAS for short) that got its start in 2010 thanks to a publicly voted grant from Pepsi. We exist solely on grants, donations, and the help of our dedicated volunteers. Our goal is to rescue, rehabilitate, and re-home or provide sanctuary to as many pets as possible. Dozens of abused, abandoned, and neglected animals have already been saved by PRRAS. More than 75% of all pets picked up by animal control services (ACS) are euthanized. The numbers are staggering. On average 1,500 pets die every month! We at PRRAS along with the Alamo Area partnership for animal welfare (AAPAW) and other local rescues are striving to make San Antonio a NO KILL city. You can help by getting involved. Adopt a less adoptable pet, foster a pet, sponsor a special needs animal, become a volunteer, donate funds, pet supplies, or food, educate friends and neighbors about the stray pet problem, spay and neutering, and encourage them to adopt instead of breeding or buying. Together we can reach our goal of No Kill!
Adopting a friend
One of the most rewarding things you can do is to give a second chance to an unwanted pet!
Please Email us at Pawsranchrescue@yahoo.com for an application.
An adoption fee is used to cover the following services.
All of our adoptable pets are:
*dewormed
* Spayed / neutered
* Up to date on vaccinations
*Microchipped
*Heartworm tested
*Seen by a vet
*and have their rabies vaccination certificate and tag
Paws Ranch Rescue and Animal Sanctuary 501(c)(3)
EIN #: 27-3058537
Phone: 210-842-7558

Email: pawsranchrescue@yahoo.com

Find us on FaceBook:
[Home] [Information] [Shelters] [Search]