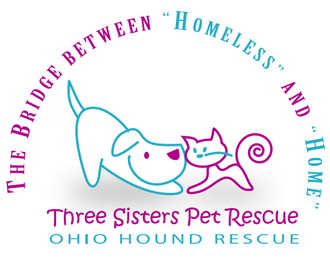 Three Sisters Pet Rescue/ Ohio Hound Rescue
The Three Sisters began as just that: Three Sisters! We have always lived in Cincinnati, and rescued pets from overcrowded and high-kill shelters. We've grown to a fostering group of 20+ and become a non-profit, but our mission remains the same! Once rescued, a pet has have time to live with us in our homes where we can temperment test them. We can see how they do with people of varying ages and other pets. We can help them heal from the stressful shelter environment by getting them the medical attention they need and by placing them in loving foster homes. We crate train our foster dogs and start the housebreaking process for you.

To adopt from us either call or e-mail to request an application. Once you are approved you will be invited to our foster homes for a visit. Our fees are modest because OUR GOAL HAS NEVER BEEN TO MAKE MONEY ON THESE TRANSACTIONS!!! We aim only to meet some of the many expenses involved in rescue work. All of our pets are spayed or neutered and current on immunizations before they are placed. While in rescue, we feed them high quality pet food. ****If you would like to help us keep our adoption fees low, please consider sponsoring one of our pets here:

****If you are adopting from out of state and need to have your puppy or kitty transported by us, the procedure is as follows: Once we approve your application we will send you both a contract and a request for payment. Be prepared to receive these within 24 hours and to reply within the next 24 hours! AS SOON AS WE ARE IN RECEIPT OF YOUR CONTRACT AND ADOPTION FEE, YOUR PUPPY OR KITTY IS LEGALLY YOURS! You can come out and pick him/ her up anytime. Or, we will be happy to help you plan your pet's itinerary. Typically the time from adoption to transport will be 3 weeks. However, it can take longer depending on the age, size and breed of pet. Or upon transporters' schedules. We are now asking our out of state adopters, who desire our help with travel arrangements, to make an additional donation. This helps with transport related expenses. Your pet will also need a vet travel certificate (required by law.) We follow all USDA guidelines for pets crossing state lines.


Cincinnati, OH 45238

Phone: 513-375-9075 for Jacquie, or 513-919-2298 for Jill, or 513-871-1877 for Lucy, or 513-503-7234 for Susan

Email: skhergert@yahoo.com

Click here for a list of pets at this shelter


[Home] [Information] [Shelters] [Search]