The Ferret Cubby & Small Animal Rescue
July 9th 2011 - The First Ever Ferret Show in Utah! At the Legacy Event Center in Farmington Utah. Saturday July 9th from 10 am - 4 pm. There will be vendors, raffels, silent auctions, a ferret costume contest, and so much more. Everyone is welcome --- FREE ---- Bring the kids for some Fuzzy Fun! Below are some of last years winners from the Boise Ferret Show.
---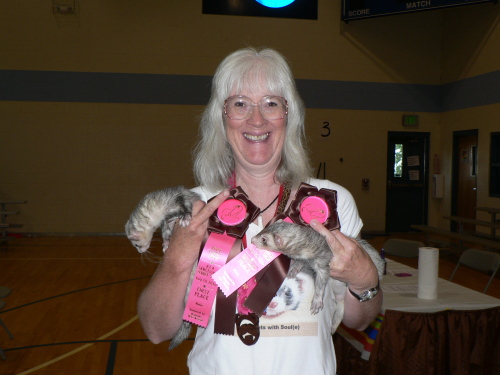 This picture is of Wiskers & Joshua who took first & second place in the Roan ring at the Boise Ferret Show. They are with their owner Beth who adopted them from the Ferret Cubby Shelter/Rescue.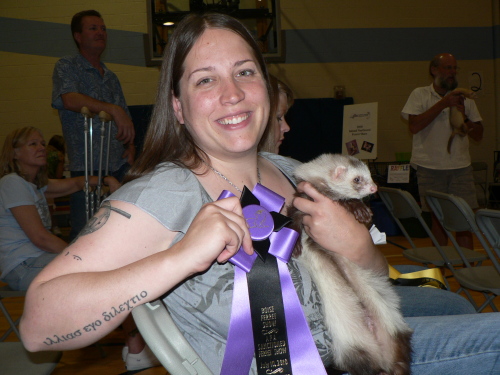 This Picture is of Beazaor and his Mom Nykol. He was adopted from the Emmett Ferret Shelter in Boise.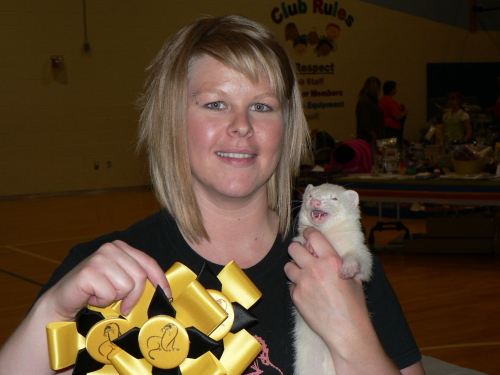 This is Sara and her ferret Max who she adopted from the Ferret Cubby Shelter. Max is one of the DMK kids from the big rescue in Ohio!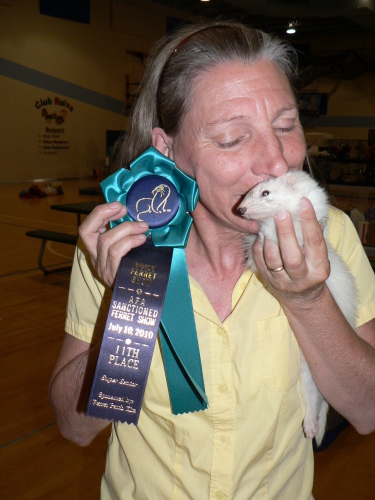 Pixie took 2nd place in the Physically Challenged ring. Pixie is blind. Val is Pixie's Mom and she is fostering her for the Ferret Cubby Shelter!

---
---
---
Map to our shelter

CURRENT NEWS!!!!
---
---
We do have ferrets for adoption!!! They are at our sister shelter in Boise. See their adoptable pets on petfinder. They are Essential Ferret Services. I will be in your area on July 7th, 8th and 9th and i can bring any ferrets down with me that we have been able to complete the adoption paperwork prior to those dates. So go look at the fur kids and call me at 208-697-2629 or email at theferretcubby@msn.com.
---
We Love and Encourage donations. We are a not for profit organization and donations greatly improve the lives of our shelter kids. Donation can be made by paypal to theferretcubby@msn.com or you can use the button below. Please consider helping the shelter today!
---
---
---
Surrendering a Ferret
---
I suggest you do a reference check on any shelter you are thinking of taking your ferret to. To do that go on line to www.supportourshelters.org. They have a list of shelters who are a part of their orginization. You can also go to www. ferrret.org for the American Ferret Association and see if the shelter you are considering is on their list. They are a national association for ferrets and most shelters apply to be on their list. If you do not see the shelter you are looking for on their list you can email them and ask if they have any information about that shelter. To Surrender a ferret, contact the shelter at 801-897-7713.. You can bring the ferret to the shelter, we can meet you half way or you can call for a pick up. Your friend will be well taken care of and we will work hard to find them a "Forever Home". If you have any questions, Please feel free to contact us anytime. Don't let anyone put your ferret down for lack of Help, WE CAN HELP!!!
---
---
Who We Are
The Ferret Cubby Shelter & Small Animal Rescue is a no-kill organization which provides services for stray, abandoned, or otherwise unwanted ferrets and other small animals. We provide shelter, care, medical needs and adoptions for these animals. We also provide information about animal care for anyone who asks. We hope that through education and contact, people will gain a better understanding of their pets needs.
Adopting a friend
Applications are necessary to see if a ferret or other animal is right for you and to learn what we can do to help you with caring for your new friend. For an Application please send email to : theferretcubby@msn.com. Note: We have reduced our adoption rates at this time to insure all of our Fur Kids find their forever homes. Normal fees will resume when our economic times improve. Normal fees are: $90.00 for a single and $120.00 for a pair. Thank you for adoption from a shelter! Adoption Fees Ferrets: $60 for Singles; $90.00 for a Pair; Special reduced fees for those that are on medication or have health issues. All ferrets are current on their shots, are fixed and descented, have had a vet check, prior to adoption. Cats: $50.00. Rabbits $15. intact singels, $25.00 pairs. Fixed singles $25.00, Pair $45.00.
---
Ferret Supply List These are things you should have on hand before you adopt a ferret. Cage - minimum size for 1 ferrets with, lots of out of cage time, 3'x2'x3', with at least two levels. Lots of out of cage time, at least 3-6 hours a day, if you canít do that, buy a bigger cage. They need at the very least 2 hours a day out of cage. 2 Hammocks, 1-2 sleep sacks, 1-2 blankets, 2 litter boxes, one in cage, one out of cage. Litter, preferably wood pellets. Ferret Food, not cat or dog food (you can buy my food mix, if you want) I use Totally Ferret, Shepherd & Greene, Zupreem, 8 and 1 Ultimate and Totally Ferret Kit. Any of these are good foods, but I do recommend that you mix at least two types of food. 2- ferret dishes that attach to side of cage, one water, one food. They are famous for dumping bowls that do not attach to cage. 1 Ė Water bottle (optional) Ferretone, Ferretlax or Laxatone, Nutra Cal, Nail clippers, Ear cleaning solution and q-tips, Toys: - No rubber, plastic or items that can be chewed up. They love bennie babies, paper bags, cat teasers, small stuffed animals, tunnel tubes or dryer ducting tubing, balls, cardboard boxes, etc. Be creative! They will even play with a crumpled up piece of paper!

---

---

Boise AFA Ferret Show July 2010

---

Call to set up an appointment to visit the shelter!!! See you then!!!

---

The Ferret Cubby & Small Animals Rescue
Call for Appointment

Bountiful, UT 84010
Phone: 801-897-7713

Email: theferretcubby@msn.com or annamariasymphony@gmail.com
Click here for a list of pets at this shelter


---





[Home] [Information] [Shelters] [Search]