Tanelorn Cavy Rescue
---
Our Featured Pet...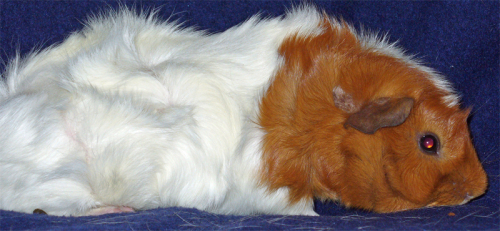 Bandit
News
Because of the major health crisis of a family member, the Tanelorn Cavy Rescue will, at least temporarily, no longer accept new rescue animals as of January 10, 2008.

However, we are committed to:

- Finding homes for our current rescued guinea pigs
- Serving as an educational resource for guinea pig owners
- Posting courtesy listings on Petfinder.com on behalf of guinea pig owners who must rehome their pets.

We are always accepting applications for loving foster homes.

We also graciously accept donations of supplies, our wish list includes:

Pets Preference Soft Texture Critter Litter and Bedding, Carefresh, or other recycled paper bedding; Oxbow Ecostraw, or Aspen litter
Oxbow Cavy Cuisine
Oxbow Cavy Performance
Timothy Hay or Orchard Grass
Bleach
Paper Towels
White vinegar
Old bath towels

Recently, we've been notified our vet's office will accept donations toward vet costs for our rescue guinea pigs care. If you would like to help us out with veterinary costs, you can send donation fund checks to:

All Creatures Veterinary Hospital
8414 W. 13th Street, Suite 170
Wichita, Ks 67212

Please mention Tanelorn Cavy Rescue in the memo line. Thank you!

Donations are ALWAYS appreciated!

Adoption Events
In conjunction with Petco East in Wichita, KS, we will now be holding adoption events the second Sunday of every month from 1-3 p.m. Come out and see us and meet some of our furry friends.

Petco East is located at 3050 North Rock Road in Wichita.You may call (316) 942-3800 for directions.


Who We Are
We are a small, privately run rescue specializing in cavies (guinea pigs). Based out of Wichita, KS we started rescuing in December of 2002, and have been able to find homes for many cavies. Tanelorn is a network of several foster homes in and around Kansas. There is rarely a time when we don't have a pig that needs a loving, forever home. Please look around and see if one catches your eye.
Adopting a friend
Here at Tanelorn, we ask you take a few proactive steps before you decide to get a guinea pig.

1. Research the needs of a guinea pig and see if they are a good match for you. Cavy Care Inc's Guinea Pig 101 has helpful information, as do Guinea Lynx, Cavy Spirit and Cavy Cages. Please also review our adoption information regarding fees and requirements!

2. Look over our available piggies, check for any special needs or personality types that would be a better fit for your situation. After you've done some research we ask you to fill out an application. The application is thorough, but this is only to insure we find the best match for both you, and the cavy(ies) you are interested in. A home check may be required.

Cavies by nature are social herd animals. We prefer to adopt out in non-breeding pairs or as a companion to another cavy of the same sex or an altered one of the opposite sex. Occasionally, we will have a cavy that is a loner and would be better in a single cavy environment.

Our adoption fee is $25 for the first cavy and $15 for each additional cavy.

After being approved and before taking your new furry friend home, potential adopters must sign an adoption contract. Because of the contractual agreement, Tanelorn Cavy Rescue must only adopt to individuals over age 18. If you are under 18, and interested in one of our guinea pigs, you must have a parent or guardian adopt them as a "family pet," with the guardian being the primary caregiver of the pet.

Once you have the application complete, e-mail or mail it back to us. It can take several days for us to review your application and speak with your references. Please be patient!
Come Visit Us!
Because we are a network of foster homes, visiting with our piggies is only an option to those with applications and an appointment.


---
Tanelorn Cavy Rescue
PO Box 3521
Wichita, KS 67201-3521
Phone: 316-794-2842

Email: tanelorn.cavy.rescue@gmail.com
Click here for a list of pets at this shelter

---

[Home] [Information] [Shelters] [Search]