SCAT Street Cat Rescue Program
CATS AVAILABLE FOR ADOPTION and Forever Homes Found

WEBSITE: www.streetcat.ca PHONE: (306) 955-7228
BLOGS:
Street Cat Rescue - Adoption Centre Blog
Donna's Teenie Tiny Kitten Tales
SCAT's Brag Book from Volunteers and Foster Parents to talk about their fosters.
JOIN US
Location: SCAT Adoption Centre on Faithfull
Corner of 50th Street and Faithfull Avenue, Saskatoon
Call 955-7228 for any additional information
Our current hours are Tuesday to Saturday from 11:00 a.m. to 4:00 p.m and by appointment when possible.

Become a member and learn how you, too, can be a part of the SCAT Team and help hundreds of cats every year!

We are also looking for new volunteers for all the following and more:

Foster Homes and Foster Committee
Feral (Outdoor) Cat Colony Management
Volunteers for the SCAT Adoption Centre on Faithfull
Volunteers for the PetSmart Adoption Center
Communications: i.e. Newsletter, Blogs and Websites

Regular Membership is $25 a year
Senior and Student Membership is $15 a year

There is a lot more that we could use help with, so if you have a particular area of experience or interest, pop by and talk to us. Even an hour here and there helps tremendously.

We hope you will feel welcome to help us help the cats.
---
UPCOMING EVENTS
Please see our event calender on the Street Cat Website
---
GENERAL NEWS & ITEMS
Potential volunteers are encouraged to call the CENTRE ON FAITHFULL at 955-7228 and/or pop by to pick up a volunteer application and/or to download the application and find out how they can help

2. Need an extra kitty "fix": Chum around with the cats at the SCAT Adoption Centre on Faithfull at 108 – 2750 Faithfull Avenue in the Heritage Business Mall and on the corner of 50th Street. We also need volunteers to help when we are at the PetSmart Adoption Center (there every other two weeks).

4. Kijiji Monitor: If someone is willing to jump onto kijiji, or another website or blog and keep SCAT cats' profile there, that would be awesome. It could be the perfect project for that person you know who wishes they could help but are on a tight schedule. It could involve posting an ad or an upcoming event, or drawing attention to the SCAT cats and our work and needs. Thank you.
---
FOSTER HOMES ARE CRUCIAL TO SAVE KITTENS FROM THE STREETS!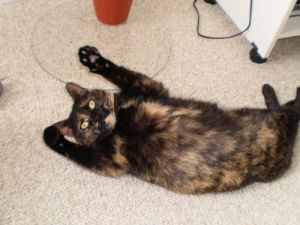 Find out More about fostering on our website.

BECOME A FOSTER HOME
The only way we can rescue little ones off the streets is if we have a foster home to put them into. That's where you come in. Even if you can only foster for a short period of time, it helps with the initial quarantine period until the kitten has time to socialize, go through the first medical treatment and has time to adjust to a different life style...all in preparation for finding that purrrrrfect lifetime home.

Want to help these little guys find a home? The Foster Committee would love to talk to you, and they will let you know what it takes to be a foster home.
---
LOOKING TO ADOPT: PLEASE NOTE
To schedule an appointment to visit cats/kittens in foster care, to visit our free-roaming cats at the CENTRE ON FAITHFULL, or to find out when our cats are at the PetSmart Adoption Center, please call
(306) 955-SCAT (306-955-7228)
Shelter hours are:
11 AM to 4 PM
Tuesday to Saturday

Scroll down for How to Adopt.
The adoption fee includes a great, super, fantastic cat....and spay/neuter, age appropriate vaccinations, testing for FELV/FIV, parasite treatment and identification (tattoo and microchip), as well as any other medical treatments that were deemed necessary for the cat.
Seniors 8+ - $60.00
Adults 1 – 7 - $100.00
Kittens – under 1 year - $120.00
Adoption Criteria
The following is required of all potential adopters:
1) Provide written permission from landlord to have a cat or kitten in the residence.
2) Bring a carrier to transport the cat.
3) Complete adoption forms, which includes an agreement stating that the cat will NOT be allowed to roam at large, will receive necessary on-going veterinarian care, will NOT be declawed, and should the situation arise, be returned to SCAT and NOT dumped or abandoned.
4) Agree to a follow-up Homecheck that will be arranged at a convenient time for both parties.
5) Pay the required adoption fee. ($ 120 for kittens, $100 for adults and $60 for seniors)
City licenses are available for purchase from the shelter. We STRONGLY recommend that you invest in one. It may very well save a lot of stress and pain for both you and your companion later.
VIEWING AT PetSmart: As the PetSmart store is open from 9 to 9, and unfortunately we are unable to man the PetSmart Adoption Center the whole time seven days of the week, PetSmart associates are available to help as much as possible, HOWEVER, the actual adoptions must be done through an authorized SCAT Adoption Counselor and usually at the CENTRE ON FAITHFULL.
We ask for your patience if you indeed find your furry soulmate. If interested ask the PetSmart store manager to contact us and/or leave a message at our shelter phone number and we will try to get back to you as soon as possible. We will make every effort to help you bring your new companion home as soon as we possibly can. Thank you for your patience and love of animals.
We make every effort to ensure that both parties, two footed and four, are happy with the final results of each adoption.
Find out more & download an adoption form here
---
MONTHLY GET-TOGETHERS
MEMBERSHIP MEETINGS. Contact the shelter about the next meeting. We invite everyone to attend. Find out what part you can play in saving lives!

Yearly Memberships: $25 Regular and $15 Students/Seniors
Guests Welcome

ADOPTION OUTLETS...
CENTRE ON FAITHFULL and the Preston Crossing PetSmart...
Pop by and visit us at the PetSmart Adoption Center at Preston Crossing or check out our CENTRE ON FAITHFULL (hours listed below).
SCAT has been a driving force benefiting cats in Saskatoon since 1996
January 25, 1997 was the official registration of SCAT as a charity. We thank all who have made it possible to continue over a decade of service to the community: volunteers, foster homes, businesses, sponsors, donors. Thank you.
---
YOU can help!
Can you do a Newsletter for us? Computers? Websites? Grant Writing?

University of Saskatchewan Students - SIAST students - Saskatoon City school students - want to take on a project for class that would also help the animals?

Any of your talents that you could share with the cats? Or do you want to do something you haven't done before? All would be much appreciated. See additional details below. The Cats thank you!
Calling all "Crafty People"!
We need a constant supply of cat toys and kitty blankets to sell for fundraising events. Your help would be much appreciated. Give us a call at the shelter if you need more information. PetSmart Adoption Center: SCAT cats are in the PetSmart Adoption Center for two weeks each month. Volunteer just one hour per week to spend time with the cats in the center. Job description: cleanup litter, give fresh water and food, attention to each cat, some playtime and cuddle time, speaking to the public about the program, the cats available for adoption, and our need for volunteers, foster homes, adoptions and funding.

CENTRE ON FAITHFULL: The Adoption Centre on Faithfull is a crucial link to the public. It needs to be kept clean and open for the public to appreciate visiting, spending time with the cats living there, and helping to find homes, fosters, and funding.

FOSTER HOMES: Foster homes are the VITAL link between a life on the streets and a safe warm loving home for these wonderful animals. They need YOU - a committed, responsible, reliable foster home - long term or short term - to help us get them off the streets.

FUNDRAISING EVENTS: The more people who volunteer at our events, the more money we can bring in, and the more animals we can help, the more medical treatments we can pay for, the more spay/neuter surgeries we can pay for.

COMMERCE STUDENTS/PROFESSIONALS/MENTORS: Help us make money. Your experience and/or training could greatly help us to make more money and thus help more animals.

COMPUTER PROGRAMMERS: HUGE NEED for easy access, easy use, web base, database for contacting our sponsors, donors, volunteers. It would be a HUGE help. Website design and maintenance.

ACCOUNTING: As our organization grows, so do our accounting needs.

REPORTERS/PHOTOGRAPHERS: A picture is worth a thousand words (and a few words in a story helps too)! Help us get the word out and save lives.

GARAGE SALE LONG TERM STORAGE: Location to remain set up for the summer would be PERFECT!

TALK IT UP: Spay or neuter! Spay or neuter! Spay or neuter! Cut down on the numbers living on the streets. Spay or neuter!

SO MANY OTHER THINGS...Just stop by our shelter and spend some time getting to know us and the animals living there. There are so many ways you can help.

EDUCATIONAL LECTURES/TALKS: Videos also available. Enquire by leaving a message at the shelter for Linda.
---
Who is SCAT?...
SCAT Street Cat Rescue Program Inc. has built a solid foundation and an excellent reputation of hard work and commitment since 1996. A registered charity, we work to support caregivers and potential caregivers, in both residential and business areas, by providing:
- funds for spay/neutering
- a helpline for such things as socialization, relocation, trapping, medical issues and neonatal kitten care
- a network between foster homes and adopters
- advice, moral support and hands-on assistance to businesses, acreage owners, and novice caregivers
- educational materials and information sessions to promote public awareness of the suffering of homeless/feral cats directly linked to non-compliance with the spay/neuter philosophy.
SCAT promotes the use of TNR (Trap-Neuter-Return) when it is in the best interests of a feral animal; however, we promote TNFA (Trap-Neuter-Foster-Adopt) whenever possible, especially for young kittens rescued from the streets.
We do not accept cats into the program who are given up by their guardians, HOWEVER, we will try to assist by encouraging them to place one to three head-shot photos and a brief description wherever animal lovers are sure to frequent such as vet clinics and pet supply stores. Classifieds and websites such as www.kijiji.com usually work well, but we recommend that you be particularly careful and we are willing to give you our adoption forms to use as a guide in your selection of a new and loving guardian.
We will also list the animal free of charge as a COURTESY LISTING.
We use a number of options to promote the availability of cats and kittens for adoption through our Quadrant website, our Petfinder website, a classified ad every Friday and Saturday in the Star Phoenix, other print ads such as with Neighborhood Express, radio PSA's and promotions such as with Magic 98.3FM, other sources of local media, as well as the best way: YOU. Word of mouth is the fastest and most reliable way of finding homes for all our great little furry friends.
Adoption fees are an attempt to recoup some of the costs involved in the on-going care of cats and kittens. All kittens are under a fourteen-day quarantine and cats a ten-day quarantine and a health checkup from a veterinarian. They will receive all necessary medical treatment, deworming, and identification. Every animal must undergo a spay or neuter surgery. If a kitten is under three months at the time of adoption, and has not as yet had surgery, then s/he MUST be brought back for the surgery at the appropriate time. Depending on time of adoption, if the kitten has not yet received the vet recommended booster vaccination due to age or health considerations, it is the responsibility of the new guardian to pay for this to be completed.
Each animal is given two forms of identification: tattoo in right ear and a microchip. We want to make sure that your loved animal companion is returned to you quickly, saving both you and your pet from a great deal of stress.
Lifetime health care and costs are the obligation of the new guardian.
---
Calendar of Events...
Call shelter for specific dates of events.
JANUARY
January 25 SCAT charity registration anniversary date.
Thank you to all who make it possible for us to continue our valuable life-saving work.
FEBRUARY
Spay/Neuter Month and Prevent-a-Litter Month
last Tuesday of the month is DDAF's Spay Day
MARCH
APRIL
SCAT AGM
Prevention of Animal Cruelty Month
Last week of April is National Volunteer Appreciation Week
MAY
Petsmart Adoptathon Weekend
Annual Garage Sale
First week of May is Be Kind to Animals Week
JUNE
Adopt a Cat Month
JULY
PETS in the PARK
AUGUST
National Homeless Animal Day
SEPTEMBER
Sep Petsmart Adoption Weekend
OCTOBER
4 - St Francis Blessing of the Animals
National Feral Cat Day
PET EXPO @ Prairieland Exhibition
NOVEMBER
"Home 4 the Holidays"
Adopt-a-Senior Pet Month
Xmas Mailout Fundraiser & Membership Drive
DECEMBER
First Saturday of the Month - Volunteer Appreciation Potluck
LOCATION
North Industrial Area
108, 2750 Faithfull Avenue
@ the corner of 50th Street and Faithfull Avenue
Phone (306) 955-SCAT
(306) 955-7228
HOURS OF OPERATION
Closed
Sunday and and Tuesday
11 AM to 4 PM
Tuesday to Saturday
FUNDING
Medical bills often exceed $3000 every month. During some months of the year they can exceed $8000.

Our primary source of income is you, the donor, through your generous donation. Other funds are raised through fundraising events as well as the sale of merchandise - mostly crafts that people have made for us and donate for sale, such as cat toys and blankets. There are many different items, often changing weekly, to help raise funds for much needed medical care and support for the cats.
Stop by and browse for that next gift for a family or friend - human or animal. Lots of one-of-a-kind items and gorgeous home-made crafts from our dedicated volunteers.

And, as always,
Donations, both financial and in-kind, are gratefully accepted.

Donations of Time are Priceless!
Send your generous donation today to the address below or Online Donations at the Canada Helps donation button
Privacy Policy - Your contact information will never be sold, shared or given out to anyone.
---
SCAT Street Cat Rescue Program
P.O. Box 31041, Saskatoon, SK S7H 5S8
Phone: (306) 955-7228
Fax: (306) 955-1037

Click here for a list of pets at this adoption centre
---

[Home]