LIKE US ON FACEBOOK
---
Our Featured Pet...
Meet Robi!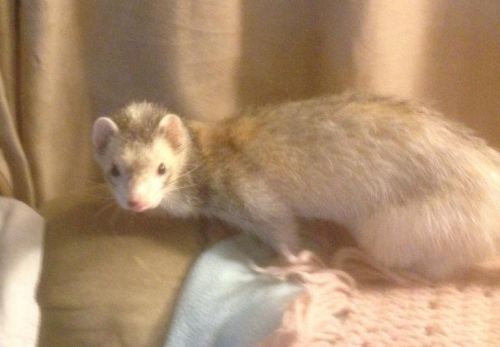 ADOPTED! Robi!
Robi is an adult ferret who has found himself looking for a new home that will pamper and love him. We do not know a lot about Robi's past, we were contacted to help with him after someone moved and left him with the roommates.
Robi is sweet beyond sweet! He LOVES to run around and explore! He does great with small children, cats and dogs as long as they are good with him he doesn't mind them at all.
Robi is or course neutered and de-sented. This sweet guy needs to find a home that will let him run around and play! Please go to our home page and fill out an application today if you think you are Robi's forever home! Please note we do not adopt out of state or further then we can do a home visit. Robi does have an adoption fee.
The first step in seeing if you are the right home and family for Jack would be to fill out our application. You can find our application on our home page on our website. www.spicer.petfinder.org
If you think you are this boys family and would like to meet him, please fill out an application today!
Can not adopt? Please make a donation in the name of this special pet!
News
We have many adoption events and fund raising events planned throughout the year, please check our event calendar to see where we are out and come out and visit!
---
Who We Are
We are a small group of dedicated foster homes working one animal at a time to bring down the number of homeless companion animals. We work towards quality rescue and placements as opposed to quantity. Our wonderful volunteers all work full time jobs and do this out of the kindness of their hearts. We provide medical care to all of our animals. All cats in our care receive all distemper vaccines needed to keep them current while in our care, all cats over 3 months of age receive a rabies vaccines, all are tested for Felv/FIV, all are dewormed and flea treated, all are micro chipped (registration included in adoption fee) and all are spay/neutered. All dogs in our care receive all distemper vaccines needed to keep them current while in our care, all dogs over 3 months of age receive a rabies vaccines, all dogs in our care receive a kennel cough vaccine, all are micro chipped (registration is included in adoption fee), all are dewormed and flea treated and all dogs are spayed/neutered. If any of our animals require treatment and/or care for an illness or injury while in our care we provide all needed veterinarian care to them.

We are a group that believes in spaying and neutering all companion animals to help reduce the population of unwanted animals euthanized each and every day throughout the country.


"Why You Should Spay or Neuter your Cat"

We are also strong believers that cats are born with claws and should keep them.

Here is a little history on our name. SPICER was created to honor the memory of one of my dearest and best friends, Lisa Spicer. Lisa and another very close friend were killed in a drunk driving accident on October 19, 1990. Shortly after Lisa passed away I was given a cute cuddly kitten, I named him Spicer in her memory. In March of 1996 Spicer my cat was poisoned with anti-freeze and died. This group and all the hard work of the wonderful volunteers is a tribute to the memory of Lisa and Spicer.

SPICER is a Federal Tax Exempt organization with a 501(c)(3) dated October 19th, 2004; the effective date is October 17th, 2003. We have worked so hard for this! Thank you to everyone who has supported us! We could not have helped all the animals we have nor could we continue to help the animals without all the kindness and support!
---
Adopting a friend
The first step to adopting a companion animal through our group would be to fill out our online application. Please let us know what pet you are interested in. Once we have completed all reference checks we will be in touch to let you know if you have been pre-approved or not. We will than set up a time for you to meet the pet of your choice. If all goes well one of our volunteers will set up a home visit. At the time of adoption there will be a contract that is filled out and a small adoption fee of $125.00 per cat (NOTE: dog adoption fee varies) will be required to help us continue to save animals in need. Our adoption fes in most cases cover the needed veterinarian and daily care for that animal while it has been in our care, there are times when an adoption fee might not cover all the cost associated with an animal, we do not not always ask the adoption fee to cover all, there are also times when an adoption fee might be slightly more then we have had to pay for an animals full care, we use the excess money to cover those animals who might not have an adoption fee cover their expenses.

Please be aware that all our cats are adopted into indoor only homes unless otherwise stated. We also do not adopt out of state, or too far away from our foster homes that we could not do a home visit. We are a group that feels strongly that declawing is cruel mutilation of the cats paws and for this reason all adopters sign a contract agreeing to never have the procedure done on any cat adopted through us. We do however sometimes have previously declawed kitties in search of good loving homes.

Click here to read a few articles on the beliefs that cats and kittens do better in pairs.


---
What We Need
Hi everyone!
We are asking you to PLEASE start saving your Rendner's receipts for SPICER!
What we need you to do, if you have not already done it, is sign up for the Save-A-Tape card at the office or customer service desk at your local Redner's Market.
Then shop! Shop like you normally do and save all your receipts, remember to have your Save-A-Tape card swiped for all shopping done at Render's.
Then mail them to us on a regular basis at SPICER PO Box 3126, Allentown PA 18106.
This is it, this is all you have to do! We will do the rest:) SPICER will receive 1% of your purchases minus tax, milk and tobacco product.
Please spread the word, tell all your friends to help! If you do not shop at Redner's then for sure ask around to your family, friends, neighbors to see if they shop there and ask them to save their receipts.
This is easy and it will help us to continue to help the animals! You can read more about the program at www.rednersmarkets.com. Thank you as always!
We are always in need of food and litter for our animals in foster care.
We use scoopable litter.
We use Verus dry food for both our kitties and dogs. We also HIGHLY recommend this food or a high quality food for all animals adopted from us. It is proven higher quality food results in lower waste, less food needed to be fed, lower illness and veterinary costs and over all better health for the animals.
We use most any type of canned food for our foster animals.
Cat scratching post and trees, Metal Dog Crates (we use these at our adoption days for our animals), toys and any other pet supplies most can think of.
We are always looking to expand our volunteer network.
If you are an animal lover who would like to help in the fight against homeless animals and over population, please contact us and we will give you more information on different ways you can help. One way you can help is to help man our adoption days, talking with possible adopters and giving information out about our group.

Computer nuts, would you like to help a great cause? We are looking for people to help in the design of our Petfinder site and keeping it current. If you know HTML and have some free time email us.

Vets, if you are vet or you know a vet who might like to help by donating their services to help in the spaying and neutering of homeless companion animals, please we need them! They will be helping slow the death rate of these wonderful innocent creatures.
Fundraising, we need fund-raisers! Come help us raise money to continue saving the lives of homeless pets. If you have ideas and are willing to put them in motion, please contact us.
Of course monetary donations are always needed and welcomed! Any monetary donation may be mailed to SPICER PO Box 3126, Allentown, PA 18106. Please remember we are a Federal Tax Exempt Charity and all donations are tax deductible just request a receipt for your taxes!
OR you can just click on our PayPal link and donate on line!
Poem from an adopter about one of our rescued kitties!
As I have always adopted all of my cats as "kittens", it has always been a more accepting experience for the innocent baby. Tina has made me realize how "adult" cats seek the acceptance, yet are much more fearful of rejection just like human beings. The repetition of assurance without any indication of annoyance proves to be the key. It was very easy for me to love Tina. Read on.

Adoring Tina

Stepping so softly, measuring her pace, approaches her destination, with curious face

More chances appear, confusing her mind, adjustment not easy acceptance in time

Her beauty within, grants access to love, like an innocent babe, a gift from above

Enrichment in life is all about her, opens my world, sweet bouquet of fur

Cindy Badway 12/22/2003
---
Come Visit Us!
All of our companion animals are located in foster homes. We do not have a shelter that you may come and visit. Please email us to set up a time to see specific animals you might be interested in.

If you have a donation and would like to send it to us, please send it to SPICER at PO Box 3126, Allentown, PA 18106-0126. Or click on this link to make a donation through our Pay Pal account.

Thank you so very much for your support!


---
Need Home Pet Care?
If you are in need of someone to come to your home to care for your beloved four legged fur babies, we recommend Peace of Mind Home Pet Care. Please contact Tanya, she is licensed, insured, and an experienced Veterinarian Technician with references.
Email for a quote: ThosMillWife@yahoo.com


---
SPICER Special Pets In Caring Environments Rescue
SPICER
PO Box 3126
Allentown, PA 18106-0126


Email: SpicerAnimalRescue@yahoo.com


LIKE US ON FACEBOOK
Click here for a list of pets located in our foster homes
---

[Home] [Information] [Shelters] [Search]