Sisters Animal Sanctuary
Our Featured Pet...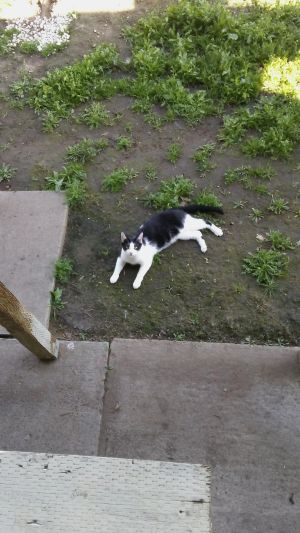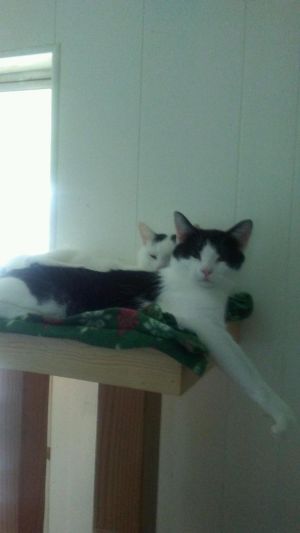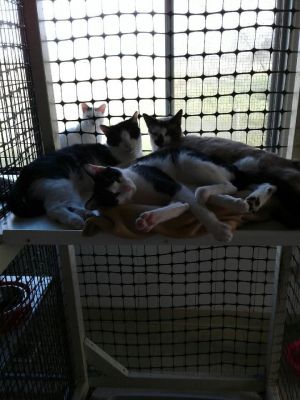 Eddie and Freddie are brothers and almost identical twins. They were found along with 4 other kittens in a pile of soot when they were 2 weeks old. They were reunited with their mother. Both boys are sweet and charming and full of energy. They also love their siblings Elsa and Smudge. The 3rd picture is of Eddie, Freddie and Horatio (adopted). They are all best friends. Smudge is in the background.f you are interested, please call 916-684-3313. The first step would be to fill out an application which we can email or fax to you. Once approved we can coordinate a meet and greet. There is a $50 adoption fee and Sisters conducts a home visit before adoption.


News
Sisters Animal Sanctuary currently owns a 20 acre parcel in Elk Grove, California, and is seeking funding to help expand our permanent life no-kill sanctuary. We are always looking for reliable and animal-loving people to volunteer at our sanctuary. If you are interested, please call (916) 684-3313 or e-mail us at sistersanimalsanctuary@frontiernet.net. Anyone wishing to donate to Sisters Animal Sanctuary can go to our website and donate via Paypal or mail a check to:

Sisters Animal Sanctuary
Mailing Address: 7625 Hendon Way
Elk Grove, CA 95758


Who We Are
Our mission is to assist animals by providing a place of refuge and protection and to arrange for good homes when possible. We are two sisters with a passion for animals and their welfare. We are committed to helping those animals that have been abused, forgotten, overbred, and generally overlooked by people who either don't take responsibility for their animals or donít care. Please go to www.regencyparkcats.org to see a major project we undertook and you will better understand our commitment to animals. Over the past several years, we have helped countless cats by trapping, testing, spay/neutering, providing all necessary veterinary care including a tip-to-tail physical, and finding them very good homes. We havenít forgotten about the dogs that need help too, but the immediate need appears to be the overpopulation of cats so we are currently concentrating our efforts on felines. But rest assured, if a lost or stray pup crosses our path we make every effort to find its owners or we find a new home that is appropriate for the dog. We also love feral cats and have created a feral cat habitat on our 20 acre property. The habitat is an indoor/outdoor facility but the cats cannot leave the habitat and are well taken care of. They are a part of our extended family and treated the same as our adoptable cats. We are also very involved in helping feral cats in our community and provide guidance and support to the members of our community who are willing to help feral cats. After all it's not their fault they were abandoned. Please give us a call if you need assistance in this area.
Adopting a friend
Our adoption fee is $50-100 to help cover the costs of testing, vaccination, spay/neuter, and tip-to-tail physical examinations and treatment when needed. If you are interested in adopting one of our precious cats, please contact us via phone or e-mail and we will e-mail or fax you an application.

If you are interested in sponsoring a cat in our sanctuary to help pay for their care, please contact us. Your sponsorship includes regular updates and photos.
Come Visit Us!
Our website is www.sistersanimalsanctuary.com Our website is undergoing changes and may not be complete as yet.
---
Sisters Animal Sanctuary
11480 Fogg Road
Elk Grove, CA 95757
Phone: 916-684-3313

Email: sistersanimalsanctuary@frontiernet.net
Click here for a list of pets at this shelter

---

[Home] [Information] [Shelters] [Search]