Date: _________ Name & Breed of animal interested in adopting:_______________________________________ Introductory Information: Adopter name: ______________________________ Home Tele.# ____________________ Work # ______________________Email Address_________________________________ Home Address:_______________________________________________________________________ Town:_______________________________State:_______ (Please note we do not do long distance adoptions.)
Have you ever owned a dog before? Yes No How long ago did you own your previous dog(s)?_____________ What breed?_______________ Were they spayed/neutered?_______ For how many years did you own your previous dogs?___________________ What happened to your previous dogs? Please explain.____________________________________________
Have you ever surrendered a pet to a shelter? Please explain.________________
Are there other dogs in the household now? Yes No How many?______ What breed? ___________________How old? ______What sex? M F Are they spayed/neutered?_____________________ Please describe their personality:__________________________
Do you have any cats or other pets now? Yes No What type? ______________________________________________ Are they spayed/neutered? Yes No
What happened to your previous cats/other pets? Please explain_______________________________
Who is the dog being adopted for?_______________ How many people are in your household? _________________________________________________ What is their relationship to you? ________________________________________________________ If children, what age and gender? ___________________________________________________________ Are all family members in agreement about adopting this pet?___________________
How many hours per day will the dog be left alone?_______________________ Is this permanent?_____________ Are you planning on crate-training? Yes No When and for how long will the dog be in the crate? Please explain.__________________________________________________Where will the dog be kept during the day? _____________________________ At night? _____________________ While no one is home?_______________
Do you live in a (place an X before one): ______Private Home_____Apartment______Condo______Other Do you rent or own your home? ____________Does the lease allow pets? Yes No Landlord?s name and telephone #: ________________________________________________________________ How long have you lived at this address? _________________________________________ If less than 2 years give previous address ___________________________________________________________ Is your yard fenced? Yes No What size and height fence? __________________________________________ If no fence, what method will you use to take the dog outdoors? ________________________________________ Will the dog be allowed to run loose outside a fence?________
What is your occupation? ___________________________How long have you worked there? _______________ Name and address of employer ___________________________________________________________________ What are your work hours? _______________________
What veterinarian have you used for past and current pets? Please include phone #. ___________________________________________________________________How often have your pets seen this vet?________________________ May we check with the vet as a reference? _________________________________________________________ Why do you want this pet? ______________________________________________________________________ What qualities are most important to you in this pet?_______________________________________________________________________________________________________________ What problems would cause you to have to return this pet?_______________________________________________________________________________ Please describe your household. (ie: active, quiet, noisy, etc.) _________________________________________________ Will you have this dog's ears cropped/tail docked?_________________
Is anyone in your household allergic to pets?______________ Will you spay or neuter your pet? Yes No Do you realize the cost of food and veterinarian care? Yes No Are you willing to take responsibility for this dog for the rest of its life, possibly 10 ? 15 years? Yes No Will you take this dog to obedience class if needed? Yes No
Thank you!
IMPORTANT- PLEASE READ: We purchase martingale-style non-slip collars for all our dogs to wear while in foster care and send them home with them when adopted. These style of collars are escape-proof and should be worn along with our Reacue ID tag for life. All dogs should be considered flight risks especially for the first several weeks in a new home, and can easily slip out of buckle collars or harnesses of spooked. We strongly recommend all dogs wear these collars at all times for safety and we order the Premier style collar from petsafe.net
Click here to learn more about martingale style collars and order one now
Please send donations to:
Second Chance Pet Adoption League
P.O. Box 221
Oak Ridge, N.J. 07438
Come Visit Us!
SECOND CHANCE DOG ADOPTION DAYS
EVERY Sunday 12:30- 3 p.m.
At the Animal Clinic of Morris Plains
3009 Route 10 E. Next to 5 Star (formerly Boulder) Car Wash, Morris Plains (Denville on GPS/mapquest)
Many dogs of all ages and sizes available, purebred and mixed
For more information call: (973) 208-1054
SUNDAY 12:30 to 3pm ONLY Call: (973) 366-2568
Second Chance Pet Adoption League
P.O. Box 221
Oak Ridge, NJ 07438
Phone: 973-208-1054
Email: njwoof@cs.com

Don't see the pet you are looking for here? For cats or other available dogs, try the Jefferson Pound or the Randolph Pound
Meet Buster, our "Therapy Dog"!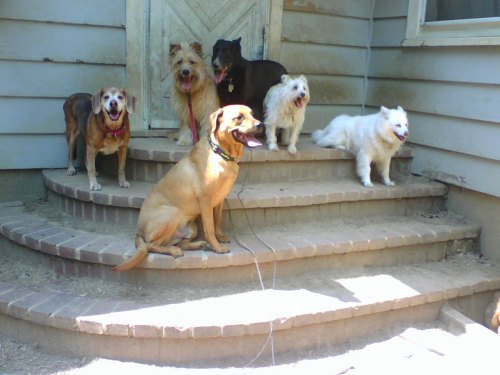 Buster is a unique dog with a job- he is a therapy dog for dogs! He is a 6 year old neutered male mixed breed who LOVES all female dogs, and more importantly they love him. He has a special talent for getting just about any female dog- no matter how scared, aggressive, dominant, or aloof- to be his friend. He is the official greeter in his foster home, befriending any new resident and helping them adjust faster. He has even helped dogs in other shelters previously labeled dog aggressive- he breaks the ice and has gotten several formerly hard-to-place dogs to learn to be dog-friendly and even be successfully adopted into homes with other dogs!

Sadly, despite his talent, our Buster needs some therapy of his own. He was rescued from an abusive situation and was terrified and emaciated when we got him. His original owners never brought him to a vet and did not socialize him, caging him when visitors came and purposely trying to make him aggressive. Because of his rough start, he is very fearful of new people, and protective of his home and owner. Most shelters/rescues would have been had to euthanize an unadoptable dog with Buster's issues, but he is so happy living in his foster home and is very sweet-natured and gentle with the people he trusts. He is content having a job and will dedicate his life to continuing to enrich the lives of the homeless dogs around him. After the hundreds of dogs he has helped, we think he deserves a safe place in which to live out his life!

We are very sad to announce that our founder and president Diane Becker passed away 3/18/09. In her 25+ years with Second Chance she was responsible for saving the lives of thousands of homeless p ets from area shelters. She was a great person and friend and we are grateful for the opportunity to have known her, and are committed to continuing her work.



---

[Home] [Information] [Shelters] [Search]