San Diego Pet Rescue
---
URGENT MESSAGE - PLEASE READ
Updated March 29, 2006

We are very sad to announce that Gina Gracio, founder and president of San Diego Pet Rescue, died in a car accident January 12th 2006. However since then we have taken over her rescue so we can continue to save animals in honor of her memory. She was a rescuer that would save any animal in need so we are trying to carry on her dream. We want to ensure everyone that all monies donated to the rescue goes 100% to the care of the animals. In doing so we ask that if you wish to donate please mail donations to:

Lakeside Veterinary Hospital
c/o Angela Doss
P.O. Box 2597
Alpine, CA 91903

Make checks payable to "Lakeside Veterinary Hospital" and include on the memo line "San Diego Pet Rescue Memorial"
---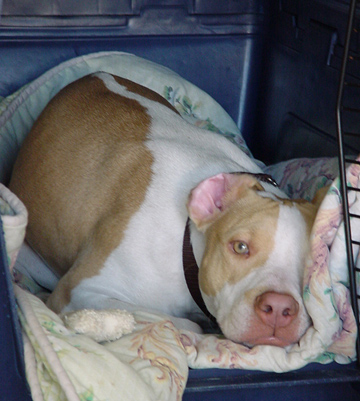 JOHNNY
OUR FEATURED PET


ADOPTIONS
* All potential adopters are carefully screened through our adoption process: by completing an application, which we will review to ensure you and the dog you are interested in are a good match.
*You will be visited by one of our volunteers to make a "home-check" to determine the level of safety and adequacy of the area for the pet.
*Our adoption fee range from $100- $250 for dogs and $100 for cats and $125 for kittens. SDPR survives solely on donations and it is for this reason that the adoption fee is non-negotiable.
*You must sign an adoption contract agreement, which ensures that if, for any reason, you are unable to keep the dog/cat, he/she is to be returned to San Diego Pet Rescue.
*Finally, we personally deliver your new family pet to your home.

WHO WE ARE
San Diego Pet Rescue focuses on rescuing unwanted animals either from owners who can no longer keep them or pets from local shelters who would otherwise be euthanized. They are then brought into our network of foster home program, where they are given a second chance at finding a loving home.
HOW YOU CAN HELP!
* You can FOSTER OUR DOGS OR CATS. WE ARE IN DESPERATE NEED OF FOSTER HOMES.
* You can become a sponsor for a particular dog or cat to cover all his/her expenses.
HOW TO MEET YOUR NEW PET! If you see a pet you are interested in meeting, please contact dossluvscritters@aol.com and we will respond within 24 hours with further information.
All our pets are in foster homes so we need to work around the foster parent's availability.