Safe At Home Pet Rescue
---
Our Featured Pets...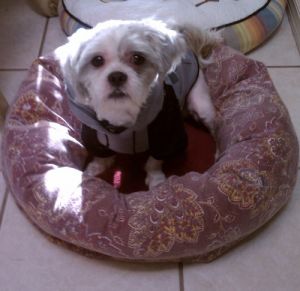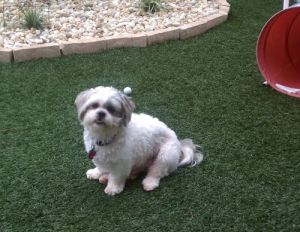 Please take time to consider the costs of owning a pet, your lifestyle and your ability to financially care for a new pet. Personal & vet references and a home visit are required as well as a premium diet is required. Adoption Donation applies . This is a lifetime commitment you are making. Please don't take it lightly. Please email for an application: prutzebeck@gmail.com
Urgent need for Foster Homes in Florida!!
Who We Are...
Safe At Home Pet Rescue, Inc is a non-profit organization recognized under Internal Revenue Code Section 501(c)(3). Your donation may be tax deductible to the full extent allowed by law. We have no paid employees, no paid directors, and no one is paid to answer the phone. This means that 100% of your much appreciated donation goes to support the animals in our care.Our organization is dedicated to giving unwanted or displaced small purebred and mixed-breed dogs a second chance and a new beginning at life. We are limited in what we can do by the number of foster homes, volunteers and donations that we have available to us, so please consider applying to foster or volunteer in any way you can. It takes a group of many volunteers to make this rescue effort possible. We serve the Central Florida area but will do our best to accommodate out of state adoptions when possible. We rely solely on the donations of private individuals and adopters to be able to continue our rescue work. Your donation helps to defer the cost of rescuing and vetting our pets in need. Our adoption donations range from $200 to $600 according to the age of the pet. We will occasionally accept other small animals in need if space is available at the time. Small pet adoption donations will vary. All of our pets are fostered individually, in our private homes. Often our older pets, and others, need more vet care than we dare ask for in their adoption donation requests. This financial gap needs to be filled by public donations, yard sales, holiday money raisers, an annual dog walk, or a special raffle. If you would like to help with some of those vet bills, in order for us to continue to help more animals, please send your donation to Safe At Home Pet Rescue. Thank you!
'WHY NOT FREE?' WHY ARE AN APPLICATION, HOME VISIT AND ADOPTION DONATION REQUIRED?
Ethical rescues have the animals in their care vetted at high quality veterinarian hospitals. This includes having each animal spayed or neutered; vaccinations are given; heartworm tests are done; fecal tests performed; heartworm preventatives are given monthly; flea and tick preventatives are used regularly. Each pet lives in a loving environment while they wait for their permanent homes. Keep in mind that non-profit rescues are not funded with tax dollars to pay these expenses, but are private organizations, operated by volunteers and funding comes from donations. Adoption donations do not always cover all expenses with many pets, but do help to defray some of the cost. Consider if you were to take a pet to the vet to be spayed or neutered, have a yearly exam, dental cleaning and receive vaccines, etc. What would this cost you? Depending on where you live, vetting your pet can cost $200 to $400 a year (barring any catastrophic events or illness), so consider this carefully when thinking about adding a pet to your household. There are always people looking to take 'free' animals, to be used for laboratory research, bait for fighting dogs, exotic pet food, or even the next meal on their table. Hopefully, our process helps to keep this from happening! Pet rescues have learned that people do not value something that is free and/or easy to get, and consider it more easily disposable. We therefore require that each applicant complete an application, provide a vet reference, personal references, and agree to a home visit by a rescue volunteer, which helps applicants understand rescue a little more and gives them an opportunity to meet in person some of the wonderful rescue volunteers who are helping to save animals every day. We believe that, somewhere, there is a home for every dog, but that we have a responsibility to place our dogs into homes that will best meet their needs, both physically and emotionally. We look for people with patient and loving hearts, and an understanding of the furbaby mind.
We would like to say Thank You to our most recent supporters for their generous donations....
**A BIG Thank You to everyone who donated to or attended our Yard Sale Fundraiser on June 11 &12th and made it a huge success! Your donations are greatly appreciated. **
Where our adoptable pets come from...
Every year, countless abused, neglected, abandoned or simply unwanted animals come into rescue organizations such as ours. Our pets come from local shelters, owners who can no longer keep their pets, or from breeders who wish to relinquish their breeder dogs.
Adopting a new Family Member...
Prospective adopters are required to fill out an adoption application. Please email prutzbeck@gmail.com for a application If inquiring about a particular dog, please put his/her name in the subject line. We cannot consider applications submitted by anyone under age 21 and rarely consider homes with children under school age. We place our dogs in the best suited home, not first come first serve. We will contact you for a phone interview shortly after we receive your application. Afterwards, we will contact your references and set up a home visit. If a good match is found, the pet is placed following the family signing an adoption agreement to keep the pet indoors, maintain his/her vaccinations and provide a good, loving home, etc. Please keep in mind that we are all volunteers and will work on your application as quickly as possible. It will help if you let your references and vet know that we will be calling to verify your application information. If you use two vets, please let us know so that we can get complete information. Lack of information may keep us from approving your application. A home visit is required for all adoptions. Out of state adoptions are welcome. Please be aware that WE DO NOT SHIP OUR DOGS CARGO. If you live outside of the dog's fostering state, we will attempt to set up a land transport for your pup. A typical land transport is composed of numerous volunteers driving a designated leg of the trip. We ask that the adopter, if at all possible, take the last leg or two of the trip. If we can not set up a volunteer land transport, then a transport for fee service may also be available for adopters along the eastern seaboard. In addition, you are free to make your own travel arrangements to pick up your little one from the foster home. Pets are often visited after placement and representatives maintain contact to help work with any questions or problems that may arise. Know that 100% of our adoption fee goes toward the vetting of rescues - we are all volunteers striving to make a difference in the lives of precious little ones. We do not use extreme temperament tests on our dogs that invite failure but rather interact with them as a loving family would and view how they react under normal day to day circumstances. Our goal is to place our rescued animals in warm, loving, permanent homes where all their needs will be met. If for any reason an adopter can no longer keep their adopted pet, it is required that the animal be returned to Safe At Home, as specified in our contract. Before applying to adopt a rescued animal, please consider the cost of taking on a new pet, the time and energy you will have to invest, and whether your lifestyle allows you to take on the responsibility of this pet. We hope you will find your new family member with us. Remember to take time to do your research. If you don't find a compatible companion through us, check your local animal control and save a life there. But do check back with us often as our website is updated regularly. If you do not see the pet you are looking for on our site, feel free to complete an adoption application and we will contact you when we may have a suitable match. Please understand we must be selective in our matchmaking process for the sake of the animals we rescue. They count on us to provide for their continued safety in their new lives.
The Fostering Experience...
Urgent need for Foster Homes in Florida!!
Please email prutzebeck@gmail.com for a application to Foster. Our rescued pets are lovingly cared for in the private homes of our volunteers. In this environment, they learn how to live in a home as a cherished family member. We provide our rescued pets with a safe environment, a warm bed to sleep in at night (usually ours) and nutritious, wholesome food during their fostering experience. Our pets receive monthly heartworm and flea prevention year round. While in our care, our rescued animals receive behavioral training emphasizing positive reinforcement. We provide for any medical needs that are necessary to make our rescued pets healthy and adoptable. They are up-to-date on vaccinations and are spayed or neutered prior to their adoption.
Patience is required on the part of the applicant...
Safe At Home is comprised of all volunteers who have very busy lives. Please do not apply if you are looking to get a new dog instantly, for it will take time to clear your application, find someone to do the home visit and possibly arrange for transport of the dog to it's furever home. These are necessary steps to help insure we are placing our dogs into well matched homes. Please keep in mind that we get quite a few applications. If we haven't contacted you to go over your application within two weeks, please follow up with us as things get busy in rescue. Please contact us by email if you are interested in adopting, fostering, or can volunteer your time and talents in other ways to help with our rescue. Safe At Home Pet Rescue would like to Thank You for your interest in adopting one of our rescued pets.
---
Safe At Home Pet Rescue, Inc.
Serving Central Florida
Email: prutzebeck@gmail.com

Safe At Home Rescue, Inc is a non-profit organization recognized under Internal Revenue Code Section 501(c)(3). Your donation may be tax deductible to the full extent allowed by law.


Click here for a list of pets lovingly cared for by Safe At Home Pet Rescue

---

[Home] [Information] [Shelters] [Search]