SACRED HEARTS ANIMAL SANCTUARY & HELPING HANDS
We are a 501c3 tax exempt organization. Your donations help the animals at the sanctuary stay healthy and fed, help us continue on saving animals in need also and help the general public, as we try to help with spays/neuters and vaccines for those who otherwise are unable to afford them on their own. Our feeling is that spay and neuter and education are the actual stitches that mend the homeless dog problem, where as adoptions are wonderful, but they are only a band-aid for a wound that cannot heal without the stitch. ~
Please read the puppy/dog profiles in their entirety before you email questions. I try very hard to answer as many questions as I can in the profile. Thank you so much for your understanding and for considering one of our homeless babies!!
Please follow us on facebook at www.facebook.com/sacredheartsanimalrescue
All puppies and dogs are completely vetted and healthy and application is required. Check out our adoptables or fill out an application and come visit all the dogs!! ~IF YOU ARE INTERESTED IN ADOPTING ANY OF OUR PETS PLEASE FILL OUT OUR ONLINE APPLICATION AT THE BOTTOM OF THIS PAGE ~ THANK YOU SO MUCH!! Please note that our adoption fee, at times, vary. Our adoption fee covers a completely vetted dog ~ this includes spay/neuter/vaccines/heartworm check and prevention/fecal and any other health problems that need corrected and a 24petwatch microchip. Our fees are reduced for seniors dogs and special needs dogs and all vetting is still provided, including the microchip. OUR WISH LIST We are in desperate need of donations at this time ~ especially dog Food (please see wish list above)!! We feed 50 or more lbs of food per day! We need large bottles of dawn concentrated dishsoap, this is used as a cleaning agent within the kennels, bleach and laundry soap for the blankets in the kennel area and beds to get the dogs off the concrete..... All of these things are on our wishlist above. Gas Cards would be very very helpful and since we order most medical supplies from jefferspet.com, a gift certificate from Jeffers would also be an awesome help! Our vaccines, dewormer and several other meds come from here.


GRACE
Before 4Feb10



After 22Feb10


Grace is a very sweet girl who has been with us less than a month and has taken every heart she has come into contact with. Grace has had a horrible life as far as we can tell, but nonetheless, she is a survivor. You see, Grace was shot in the face with a shotgun, by her owner from what we have been told. Grace is now completely blind and has a face full of buckshot.

On arrival Grace was full of confusion, she bumped things very hard and she would panic if you touched her head.... especially during sleep. Within a matter of days, the past began to fade and she made her mind up to survive and adjust. She now takes steps with ease, follows your voice when you are calling her, goes to the door when she needs to potty and knows where the crate that has her water in it is at. She also rests very comfortably and allows you to pet her head softly.

If nothing else, Grace is living breathing proof that pit bulls are not bad dogs.... not even the most horrendously abused ones. She is the sweetest dog you could ever meet, wagging and licking continuously... Please keep this wonderful breed and this precious girl in your prayers. A special thank you to all of Grace's Angels listed below.

Kelly McCafferty, David Canty, Brandon Dubrosky, Peggy Robey, Mary Jean Duncan, Heather Wallace, Stacey Lamp, Marianne Lordi, Michelle Audet, Michelle Audet, Melissa Miller, Lawrence Fiorillo, Jennifer Davies North, Karin Cigercioglu, David Risley, Dassandre DiPiazza, Brittany Harper, Janet Brown, Penelope Magnin
Grace thanks each and every one of you!



NEWS
January 2010 - We are now on facebook!



Jan10 - We want to thank all of the families who have adopted from us the last couple months, we could not keep going without you! We would love to start a foster program, if you would be interested in fostering please let us know, it would help immensely and it could be the difference in life or death to a rescue dog. We are having to say no to wonderful dogs who are on Euth lists......... Please be patient with us in answering emails, we are extremely full and have very little extra time. Please understand, we CANNOT answer every little question that is emailed to us, ... we do not have time to converse back and forth although we will try our hardest to answer any questions that aren't answered in profiles. We cannot send more pics, there are pics posted on profiles and those have to be sufficient. ************ We very much appreciate all the kind emails and the donations that have come to us lately, we very much understand that times are hard and it is a much bigger thing to donate money and supplies in such a bad economy, we so much appreciate every penny.... most donations at this time are being used to purchase dog food or vaccines. Thank you again. **********

HAPPY NEW YEAR!!.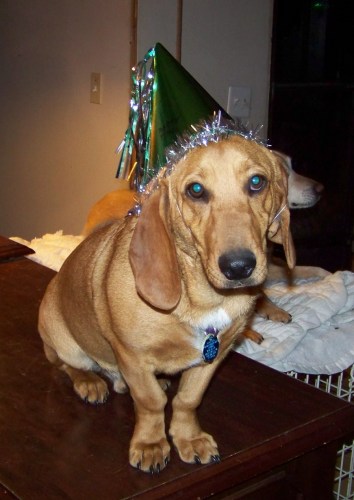 Barley Celebrating the New Year

For everyone who doesn't know Barley's story, he has been at our rescue for over 8 mos..... When contacted by a reputable basset rescue, who said they could take him in and have him a home by Christmas, we very tearfully let him move on. We felt it was only fair to him and we always try to do what is best for the dogs/puppies here and he had been here so long without finding a home. This was one of those times that you feel rescue is unfair, you love the dog so much but know you "shouldn't" keep one for your own. Evidently Barley had different ideas.

Barley's transport went off as normal (except for the sad hearts he left here) and he made it to near Buffalo, New York, where he was to spend the night with a wonderful family (Margaret Spittler and Emmanuel) who opens their home often to rescue transports needing a safe sleep-over. Barley, evidently decided that he was not spending the night in New York and broke away by slipping out of his harness. Unfortunately for him he was hundreds of miles from anything he had ever known...... once he realized this the fear kept him running, staying in the woods in the very hilly terrain.

I and a friend, with her daughter (Sherry Smith & Milena), headed to New York as soon as it was realized that Barley wasn't going to come to anyone. He immediately began acting as though he had never seen a human! After 3 days of searching we headed temporarily back to Ohio, figuring as soon as Christmas was over I would go back and hopefully return with Barley, if only I could see him I knew he would come. It was heartwrencing returning without him, knowing he was alone in the snow and hills, but my friend needed to be with her dog so it cut our search short.

While I was in Ohio everyone was searching actively for Barley in New York, everyday he was sited and every night he was heard barking in the hills all night long. Everyone in the area was so kind and knew of Barley's plight, we had so many phone calls that it was amazing. Even with all the caring people trying to save him he still refused to come to a human and although he had to be hungry, he was refusing to step foot into a live trap that was filled with smelly, tasty goodies.

Christmas day a phone call came from a wildlife rehabber (Elise Able), who on her own time had been watching over Barley, tracking him in the snow and setting the traps.... she felt Barley was frequenting an area that would eventually get him killed by coyotes. December is coyote mating season and they are very aggressive at this time, she informed me, and they would kill over territory.... she felt I needed to come back immediately or risk Barley being found dead. Again I and another friend, Foni Mendenhall of Stepping Stones Rescue, headed back to New York Christmas afternoon. I prayed the whole way there that Barley would be a Christmas present and our trip would be short and sweet. We searched for several hours Christmas night to no avail, Barley was no longer staying in any certain area, he was just running.

The day after Christmas (1 week after he broke loose) we checked traps, no Barley, and then began the search in the snow/rain mix that was hitting the area. Elise and I searched the field where she last saw him and found many tracks but no Barley. She left me alone after finding some fresh tracks in the woods, knowing that Barley would run from her if she was seen by him first. After several hours I felt I needed to regroup (and cry) and began my walk back to Margaret and Emmanuel's home. Margaret met me in front of her house (she jokingly says she found me in the ditch in front of her house) with the news that Barley had been spotted at a home about a mile away..... he was sitting in their backyard barking his head off. We headed out immediately and sure enough Barley was there, still barking just as reported!!! As I went towards him he began to act as if he would run again and in desperation I dropped flat to the ground, crying his name into the snow (I was desperate by now) and he came!!!! First eating the small piece of SlimJim from my hand and then immediately rubbing his nose all over my face...... I wrapped my arms around him, still laying flat on my stomach, and sobbed so loudly into his fur I am surprised he didn't run away again! It had been 1 week and 2 hrs since Barley had started on his journey. He came through it all unscathed, a little thin and a little dehydrated.... but happy! Lucky for him he is a good eater and started out packing a little extra (-:

Barley is our forever pup now. He was overjoyed to pull in our driveway and he has slept in our bed every night since returning, curled up with his head on my shoulder, peaceful and warm..... and he is ours.... permanently. On occasion I see him looking into the woods with a very intent look on his little face and I just have to wonder exactly what he is remembering..... wish he could talk.


I want to thank everyone involved for their prayers (I know in the end prayers saved Barley) and thank you to all of the nice people that were watching over him. I thank my wonderful friends for riding along and I mostly want to thank Margaret and Emmanuel for opening their home during Christmas to so many strangers..... That is the true spirit of Christmas that not one person involved will soon forget, including Little Barley........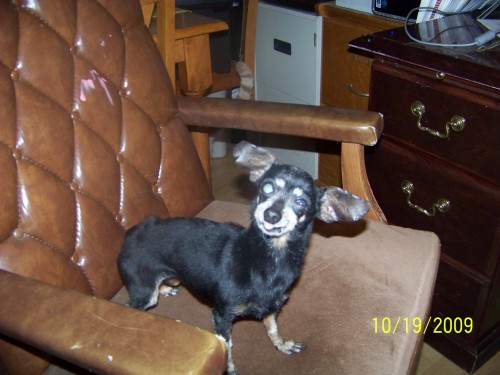 THUMBELINA - Please read her story....UPDATED
12-22-09-Little Bitty Thumbelina passed away peacefully in her sleep last night, curled up in a bed with 2 of her buddies here.....her family, who opened their home to special needs doggies, was already making plans to come pick her up this very day. We will never understand all of the why's, so many unanswered questions. Little Thumbelina surely deserved to be treated like a princess, not thrown away as she was. We only hope that her time here in our rescue was a happy one for her and that she is now at peace..... We were blessed to have shared her last couple months here on earth, we will never forget her cute silliness and her absolute love of food! (= Thank you everyone who inquired about, prayed for, donated to and cared about her.....Rest In Peace Baby Girl...... 11-11-09- Thumbelina has been with us for a little over a month now, we are not sure of the little girl's breed or her past, she is such a tiny tiny girl (maybe 2 lbs) with such a sweet and gentle demeanor. We think that she is at a minimum 13 years old and not sure but she could be even older. She was found in the middle of 4 lane highway and ended up in a kill shelter..... She can't hear very well out of one ear and she has one eye that most likely needs surgically removed. She also needs dental work before infection sets in within her mouth and we are desperately going to need donations to help her. We have putting all vetting off so she could recover from the respiratory virus that comes from the shelter, she is now doing very well in that area. Thumbelina appears to either have nerve damage from a previous ear infection or possibly stroke damage (I think that it was a previous untreated ear infection) and she always carries her head at a tilt..... unfortunately that is the same side her eye and ear is damaged on so we do wonder if all of the damage was from the same thing. Thumbelina is so cute and so sweet that you just want to hug her for hours! Thumbelina loves to follow you wherever you go, loves her supper, loves to cuddle and can melt you with her little head tilt and gentle face.... her wagging tail makes us believe that she is a candidate for help and shouldn't be given up on due to her age. We are seeking donations for her and we would be very happy to find a home for her! We do believe she deserves that and would love to find a selfless family that would give her the vetting she needs and a quiet retirement without all of the commotion that we have here. Please consider either adopting Thumbelina or helping with her vetting.... Thank you so much for reading her story!

WHO WE ARE
Sacred Hearts Animal Rescue is a small, home based, non-profit rescue. We are here because we love the dogs and we have seen many, many sweet, gentle, adoptable dogs in our county dog pound die unnecessarily, either of illness or from euthanization because they were just so full they just couldn't hold anymore. My husband and I volunteered at the local dog pound until I was haunted so horribly by all the innocent, pleading eyes that I knew I had to do something. I am an experienced rescuer, I have been fostering, nursing, vetting and adopting out animals for the majority of my 20 adult years. As a child I rescued, anything from orphaned or abused puppies, kittens or rabbits. My heart goes out to those Sacred Hearts of Innocence who have no choice but to live in a mans world and by mans rules.... no matter how unfair. Our rescues here are loved as our own while they wait on their forever homes, and we are also a Sanctuary, so if due to health issues or other issues an animal cannot be placed, they are free to live their life out with us, peacefully. We are truly a RESCUE, we aren't breed specific, rather we are need specific, and nomally we do not take owner turn ins.....on the occasion that we do take a litter of puppies from an owner, we require the owner to allow us to take your mommy and daddy to our vet and have them spayed/neutered. NEVER give your pet away unless it is to a reputable rescue! We, as a general rule, rescue the ones whose time is almost up or are too ill to be adopted out, we nurse them and love them and prepare them for their forever homes. We evaluate their needs, likes and dislikes and this all comes into play when you fill out your application for adoption. Our goal is for your home to be the FOREVER home, not just another stop on the already rough journey that these innocents have been on. THANK YOU FOR ADOPTING A HOMELESS PET.
WE DO NOT SUPPORT BREED SPECIFIC LEGISLATION ~ BSL ~ PLEASE EDUCATE YOURSELF AND STAND AGAINST THOSE WHO ARE TRYING TO ERADICATE A WONDERFUL, LOYAL AND LOVING BREED OF DOG DUE TO THE INGNORANCE AND ABUSE OF SOME OWNERS. PLEASE STAND UNTIL THE TRUE CRIMINAL IS PUNISHED, NOT THE INNOCENT DOG DOING HIS OWNERS WILL.


How You Can Help First and foremost ADOPT!!! But if you cannot adopt, there are many ways in which you can help the many shelter babies here at Sacred Hearts Animal Rescue. We are always in need of food, beds to get our rescues off the concrete, towels, blankets, bleach and TOYS, we never have enough toys! Our rescues love nylabone toys. We appreciate any and all donations and so do the many displaced shelter babies that reside here. If you are interested in donating anything, big or small, please contact us or visit our amazon wishlist below. If you would like to sponsor a shelter baby, please click the donate button below and be sure to specify who you would like to sponsor when you donate. Thank you so much for supporting our rescue and all of the homeless babies that reside with us.
SPECIAL THANKS We want to thank several special Angels for their continuing support of our rescue....... Dr Jenny Cowdrey for her continual support of our rescue, we absolutely couldn't keep going without such a wonderful veterinarian and staff!........... Brenda & Ed for your continuous donations to and prayers for our rescue. The treats, toys and nylabones are always enjoyed and you have helped save so many dogs with the vaccines, meds and food that your donations have provided and for being a Foster Mom for our Missy.......... Cyd Paugh for her continual support with regular donations, kennels, crates, beds and treats (and for her 2 adoptions!), you have helped make the rescues here comfortable and happy and have enabled us to rescue more with the kennel/crate space!........Patty Reynolds for the donations she has been sending to help the puppies............ Anja & Alan Shepherd for their wonderful donations of money, treats, blankets, toys (and their 2 adoptions) and Anja for her awesome, selfless contribution of running in the Flying Pig Marathon for our rescue! THANK YOU ANJA! Mostly thank you to all of the wonderful ADOPTERS! Without your kind hearts and willingness to open your homes to our rescues we would have no reason to exist and so many babies would die unnecessarily, we are forever grateful to each and every one of you. WHY WE REQUIRE AN ADOPTION FEE In order to continue rescuing and to feed and house the dogs/puppies that we save we have to charge an adoption fee. We are not gaining profit from this fee in any way. We are feeding, vetting, medicating and caring for many dogs that are homeless and none of this is free to us, it is all out of our pockets. Except, of course, on the occasion that someone does donate food/bedding/money etc, which we are always so very thankful for. Please try to understand that in order to keep rescuing, and hopefully if you are on our site you do care about homeless animals, we absolutely have to charge an adoption fee, so please don't question this. When you donate an adoption fee you are actually helping save another dog or house and feed one that still isn't fortunate enough to have already found their forever home, you are not "buying" the dog or puppy that you are taking home with you. Our adoption fee, at times, varies. Our base adoption fee is $175, if we microchip the rescue, it is $200. Our fees are reduced for seniors and special needs dogs.
OUT OF STATE ADOPTIONS We do allow out of state adoptions into stable, loving and permanent adoptive homes. You will be checked thoroughly and we will work with a rescue local to you to do a homecheck. We also will fly a puppy or dog to their destination at your expense, this ranges from $300 to $600. We will not fly any of our rescues to a state that requires connecting flights, if it is not straight we will not allow it. We will also work with rescue transports anytime that they are available. We do prefer that the family and all pets travel to us to meet their new family member before going home. We do thank all of the wonderful families that have traveled so many miles to pick up their new family members! BREED GUARANTEES We, at Sacred Hearts Animal Rescue, cannot guarantee the breed of the dog/puppy you are applying to adopt. We go by what the shelter has it listed as, as well as what we see when they arrive here or what the previous owners have informed us or the shelter of as far as breed is concerned. We cannot guarantee size, temperament, weight at adulthood or any other features that nature controls. WE WILL NEVER misrepresent a breed to find an adopter, it is not that important to have an adoption. It is only important that everyone, especially the rescued dog/puppy, to have a happy, loving forever home and that everyone is pleased in the end. We rarely have purebred puppies and even more rarely do we know who both parents are or who the many fathers of any given litter of puppies could be. Please don't expect 100% accuracy in this area, ever. If you absolutely have to have a purebred, you should look into the many purebred rescues and hopefully you will be able to find the exact dog/puppy you are looking for. Once again, we cannot guarantee the breeds or breed mixes of any of our rescues.

WHY ADOPT INSTEAD OF BUYING A NEW PUPPY????



I DREAMT OF YOU

I dreamt of you last night,
Safe and warm for once in my life
You were cuddling me and holding me tight
This dream of you made me want for my life to fight
I awoke this morning and you weren't here
But I can still feel you and I know you must be near

I dreamt of you again last night
For you I fetched a ball and lost at a tug of war fight
So happy I was to be free and full of health
To feel your love, yes I knew this was the true meaning of wealth
Yet I awoke again this morning and you still weren't here
But just like yesterday I know you must be near

I dreamt of you again last night
This night was harder though, I am so afraid I'm losing the fight
My small body is wasting and I am so sick
I'm afraid I won't make it unless you come rescue me quick
I can still feel you, I know you must be near
I cry for you now so maybe you will hear

I did not sleep at all last night
I have no energy left for the fight
My littermates are dying in this place called the pound
And I know tomorrow the warden Is forced to make his round
The old and feeble and sick shall go
I will be chosen, for this I already know
I cry for you softly, I thought you were near
But now I truly doubt if you even care to hear

My night was long, I am suffering so
When the warden carries me out, I am ready to go
He gently tells me I am sorry for your fate
You are a beautiful puppy, and for this I hate
I must end your suffering, for this is the rule
The one you dreamt of must have been a fool

Today you will start your day as you always do
Never caring how many times that I dreamt of you
Never knowing what a wonderful companion I could have been
If only the purebred puppy in the newspaper did not win
You thought of rescuing, but you bought instead
For this decision I now am dead

Written by Mary Bevens~Sacred Hearts Animal Rescue & Sanctuary
In memory of all the wonderful shelter dogs/puppies that die daily in the US due to irresponsible breeding. ADOPTING A FRIEND For the safety and happiness of our rescues, we do require an application be filled out and a contract to be signed. We only want one thing for each rescue that resides here and that is a WONDERFUL FOREVER home....and we feel we have the responsiblity to find that for them, with no exceptions. If you are sincerely interested in adopting one of our shelter babies, please see our online application below. We will review your application and contact you as soon as we possibly can. Please understand that we are a home-based rescue, and for the safety of our family we will not provide our address to anyone who is not an approved adopter with a completed application on file. Thank you for your interest in our rescues.
Our application is meant to be a tool to help us determine the suitability of a dog for a particular family. Some may not be suitable for small children, whereas some may need to be placed in a home with children because of their deep love for them. Some may need to be placed where there are other family dogs because they do best with canine friends. I thank you for inquiring on our rescues, they are all special and need special homes where they can enjoy the rest of their life with love and companionship. THANK YOU AGAIN FOR CONSIDERING A SHELTER BABY! INCOMPLETE APPLICATIONS WILL NOT BE CONSIDERED OR ANSWERED.. Please see application at the bottom of this page


937-779-2042 Sacred Hearts Animal Rescue
Winchester, OH 45697

TO REACH US BY MAIL:
792 Bethlehem Rd
Winchester, Ohio 45697
Email: forsacredhearts@gmail.com
Click here for a list of pets at this shelter

~♥~ Rescue Rainbow Bridge ~♥~ Unlike most days at Rainbow Bridge, this day dawned cold and gray, damp as a swamp and as dismal as could be imagined. All the recent arrivals were confused and concerned. They had no idea what to think for they had never experienced a day like this before. But the animals who had spent some time waiting for their beloved people knew exactly what was happening and began to gather at the pathway leading to the Bridge to watch. They knew this was something special.

It wasn't too long before an elderly animal came into view, head hung heavy and low with tail dragging along the ground. The other animals on the pathway...the ones who had been at RainBow Bridge for a while...knew the story of this sad creature immediately. They had seen it happen far too many times.

Although it was obvious the animal's heart was leaden and he was totally overcome with emotional pain and hurt, there was no sign of injury or any illness. Unlike the pets waiting at the Bridge, this dog had not been restored to his prime. He was full of neither health nor vigor. He approached slowly and painfully, watching all the pets who were by now watching him. He knew he was out of place here. This was no resting place for him. He felt instinctively that the sooner he could cross over, the happier he would be. But alas, as he came closer to the Bridge, his way was barred by the appearance of an Angel who spoke softly to the old dog and apologized sorrowfully, telling him that he would not be able to pass. Only those animals who were with their special people could pass over the Rainbow Bridge. And he had no special beloved people...not here at the Bridge nor on Earth below.

With no place else to turn, the poor elderly dog looked toward the fields before the Bridge. There, in a separate area nearby, he spotted a group of other sad-eyed animals like himself...elderly and infirm. Unlike the pets waiting for their special people, these animals weren't playing, but simply lying on the green grass, forlornly and miserably staring out at the pathway leading to the Bridge. The recent arrival knew he had no choice but to join them. And so, he took his place among them, just watching the pathway and waiting.

One of the newest arrivals at the Bridge, who was waiting for his special people, could not understand what he had just witnessed and asked one of the pets who had been there for some time to explain it to him.

"That poor dog was a rescue, sent to the pound when his owner grew tired of him. They way you see him now, with graying fur and sad, cloudy eyes, was exactly the way he was when he was put into the kennels. He never, ever made it out and passed on only with the love and comfort that the kennel workers could give him as he left his miserable and unloved existence on Earth for good. Because he had no family or special person to give his love, he has nobody to escort him across the Bridge."

The first animal thought about this for a minute and then asked, "So what will happen now?"

As he was about to receive his answer, the clouds suddenly parted and the all-invasive gloom lifted. Coming toward the Bridge could be seen a single figure...a person who, on Earth, had seemed quite ordinary...a person who, just like the elderly dog, had just left Earth forever. This figure turned toward a group of the sad animals and extended outstretched palms. The sweetest sounds they had ever heard echoed gently above them and all were bathed in a pure and golden light. Instantly, each was young and healthy again, just as they had been in the prime of life.

From within the gathering of pets waiting for their special people, a group of animals emerged and moved toward the pathway. As they came close to the passing figure, each bowed low and each received a tender pat on the head or a scratch behind the ears. Their eyes grew even brighter as the figure softly murmured each name. Then, the newly-restored pets fell into line behind the figure and quietly followed this person to the Bridge, where they all crossed together.

The recent arrival who had been watching, was amazed. "What happened?"

"That was a rescuer," came the answer. "That person spent a lifetime trying to help pets of all kinds. The ones you saw bowing in respect were those who found new homes because of such unselfish work. They will cross when their families arrive. Those you saw restored were ones who never found homes. When a rescuer arrives, they are permitted to perform one, final act of rescue. They are allowed to escort those poor pets that couldn't place on Earth across the Rainbow Bridge. You see, all animals are special to them...just as they are special to all animals."

"I think I like rescuers," said the recent arrival.

"So does God," was the reply.

--Author Unknown--




---





[Home] [Information] [Shelters] [Search]

Sacred Hearts Adoption Application