Sable Rescue
---
Our Featured Pet ...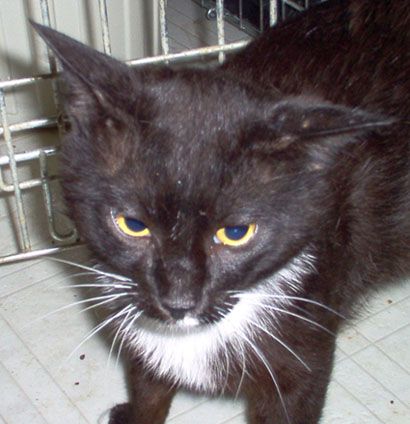 This is Carter, a really great cat and protector of kittens. He once protected two kittens from being killed by a male Maine Coon twice his size. Carter is also very out going and sweet. He even tolerates dogs well. He is just waiting for his forever home. Are you it?
News
Needed a donation of a digital camera that works. Ours was stolen! Does your dog protect you, your family and your property? Do you protect your dog or cat by giving him housing, food, water, shots and medicine when he is sick? Of course you do. Do you have an expensive, special or special needs animal? Does your cat ever get out of your house by accident? There is one thing you need to do to help you pet get back to you if anything should happen. Have him microchipped at Sable Rescue! For the low price of $15.00 you can add a life time of protection for your pet at no further cost to you. Why microchip? If your pet gets lost or stolen you have the security that he is microchipped. At Sable Rescue we use the 24Pet Watch microchips. They are the best buy in the microchip industry. Let me tell you about a microchip! A microchip is an encapsulated computer ship(about the size of a grain of rice) that contains a unique identification code. Microchips are usually implanted between the shoulder blades of most pets. The microchip is inserted using a hypodermic needle, in a process that is similar to a vaccination. Most animals do not react when implanted and since the chip is inserted just beneath the skin, any discomfort is minimal. Once implanted, the microchip remains under the skin for the life of the pet, thereby providing a permanent method of identification. The unique identification code can be identified(read)using a hand-held scanner available at animal shelters, veterinary clinics and animal control agencies. Clinics, shleter or animal control centers use the identification code when they call 24PetWatch Pet Recovery Center to find out the pet's identification information and reunite the pet with its guardian or owner. 24Pet Watch aslo includes a highly visable ID tag with each microchip. When attached to to the pet's collar, this tag provides external identification and alerts anyone finding your pet that the animal has a microchip and provides them with the 24PetWatch Recovery Center's toll free number. 24PetWatch offers you the support of the Pet recovery Team 24 hours a day, 7 dyas a week, 365 days a year. If your pet's collar is missing, the finder of your pet will be scanned for a microchip. These agencies will then contact 24PetWatch. You will be contacted by a 24PetWatch Pet Recovery Specialist or by the veterinary clinic, animal shelter or animal control agency that found your pet. Call Sable Rescue at 864 283-6211 or e-mail kathysable@yahoo.com to make an appointment to see an animal! We strive to make women who are fleeing abusive situations lives easier by helping them keep their pets. We do this so by helping them with temporary pet placement until they are back on their feet and have a home for themselves and their pets. Many women feel so unloved coming out of such situations. You just can't imagine what it is like. Many times they feel their pets are they only ones who love them. Abused women need total community support. Help with their pets is one part of that support.
Who We Are
Sable Rescue, Inc. is located in Greenville South Carolina. We pull animals under death sentence from animal control and shelters who do not have room for them any longer. We keep the animals until a home can be found for them. We support spay and neuter programs. If anyone needs help, please contact us and we will try to find an organization in your area. We also help with TNR programs for feral cats. If interested in helping feral cats, please contact us! Our information is listed below.
Adopting a friend
Our adoption procedure is simple, you fill out an application to adopt, then we check your references and do a home visit. Then, if aproved we will bring you your new pet to it's forever home after you sign a adoption agreement.
Come Visit Us!
All our animals live in private residences so call to visit one. We bring a pet you are interested in to you, no strings attached.
---
Sable Rescue
6 Saco Street
Greenville, SC 29611
Phone: 864 295-4007

Email:
Click here for a list of pets at this shelter >
---

[Home] [Information] [Shelters] [Search]