,
| | | |
| --- | --- | --- |
| | | Stray Feral Rescue/CatTown |
an all-volunteer, non-profit, no-kill, cat fostering and adoption organization also providing
education, resources, referrals, and advocacy to benefit all animals and the humans who love them
---
You can donate anytime by using this widget:)
We can only help as many animals as our funding permits.
Please help us rescue a record number of cats this year!
---
All our cats are special and would love a home of their own.

If you'd like to help but you can't adopt or foster, please consider a donation thru PayPal. On their site go to "send", pick friends and family, and use the email sue@strayferalrescue.org. We are sorry we don't have donation buttons but they kept sending our donations to the wrong account! Your donation will be tax deductible and we will send you a receipt. Every cent will go to the cats this way.

or if you want to click a button

to help us provide continuing care for for cats.
But they do take out about 4% in processing fees so not all your money goes to the cats. All donations are tax-deductibletho.
---
Cat in a Tree Emergency Rescue
If you've ever tried finding help to get a cat down from a tree, you've probably learned that the Fire Department doesn't do that anymore. Often, Animal Control won't do it either. On February 16, 2012, we assisted in the rescue of a little cat who'd climbed 20 feet up a power pole and couldn't get herself down. Besides the City departments, Xcel Energy, Xfinity/Comcast, and CenturyLink/Qwest were all contacted and refused to help. After the cat had been on the pole 28+ hours, through a night that dipped to 25 degrees F, we found Cat in a Tree Rescue. There we were referred to the fantastic Slibe Hodge of Slibe's Tree Authority (612-296-4245), who quickly, safely, and adeptly rescued the cat. Please note that Slibe has a network of other "climbers" throughout the metro area, and Cat in a Tree Rescue has contacts across the US and outside it. Through one or the other, you can probably find help for tree'd cats in your area.
LOW-COST SPAY/NEUTERS FOR FERALS
MN Spay Neuter Assistance Program has a Fix-a-Feral program that provides low-cost spay/neuter, vaccinations for rabies and distemper, topical parasite treatment, microchip, and ear-tipping for feral/outdoor cat. The price includes MN SNAP's great care, conscientious surgical services, and staff that is always helpful and kind. Remember, MN SNAP also serves pets. Click their link to read more about their complete services, eligibility requirements for pet owners (not feral caretakers), and how to contact them. In addition to their mobile surgical unit which visits a different town in MN each day, MN SNAP now has a stationery clinic in Minneapolis, Tuesday through Friday most every week.

Also see How You Can Help by becoming a MN SNAP volunteer or donor.
Who We Are
Stray Feral Rescue is a 501c3 non-profit, all-volunteer, no-kill, pet fostering and adoption organization also providing education, resources, referrals, and advocacy to benefit all animals and the humans who love them. As we have available volunteers and funding, we:
accept owner-surrendered pets for re-homing,
take in stray cats and feral kittens, foster them in homes not cages, and socialize them to be good house pets,
provide them all with necessary veterinary care and have them spay/neutered,
offer these pets for adoption to good homes where the animals' needs and nature are respected throughout their lives,
educate about proper pet care, feeding, nutrition, litter, training, grooming, and cat behavior,
help elderly and low-income pet owners keep their pets and keep them healthy,
provide free ("courtesy listing") Petfinder web pages for any homeless animal available for adoption,
address questions or concerns about adopted, surrendered, lost, found, or feral animals,
assist with trap/neuter/release (TNR) projects to limit the size of feral cat colonies,
network with other animal welfare organizations,
educate and advocate for animal welfare issues and animal protection,
welcome back any pet we've adopted out should that pet again be in need of a home.
However, we really can't do what we do without you. Please consider making a tax-deductible donation. Click here to use GiveMN.org:

sue@cattownrescue. and accept our heartfelt thanks! Checks can also be mailed to Stray Feral Rescue at the address at the bottom of this long, long page or you can donate thru PayPal using the address sue@strayferalrescue.org. We used to have a button but It kept putting the donations into the wrong account so we got rid of it.
Fostering
If you're interested in providing foster care for a homeless pet, please email us at sue@strayferalrescue.org to receive a copy of our Foster Contract and guidelines for the program. You can also call 715-268-7077. Then we'll make an appointment to come meet you and see your fostering facilities. You are free to adopt the pet in your care, or just help it along to its next home.
Courtesy Listings
While we are a small organization and often too full to take in more animals, we are happy to post your "finds" on our site. If you have taken in an animal and are trying to find it a good home, send us your photos and information. We will add it to our pages as a "courtesy listing," refer interested parties to you and, if you like, help you choose the best adoptive home. (You may post your finds directly to our Facebook wall, too.)

We may be able to help address other needs you have while fostering homeless animals, just call or email us.
VETS TO AVOID
Horrifically-abusive veterinarians have been in the news again, www.startribune.BrooklynPetHospital. Before you take your pet to a vet (or if you have a concern about a breeder), please review the Disciplinary Actions section on the Minnesota State Board of Veterinary Medicine web site www.vetmed.state.mn.us.da to be sure your vets haven't had serious complaints filed against them. You can read the complaints, actions taken, and court papers pertaining to license suspensions and revocations. It only takes a few minutes to do this and can prevent your pet's torture and death.

If your pet has been injured or killed by the cruel or incompetent actions of a vet clinic, please file a complaint with the Vet Board, www.vetmed.state.mn.us/cp, and contact the police department to file criminal charges. Just because a vet has lost their license doesn't mean they've been tried on the animal cruelty charges; it's up to you as the pet's owner to initiate that process. It may not save your pet, but it can save others. Don't let the cruelty continue!
Leaving Pets In Cars is Illegal and Can Be Deadly for Them in Summer or Winter!
The weather is warming up again and we want to remind everyone that your pets will be safer and more comfortable left at home than left in a hot or cold car for the few minutes it takes you to run into a store. Minnesota Statute 346.57 prohibits leaving a dog or cat unattended in a motor vehicle in a manner that endangers the pet's health or safety. It also gives police officers, humane agents, and others the right to break your car window to remove your pet, take it to an animal shelter, and ticket and fine you for leaving the pet in the vehicle. So don't take the risks---the one to your pet's life and the other to your wallet.
Lost & Found
If you've lost or found a pet, Petfinder.com has a lost and found section where you can search or add listings, but don't stop there! Check other lost & found sites like your city's, your local humane societies (like Animal Humane Society), Facebook sites (like Lost Dogs-MN), Craigslist, www.animalarkshelter.org, www.acsikennels.com, www.fidofinder.com, and www.tabbytracker.com. If you've lost a pet, don't forget to visit (don't just call--go look!) all the Animal Control offices and impounds in your area, too. Hillcrest Animal Hospital is now the impound for 30 cities in the east metro; if that's your area check with them for your lost pet, 651-484-7211, HillcrestKennel@rocketmail.com. You can also post a lost or found pet on Our Facebook Page.
A Note About Dogs
Please don't put 'em in choke chains, prong collars, or electronic zapping collars. Here's why:
Most reputable and humane animal care providers (including Oprah's dog trainer, Tamar Geller) call these collars "instruments of torture." Try a better way; visit www.theloveddog.com or the site for Victoria Stillwell's It's Me Or The Dog, www.animal.discovery.com/tv/its-me-or-dog/index.html.
Minnesota statute 346.37 subd. 3 prohibits the use of cruel training and handling methods or devices on companion animals, and there are strong arguments that these collars are cruel. (What about "choke chain" sounds like it feels good to wear?)
All of these collars are meant to be worn for short training periods each day for a few weeks, not all day every day for years.
In 2004 the North American Veterinary Conference put out a recommendation that dog owners not even use trainers who use choke chains, prong collars, or electronic collars because:
A survey of trainers indicated more than 30% were using the collars incorrectly and that most owners using the collars were also using them incorrectly.
Even when used correctly, these collars can easily cause serious and permanent physical and psychological injuries and/or death to dogs.
The injuries are not suspected by owners and can go for years without treatment until they are discovered while a vet is looking for something else.
The collars are ineffective. Like anyone else, dogs learn better and faster when treated with loving, kind, and patient methods rather than a system of pain and punishment.
Strays and Ferals
Strays are tame, friendly pets who are homeless because they were abandoned or lost. Ferals are members of a domesticated species (dogs, cats) who are born and raised as if they were a wild species---without human interaction and affection (socialization). (It can be very dangerous to handle unsocialized ferals without proper equipment and instruction.) Ferals instinctively fear humans as larger predators and will hiss, spit, claw---may even bite savagely---to scare off or get away from people. Many strays living outdoors will appear to be feral, running and hiding from people, too. A true feral, unless caught and socialized very young, will always be somewhat shy of new people, loud noises, and quick movements.

The ferals we offer for adoption have been socialized to humans to varying degrees. Some are very good housepets and will play with people but donít want to be touched; others seem just like ordinary, cuddly housecats until they hear an unfamiliar voice or footstep and run to hide. Some will grow more attentive and affectionate to people in time; others wonít. Any formerly-feral cat will need time to adjust to a new home, new people and pets, and sounds and smells. We will try to give you as much information as we have about the animals along with instructions on how best to care for and live with them. If we require special circumstances for the adoption of a cat, itís for the safety of the cat as well as the safety of the people, pets, and possessions in the adoptive home. If you feel itís necessary, please donít hesitate to ask for information and instructions in writing; weíll be happy to provide that.
Adopting a Cat Companion
Our rescue cats don't live in cages but in our homes and hearts and become part of our families during fostering, so we are very particular about how they'll be treated when adopted. We don't ever want them to be homeless, frost-bitten, infested, infected, neglected, starved, injured, or abused again.
We will not allow our cats to be let loose outdoors.
We will not allow our cats to be declawed or have covers glued onto their claws.
We will not allow our cats to live in unsafe, unkempt homes.
We provide each adopter with a copy of the cat's veterinary records, a listing of the foods the cat is used to eating, and the cat's favorite toys.
Our main focus is to find really good homes for as many animals as we can. We gratefully welcome tax-deductible donations of any amount to help offset our costs and allow us to provide as much vet care as we can for each animal's needs. So please give whatever you can. Checks can be mailed to Stray Feral Rescue 772 150th Ave, Amery WI 54001
or to Stray Feral Rescue, 1360 Riviera Avenue S,
Lakeland, MN 55043

Should your circumstances change and you are no longer able to care for a cat you adopted from us, please return the cat to us for re-homing.

Prior to scheduling an appointment to meet our cats, please email for a copy of our Adoption Application and Adoption Contract that cover all of our specific requirements. We ask that you read the contract carefully before completing the application and returning it to us.
Recommendations (Stuff We Love!)
Good nutrition is essential for your cats' lifelong health and wellness. We recommend grain-free canned and dry foods. Remember, dry foods are higher in calories so if your kitty is tipping the scales, try two meals of canned food a day, and nothing in-between meals.

After they eat, if they miss the litterbox? Zero Odor is the answer for stains and smells. We LOVE this stuff! Honestly, it handles every odor and stain. Order it online at www.zeroodor.com, and visit their Facebook page: Zero Odor.

Good pet furniture can save your furniture! We love the high quality, reasonably-priced, locally made-to-order products from TudTud's Cat Furniture of Oakdale. Check out their web site TudTud's Cat Furniture, and follow them On Facebook. Tell Tony that Stray Feral Rescue sent you!

Sadly, Little Tigers Cat Furniture has gone out of business, but Coats of Many Colors is their new business, "Painting Your American Dream". Call Andrew for estimates on your home or business painting projects: 763-639-7562.
---
The more you know . . . here are some books we highly recommend:
ASPCA Complete Guide to Cats by James RichardsThe New Natural Cat by Anitra Frazier

Food Pets Die For by Ann Martin

Twisted Whiskers by Pam Johnson
---
In Loving Memory
Since we work with stray and feral and elderly cats as well as cats that have been abused and injured, these precious creatures have generally been through a lot before they come to us. Their systems may have been weakened even before birth by their mothers' exposure to viruses, starvation, and poisons in the environment. After birth, their little bodies may have been damaged and drained by parasites and lack of sufficient nourishment. As they grew up, they may have been further compromised by extreme temperatures, animal attacks, and traumas of every sort including abuse. Some come to us in such horrible condition it's clear to see what kind and how much extensive care they need. Others seem strong and healthy and (thankfully!) are. Others are masking serious problems that may or may not take their lives in the long or short term.

We do everything we can to support the healthy lives of the small ones in our care but sometimes, no matter how we endeavor to save them, our efforts fail. Those are heartbreaking days, and weeks, and memories. We never forget those we've loved.

But we try to focus on the positive:

the time (however short) these animals had just being loved and given what they needed,
the careful attention they received after living through neglect and deprivation,
the comfort they felt instead of fear and anxiety.

Instead of suffering and dying in the streets, cold, injured, or ill, most of these Stray Feral Rescue cats have died gently in the arms of people who loved them completely and unconditionally. We should all be so lucky.

"To know even one life has breathed easier because you lived, that is to have succeeded." Ralph Waldo Emerson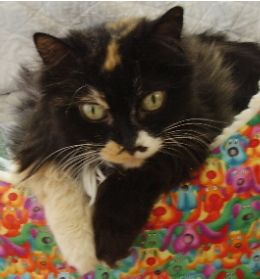 Charade, Our Funny Valentine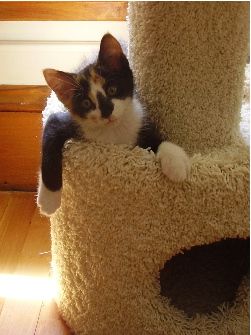 Moxie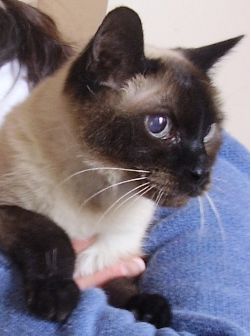 Dear Old KiKi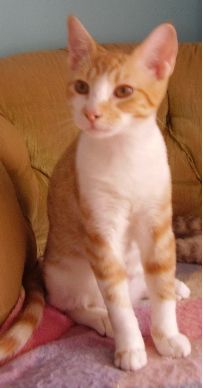 Sweet Boy Jimmy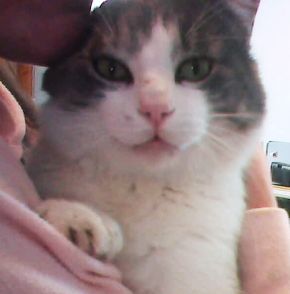 Walt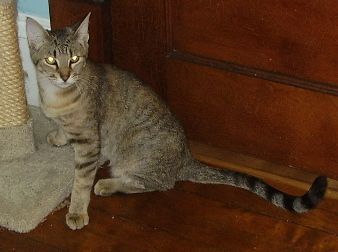 Bren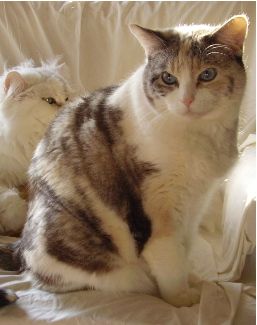 Tabitha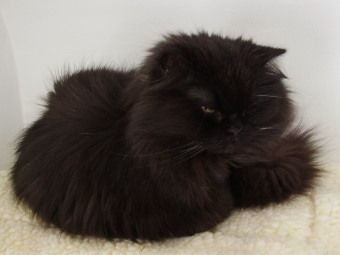 Flaar-bear, our Cuddly Curmudgeon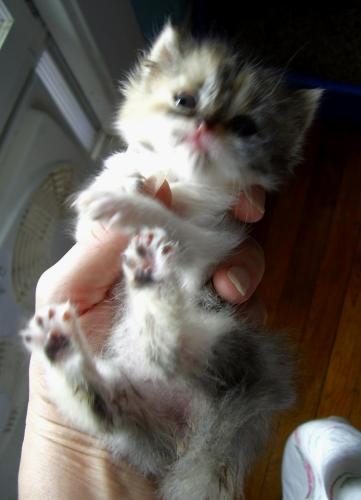 Little Ducky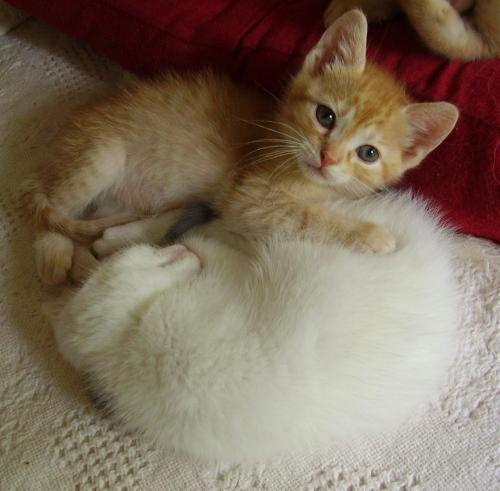 Fitzwilly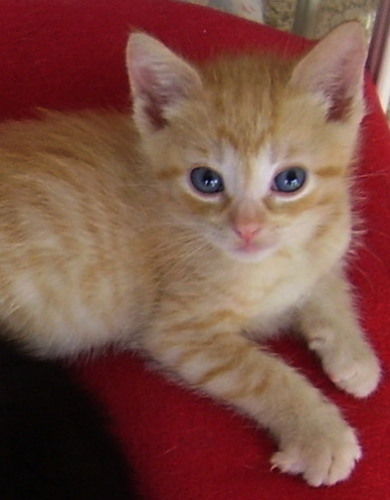 Lexington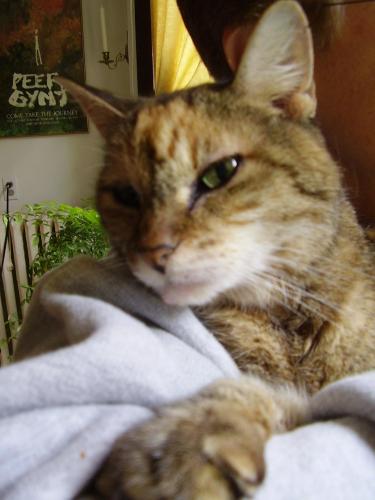 Old Aunt Bea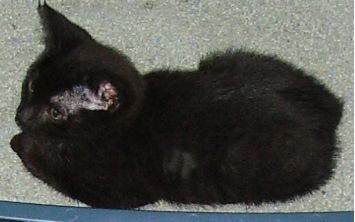 Ethan, adopted 2006, died 12/10/11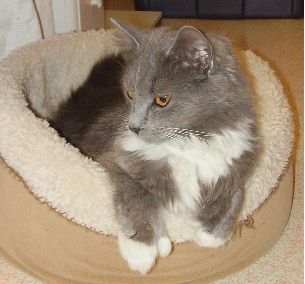 Prima, adopted 2008, died 5/11/12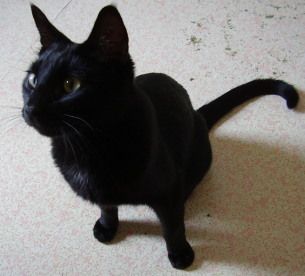 Forpaugh, adopted 7/2010, died 8/2012

Azores, died March 14, 2014
---
Stray Feral Rescue
1360 Riviera Avenue S,
Lakeland, MN 55043

Contact us at:
772 150th Ave
Amery Wi 54001
Phone: 715-268-7077

tr>

&nbsp &nbsp

Please call or email strayferalrsq@amerytel.net for an appointment to meet our cats in their foster homes.


Click here for a list of adoptable pets.
---

[Home] [Information] [Shelters] [Search]