TO MEET DOGS, PLEASE CONTACT ME BY PHONE OR TEXT 314-504-5148. PREFER TEXT IF POSSIBLE
If you live near or are willing to come to the St. Louis
area, we are happy to make arrangements for you to
meet dogs at a mutually convenient time. We will need
to have an application in hand before a meeting takes place.
We check our email several times a day.
_______________________________
Portia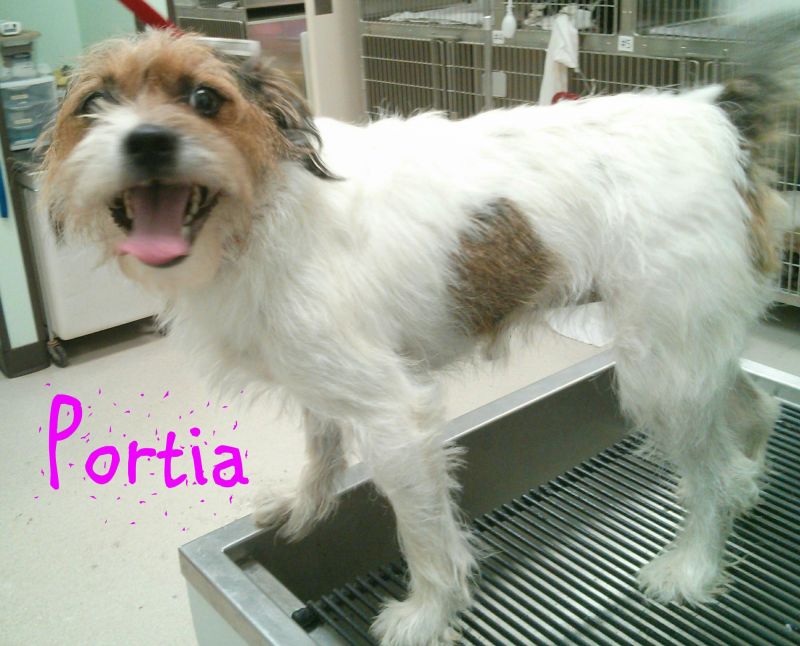 Portia is a 3 year old shih tzu/terrier mix. She's looking for a safe and loving home. She's a total sweetheart and would love to be your best girl.

Portia is spayed, up to date on all shots, heartworm negative, on heartworm/flea preventative and is microchipped. Her adoption fee is $200 with all vet work done.


_________________________
All of our dogs are in fostered in our homes. They are fed premium dog food, temperament tested, altered, vaccinated, heartworm tested, on monthly heartworm preventive, and fecal tested prior to adoption. RCCR does not adopt out dogs on a first come, first serve basis. Because we want this to be a permanent adoption, we will place the dog in the home best suited for him/her. We can not hold dogs for homes that are not ready to adopt yet or have not yet been approved. RCCR is 100% spay/neuter prior to adoption. We do NOT make exceptions so please do not ask. If we have puppies available, they will not be available to go to an adoptive home until they are spayed or neutered.
Ready to Adopt? Follow these Steps:
3
-Once your application is received it will be reviewed by our Board of Directors. This involves checking the references you have provided and scheduling a home visit. A home visit involves a rescue volunteer coming to your home and visiting with you. All family members and pets must be present at the time of the visit.
4
- If you are approved, we will require you to sign an adoption contract and pay an adoption fee.
_________________________
We absolutely love the feeling of helping animals in need, and would like you to feel that joy also. Frequently dogs come into our care that suffer from injuries, chronic illnesses, abuse, neglect and in some cases all of these horrible things combined. As a result, they need specialized treatment including Veterinary care, prescription medicine, surgery, special food, behavioral training and much more. Sponsoring a dog helps-offset the costs of providing food, shelter, spay/neuter surgery and veterinary care and much more. Because Adoption Fees only cover part of our expenses- your donation is a greatly appreciated balance.Most of the dogs that face these challenges would likely be considered lost causes at other shelters and destroyed as a result. At River City Chihuahua Rescue we allow all of our rescued dogs as much time as they need to find a special owner who can care for them. After adoption we continue to provide support and the promise that we will always accept the dog back if the owners circumstances change, no questions asked.
To make a tax-deductible donation to support Dogs in need,
Please send your check or Money order to:
River City Chihuahua Rescue
_____________________________
In August, 2006, we branched off from a long association with Chihuahua Rescue and Transport in order to have a more local focus. We love CRT and are modeling ourselves after the high standards of that wonderful organization. You may have noticed that we have also branched out from chihuahuas. As we were doing shelter pulls, it became harder and harder to pull chihuahuas for rescue and leave behind other small breed dogs that we knew were highly adoptable. So we started taking them also. Chihuahuas are first in our hearts but we have been very successful in finding wonderful homes for doxies, miniature pinschers and various terriers. If we have the means, the desire and the drive to rescue them as well, how could we not? I guess we should start calling ourselves River City Canine Rescue. River City Chihuahua Rescue is a non-profit organization in the state of Missouri with 501(c)3 status as granted by the Internal Revenue Service. We have no paid employees. We are a local, internet-based organization dedicated to the rescue, medical care and adoption of stray and homeless small breed dogs in need. We help control the growing overpopulation by spaying and neutering all dogs in our care. We provide all necessary veterinary treatment and place them in foster homes until they are adopted into forever homes. Whenever possible, RCCR also raises public awareness regarding the abuse and neglect of small breed dogs as well as overpopulation caused by not spaying and neutering.
__________________________
RECOMMENDED GROOMER
RECOMMENDED VETERNARIAN
SPECIAL THANKS
OUR WISH LIST
YOUR NEW CHIHUAHUA
FACEBOOK
RENNY & LOLA
This free book guides you through the first seven days of
Adopting a Shelter Dog
.
With seven simple lessons, the book helps you ease the transition from shelter life to home life for you and your pup. You can download your copy
here
.
_____________________
'Think occasionally of the suffering of which you spare yourself the sight.' ~ Albert Schweitzer