Adopt Rats (Petfinder)
Due to Kimberly's severe and life-threatening health issues, Rattie Love Rescue will be going on a hiatus until further notice. All rats are spoken for, no rats are left. Thank you!
If you came to this page straight, and not through our website (rattie-love.com), be sure to check out the links to the right, so you can really get a feel for who we are and what we do! We are located in Cincinnati, Ohio and rescue rats.
Please note - We are "test driving" a new concept for a few months... Instead of having a set fee for rats being adopted, we now require for a donation to support us and offset costs. We will remind all adopters that we need these donations to run! Your adopted rat(s) were in our care, and during that time, we housed and fed them and in many cases, provided vet care. Please keep that in mind!
Adopt A Rat!
See who's available for adoption at Rattie Love Rescue.
Please note that rats currently in quarantine may not be listed. We have some other rats that we are working on getting up (we've been swamped with ill rats lately and just haven't had the time!), so inquire about rats not on Petfinder if you'd like.
How To & Some Rules
We don't have a lot of rules, but we do have a few, and we do have a process one must go through to adopt from us.
All rats must be adopted in pairs OR there must be other rats already at home. We prefer that you adopt in pairs or more, regardless, so the rats are not alone at any point and time - during quarantine or introductions. It's always nice to have a friend you know! Some rats will be listed together and in those circumstances (unless noted), those rats must stay together.
You must be 18 years of age or older to adopt from RLR. Parents wishing to adopt rats as family pets must go through the process themselves. We do want parents to remember that children do loose interest in pets, and parents need to be willing to step up and take over care when this happens. We get in rats from situations where the parents assumed the children were caring for the rats, and they were not. The parents wanted nothing to do with them! Please don't let this happen to the rats we save. Thank you!
We do not sell rats for food, for experiments, or to be used in the classroom.
The process is simple! You'll fill out an adoption application and send it back. We will check the references (vet, landlord when needed) and get back to you with our decision. Any problems we have, or questions we need to ask, we converse with you before deciding. Once approved, plans to pick up your new friends will be made! A contract will be signed at the time the rats are turned over to their new parents. We also provide a packet for you, filled with information all about rats.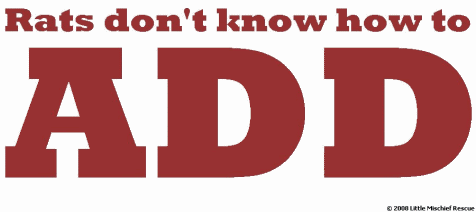 Thanks to Little Mischief Rescue for letting us use the image!
We encourage adopters to consider having our vet sputer any rat (age/size restrictions apply) you adopt for our reduced rates before the ratties go home. $42 for neuters, $67 for spays.
For more information, please see our website. Links to the top right of the page!
Site Navigation
Offsite Links