Rainbow Rescues
---
Our Featured Pet...
.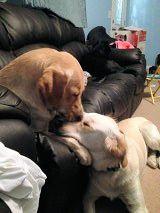 news
All of the Rainbow Rescue dogs are essentially house dogs, whether large or small, and companion dogs. They are accustomed to riding inside vehicles. They are crated when they first arrive to insure or instill housetraining. Many prefer that same crate as their space/bed when the door is left open for them to come and go as they please. The dogs are fed twice daily an excellent grain-free dog food along with salmon oil for skin/coat health. They have basic vet exams, are altered, heart worm tested and microchipped. Where needed they are wormed, teeth cleaned, ears cleaned/flushed/treated (seems many dogs develop and just live with ear problems, mostly minor, but irritating to them.) We have often treated (all successfully) broken bones, entropion, Cherry Eye, hernias, tumors, ACL tears, heart worm, severe ear infections requiring surgeries and, of course, normal old age infirmities.
Who We Are
It is the mission of Rainbow Rescues to rescue abandoned dogs from shelters; dogs are also accepted from individuals who can no longer care for their pet. The dog is spayed/neutered, vaccinated, microchipped, heartworm tested and groomed. Dogs with special medical needs are treated and rehabilitated before adoption. Rainbow Rescues is non-profit ( 501c3), depending solely on donations to cover the above vet expenses plus any fostering, office and transport costs. Rescue donations are greatly appreciated . There are no salary or overhead expenses. Rainbow Rescues, with the Wyoming Community Foundation, has established an endowment fund to encourage successful and permanent adoption of dogs from shelters in Wyoming. The Endowment supports such adoptions by assisting with medical expenses for the life of that dog. Dogs eight years and older, ill and injured dogs qualify for more assistance than dogs less than eight years old. New guardians should keep all adoption records. For additional information on qualifications for dogs and guardians, please contact Rainbow Rescues, Inc at the address or email shown. Your gifts and bequeaths to this Endowment Fund will enable perpetual rescues of dogs needing new homes, encouraging their adoption by offering life-time financial assistance for their health care; especially for old, ill and injured dogs. Gifts are tax deductible. Please check www.wycf.org/gift donations for more endowment information.
Adopting a friend
Our goal is to place a homeless dog with a permanent home and a loving family. Matching the right dog with the right family involves consideration of activity level, space available, companionship time, personality/disposition, and amount of care required. Long term welfare of the dog is our primary concern. If you are interested in providing a home for one of our dogs, please email for an adoption application. A minimum rescue contribution of $150.00 toward operating expenses is required.
Come Visit Us!
We do not have kennels for you to visit. In addition to the dogs online available for adoption, there are several in rescue with special needs. Check the pet characteristics you desire with those posted or email us to see if one of our in-house rescues meets your expectations. A meet-and-greet visit can be arranged either at the Rescue or at your home. We provide maximum information about the dogs history and personality as well as a wealth of information on training, adjusting and including a new dog in your family.> Rainbow Rescues


Casper, WY 82604


Email: rainbowrescues@outlook.com
Click here for a list of pets at this shelter

---

[Home] [Information] [Shelters] [Search]