Mission Statement
It is the mission of Purrrfect Love Cat & Kitten Rescue, Inc. to provide humane care and treatment for cats and kittens needing protection; to help alleviate suffering of all destitute cats in the area as funds and personnel permit; to seek suitable homes for animals without owners; to discourage cruelty to animals of all types, to influence public opinion with respect to care, treatment and welfare of animals; to resolutely promote spaying/neutering as the only humane means of animal control; to assist local veterinarians trying to locate new homes for companion animals left at their facilities; to provide care for and rehabilitate special needs/handicapped cats as funds and personnel permit; to address humane animal care education.
---
Adopt Kitties That Are Dog Friendly

---
---

From recent adopters:
Baxter is the most wonderful kitty and we are already enjoying his company so very much. We have been amazed at how affectionate, playful and happy he was right from the start at his new home; it's like he was destined to be with us, and he knows it! We are so fortunate to be able to benefit from the efforts of people as generous and kindhearted as you, and we thank you again with deep appreciation and admiration. -- Bill and Michele
PURRRfect Love brought love and happiness back into our lives, by bringing INDY (our new member of our family) in to our home. Now, our family is complete. The care and love INDY received before we adopted him is just awesome. The PL caretakers really give their all to each and every animal that they take care of. They are an asset to our community. We love you PL! Clara and George and INDY (the kitten)
On Saturday, July 24, 2010 I stopped by the Purrrfect Love Cat & Kitten Rescue and was greeted by friendly and knowledgeable volunteers who showed me numerous cats up for adoption. My heart went out to a friendly cat named Grant. Love at first sight. Jeannine, Grant's Foster Mom, answered my numerous questions and allowed me to hold him. I was unable to adopt him that day due to a scheduled vacation. We didn't want to place him in my house unless I was there to supervise. I returned and called to adopt Grant on August 6. This organization of volunteers spend many hours and money taking care of kittens and cats, giving them an opportunity to have a good life and in some cases a life at all. My Grant was rescued from a kill shelter. I want to take this opportunity to thank everyone who is part of this wonderful rescue organization. Sincerely yours; Ann & Grant Orange Park, Florida

---
---
Pet of the Month
Our pet of the month introduces himself...
Tate, a Love Muffin! He so wants his own home. Currently, his fee is special at $25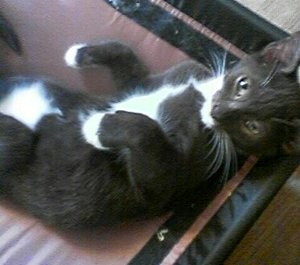 ---
Purrrfect Love is a non-kill, non-profit cat and kitten rescue group. Once they come to us, they have a home until adoption. However, we cannot take any additional furbabies at this time.
---
---
The health and welfare of all of our fosters are of the utmost importance. And, we have vets working to provide the best of care.
---
Our furbabies are all adjusted to and live with dogs. Some prefer the dogs to the other cats!!!
---
Please email us for an application, and we will meet you at the Pet Rescue North shelter to introduce you, or bring them to your home If there is a kitty you specifically want to see, be sure and email us. Vet checks are a must for adoptions, so it is best if you contact us ahead of time for an application to get preapproved. And, we adopt to Jacksonville area ONLY.
---
Click here to see our Cat Happy Tails! (Previously adopted kitties)