click here to activate your free month of ShelterCare pet insurance
Click here to see our list of available pets
Click here for the ADOPTION APPLICATION
Our featured animal...
| | |
| --- | --- |
| | Emma is very smart and loving. She is under a year old.She is great with other dogs and cats. She is crate trained only because she is still a puppy and will chew when alone.All of our dogs are in wonderful foster homes. They are used to the good life. Spoiled and well mannered. The first step is to do our online adoption application. |
ABOUT US
We are are a small South Florida rescue organization based in the Fort Lauderdale area and dedicated to the well-being of lost, abandoned, and unwanted animals. We do not have a shelter, so our rescues live within our own private foster homes where we provide temporary, safe refuge. Living in a home environment provides unique advantages. Unlike shelter or kennel living, fostering in a home environment allows the personal evaluation of each dog for behavior and temperament issues. Generally, we know how our dogs react to other animals, children or strangers. This allows us to find the best possible, permanent home match for each dog's size and needs. Purebreed Rescue relies exclusively on private donations to provide food, shelter and medical care, including the sterilization of pets that we rescue.
Purebreed Rescue of South Florida:

-receives no funding from any government entity or animal charity
-relies solely on private donations
-is an all-volunteer organization with no paid staff
HOW TO ADOPT
If you are interested in adopting one of our animals, you MUST follow these steps. (1) You MUST first complete and submit an online application. (2) If your application is approved and we believe the pet might be a match for you, we will contact within one week to make an appointment for you to meet the animal that interests you. (3) In the event that we do not respond to your to your application submittal within one week, we have either dissapproved your application or found a better match for the pet. (4) If you application is approved and you are contacted, and if all goes well after meeting the pet, we will then conduct a home visit. (5) Generally several days later you will be able to pick up the animal. At that time you will be expected to bring a leash and harness for your pet.
The donation fee for each animal varies, but generally is $150 and up, unless otherwise noted. Some of our animals are long-term rescues, which utilizes greater sums of money for medical care, food and housing. In order to defer a portion of this added expense, we attempt to receive a higher donation fee for our more desirable adoptable animals.
Purebreed Rescue

All of our animals are sterilized, vaccinated up to date of adoption, heartworm tested, and dewormed.
--PLEASE BE PATIENT--
Please remember we are an all-volunteer organization with NO paid staff. All of our animals are in housed in foster homes in the Fort Lauderdale area.
Sanctuary Donations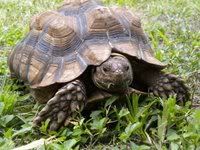 Sanctuary donations may be given to our vet for medical care for the animals that are in our permanent care. These animals are not adoptable due to age and medical conditions. These animals include dogs, cats, birds, reptiles, rabbits, and tortoises.
Please E-mail us to donate at: Purebreedrescue@bellsouth.net
---
All dogs adopted through Purebreed Rescue of South Florida are sterilized, vaccinated up to date, heartworm tested, and dewormed.
---
Purebreed Rescue of South Florida
Email: purebreedrescue@bellsouth.net
NOTE: We do NOT have a shelter location or facility where we keep our adoptable animals. Instead, they are spread around the South Florida area in foster homes. We will contact you to make an appointment if we feel your application is good match for the dog in which you are interested. Please understand we are volunteers with jobs and families and it can take time to get in touch if we have a pet whose personality and needs will fit well with your household.