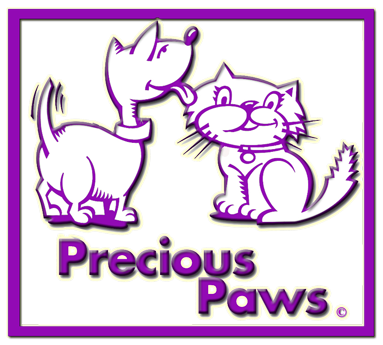 ---
PLEASE TAKE THE TIME TO READ ALL OF THE INFO ON OUR SITE BELOW.
"Thank You."
---

---
* Dogs Are Shown By Appointment Only. *
* If you are Interested in a Specific CAT be sure to Contact Us to make sure we bring it to one of our Adoption Event Locations. *
---
---
---
---

---
---
---
---
********************* PLEASE DO NOT FORGET TO HELP THE ANIMALS! *******************

Gift Certificates are a perfect pet present!
A PETCO.com Pet Supplies Online Gift Certificateis sure to please a pooch, content a kitty or fascinate a fish.
Pet Gift Certificates are sent via email within 24 hours or on a date you specify up to 60 days in advance.
Choose the dollar amount and add a personal message.

******************** THANK YOU! *******************
---
PLEASE DO NOT Email us regarding Cats or Dogs that you need to find a home for!
We can not take in any additional pets.
---
---
WHO WE ARE
* Precious Paws is a non-profit, dog and cat rescue organization. Primarily CATs.
* We are based in the San Fernando Valley of Los Angeles County, California. We rarely place outside of Los Angeles County (but, there are exceptions).
* The primary purpose of Precious Paws is to rescue abandoned and/or abused companion animals as well as public education.
* Our rescues may be found on the streets, in shelters, or even relinquished by their owners.
* All rescues will be examined by a Vet, Spayed or Neutered, Vaccinated, treated for Parasites, Cats are Blood Tested for FIV / FELV
* ALL rescues are Microchipped for identification.
* All pets will be in good health, to the best of our knowledge, before they are deemed ready for adoption.
* A Precious Paws rescue is a Precious Paws rescue for LIFE. We have a Lifetime Return Policy.
* We are a no-kill organization.
* We have a Two-Week Trial Period.

This has been a brief explanation of Precious Paws.
All donations and funds raised will be used towards these goals.
These procedures will be the main focus of all of our activities, as they provide the public with the service of humane rescue and they save the lives of the pets that are in need.

" Making the World More 'Purr-fect', Four Paws at a Time! "




---




WHO ARE "WE" ?
Briefly: People who love pets.
Everyone, connected with Precious Paws, including the Board Of Directors, is a volunteer.
Precious Paws was established in October 2003 by Georgyne La Lone.
Georgyne became a volunteer with "Lifeline For Pets" in 1994. Georgyne decided to branch off to create her own non-profit in 2002.
A Quick Message From The Precious Paws Board Of Directors
"We have accomplished much in our first years, but this is only the beginning for us!
We want to be able to do much much more.
We have been blessed with very good friends who have contributed greatly in many ways to us.
We would like to thank them ever so sincerely. We owe them a great deal.
On behalf of our rescues, we are pleased that you care about the other creatures who share this Earth with us!"
Sincerely,
Georgyne La Lone, Paula Robertson, Susan Olsen,
Carla Roselli, LeAnn Moen & Suzanne Welke

Please take a moment to click on the Precious Paws website link below.
This will provide you with a list of our treasured Directors, Supporters & Volunteers. As well as additional information about Precious Paws.
---
---
ADOPTION PROCEDURE IN BRIEF
We have full Adoption Procedure information available on OUR PRECIOUS PAWS.ORG WEBSITE.

Look over the selection of pets listed on THIS site.
If you are interested in one of our rescues there is an Application for you to fill out (this can be found on our PreciousPaw.Org website)
As soon as you return the Application to us, we will discuss the Application and the Pet with you.

Please keep in mind that NOT everyone who applies for a pet will get the pet. This has more to do with the pet than with you. Our primary concern in ALL placements is for the benefit of the pet.

After we review your Application: Provided the information meets the criteria necessary for the pet you are interested in.....The pet's foster parent will make arrangements with you to meet you and for you to meet the pet(s) you are interested in, at our Adoption Venue. Final Adoption Approval is based upon information checks and review of ALL information (written and in person) by our Board of Directors. If approved: We will schedule a home delivery / placement time mutually convenient to you and the foster parent. We will check your home for dangerous pet situations that you may not be aware of and then we will go over our Adoption Contract with you and discuss the pets specific needs (if any / if applicable). Once you have Signed the Contract and paid the Adoption Fee we will remind you of, and discuss, the Two Week Trial Period and the Lifetime Return Policy.

Our complete Adoption Procedures, cat or dog, in PDF format, can be found on OUR PRECIOUS PAWS.ORG WEBSITE, (or picked up at our Adoption Venues) goes into more detail on many of the points stated above.
---
ADOPTION FEES

CURRENTLY - & Subject to Change
(June 2014)


All CATs are $125.00
(Ask us about discounts!)
*********************************
All DOGS are $250.00

---
---
Since we are a relatively small organization we are only doing adoptions at this time. We do not have the resources to take in new rescues right now, we are very sorry. If you would like to look for other rescue groups in Los Angeles County, please check out this website Freeman's RescueGuide.com


---
---
Mailing Address
"PRECIOUS PAWS"
18034 Ventura Blvd. 430
Encino , CA 91316

FEIN 03-0455334
PHONE
Message line: 818-773-3336


Note: There are NO Cats or Dogs at the Address Above!




OFFICIAL WEBSITE

---
---
FUNDRAISING

Ninety percent of all funds raised, including adoptions, goes towards our rescues. Ten percent is used for administrative needs.
This is always ongoing. We gratefully accept Donations. BUT, there are other ways to Help or Raise Money for Precious Paws.
If you would like to know more, or donate, PLEASE check the Fundraising page at our Precious Paws.Org Website.

---

Check Out our ONLINE STOREFRONT Courtesy of Zazzle.com
A portion from the sale of each item, from our store, goes directly to Precious Paws

---
"We appreciate your thoughtfullness and generosity. Thank you!"
---
---
WE DO SYMPATHIZE WITH YOU !!!
We have been getting many calls from people that are either discouraged or angry with us (or other rescue groups) for not taking in dogs and cats at this time. We hope that the public understands that we, like all rescue groups, get dozens of calls EVERY day from people who want us to take in the animals they have or have found or need to give up.
All non-profit rescue groups do the best that they can, but they have to be fair to their rescues, they can only take in what they can handle. We are limited by our funds and mainly by the number of fosters that we have. Precious Paws is a very small organization constantly searching for wonderful, responsible, caring and loving foster parents/homes.

If you would like to be sent a packet of guidelines on how to responsibly adopt out a dog or cat that includes a questionnaire and a contract please see below and we will send one out to you. We all care, we truly do, but it is impossible for us to help everyone, even though we would love to. Again, we sincerely hope you understand.
There is NO need to remind us or try to manipulate us by mentioning "THE SHELTERS". We could tell YOU horror stories! We could lecture you on the importance of SPAYING & NEUTERING. But, all of this is not productive toward your need(s). Most rescue groups will be too full to take on another rescue (be wary of those who are not ---why? --- email us and we will be happy to provide that information and how to protect yourself). Because the rescue groups are full, shelters are thereby forced to be overflowing with homeless dogs and cats that most likely will be killed after just a few days in the shelter. The shelters do their best to do what they can to help get these animals placed, but it is still too overwhelming.

We CAN offer public education and assistance in helping you with the rescue(s) you have found but we just can not take them in. Please don't give up on the four paws you have found, give the animal a chance even if you find yourself frustrated, angry or upset because all the rescue organizations you have contacted cannot take in your rescue at this time. Rescue is a labor of love for all reputable non-profit organizations, it takes alot to start a non-profit and donations do not come easy, alot of us put our own money into the rescue animals.

So, please, if you are frustrated, angry or disappointed with the rescue organizations please try to look at it from our point of view, we really do care, we sympathize and understand what you are going through, and, know that we are doing the best that we can at this time. Saying "NO" does not come easy to us, each furry little life is priceless and deserves a chance to be in a loving forever home.
---
---
DO YOU NEED TO FIND A HOME FOR A CAT OR DOG?

If this is a pet you have FOUND / RESCUED.....
FIRST: You must search for the pet's rightful owner. At least for 14 days.
START WITH having the pet checked for a MICROCHIP at your local shelter, rescue group or vet's office.
While you are doing this . . .

We Can Email To You "GUIDELINES FOR SAFE PLACEMENT"

Send an Email to Guidelines@PreciousPaws.Org
The information will be sent to you via email in PDF format.
If you can not open PDFs then please provide us with your NAME, ADDRESS, CITY & ZIP CODE. The Guidelines will be snail-mailed to you.
~~~~~~~~~~~~

NOTE: Our volunteer at this email address WILL NOT assist with requests asking for help with finding homes for pets!
---
---
Behavior Problems Account for the Leading Cause of Owner Relinquishment of Pets and Resulting Euthanasia
We all know it and numerous studies confirm it.
Often pet parents just need some help in dealing with the issues they are facing.
PETVIDEO.COM can help.


Petvideo.com, created by the founders of Petfinder.com and PetsIncredible, provides free online training clips.

---
---
---
PLEASE REMEMBER THAT WE ARE CURRENTLY NOT TAKING IN ANY CATS OR DOGS.
We are very sorry for the inconvenience but we can not help you due to a lack of foster homes, space and funds.
We can offer you educational advice assistance.

Email: Petfinder@PreciousPaws.Org

Click here for a list of pets with Precious Paws


---
---
"Making The World More Purr-fect, Four Paws At A Time!"
---
PreciousPaws.ORG
---

[Home] [Information] [Shelters] [Search]