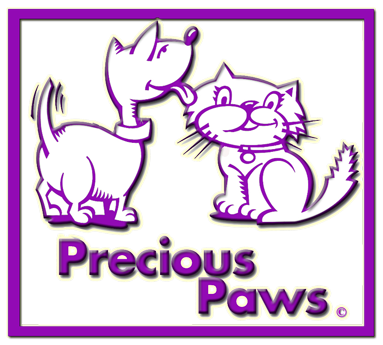 ---
Precious Paws (or Precious Paws L.A.) is located in Los Angeles County, California. We are a non-profit CAT and DOG rescue organization.
We are NOT affiliated with any other rescue, organization or business in any other state or city. We are www.PreciousPaws.ORG
---
PLEASE TAKE THE TIME TO READ ALL OF THE INFO ON OUR WEBSITE
"Thank You."
---

---
* Dogs Are Shown By Appointment Only *
* If you are Interested in a Specific CAT be sure to Contact Us to make sure we bring it to our Adoption Event Location *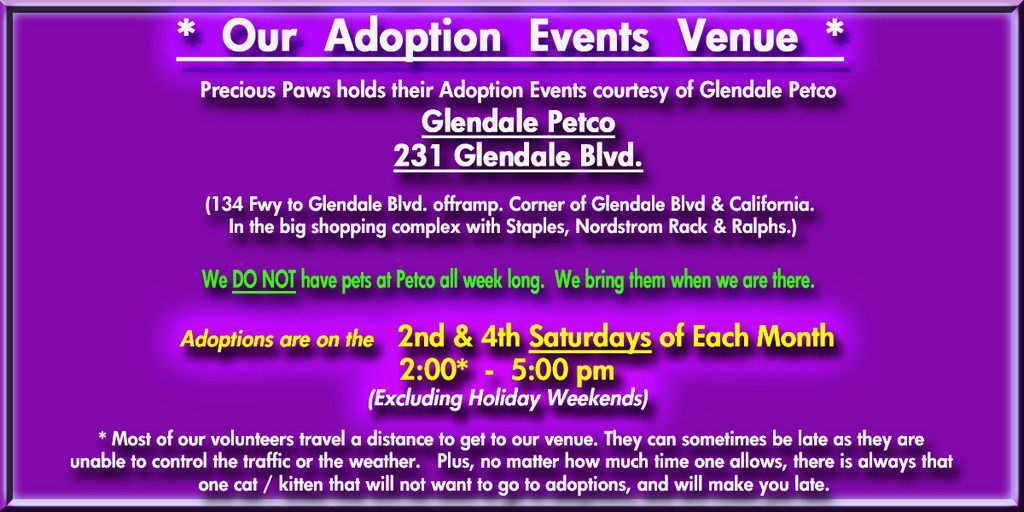 ---
---
---
---
Please Go To Our Website To Find ALL The Information About Us.

---
---
---
---
********************* PLEASE DO NOT FORGET TO HELP THE ANIMALS! *******************
Donate, Rescue... ADOPT, Don't Shop
---
PLEASE DO NOT Email us regarding Cats or Dogs that you need to find a home for!
We can not take in any additional pets.
---
---
WHO WE ARE
* Precious Paws is a non-profit, dog and cat rescue organization. Primarily CATs.
* We are based in the San Fernando Valley of Los Angeles County, California. We rarely place outside of Los Angeles County (but, there are exceptions).
* The primary purpose of Precious Paws is to rescue abandoned and/or abused companion animals as well as public education.
* Our rescues may be found on the streets, in shelters, or even relinquished by their owners.
* All rescues will be examined by a Vet, Spayed or Neutered, Vaccinated, treated for Parasites, Cats are Blood Tested for FIV / FELV
* ALL rescues are Microchipped for identification.
* All pets will be in good health, to the best of our knowledge, before they are deemed ready for adoption.
* A Precious Paws rescue is a Precious Paws rescue for LIFE. We have a Lifetime Return Policy.
* We are a no-kill organization.
* We have a Two-Week Trial Period.

This has been a brief explanation of Precious Paws.
All donations and funds raised will be used towards these goals.
These procedures will be the main focus of all of our activities, as they provide the public with the service of humane rescue and they save the lives of the pets that are in need.

" Making the World More 'Purr-fect', Four Paws at a Time! "




---




WHO ARE "WE" ?
Briefly: People who love pets.
Everyone, connected with Precious Paws, including the Board Of Directors, is a volunteer.
Precious Paws was established in October 2003.

Please take a moment to click on the Precious Paws website link below.
There you will find a list of our treasured Directors, Supporters & Volunteers. As well as additional information about Precious Paws.
---
---
ADOPTION PROCEDURE
We have full Adoption Procedure information available on OUR PRECIOUS PAWS.ORG WEBSITE.

*********************************

---
---
Since we are a relatively small organization we are only doing adoptions at this time.
We do not have the resources to take in new rescues right now, we are very sorry.

---
---
Mailing Address
"PRECIOUS PAWS"
18034 Ventura Blvd. 430
Encino , CA 91316

FEIN 03-0455334
PHONE
Message line: 818-773-3336


Note: There are NO Cats or Dogs at the Address Above!




OFFICIAL WEBSITE

---
---
---
"Making The World More Purr-fect, Four Paws At A Time!"
---
PreciousPaws.ORG
---

[Home] [Information] [Shelters] [Search]