Our Adoptable Pets
If you are interested in adopting one of our pets, please download our
Adoption Application (DOC) or Adoption Application (PDF)
fill it out and email to: ppal2011@yahoo.com or bring with you to the Adoption Show.
Please call or come to our Adoption Show at Petco (see contact info below).
We need urgently DONATIONS!
We need cat and dog FOSTERS!
We need VOLUNTEERS (18+ years)
to help during Saturday adoption shows at Lakeside Mall PETCO in Sterling Heights!
Contact Precious Pets Adoption League
For inquiries about Cats/Dogs please call or e-mail:
Phone: (586) 405-5741 - Gina - Email: ppal2011@yahoo.com

For inquiries about Dogs please call or e-mail:
Phone: (586) 405-5741 - Gina - Email: ppal2011@yahoo.com or
Phone: (313) 537-9723 - Aaron - Email: aaronrolnick@mybluelight.com
*** IMPORTANT NOTE***
Preferably please enclose your phone number in the body of your e-mail.

Come Visit Us!
ADOPTION SHOWS at PETCO
PETCO at Lakeside Mall (next to ToysRUs)
13701 Lakeside Circle
Sterling Heights, MI
South of Hall Road (M-59) & East of Schoenherr Road
PETCO phone: (586) 532-8794
Saturday, Oct 21, NO STERLING HTS SHOW [See info. below]

Saturday, Oct 28, NO STERLING HTS SHOW [See info. below]

******* OCT 21 ADOPTION EVENT: SHELBY PETCO *******

Shelby Township Petco Adoption Event!

On Saturday, October 21, 12 pm - 4 pm at the new Shelby Township Petco, 7554 26 Mile, Shelby Township, on 26 Mile west of Van Dyke on the south side of the street, we will be having an adoption show. We will have cats and dogs available for adoption. If you have any questions, please contact us [see contact info. above].
Donate To Save Precious Lives
We need urgently DONATIONS!
Precious Pets Adoption League is a network of foster homes. To care for all the animals under our angel wings we rely solely on public donations and adoption fees. We are a NO-KILL rescue striving to keep animals until adopted - sometime for years! If you are interested in making a tax deductible donation to Precious Pets Adoption League, you may contribute directly to our Paypal account: "ppal2011@yahoo.com" - https://www.Paypal.com, . If you would prefer, you may also choose to sponsor one of our adoptable dogs or cats: If you go to a particular animal's Petfinder listing, Petfinder has a button you can click on to sponsor that animal - we will use that donation for the care and feeding of that specific dog or cat, and any money left over will be used to help our other adoptable animals. Finally, you are always welcome to come to one of our adoption events [see "Come Visit Us!" section above] and donate via cash or check [made payable to "PPAL"], or donate items we need, including dog and cat food, kitty litter, blankets and towels, and used crates or carriers! Any donations are greatly appreciated and needed!
Support us by shopping at AmazonSmile and Furminded!
When you buy Amazon products, you can help us continue helping dogs and cats in need! Just sign into AmazonSmile: https://smile.amazon.com/ch/80-0057079,, and Amazon will donate 0.5% of the price of your eligible AmazonSmile purchases!
Shop on FurMinded.com! It's simple to help our rescue by shopping for your furry friends accessories, beds, bowls, and other items. When adding an item to your cart choose Precious Pets Adoption League - Sterling Heights from the drop down. Furminded.com
Support us by purchasing Precious Pets merchandise from Unik Trendy!
With every purchase made, you can help save an animal in need! Unik Trendy has a variety of products with Precious Pet's name and logo, including hoodies, t-shirts and coffee mugs. Every purchase helps support Precious Pets Adoption League in their mission to rescue and rehome dogs and cats in need! Just go to Unik Trendy's Precious Pets webpage to see the products available and place an order: https://www.uniktrendy.com/collections/precious-pets-adoption-league-fundraiser.
News
With Love from Puerto Rico
Satos are what Puerto Ricans call mixed breed dogs - mutts.
On the photo left, you see them transported from Puerto Rico to Detroit, Michigan before loading on the airplane. Satos are intelligent, sweet, good dogs, but in Puerto Rico, they often live in horrible conditions and have little chance of finding a good home. Tremendous efforts are being made by various rescue organizations to create awareness of the situation and to save and rehabilitate as many of these poor souls as financially and physically possible. Without the help of shelters and rescue organizations in the USA the efforts of groups like Sato Dream Home, Paws of Hope Puerto Rico (English version) or Huellitas de Esperanza de Salinas (Spanish version) (photo on the right) would be very limited. Every year about 1000 Satos fly to their forever homes in the USA.
Update July 2016 Precious Pets Adoption League
We just celebrated the 100th freedom flight of dogs [and a few cats] from Puerto Rico to Michigan and we will continue to rescue more stray and abandoned dogs from Puerto Rico with the help of our partner rescue there! We have dogs from Puerto Rico available for adoption. All of them are READY for their forever homes in Michigan! They are wonderful dogs that were originally living on the street or in bad conditions before they were rescued. Some have suffered terrible abuse. Here is a photo of some dogs and a cat being transported to Michigan from Puerto Rico [we will attach transport photos of the current dogs ASAP]. Scroll through the dog listings above to see our available dogs, including the ones from Puerto Rico, or click above where it says to "See ALL OUR ADOPTABLE PETS" to see all of our adoptable dogs and cats.
If you are interested in adopting one of such sweet dogs from Puerto Rico please contact Precious Pets Adoption League at (586) 405-5741 ... your kind donation would help save more of them !


***

Rihanna's Rescue
May 14, 2015
Poor Rihanna was found stray laying on someone's porch in Detroit. This first picture [on the left] was taken right when she was rescued. She had basically collapsed and probably wouldn't have survived more than another day or two, had she not been rescued. She was in very rough shape--besides being thin, her ear was severely injured [likely from being attacked by another dog]. By the time Rihanna was rescued, her ear had become severely infected to the point that the infection spread to her inner ear and her bloodstream. For the first week, she was given subq fluids to rehydrate her and was put on oral antibiotics and ear meds to try to get the infection under control.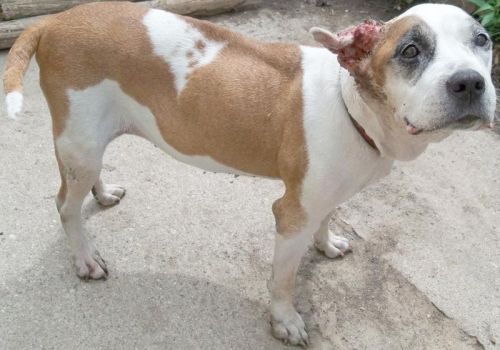 June 18, 2015 Update
After a month or so, Rihanna was finally in good enough condition to undergo surgery on her injured ear--her entire ear, external and internal, needed to be amputated. As you can see in this second picture [on the right], she was feeling much better and was starting to act like a normal dog even though her ear was still bothering her. Rihanna is so sweet. Despite the suffering and neglect she endured, she loves people and other dogs, and is even good with cats. Rihanna had actually made good progress, but would never recover without surgery to remove her ear.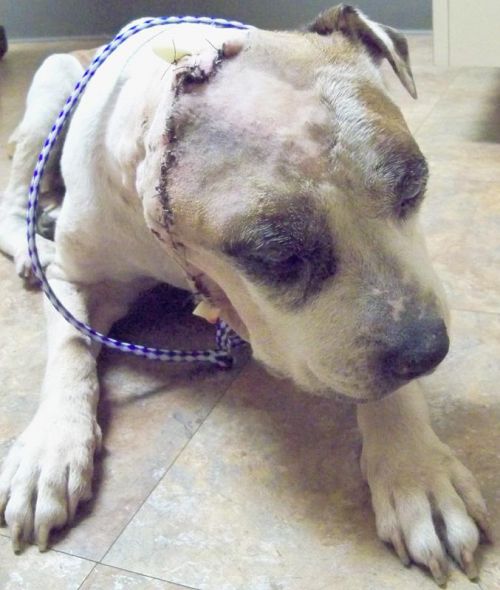 July 18, 2015 Update
Even though it put a serious strain on Precious Pets Adoption League's finances, we had the surgery done to remove Rihanna's ear. Had she just needed the external ear removed, it would not have been such a serious or expensive surgery, but removal of the internal portion of the ear is invasive, time consuming, and must be done by a highly experienced vet. Between the cost of the surgery and other vet costs, her total vet bill came to well over $1,000. This third picture [on the left] was taken when she was released from the vet. Rihanna is such a great dog, she deserves every chance to live a long, healthy life with good people that will provide lots of care and attention.
When Rihanna's foster person took her back to the vet for her first recheck following surgery, he received the worst news possible. Until then, the vet hadn't told us that when they performed the surgery on her ear, they found what appeared to be cancerous tumors. Right when Rihanna's foster person brought her back for a recheck, the vet got back the biopsy results confirming that Rihanna had advanced cancer. Less than two weeks following the surgery, we had to euthanize Rihanna to end her suffering.
Everyone at Precious Pets Adoption League is devastated that we had to say goodbye to her. But we can take pride in knowing that we did everything we could to try to save her and give her another chance at having a good life. At least we were able to give her a couple of months or so where she got to be a normal dog and know that she was loved and cared for. Had we known that she had advanced cancer, we wouldn't have put her through surgery, but we had no way of knowing that beforehand.
Please donate whatever you can so that we can help more dogs and cats like Rihanna. If you would like to donate to Precious Pets Adoption League, contribute to our Paypal account: "ppal2011@yahoo.com", contact us at ppal2011@yahoo.com or 586-405-5741, or visit us at our Saturday adoption events 11 am - 4 pm at the Sterling Heights Petco by Lakeside Mall [see near the top of this page for more information]. If you go to any of our adoptable animal listings, Petfinder has a button you can click on to sponsor the animal, meaning that your donation will specifically go toward the care and feeding of that dog or cat.


! ! ! Your donation will help to cover $1,000+ Rihanna's veterinary bills ! ! !
***

Rocky's Rescue
October 15, 2013
Can you see a beautiful Birman Cat? This is Rocky when Precious Pets Adoption League rescued him!
This S.O.S. email was sent by Sheila: "Saturday we got an adult cat, that was dropped off at the store (PETCO]. He is in very bad shape, was found in a wood pile. I have never seen such compacted hair, he is a beauty, and his long hair, is in the worst shape, I have ever seen...I feel personally, that this situation may be life or death. It is extreme, trust me.
I tried to cut out the worst of the snarls, but couldn't go further. He is in pain. He also has pale gums, and is likely anemic. Long story short, we don't have money to take him, to be anesthetized and shaved, and whatever else he may need."
Precious Pets Adoption League volunteer Lisa took the cat to Eastpointe Animal Hospital. It turned out that this cat was starving for about 3 weeks. The doctor told Lisa, that he absolutely would die, without bladder surgery. She had no choice, if she wanted to save Rocky's life, but to proceed, with the surgery. After the emergency bladder procedure, shaving matted hair, and immediate life support care in the hospital the doctor was giving only 50/50 chance for Rocky's survival.

November 21, 2013 Update
This photo of Rocky was the beginning days of his recuperation. Sheila was spending days and nights nursing Rocky slowly to health.
Here is her e-mail: "3 weeks after he got here, Lisa and I returned him to the doctor, who was pleasantly surprised to see that he had gained FOUR pounds! He took a blood sample and returned to us, saying that Rocky's glucose level was absolutely perfect! Among other things, Rocky had become diabetic, due to the starvation. The doctor had told Lisa, the day she brought Rocky in, that he would not live without the bladder procedure. Imagine his surprise, to see how quickly and well, Rocky was recovering! ... It was a little tricky to get him to start eating, but he soon engaged me, that he would eat only if I hand fed him - little stinker! I was so happy to see him engorge himself, that I would sit for 20 minutes, and just hold that bowl of wet food, just for the pure JOY of watching him eat. And knowing, that eating was the best possible thing he could do, to recover.
He has been on several blood builders, vitamins, and antibiotics....We will take him into the doctor, for a complete blood work-up. His hair is filling in now. One day, he will be a knockout beautiful cat!
We are PPAL. We make a difference, one animal at a time. Sheila "

December 02, 2013 Update - Rocky's Triumph
Sheila's email: "I just got back home, from settling Rocky in, at Lisa's. Earlier, when she got here, I think Lisa was in for a surprise.-- Not only has Rocky's hair begun to grow out, but there he was, CALM like she had never seen before! I even kissed him on the nose, today!... As we walked into the doctor's exam room, Rocky weighed in, at another 2 lbs heavier! He now is looking healthy, at 16 lbs! I think he looks perfect! The doctor grinned from ear to ear! The doctor expects that Rocky is fine, and will not need further medication. We then, went to Lisa's to settle him in. I will miss Rocky. It wasn't always, easy, but it was always a pleasure to see him, every day better, than the last! The look on the doctor's face, tonight, said it all!"

January 2014 Update
Rocky is now part of Lisa's family. His recovery is miraculous thanks to immediate help from Lisa and Sheila, dedicated Precious Pets Adoption League volunteers!


! ! ! Your donation will help to cover $600+ Rocky's veterinary bills ! ! !

***

Mary's Emergency Rescue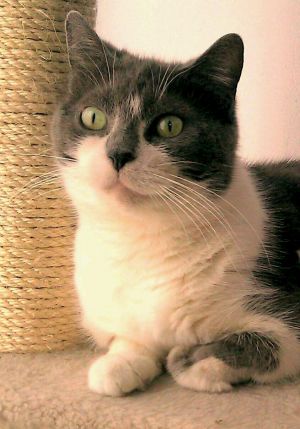 April 2012
Mary is a wonderful mommy to five kittens saved by Precious Pets Adoption League. Most of her kittens have been adopted.
At the end of March 2012, Mary became sick and stopped eating, emergency visit to our veterinarian resulted in diagnoses of liver problem. If you are interested please read the full rescue story here... PLEASE HELP Mary... After operation to insert feeding tube, Mary returned to her Foster Angie who is devoting all the time in the world to take care and comfort Mary. The prognosis are better with every day and we hope that Mary will recover. She just needs time for the medication to work.


January 2014 Update
Mary has made a full recovery! She is still available for adoption! To prevent stressing her she will no longer be at our adoption events. If you are interested in meeting Mary, please contact PPAL at (586)405-5741.


! ! ! Your donations will help pay for cases like Mary's $1,400 veterinary bills ! ! !

***

Sweet FRASIER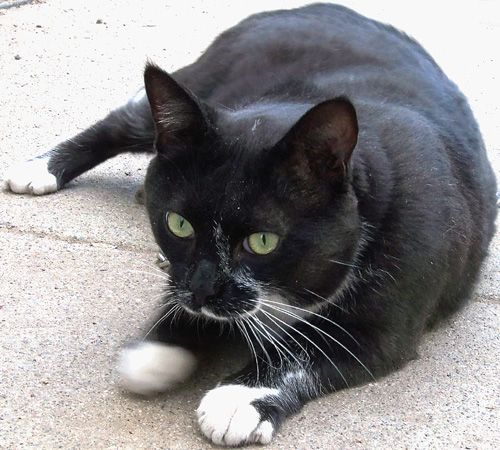 November 2011... May 2016
Frasier was stuck up a tree for 3 - 4 days after being chased by a dog. Precious Pets Adoption League dedicated foster Aaron rescued him. The kitty was high up the tree (sickly) without lower branches to help the cat to get down. Despite using a pretty large extended ladder it didn't really reach far enough. Aaron had to get underneath the kitty and lift him from the tree branch midsection. Frasier was really good, especially under the circumstances. He instinctively was trying to help Aaron in the rescue by letting himself be reached and held all the way down. At home he loved attention and was very friendly.
Aaron took Frasier to a veterinarian, where he was vaccinated, combo-tested [for feline leukemia and FIV] and since, neutered. We found out that Frasier has FIV.
FIV (cat's form of humans HIV) is not contagious to humans, dogs, or other animal species, but it is potentially contagious to other cats. For this reason it would be best if Frasier was adopted as the only cat in the household--or he can be in a household with another cat that is also FIV positive. Frasier gets along well with other cats, so he would be very happy in a household with another FIV positive cat!
May 2016 Update: After happily living in a foster home for 4 years, Frasier was diagnosed with lymphoma on his neck in December 2015. The tumor was inoperable and unfortunately, he was not a candidate for chemotherapy. The foster person provided supportive care as long as Frasier had quality of life. On May 10, 2016, Frasier was euthanized to spare him from suffering. At least he got to live in a home where he had proper care, love and attention for over 4 years. RIP Frasier, his foster people miss him.

***

Amy's Great Idea

When AMY was celebrating her 40th birthday she invited friends for a party and asked for gifts that she could donate to an animal rescue organization. What a GREAT IDEA!
If 4,000,000 people donated only $20.00 each = $80,000,000.00

then this amount could pay for spay/neuter and vaccinations of 640,000 animals !!! WOW !!! Please help rescue organizations !!!
Consider adopting an ADULT pet.
Please SPAY/NEUTER your cat or dog!!!
Who We Are?
We do not have a shelter - we are a network of foster homes.
We rely solely on public donations and adoption fees.
Precious Pets Adoption League is a small 501(c)(3) non-profit organization committed to finding suitable homes for companion animals. We rescue and place animals of all ages. We are unpaid volunteers. Love for animals and your tax-deductible donations keep us going.
We would greatly appreciate the following donations:

Money for veterinary care, food, litter, etc. Donate via Paypal - our account is "ppal2011@yahoo.com"or donate via cash or check (see adoption event info. to bring in person or e-mail: ppal2011@yahoo.com for mailing address.)
Cat / kitten food (canned or dry)
Dog / puppy food (canned or dry)
Pet carriers (large and small)
Pet crates and beds
Cat litter (clay or clumping)
Office supplies
Postage stamps
Gift certificates to PETCO, PetSmart, PetSupplies Plus, Office Max
These items do not have to be new, used items work great for us too. You may bring donations to adoption events [see above for adoption event info.] or e-mail us at ppal2011@yahoo.com.

We are always in need of foster homes.

Please contact us if you are interested in fostering an animal or would like more information! We provide most of the supplies needed to foster an animal. We pay for veterinary care.
Adopting a Friend
ADOPTION FEES
Kittens
$125* ($25 refunded after proof of spay/neuter)
Adult Cats
$100*
Puppies
$200 - $500* ($25 refunded after proof of spay/neuter)
Adult Dogs
$200 - $400*
* Some adoption fees may be higher depending on breed.
Animals are classified as adult when they are 1 year or older.
Our adoption fee for dogs includes up to date shots, heartworm test, deworming, and spay/neuter if age permits.
Our adoption fee for cats includes up to date shots, feluk and fiv test, deworming and spay/neuter if age permits.

Cautionary Tips
C A T S:


IMPORTANT: If you find a friendly stray cat, you may consider taking it home and giving it a temporary shelter until a permanent home can be found. But it is important to schedule ASAP a veterinary visit for an examination and combo test for FIV and FeLV. It is a very small price to pay for the safety of your own cats. Keep the new cat isolated from other cats until the veterinary visit. FIV is the feline form of HIV. FeLV is the feline leukemia virus. Cats can live with FIV but they need extra care and love to monitor their health and help relieve their symptoms of compromised immunity.



C A T S & D O G S:


Chocolate and sweets containing chocolate are poisonous to cats and dogs.
IMPORTANT: Your pet is NOT SAFE behind WINDOW SCREENS or DOORWALL SCREENS. Screening material EASILY pops out of it's frame with a FIRM PUSH. Even a small animal can accomplish this and wander out.



D O G S:


Toys and chews can become a hazard. If they are the wrong size they can be choked on or ingested--causing an obstruction or piercing the intestines/bowels. Pick appropriately sized toys and especially, chews (for a rawhide or chew, pick a large enough piece that the dog will not be able to choke or swallow it whole). Periodically examine toys and chews for their condition, and discard items that have jagged edges or that are a choking hazard. For dogs that like to destroy toys, we recommend extra durable toys, like "Kong". Diligence is especially required with dogs that are 'aggressive chewers.'

...click here for many more life saving TIPS...


Check often for up-to-date pet food recall information on the FDA website.
Pit Bulls
Why Pit Bulls in rescue deserve a second chance at life.
In recent years, Pit Bulls have gotten a bad rap in the media. We choose to rescue and adopt out Pit Bulls, because most of them are wonderful dogs.

For example Dancer is a great dog that has been up for adoption for a long time now. Dancer has been formally evaluated using the SAFER test (a temperament test) and she scored very well. The test assessor found that she loves to be handled, she has no food or toy guarding issues (though she does like toys), and loves to play. Dancer adores people and does fine with cats. She is very sweet and would do well in a household with children.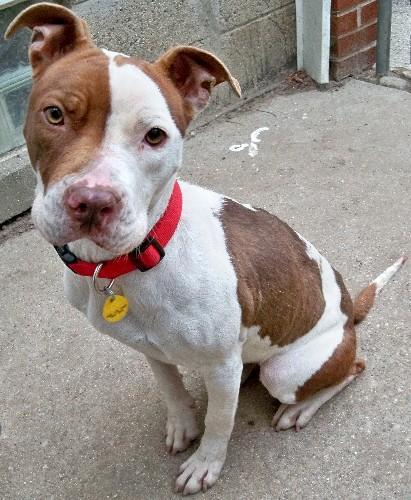 Unfortunately, Pit Bulls are often victimized twice, first at the hands of their original owners who neglect or abuse them, and then dump them, and second, they are passed up by potential adopters because of the bad [and undeserved] reputation of the breed.

Since Precious Pets Adoption League was formed, we have rescued and adopted out many Pit Bulls, including mature adult Pit Bulls that were found as strays. Pit Bulls as a breed are very loving of people, and are typically very tolerant (i.e., of a child stepping on them or pulling on their tails), this is why most veterinarians and vet techs like handling Pit Bulls. The issues that have been associated with the breed have to do with them being popular with the wrong people, who neglect and/or abuse their dogs. The number of abused and neglected strays that we have adopted out, were great dogs despite their background, is proof that Pit Bulls as a breed are good dogs.

Like any other breed, Pit Bulls have their advantages and drawbacks. We suggest that potential dog adopters take some time to get acquainted with puppies and dogs they are interested in adopting, and ask the rescue group volunteers what dog would be the best match for them. If you are interested in a particular dog, please call or email us [see Contact Us section], and if you are interested in learning more about Pit Bull Terriers, we suggest you go to the Pit Bull Rescue Central website and to the Hello Bully Pit Bull 101 educational page.
Special Rescues
Here are some special rescue stories that we are facing almost every day.


If you can not adopt a homeless animal then please sponsor ONE with donation to help us with everyday rescue!

***

Tory Abused Dog
February 15, 2010
ABC Channel 7 (WXYZ) aired a news story about Tory, a poor abused dog that we are nursing back to health.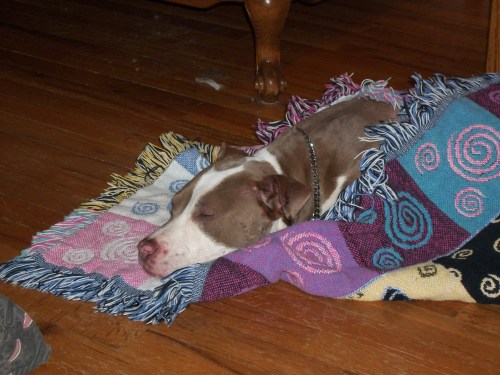 April 04, 2010 UPDATE:
Tori has been adopted into a great home! As for recovering from her traumatic abuse, she is physically healed, and she has also recovered well emotionally--she is doing well with strangers, children, and even other dogs. Thanks to Rakestraw Animal Hospital and all those kind people who donated money to help pay for the veterinary care that was necessary to treat Tori's original injuries! We could still use donations to pay for veterinary care for animals like Tori that come to the rescue injured or sick--if you are interested, please contact us [see above section for contact information].

***

August 01, 2009
Precious Pets Adoption League saved life of pregnant Amazing Gracie and her 3 kittens by rushing her to an emergency for a c-section.
The bill was over $500.00 !!!

Three weeks later...Oooooooo...


February 2010 Update
Amazing Gracie and her 3 kittens, Fudge Ripple, Lil Diva, and Cheddar [adopted in May 2010!] are now available for adoption.

***

Gracie's (Lady's) Story
Melanie PPAL dedicated foster: "This is why I keep doing this! "

Lady was rescued from Gratiot County, where she was going to be sold to an animal research facility. Before Lady was picked up in Gratiot County, she was used a breeder in a puppy mill. Her belly sagged from years of over breeding, she was malnourished, and had so much hair loss from being kept in a small kennel that she was mostly bald! Her first week at my house she did everything she could to hide and not be noticed--when you came close she would cringe and urinate on herself.

As time went on she ended up being the best most loyal dog I have ever rescued. She was so perfect that one Saturday I put her in the kennel and went home, her eyes were sad and she looked at me like "what did I do?". My heart broke, I came home and told Jason "this is it if no one wants her she is our dog forever!!".

When I went to pick her up I was told someone was interested in her and they might want to see her later on at home. I ended up agreeing to meet them and found they were the perfect family! The next day we drove out to their home so she could meet their other dog and see the yard. The yard was perfect! She has an acre to run and play-which she did right in front of me! The other dog, Louie, and her got along great. As hard as it was to let her go I knew it was the best home, even better than my home, for her to be in. After six years of being mistreated and unloved she now has a family that adores her and treats her like a daughter!

The new family changed her name to Gracie, and several nick names--Coco Puff and Big Mama are my personal favorites. She truly is my reason for staying in rescue!
September 10, 2009 email from Birgit, Gracie's new owner:
"Hi Melanie,

Just wanted to thank you and your family for all the love and care you put into getting Lady well again. Our daughter is doing wonderfully. There was a vote and her new forever name is Gracie (wanted it to sound similar to Lady so as not to confuse her too much, she'd been through enough). Naturally she still gets called Big Mamma too.

Her and Louie are buds, partners in crime to be more accurate. Louie, being a good little, big brother, taught Gracie the art of digging. At least she has a conscience when I catch her, Louie keeps right on digging. She also loves to steal tomatoes from the garden. She loves chasing, and then eating, sticks. Hasn't quite figured out the whole retrieving/returning part yet, but she's a smart girl and will get it I'm sure.

My cat Scooter is warming up, very slowly--he's old and set in his ways, but he's coming around. I think her size freaks Scooter out. He won't get close enough to see how gentle she is.

Overall the whole adjustment went so well. Again, your work w/ her is what I attribute her success to. We do plan to stop in at one of the Petco events sometime soon so she can see her foster family again. She has lots of very stylish bandanas she wears and likes to show off. I will be in touch. Please do the same.

Lots of slobbery kisses for you all from Big Mamma!"


UPDATE January 13, 2010:

"Hi Melanie, here are some pictures from Gracie's last outing.

Our gal is doing just fine. Doesn't mind the snow or cold at all, just loves to be outside. Have to make her come in sometimes. I recently got to see her maternal instincts in action. Louie had a particularly bad day on Monday w/ re: to his breathing. Each time he had an attack she came right over to him. She so lovey! We are finding she is an early riser... very early. We have to put her out of the bedroom sometimes (4, 5:00 am) and shut the door or she'll pace all around the bed. She's very active in the morning and just wants to share the fun. Her and Scooter tag team, his meowing and her pacing,once one is up the other gets up and joins in. Initially I thought she was getting up needing to go outside. NO... she just runs around, nudges you with her head and licks you hands... as you escort her out, with her pillow, to the living room...

:) Birgit"

***

Greta's Story
"Dear Gina,

I wanted to touch base with you during the holidays to thank you.

I'm not certain if you remember us, but we adopted Greta this past summer. Greta was a tortoiseshell persian 9 1/2 years old. She had been kept in a basement for eight months after her owners moved and was so matted she required shaving. You told me at the time that you didn't think anyone would adopt a
9 1/2 year old
and you felt you may end up keeping her.
You also forewarned me of her 'persnickety' nature, which is true of tortoiseshells.

I am writing to tell you that Little Persnickety Greta has truly stolen our hearts. Her silent 'meows' and wanting to be a part of everything you are involved in has been a godsend. She is especially fond of my husband, who has a special relationship with her. (My husband is sick and so is home 90% of the time.)

She is an absolute bundle of joy and loves her life here. She even has her own lazy boy chair. We have allowed her fur to grow back in (although we do keep her trimmed on her hind region) and she looks like a little bear walking around. She loves to be brushed as well as those "Temptations" treats! For Christmas, Santa is bringing her own down throw for her chair.

I just wanted to write to tell you thank you. My husband said to me today "You do know, Greta has been my Christmas present." Thank you and God Bless you for the wonderful work you do with animals.

Lisa and Don M."

***

Success Stories
This section is about our successful adoptions. Thanks to our continuing effort hundreds of precious cats and dogs found new homes. We have made many people happy and thankful for the service that we provide. If you have adopted a pet from us and would like your story to appear in this section, please send us an email with your "success story" and a few pictures of your happy pet to liz.ppal@gmail.com
You can also visit us at theSterling Heights PETCO 13701 Lakeside Circle and give us the story to 'publish' along with the photos; we are there almost every Saturday [from 11 am - 3 pm]. As long as we have free space, we will add your story to this section for readers to enjoy.
Rescues That We Will Never Forget
Saving Bunu
In the end of February 2008, we rescued an older Himalayan cat, named Bunu by the foster parents Julie and Chris. The cat was sick, depressed, and in a great distress. His hair was matted to the point that the only way to help him was to shave the hair off. We took the first available appointment to see Doctor Wilson at Animal Clinic of Sterling Heights. The Doctor ordered a battery of tests to help with the diagnoses. Bunu was well cared for by Julie and Chris:

When we first got him he wouldn't leave his cage or clean himself. He got so bad that we took him to a groomer to be shaved. After he came home from the grooming (wearing nothing but a furry face and some boots!), he was like a whole new kitty! Now, he has to be coaxed back into his cage when he's out. As far as Bunu is concerned, there are just not enough laps in the world to sit on, or hugs to give. When we hold Bunu, he actually puts one front paw on each shoulder as if he's hugging us! After being shaved, we noticed a few small lumps under Bunu's skin. Thankfully they're nothing more than an infection, and the doctor say he will be fine.
On March 19, 2008 Bunu went into a shock.
We had been praying for a miracle while Chris was rushing Bunu to the Animal Clinic.... Doctor Wilson carefully reviewed the blood test results. We were shocked to hear the diagnoses. Bunu had Addison's disease, an extremely rare disease in cats.
Hypoadrenocorticism, also called Addison's disease, is an endocrine disorder that results from a deficient production of adrenal gland hormones. ..
The Doctor transported Bunu to his Veterinary Hospital to administer intravenous steroids treatment.
March-21-2008 Update:
Bunu's condition deteriorated within hours after being admitted to the hospital, everything possible was done... sadly we could not save him....
Please donate in the memory of Bunu to help us cover veterinary bills of rescued pets!
A few of the rescues that we have undertaken in last few months (see Baby, Abby, Snickers stories) totally exhausted our finances and many of the veterinary bills remain unpaid. You can make a BIG difference!
Click here for more emergency rescues...
Acknowledgements
Precious Pets Adoption League expresses great appreciation for helping save all these precious cats and dogs throughout the years:
- PETCO and The PETCO Foundation
- Fosters, Volunteers, and Donors
- Dr. Cindy J Baunmhart at Rakestraw Animal Hospital
- Doctor John F. Wilson, his Associates and Staff from Animal Clinic of Sterling Hts & Wilson Veterinary Hospital
- Doctor Bonnie Burke and Staff at Little Friends of Ferndale
- Other Veterinarians
Petfinder Links
[ Home ] [ Information ] [ Shelters ] [ Search ]