Pointers From Oz
www.pointers.petfinder.com
The News!
Updated Last April 2011

As many of you have probably noticed, we have not been taking in new dogs into our program for some time, except for a few which have been able to go directly to foster homes and a special situation of 10 showbred Pointers in March 2010. Initially, we thought this would be short-lived while we reorganized our group. But, we have decided to make it a more permanent change. We are focusing our time now on our own family, including our own dogs and our two young children. We are also working on adopting one or two boys (of the 2-legged variety).

Feel free to visit our family and dogs at www.birdsborodogs.com (including some of our cute puppies!).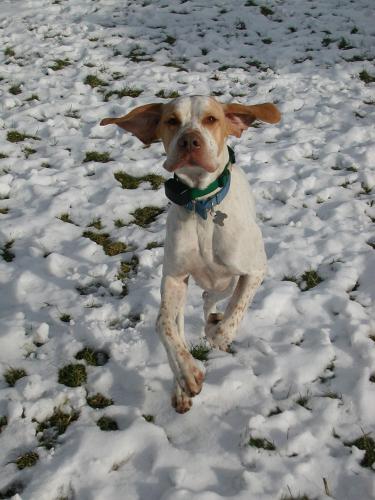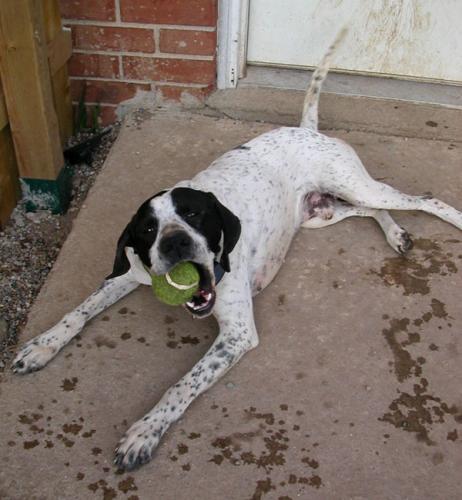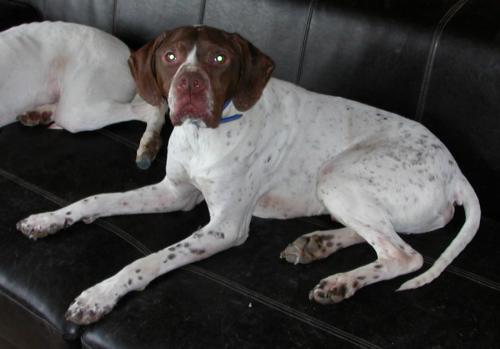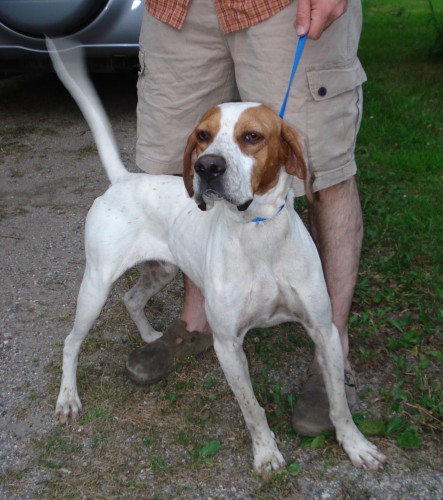 The four colors of Pointers (shown by some of our adopted dogs): Lemon and White (Ernie), Black and White (Chaz), Liver and White (Pheasant), and Orange and White (Burt). Note that the only difference between a lemon and an orange Pointer is that the lemons have a flesh-colored nose (pinkish) and the oranges have a black pigmented nose.
A Guide To This Webpage
Welcome to Pointers From Oz! This webpage has a ton of information on it! As a quick guide, we have featured dogs and urgent situations up at the top, and towards the bottom of the page we have information about the Pointer breed and our adoption process. If you are seriously interested in adopting a dog from us, I would highly recommend spending 10-15 minutes reading this page. You will be much more knowledgeable about Pointers (aka English Pointers) and our rescue group, Pointers From Oz.
Jim Harrison is a Friend of Pointers From Oz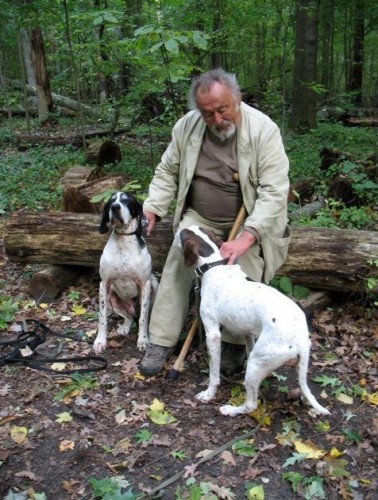 Writer Jim Harrison with Pointers From Oz rescues, Bud and Violet, in October, 2009.
Writer Jim Harrison has a special fondness for Pointers From Oz dogs. Those familiar with Harrison's writing know of his great love of dogs, and how his real life, as well as his fiction and poetry, are filled with his beloved dogs. Harrison, a long time Michigan resident, is famous throughout the world for his writing---The London Sunday Times called him, "a writer with immortality in him". Some of his well known novels and screenplays include Dalva, and Legends of the Fall. Harrison is a friend of one of our foster families, and whenever he visits, he takes daily walks in the woods with senior Pointers From Oz adoptees, Bud and Violet. He is a great supporter of PFO, and loves to hear stories of our dogs, and how they made it to their new homes and a fresh start. Harrison is sentimental about hard-luck dogs finding loving homes, and keeps a photo of Bud and Violet on the wall of his writing studio in Montana. Harrison and his wife Linda have donated to PFO. Lady Jane is currently being fostered by Bud and Violet's family, and Jim looks forward to hearing how her story turns out.
McKenzie the Mascot!
Check out McKenzie on the local news. McKenzie is a Pointers From Oz girl (she was named Hope with us) who is now the official mascot for the University of Wisconsin - Stevens Point... they are the Pointers of course!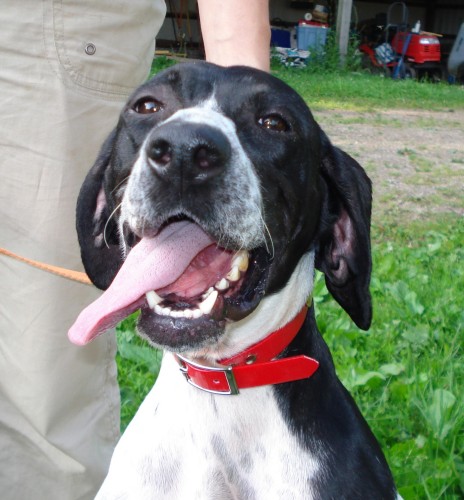 Thank You!
Thank you to all of our adoptive families out there that continue to support our efforts with donations, transport help, and fostering. We could not do it without you!
Also, a big thank you to all of the great families that have adopted a Pointer from us and made a happy ending for a lucky Pointer. Without your open hearts and homes, we couldn't continue our rescue work. You might notice that we do our best never to repeat a name. Each of them was special to us, and we think about them often. Please remember to keep in touch, we love getting email updates and pictures from our foster kids.
Happy Happenings
We are happy to announce two exciting happenings in our life. First, Erin graduated from veterinary school in May 2008, so she's now officially a veterinarian. She is working at the Michigan Humane Society in Westland, Michigan.

Secondly, we are happy to announce the birth of our daughter, Killian Adelie Horan-Turner. She was born October 10, 2008 (on her cousin Henry's first birthday!). She just celebrated her first birthday and is already a huge animal lover (not sure if that is genetic or her environment… probably both!). Thank you to everyone for your continued support to help us with the rescue at this busy time. Also, since Kyle has now become a full-time stay at home dad (in large part so that we can give our own dogs and the rescue enough attention), donations are helpful more than ever since we are now a one income family and cannot use much of our income to subsidize the rescue.

Killian at five months old (with our dog, Brody), at eight months (on the 4th of July at a barbecue in the kiddie pool), and at ten months (in Oregon at the beach).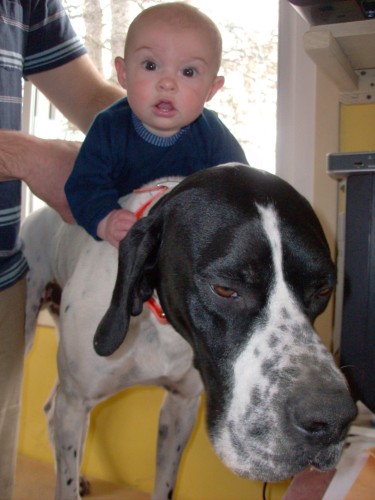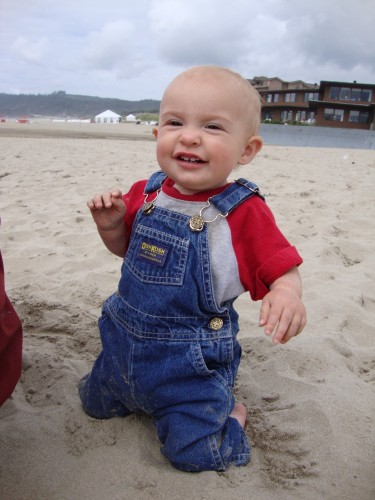 New Ways To Donate - Cafe Press and isearchigive.com
With the help of a new volunteer, Pointers From Oz is launching two new ways to donate to our group. The first is by buying Pointers From Oz merchandise on Café Press. We know many people have been wanting some official PFO merchandise (including us)! Our volunteer is still working on getting some of our best pictures up (including some that adoptive families have sent us). Go ahead and check out the site now, and continue to check it for more pictures of the dogs up:
The second is by encouraging people to search and shop using http://www.igive.com (a website that has been in existence since 1997). You can go to the website and select Pointers From Oz as your group, or click on the link below.

On igive, up to 26% of every purchase through the site is donated to Pointers From Oz. Membership is free using this site. There are 680+ online stores on the site, including Drs. Foster & Smith, PETCO, Petsmart, and PetFoodDirect.
igive.com also has a way to earn money while searching the internet through http://www.isearch.igive.com Using isearch is free (and works using yahoo search engines). The donation is $0.01 per qualified search (no hidden fees, no limits). Donation checks are sent every month and you can keep track of your individual contributions. Please give it a try! The numbers may seem small at first, but we all search the web hundreds of times every month, and our combined efforts can add up to real funds for a great cause. We know that other rescue groups are receiving around $50-$100 a month through this site.
Pointers From Oz is in great need of DONATIONS!!!
Pointers From Oz could greatly use some donations right now towards paying the shelter fees to get dogs out, dog food, vet expenses, etc. If you are interested in making a donation...
1) Use Paypal to donate to pointersfromoz@yahoo.com

2) Mail a check payable to Erin Horan to 1875 Burkley Road, Williamston MI 48895

Please indicate what you would like the donation to be used for if you have a preference.
Non-Profit Status
Pointers From Oz has been in existence since 2001, but we have not gotten non-profit status in a large part because I kept thinking that I wouldn't be able to keep being able to do rescue with going to vet school. But, with the help of my husband and my sheer determination to save these Pointers, we just keep going on and saving dogs. Since we are so busy with the dogs at our house and making arrangements to save other dogs, getting non-profit status has been slow in coming… but we are making headway. The paperwork is long and tedious, and the process takes about a year, but we have actually gotten it done!

We now have not-for-profit status in Michigan and are ready to submit our 501c3 federal non-profit status. The cost to submit the paperwork is $775… so if anyone would like to make a contribution towards that end… it would be greatly appreciated!
Looking for a Pointer that Loves Cats???
In an effort to help our potential adopters that have a cat (or several cats) already in their family… we have added a listing called Have Kitties?. We will continually update this listing to reflect all of the Pointers we have in our program that are good with cats. Nearly all of these dogs are in foster homes with cats, which gives us a lot of confidence behind our "cat friendly" stamp of approval. Just look for this listing in our petfinder scroller below (or click on the link in this paragraph).
Our Pointers Looking for Forever Families (in alphabetical order)
The link above will show our adoptable dogs in the approximate order they arrived in our program.

Use this link if you prefer it to the petfinder scroller above.
Who We Are
Pointers From Oz has now rescued 601 dogs (this is the official count as of November 2009)! We rescued 91 dogs when we were located in the Olympia, Washington area and 56 dogs when we were located in the Millbury, Massachusetts area. We are now located in Williamston, Michigan (where I moved to attend vet school at Michigan State University). My husband is an ecologist that is currently being an awesome stay at home dad (for both are new daughter Killian and our dog kids).

We take in Pointers from shelters if they are not adopted by their euthanasia date or on a space available basis from no-kill situations and owner surrenders, get them ready for adoption, and adopt them as family pets. The majority of the Pointers we get are from far away places, where there are an abundance of Pointers and not enough rescue resources or adopters. While they are with us at Pointers From Oz, the dogs are basically at dog camp. For the most part, they are in kennel runs, although we keep as many as we can in the house and try to rotate them. They get to run on our 3-acre property often. They get ample socialization with people and dogs. They love it here, and for most of them, it's the best they've ever had. But, it's far from a real home. They also get medical attention, which can range from the basics (spay/neuter, vaccines, heartworm testing and preventative, etc.) to advanced veterinary treatment. Some examples of past veterinary treatment that we provided include dentals and tooth extractions, surgery for cherry eyes and umbilical hernias, heartworm treatment (for heartworm positive dogs), repair of fractured bones, care of malnourished pregnant dogs, treatment for puppies with parvovirus, etc. Once we take dogs in, we take care of their medical expenses just as we would if they were our pets.

As space becomes available, we send some or our luckiest dogs to foster homes. Since we have limited foster homes, we send the dogs that need to be there the most; which include those dogs that are older, need more socialization, have been at Pointers From Oz the longest, or have never lived indoors before. For more information about our fostering program, look in the "Fostering" section below.
But, while we do the best we can at Pointers From Oz... it is not a permanent home. We want the best for these guys, and we do our best to match them up with families that can provide everything they want in life. Unfortunately, most of the dogs we get come from bad situations, and living at Pointers From Oz or in foster care is heaven to them. They have no idea that a wonderful life being spoiled by their very own family is in their future, they are just happy with what they have, every day. Pointers are an amazing breed to rescue since they have extremely stable temperaments, even with rough pasts. They adapt well to their new lives and families, and are wonderful with kids and other pets.

The name Pointers From Oz came from the name of my first rescue Pointer, who ended up staying around due to a knee injury which kept him here long enough for me to call him my own. He has now become a great buddy, and friend to all of the other dogs in the house. He came from Kansas, and so I decided to name him Oz. The dictionary definition of oz is: an unreal, magical, often bizarre place. Since the vast majority of rescues have unknown histories and come from unknown places, this seemed a fitting name for both my first rescue and, later, my own rescue group. Five years later, Oz is still here. He has had two knee surgeries and four malignant tumors, but is currently cancer free. He is a wonderful ambassador for rescue Pointers and still makes an effort to get each new foster dog to play, as do our other wonderful Pointers who are so accepting of their temporary foster brothers and sisters.

Information About Fostering
Pointers From Oz is fortunate to have some great foster homes. We wanted to take this opportunity to tell you about how our foster homes work. We are hoping that it will inspire you to become a foster home for us.

The majority of dogs in our program stay in kennel runs at our house (in an insulated barn). The dogs live in groups of a few dogs and get access to unlimited food, and often chew toys (like hooves) to prevent boredom. We let out 10-15 dogs at a time to run in our 3-acre underground/hidden fenced in area when we are home. It is sort of like living at a boarding school, it is okay, but it's not home.

Since we have limited foster homes, we use them for those dogs that need them most. The dogs that are in this category are those that have a medical condition that needs more attention, dogs with special needs, dogs that are timid and could use more socialization, dogs that have not lived in a house before, and dogs that have been in our program for a long time and we would like to get them out of a kennel situation. We also rotate foster dogs in our house when possible. Of course, we are always short on foster homes, so when a spot opens up in a foster home, it is tough to decide who needs to go the most.

One of the nice features about fostering for us is that we choose dogs that have already had their temperaments screened with us for a couple weeks, so we know they are stable. We make a list of dogs that will fit your needs, and also those that would benefit the most from being in your home. From that list, we let our foster homes choose the dog they would like to help. And, if the foster dog ends up being more than you can handle, then you can just bring the dog back to our house, knowing that they will be safe (rather than returning them to a shelter where the outcome is unknown).

If you are adopting a dog from us, and there is a dog that fits what you are looking for in foster care that would be a good match, we will be sure to mention these dogs. One of the perks about adopting a dog that has been in a foster home is that we know them very well. They are housetrained and crate trained and we know all of their little quirks. And remember, many of the dogs in kennel runs at our house have been in our home or a foster home at some point in time, so the same can be said of them. We are very honest with our adopters about letting them know as much about the dog as we do. We want you to have the best match. By far, the best thing about adopting a foster dog from us is it is a domino effect of good: You are giving a permanent home to a foster dog, opening a foster home up to move a dog from the kennel runs into, and opening a spot in the kennel runs to move a dog from a shelter into.
Information About Pointers
The first important fact to clarify about Pointers is their name. The American Kennel Club just calls them Pointers. But, some people also call them English Pointers or American Field Pointers. They are all the same breed. But, they are not the same as German Shorthaired Pointers, which are much more popular and are very different in personality and slightly different in looks. Pointers typically come in 4 colors: Black and White, Liver and White (a fancy way of saying brown and white), Orange and White (which means they are orange/beige/red and have a black nose), and Lemon and White (which means they are orange/beige/red and have a pink nose). German Shorthaired Pointers come in only Liver and White or Liver Roan (which means they are mostly brown). The easiest way to tell is that Pointers get to keep their tails, and German Shorthaired Pointers get their tails docked (cut short) when they are puppies in most cases. And Pointers are not hounds or hounddogs! They are birddogs. But, more than that, they are wonderful pets.

As you've probably guessed, we are big fans of English Pointers around here. What is so great about a Pointer… oh, where should we start. First of all, English Pointers are not just hunting dogs. Only about 1 in 50 dogs we adopt will go to a home where the person is interested in hunting with them. For one thing, we want these dogs to be pets first and foremost. If you have an interest in hunting, that is wonderful, just let us know. We hunt with our dogs and have nothing against it, but it takes a certain dog to make hunting with them a fun experience for both of you. And if you do have an interest in hunting, we don't want you to be disappointed in the dog if they aren't a good hunter. If you are a hunter, we welcome you to bring birds and help us test our foster dogs with them. Additionally, if you are in our area, you are welcome to join us when we train our dogs and we will help you out with your adopted dog. Secondly, most of the dogs we get in our program are not great hunters due to previous treatment (abuse, neglect, or lack of socialization) or they were specifically dumped or turned into the shelter because they could not hunt. Put simply, these dogs have already had a rough life, they just need a place to kick back and have it good. But they make wonderful pets!

Let's start with the good qualities English Pointers have. When choosing a breed, it's important to think about the origin of the breed. Pointers were bred to hunt alongside their person, so they are very loyal and affectionate. They were also bred to hunt with other dogs and live in groups, so they tend to be very good with other dogs. Pointing means that the dog freezes like a statue and stares in the direction of what they see or smell. Because they were bred to stop (rather than chase), Pointers are not aggressive towards other animals. Probably one of the best things about English Pointers is that they are typically great with other dogs, kids, cats, etc. They love to point birds, squirrels, butterflies, and sometimes your cat… but they don't want to cause harm to these animals. We have 3 cats and would be happy to test any rescue with our cats. I have never gotten a Pointer that actually wanted to harm a cat, but some are more obsessed about pestering cats than others. One of my favorite qualities about Pointers is that they are very resilient and forgiving. I think they are the most stable breed of dog I have ever been around. Many of the dogs we get in our program have obviously been neglected or abused. Nearly all of them were outdoor dogs that did not get the comforts of a house. And yet all of them learn to love and trust people in an amazingly short amount of time. I have tremendous respect for Pointers as a breed for this ability. I would estimate that 90% of the people we adopt Pointers are so sold on the breed, that they get a second Pointer. We have had many families adopt two dogs from us, and a few adopt 3 or 4!

Alright, now for those reasons that Pointers are not the most popular breed in America. The number one reason is probably because people think they are "huntin dawgs" and do not make good pets. And they think they are outdoor dogs. That is absolutely not true. Pointers are wonderful couch potatoes, love to sleep under the covers, sometimes like to play fetch or go swimming, and they all love to run and play. Most of them have a great sense of humor too. Only about 5% of the Pointers we get in rescue are show Pointers, meaning they were bred for dog shows. Some of these show Pointers can hunt, but most are pets. They are bigger and calmer than the field dogs, but personality wise they share a lot of the same traits. About 95% of the Pointers we get into rescue are field bred Pointers. This means that they were bred to run in field trials, which are competitions where people ride horses so they can keep track of their dogs. So, while it is rare for a Pointer to want to run away, they typically think there is nothing wrong with going pretty far away from you when they are off-leash. This is definitely not true of all of the Pointers we get. And, with a few exceptions, rescue Pointers can be trained to be off-leash. This is very beneficial in both exercising them and just enjoying your Pointer to the fullest. The range of a Pointer is probably the number two reason that Pointers are not more popular. Because of this, Pointers absolutely require fencing. They do very well with underground fences. All of the dogs in our program are already trained to our underground fence, so it will make training them on it at your house very easy. If you don't have a fence, an underground fence is typically much cheaper than a traditional fence and keeps your view pretty. We have a great relationship with our underground fence dealer (Randy at http://www.dogwatch-midmichigan.com) and he will make a donation towards our rescue if you are in our area and get a fence from him and tell him you found out about him from us. If you have a regular fence, please ask us if we think the dog you are interested in is a fence jumper. That is another not so great characteristic of a lot of Pointers. You see, when people hunt with them, they expect them to get around obstacles like fencing and barbed wire and not see it as a barrier. In my experience, few Pointers will jump a fence just to go explore, but more will jump if they are left in a yard unattended because they love their people. About 20% of the dogs in our program we consider "fence jumpers" and would like them to go to underground fence homes. Now, we don't want you to think Pointers are not a great choice for you. We just want you to know the good and the bad. We tell you first hand all of the good and bad about the dogs you are interested in adopting. It is not in our best interest or the dogs to hide anything from you, and knowingly place a dog in your home that isn't the best fit. When you visit us, we will happily tell you which dogs are bossy, very active, point cats, etc. We want you to get the best dog for your family. On occasion, we may even tell you that we don't think we have a dog to fit what you are looking for, not because you are a bad family but maybe the breed isn't a good fit for you or we just don't have the right Pointer here.

We often are asked, what is the difference between an English Pointer and a German Shorthaired Pointer (GSP). I have rescued 24 GSPs, so I do have some experience with the breed. But obviously, I prefer the English Pointer. The breeds differ beyond just the colors and whether or not the tail is docked. While they are both bred to hunt birds, they differ a bit in that regard. English Pointers were bred to be bird-finding machines. They are a one-sport athlete, and they are the best there is when it comes to pointing. GSPs were bred not only to find birds, but also to retrieve them and to track deer and rabbits. To a GSP, this means that just about anything running with fur is fair game. If you have a cat, this isn't such a good thing! GSPs are more likely to be swimmers and retrievers, although many English Pointers also do. GSPs have a shorter range off-leash since they were bred to hunt closer. GSPs were also bred to hunt alone, or maybe with one other dog whereas English Pointers were bred to hunt in big groups, and often to live in kennel runs with a lot of other dogs. English Pointers that didn't get along with the group didn't last long in a breeding program. It is rare for an English Pointer to truly be dog aggressive. But for GSPs, it is not considered such a fault since they were bred to hunt independently. We do get the occasional older male that is a bit of a grouch with certain boys, but fine with the ladies. These dogs do fine in households without another male dog, and they get along fine with dogs in public, in hunting situations, and at the dog park. I have also found that English Pointers are much more stable temperament-wise and not as likely to suffer from issues such as storm phobia and severe separation anxiety. Finally, English Pointers are calmer inside the house. When it comes to breeds, we all have our opinions, and I know there are plenty of die-hard GSP owners, especially in Michigan where GSPs are fairly common and English Pointers are relatively rare. But, I will say we have adopted to plenty of GSP owners, and every one I can remember is sold on the English Pointers.

Most of our own personal Pointers (the ones we keep forever) are dual (show-field) Pointers, so they are a combination of both in personality, although they look like show Pointers. We also have two field-bred Pointers. About half of our dogs we have had since puppyhood, and half of our dogs we took in or rescued as adults. We do occasionally breed our dogs, but mostly we just adore them as pets and love to take them hunting. You can also visit our dogs at our own Birdsboro Dogs website. The majority of Pointers we know have been through rescue. We have rescued 9 Show Pointers, about 170 Field Pointers, and many other hunting breeds (particularly German Shorthaired Pointers, German Wirehaired Pointers, English Setters, and a few hounds) and Pointer mixes. All but a few of these dogs have lived at our house (a few of them were in foster homes the entire time). So, when it comes to Pointers, we usually know what we are talking about. And of course we think they are the best. If you have any questions about the Pointer breed and if it is right for you, please contact us.
Our Adoption Fees
Our adoption fees are:
$325 for adults (dogs over one year)
$375 for young dogs (any dog under a year of age)
$475 for purebred puppies (includes spay/neuter and all age-appropriate vaccines)
$375 for mixed breed puppies (includes spay/neuter and all age-appropriate vaccines)
A Note About Our Adoption Fees
Currently, our costs for each dog we adopt out are about $100 over the adoption fees. We run this rescue because we just adore this breed, and think that the dogs are worth it.
While our adoption donation may seem high to some potential adopters at first, we would like to take this opportunity to explain some of our costs. This list is not intended to be viewed in a negative light. We love caring for the dogs in our care and finding them wonderful forever homes. However, we also realize that if you have never been involved with the bank account of a rescue group like ours, you may be unaware of everything that goes into these dogs, and the adoption fee can seem a bit steep.
What Pointers From Oz Does For Our Foster Dogs:
1) Basic Vet Care: Every dog in our program is spayed/neutered, updated on vaccines (regular and rabies), tested for heartworm, wormed, and been given heartworm preventative (and flea preventative during the warm season). If a foster dog is only with us for a month, the cost of all of this is $200. Of course, many of our foster dogs stay with us much longer, so their expenses are higher (it's about $10 more for each extra month).
2) Food and Bedding: Every foster dog at our house costs an average of $26 per month for food and $17 per month for pine shavings to keep their kennel runs clean. Together, this adds up to over $1000 per month! We do have a few dogs in foster care, and we are fortunate in that their foster homes provide the food for their foster dogs.
3) Shelter Fees: The shelter fees for each dog are quite variable, but on average, we spend about $50 per dog from the shelter.
4) Gas Money: Very few of the dogs we get in our program are from Michigan. The vast majority of our dogs are from Indiana, Illinois, Kentucky, Missouri, and Tennessee. We occasionally get dogs from other states (recently West Virginia, Georgia, South Carolina, and Kansas). To save these dogs, we try to get volunteer transports (which are basically relay rides). However, we often drive VERY long distances to get dogs and occasionally pay for the dogs to be transported. We spend an average of $400 per month on gas for transports.
5) Emergency Boarding: We avoid boarding dogs in our rescue program as much as possible. However, there are situations where a shelter cannot hold a dog for us until we can find a ride, and we are forced to board a dog to save his or her life. The costs of boarding are usually $12-$18 per day, which, as you can imagine, adds up fast.
6) The Little Extras: And of course there are the little additional items. While they are here, they get plenty of toys and chew toys to play with, kiddie pools in the summer, etc. Every dog goes out with a collar with an ID nameplate on it. We also send every dog home with a great training DVD from Pets Incredible.
7) Extra Vet Expenses: We do not turn away dogs at Pointers From Oz for health reasons. This is one HUGE difference between our expenses and the expenses of a typical shelter. We take senior dogs, heartworm positive dogs, dogs with fractured limbs, sick puppies, pregnant dogs, dogs with cherry eyes and umbilical hernias, and anything else you can think of. To date, we have treated 10 heartworm positive dogs (this is not including those that have been treated prior to getting to our rescue). We get a deal with our vet on this, but it still costs $200 per dog. Sadly, 3 dogs and 11 puppies that we have taken into our program died while they were with us in foster care due to medical problems. Obviously, we do not get adoption donations for these dogs that never make it to their forever homes.
8) Our Foster Dogs Are With Us A While: Unlike a shelter, where dogs typically stay a few days to a couple weeks, our foster dogs are typically with us anywhere from a few weeks up to a year. Once a dog is in our program, we provide for their basic and medical needs. We do not euthanize dogs unless they have a serious health issue that cannot be treated or have a behavioral issue that makes them unsuitable for an adoption.
9) Our Time: We do not charge for our time, but it is important for adopters to realize just how much time we put into our dogs and into making the adoption a success. Before a dog even gets to us, we have spent an average of about 5-10 hours per dog making arrangements with the shelter, transporters, etc. to get them here. Keeping petfinder up to date takes about 10-15 hours per week. Taking care of our foster dogs (feeding, watering, exercising, and training them to the underground fence) takes a few hours every day. Home visits take time and gas money. Every family that adopts from us spends at least a couple hours at our house. Lastly, there are all of those phone calls and e-mails for training and behavior help after a foster dog has gone to their new home.
What You Get When You Adopt From Us:
1) A Fully Vetted Dog: To the best of our knowledge, your dog will go home clear of any health issues. If your dog does have any health issues that we are aware of, we will fully disclose them to you and many times we provide further vet care for your dog to help with the disease. We know that the first trip to the vet is expensive regardless and we do our best to give you a dog that is free of parasites and other health issues in addition to being up to date on vaccines, heartworm and flea/tick preventative, and spayed/neutered.
2) A Socialized Dog: Our dogs do not go out with perfect manners by any means. But, they have been socialized extensively with people and other dogs. We do not hide anything from adopters when it comes to temperament. We want our adoptions to work. We place our alpha dogs in homes where they get to be the only dog. When it comes to kids, we are very particular about which dogs are appropriate for which ages. If a dog appears to have been abused, we will not place that dog in a home with small children, which is in the best interest of the dog and the kids. If you have a cat, we will happily cat test your potential dog with our cats (in front of you) to see if they are a good candidate for your home.
3) Free Advice: I have been training dogs and studying dog behavior for over 10 years, and am currently in my third year of vet school. My fiancé, Kyle, is an expert by living here! We are happy to help you with any basic training or behavior issues, or if you have a medical question that does not warrant you running to your vet. We will let you know if your question is beyond the scope of our knowledge.
4) You Get To Be A Hero: Just look into the face of a dog you adopt from us and you know you did the right thing. By adopting from us, you are not supporting puppy mills, pet stores, and backyard breeders. That is not to say there aren't good breeders out there… but there are plenty of dogs that are phenomenal pets and even hunting buddies that need a spot on someone's couch and in your arms.
5) A Last Resort: We hope that all of our adoptions are perfect and permanent. However, sometimes things don't work out and sometimes life gets in the way. When you adopt from us, you have the comfort of knowing that if anything happens, even years later, that makes the adoption no longer work, that you will be able to (and are required to) bring the dog back to us and not to a shelter. It is our promise to every dog we take in that they will never end up in a shelter, an outdoor home, or a neglectful situation again.
Adopters are required to sign a contract that specifies that the dog is to be a family member first, meaning that it will reside mostly in the house. We also require that any dog that we adopt is returned to us, for any reason, no matter how much time has gone by or what condition the dog is in, if the adoptive family can no longer provide a home for them. We are hunter-friendly and do adopt Pointers to hunting homes (and we do hunt with many of our own Pointers), provided the dog is a pet first and a hunter second. However, only a few of the dogs, due to instinct, temperament, and previous treatment, will make good hunting companions. If you are interested in a hunting buddy, I'd be happy to talk with you.
Donations
Pointers From Oz is currently in the process of getting non-profit status. We plan to have non-profit status in 2007, and after that time, donations will be tax-deductible. However, we could greatly use donations now for all of the dogs currently in our program for food, shelter fees, and vet expenses. If you are interested in making a donation...

1) Use Paypal to donate to pointersfromoz@yahoo.com

2) Mail a check payable to Erin Horan to 1875 Burkley Road, Williamston MI 48895

Please indicate what you would like the donation to be used for if you have a preference.

We have a DogWatch brand fence. We love the fence (as do the Pointers) and highly recommend it. If you are in our area, and purchase a fence through Randy of Dog Watch Mid Michigan and let him know we sent you, he will donate to our rescue!
Come Meet The Pointers
Pointers From Oz is a rescue group that takes place at my home or in foster homes. Thus, we do not have shelter hours. If you would like to know more about one of the dogs or meet him or her in person, please call and we will work out a convenient time for both parties. Right now, we are doing appointments on Wednesdays, Thursdays, and Sundays at our house… and our foster home's schedules vary. But, please remember this is our house, so we cannot have unannounced visitors. Our address is listed below. If we make an appointment with you, you can use yahoo maps or google to get directions as both are accurate. We are easily accessible from highway US-127, M-52, or I-96. Our house is a brick house with a deck and a red barn that is visible from the road. Our address is on the mailbox.

---
Pointers From Oz
1875 Burkley Road
Williamston, MI 48895
Phone: (517) 648-1666

Email: ehoran81@yahoo.com

---

[Home] [Information] [Shelters] [Search]