Thank You for Visiting the Pet Rescue North Home Page on Petfinder.com
(Note - the video link will take you to a YouTube page . . . click your browser's back button to return to this page)
Our Pet of the Month is Precious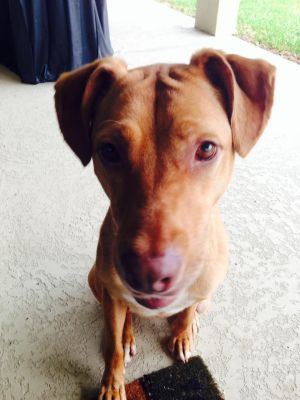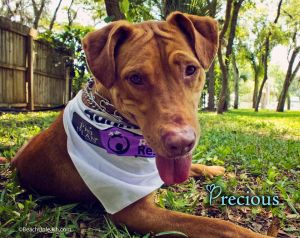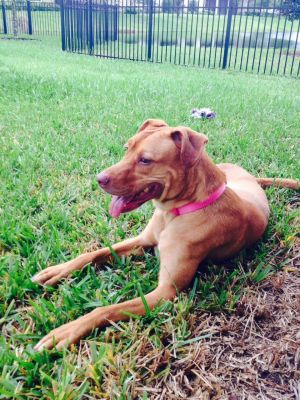 We wants it, we needs it. Must have the precious.

Okay, to open a description of a dog, a 2-3 year old Viszla mix, named Precious with a quote from The Lord of the Rings, where the ring is also known as the precious may seem a bit unoriginal, but it is no accident because, just as that fantasy by Tolkien is an epic novel, our Precious is an epic dog!

Once you meet Precious you will be absolutely smitten. Not only is she magnificent to look at, she is also the most loving creature you will ever meet. But bringing her into your life will also bring some challenges. You see, we originally came to know Precious as the dumpster dog: found abandoned, fending for herself, jumping in and out of a dumpster searching for food. It turned out Precious was micro-chipped, and from that we discovered that she was originally adopted via Animal Care and Protective Services--presumably she had been surrendered there or found as a stray--but, when contacted, those adopters said they did not want her anymore. So that makes at least twice in her two to three years of life that a trusted one in the life of Precious has abandoned her in some way. Through living on the streets any coping skills that Precious may have developed in a home environment were lost, with survival instincts replacing them.

As one of the most affectionate, fun-loving dogs you will ever meet, Precious craves attention and affection but, probably as a result of multiple abandonments, she exhibits signs of stress and anxiety when separated from those she loves even if she can see them through a glass door, and can become quite insistent on gaining that attention. Of course, that is not a problem if you do not mind finding her huge head suddenly parked in your lap or on your shoulder when you least expect it, but it also means that she needs a home where she will be the focus and where she will not be left alone for extended periods.

Everyone currently involved in caring for Precious, including her foster mom, had hoped that her current foster home would become her forever home, but the original dog in the home does not get on with Precious and this has led to incidents between the dogs. Although the hostility appears to originate with the first dog, the response by Precious to that hostility has been aggressive on occasions. This means that the two dogs have to be separated at all times, decreasing the attention that Precious gets and increasing her anxiety, as her foster mom tries to give both dogs equal time and affection. Additionally, Precious has shown signs of becoming food-protective, if not food-aggressive, probably due to her awareness of the other dog in the home.

It is not clear whether these behaviors will transfer to other animals, and we also do not know how Precious would respond to cats. She is very friendly toward children, but she is a large powerful dog who could easily knock a small child over without intending to.

She will need lots of exercise. A large yard is a necessity, and frequent walks or runs are a must!

Currently a trainer is working with Precious and her foster mom in the hope that they can find a way for the two dogs in the home to get along, but the relationship does not appear to be improving. This means that, reluctantly, we are still searching for a forever home.

So to summarize, we are looking for a home with an active family who are experienced with large, energetic dogs, where someone would be home most of the time, and preferably where Precious will be the only pet. If there are children in the home they should be older.

If you are up for a challenge, prepared to persevere and not quit at the first sign of a problem, and want to increase the amount of love in your home by factors of thousands, then Precious may just be the dog for you!

You can find adoption details for Precious here

To qualify to adopt Precious you must live in the Jacksonville area, have a fenced yard and be able to provide PRN with a vet reference. No exceptions. If you can give Precious the home she deserves please contact Pet Rescue North!


YOU MUST HAVE A FENCED YARD TO ADOPT FROM PET RESCUE NORTH.

Please contact us at prnorth@yahoo.com to request an application, and one will be emailed to you.


News
You can contribute to Pet Rescue North, Inc. through the United Way and the Combined Federal Campaign. To designate your pledge submit Pet Rescue North, Inc. #3038.

WE ARE IN URGENT NEED OF FOSTER HOMES! If you might be interested in fostering a dog for 2 weeks to 2 months so that the animal can live inside a home while waiting to be adopted, please e-mail us at prnadopt@yahoo.com and ask us how you can become a foster pet parent!


Who We Are
Pet Rescue North is a non-profit, no-kill animal shelter. Pet Rescue North, Inc. opened their doors in 1992 to abandoned, abused, and starving animals. Pet Rescue North exists through donations of money, food, and any other shelter supplies. All are gratefully appreciated. The ultimate goal is to place all our animals in forever homes. When animals come into Pet Rescue North they are examined by our veterinarian. All animals are spayed or neutered. They are brought up-to-date on all their vaccinations. They are tested for heartworms, and if they are positive, treatment is provided. Our goal is to never release a sick or injured animal.
Adopting a Friend
You may request an application to be sent to you by emailing us at prnorth@yahoo.com.

An ADOPTION FEE of $110.00 will be charged to cover medical expenses while the animals are under the care of Pet Rescue North. This fee will cover the following medical treatment: spaying or neutering (ALL ANIMALS MUST BE SPAYED OR NEUTERED. THERE WILL BE NO EXCEPTIONS!!!); heartworm check; one DHLPP-CV shot; initial treatment of heartworm preventative program; initial treatment of flea and tick preventative program; fecal exam to check for hookworms, roundworms or whipworms (if positive, the animal will be wormed). All medical care provided shall be performed ONLY by the veterinarians servicing the shelter.

Appointments for meeting our animals and for adoptions must be made by calling Peggy at 904-477-1000. ** NO CALLS WILL BE TAKEN OR RETURNED AFTER 8:00 P.M.**

A few of the general guidelines that make up the Pet Rescue North (PRN) Adoption Policy are provided below. While, as they say, there is an exception to every rule, these guidelines are standard for no-kill shelters and are used for deciding suitability of a potential adopter:
*ALL ADOPTION APPLICANTS MUST BE INTERVIEWED AND APPROVED.* The interview questions are not intended to be insulting or seem unfeeling. We simply must make sure our animals will never again be abandoned, mistreated, or neglected!
PRN reserves the right to deny person(s) who does not meet PRN's specified adoption policies.
Applicant must be 18 years of age or older in order to adopt.
Applicant must have valid identification, with name and present address (driver's license, major credit card, or a current utility bill).
If single and living at home with parents, one parent MUST be present or reached by telephone at the time of adoption. The person who will be responsible for the pet MUST be 18 years of age or older. The person who is going to be responsible for the pet must be present at the time of adoption in order to sign the Adoption Agreement.
No animal will be tied up, kept outside in a doghouse, pen, run, or kennel, or any type of garage, shed, laundry room, or basement.
Animals are expected to be part of the family.
No dormitory or group living situations, i.e., schools, group housing, etc., are permitted.
Landlords or rental agents will be called to verify pets are allowed.
NO LARGE DOGS TO APARTMENTS! The only exception may be owner surrenders advertised on Petfinder.com through our organization, animals who are evaluated and adopted as service animals in training, or those animals already trained for service work.
Present and past pet history must be verified, including a veterinary reference. WE WILL NOT ADOPT TO ANYONE WHO DOES NOT HAVE A VETERINARY REFERENCE.
Adopter must have a working business telephone number.
Adopter must reside within 50 miles of Jacksonville, FL.
Surrendering Animals
If you need to find a new home for your animal, please contact us at prnorth@yahoo.com

Volunteering and Donations
Volunteers and donations,--whether money, food, or any pet supplies--are always welcomed and accepted. If you would like to donate a dog bed to our shelter animals, please visit this link to view >Kuranda Beds - our animals would be most appreciative!


Pet Rescue North, Inc.
P.O. Box 28574
Jacksonville, FL 32226-8574

Phone: 904-477-1000 (adoptions)
E-mail: prnorth@yahoo.com



---

[Home] [Information] [Shelters] [Search]