Featured Pet:
SKIPPER
Skipper is an 8 month old pup; his mother was a Maremma, Dad unknown. We think he will get to be about 60 lbs. Skipper is fully vetted and on heartworm preventive. He has a happy disposition and is a quick learner. Email us for further information about Skipper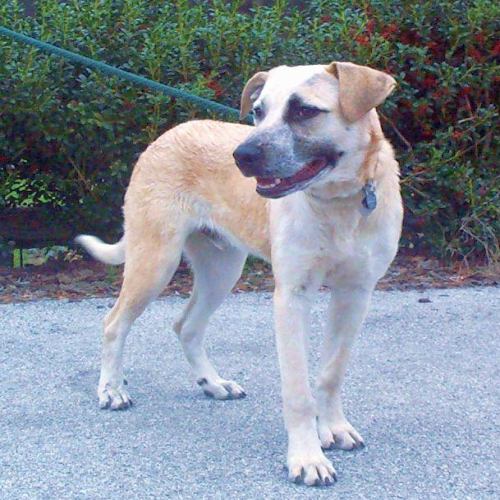 LOST YOUR PET?
We recommend findtoto.com:
MICROCHIPS
If you are looking for a low-cost way to chip your pet, The Marion County Animal Center offers pet microchipping for $5.00
When you have a microchip implanted by a vet, or if you get a dog that has a chip in it, you must register yourself as the owner in the database of the company that made the microchip.
The two major manufacturers of microchips are Avid and Home Again. Registration costs about $15 and must be mailed to the company. Your vet does not do this when he puts in the microchip - you must do it yourself separately. Please check and see if your pet has a microchip and register it NOW! And if you have moved, make sure you have notifed the microchip company about your change of address and contact information. Your pet's life could depend on it.
Pet Network is a 501(c)(3) Humane Organization.
TRAINING VIDEO - FREE!
Click here:
Who We ArePet Network, Inc., is a no-kill rescue group serving Ocala and surrounding areas in North Central FL. We provide shelter and medical care to homeless pets. We are a nonprofit 501c3 charitable organization that was founded in 2001. We care for and adopt many older and special needs pets. We are an all-volunteer organization with no paid employees. Adopting a friendPet Network is a no-kill rescue group doing pet adoptions in Citrus, Marion, and Alachua Counties in FL. Dogs coming through our rescue are brought up to date on vaccinations, checked for heartworms and other parasites, placed on heartworm preventive, and spayed or neutered before placement. Our adoptions have a two-week full refund return option.
We do local adoptions only. We have an application process which includes a home visit. Our goal is to match the right pet to the right home!
Come Visit Us!
Pet Network uses foster homes instead of a commercial animal shelter facility. Our dogs are shown by appointment.
Want info on our current events? Find us on Facebook!
---
Pet Network Inc.
P.O. Box 56
Morriston, FL 32668
Phone: (352) 528-0270
Email: floridapets@yahoo.com
Click here for a complete list of pets at this shelter

---

[Home] [Information] [Shelters] [Search]