Persian Purebred Purrbaby Rescue
NOTE: We are not a shelter. There is no facility, no visiting hours or viewing of cats. You must ask for, fill-out and submit an application.
Upon approval you will be contacted to set a day and time for meeting the cat(s) you're interested in adopting.
Also, we do not adopt young cats to senior people. As we want the cats to be in one home for the rest of their lives.
It isn't fair to ask the cats to once again be rehomed due to new owner passing or unable to care for them. NOTE: WE DO NO ADOPTIONS ON SUNDAY AND NO FURTHER THAN A 4 - 5 HOUR DRIVE FROM COLUMBUS
AND WE NEVER SHIP OUR CATS!
HELP: WE NEED FOSTER HOMES FOR OUR CATS!
---
Our Featured Pet...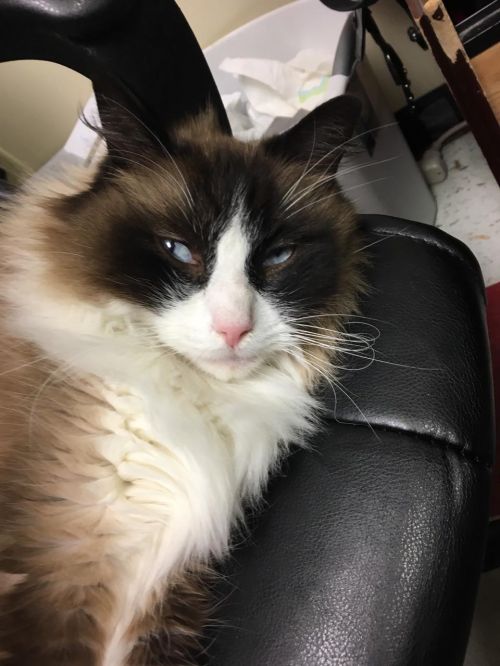 DUKE
Hi there, I am Duke, a 6 yrs young, very sweet purebred Ragdoll male. I am ok with other cats or a cat friendly dog. I am a very big cat, as I weigh over 16 lbs. I am a seal and white bi-color. I would love to be an only cat and I crave attention, but ok if other cats are not bullies. Thank you for considering a rescue kitty!

---

WE NEED FOSTERS!! If interested in fostering, please read paragraph below and email us for the fostering application.


ALL OUR ADOPTION FEES BELOW *




Exotic and Purebred Kitten $300.00

Purebred Young Adult $250.00

Purebred Adult $200.00

Purebred Senior $135.00

* Unless otherwise noted on cat's profile. Who We AreWe are a small rescue located in Columbus, Ohio and the surrounding area. Our cats come primarily from shelters and are then vetted and put into foster homes until placed in a safe, permanent indoor home. We take in cats who are at risk of being euthanized. Then we put them into rescue where they are safe and at NO risk to be put down. They are in foster homes while we work to get them adopted into new homes to be loved and taken care of by their adoptive family for the remainder of their lives. We take adoptions very seriously. We are not a 501(c)3 at this time, but do hope to gain this status in the near future. We are always accepting donations to help pay our vet bills and buy food for the cats in foster. We do not have the 501(c)3 status so we can NOT give a tax deductible receipt for any donations. If you are interested in donating funds please contact us via email ccrescue614@yahoo.com. Please send an email if you decide to donate please. Adopting a friendSTEPS WE FOLLOW TO ADOPT: We have an adoption application we require to be filled out and emailed or mailed for consideration to adopt a cat. It can be received by emailing us at ccrescue614@yahoo.com with the request for an application in the subject line, please. We then review the application and check vet and/or personal references if required. After review and verification of information we will do a phone interview. Following all information being shared and discussed in the application or in a phone interview, a home visit is scheduled. After all these steps are finished, an appointment to meet the cat(s) is set up. All cats are in foster homes and an appointment must be set to meet any cats. All applicants must be screened before an appointment can be set, NO EXCEPTION. Once all steps are finalized to adopt we require adopters to pick up the cat(s)/kitten(s) in the location they are fostered and adopters must bring their own carriers to transport cats safely home. ADOPTION STEPS:
1) Adoption Application filled out and returned will be emailed to you by request from ccrescue614@yahoo.com
2) Rescue reviews application and information
3) Rescue checks references
4) Phone interview
5) Home visit
6) Meet cat(s) and Adoption WE NEED FOSTERS AND VOLUNTEERS If you are interested in fostering in Ohio or volunteering in various areas please contact us via email for a foster application.to fill out. We do have fosters in and around the Columbus and Cincinnati areas. We need more all the time. One more foster will save one more kitty! We are looking for volunteers to help with fundraisers, letting one of the rescue kitties live with you while up for adoption, transporting pets from out of town shelters to our vet, and other areas. We ALWiAYS need fosters as they are the backbone of this rescue and we really need more to help save these precious cats from the unthinkable. Please send an email with volunteer in the subject line with any other details on exactly what areas you would like to volunteer for.

---

Persian Purebred Purrbaby Rescue
PO Box 12395
Columbus, OH 43212
Phone: NO LONGER IN SERVICE And our link to SHARE WITH FRIENDS AND FAMILY IS www.persianpurrbaby.petfinder.com

Email: ccrescue614@yahoo.com
Click here for a list of pets at this shelter


---





[Home] [Information] [Shelters] [Search]