Open Arms ResQ, Refurral & Sanctuary
Proof that there's no limit to what an adopted dog can do...
---
---
Our Featured Pet...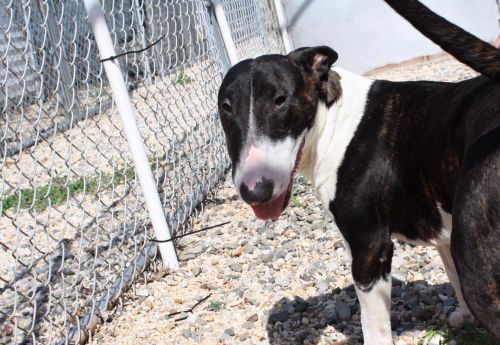 Diamond is a 1 yr old brindle and white bull terrier. She is sweet, playful and fun to have around. She lives with other dogs and shows an interest in cats. Does well with older children. Diamond is housebroken and crate trained as well. She would make a lovely addition to a family looking for a fun pup!
News
Who We Are Open Arms ResQ, Refurral & Sanctuary is a foster based rescue and sanctuary that deals with all types of animals. While we mainly deal with cats and dogs we are open to take in birds, exotics, reptiles and even farm animals. We also have many referrals that we will gladly pass along if we can not take the animal in ourselves. All of our rescues stay in the house with us and live as part of the family. We have no kennels and none of our animals are segregated within the house. We are always happy to answer any questions on specific breeds, nutrition or just general education. Adopting a friend

Adopting a new friend is a process that is quick and painless. We require that a home visit be done prior to adoption to meet the new family and to see the new home. Vet references and/or personal references are required. All of our dogs are up to date on shots, wormed, spayed/neutered (age and health permitting) and microchipped. Adoption fees vary depending on the animal. To begin the adoption process please email us and let us know who you are interested in and please include a little information about yourself/family. We receive different kinds of dogs all the time so if we don't not have one for you now please check back later or we can refer you to another rescue or shelter that may have the one for you. Volunteers and Foster Homes Needed Open Arms ResQ, Refurral & Sanctuary is a small organization and as much as we would like to expand and help more animals we need volunteers to do so. We need foster homes more than anything but welcome any kind of volunteer work. We rely solely on donations, adoption donations and volunteers to keep us running. If you ever have any animal supplies (i.e. bowls, leashes, blankets, crates) that you can spare please email us. All donations are very much appreciated!

---

Open Arms ResQ, Refurral & Sanctuary

Assisting Pottstown, Collegeville, Pennsburg and surrounding areas
Phone: Emails Only Please

Email: openarmsresq@yahoo.com
Click here for a list of pets at this shelter


---





[Home] [Information] [Shelters] [Search]