One Starfish Rehoming Connections
---
Our Featured Pet...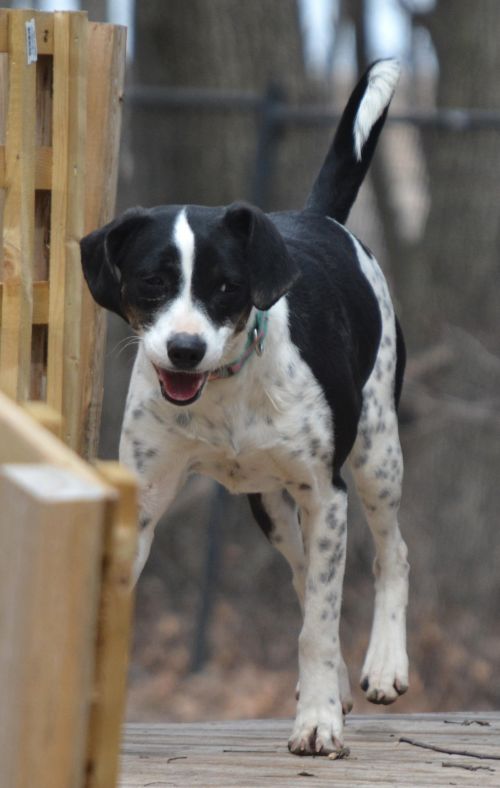 Ellie- Ellie came to us because her heartbroken owner--who recently had surgery--was no longer able to care for her. Ellie is about a year and a half old, she weighs about 25 lbs., she's very healthy, she's fully vetted (including having been spayed), she loves people she is full of energy! Ellie loves to play with other dogs (but she plays too rough with cats). She runs like the wind and her recall isn't the best (typical of hounds) so a fenced yard would be best for her. Ellie's adoption fee is $275. Please e-mail us at rehome@onestarfish.net and tell us about yourself, your daily schedule, if you have a safely fenced yard, etc. and then we will send you an adoption application if we feel Ellie would be a good fit for you. Please check our Petfinder home page to read more about our rescue's adoption policies and fees. We do not operate a humane society or shelter, so we do not have a facility that is open to the public. Our dogs are fostered by volunteers in private homes, and are not available for viewing until an adoption application is filled out and references are checked. Again, please read the information on our home page before contacting us. NOTE: PLEASE READ THE FOLLOWING BEFORE YOU CONTACT US.... Please refer to our Petfinder home page to read more about our rescue's adoption policies and fees. We do not operate a humane society or shelter, so we do not have a facility that is open to the public. Our dogs are fostered by volunteers in private homes, and are not available for viewing until an adoption application is filled out and references are checked. Again, we ask you to read the information on our home page before e-mailing us.
Who We Are
While our rescue group does usually have a few dogs available for adoption (and we have a soft spot in our hearts for the special medical needs dogs), our main goal is to provide assistance to folks needing help in finding the right dog to adopt. The rescue world is virtually inaccessible to potential adopters who don't have access to a computer and/or are not computer savvy. Even for those who do find their way to Petfinder, dealing with rescues and various shelters can be very confusing and intimidating. Folks who don't understand the basic operational differences between shelters and rescues may not have any idea what questions to ask or what to expect when contacting a rescue and, consequently, they can easily become discouraged in their search. We assist potential adopters by helping them understand how rescues work, what to expect in dealing with rescue groups, and the advantages and disadvantages of working with a rescue vs. a shelter. By networking with other rescues and shelters, we try to help potential adopters find the best pet for their situation and lifestyle. And, for those who don't have access to a computer, we will surf the net for them and then provide them with various leads to follow up on. We also offer suggestions on a number of dog-related subjects, from tips on safely re-homing an animal to advice regarding which dog breed (or breed mixes) might be best for an individual's unique living and family situation. At any given time, our own rescue has a very limited number of available dogs. However, if the animals we presently have available in our foster program don't meet someone's particular needs (or, vice versa) we offer assistance in their search for the perfect dog. Each year millions of dogs must be euthanized in shelters nationwide for the simple reason that there are more dogs bred than there are loving, adoptive homes. Puppy mills, pet shops, and casual breeders--those whose primary goal is making money by selling dogs--are the main reason for this heartbreaking statistic. By helping folks find the right dog to adopt from a rescue or shelter, we are doing our part to save these precious lives, one dog at a time....PLEASE CLICK ON THE GREEN ARROW BELOW TO WATCH A 5 MINUTE VIDEO THAT WE MADE RECENTLY. (BE SURE YOU HAVE THE VOLUME TURNED UP, SO YOU CAN HEAR THE MUSIC.) WE HOPE YOU APPRECIATE THIS ARTISTIC EFFORT THAT WE HAVE MADE ON BEHALF OF ALL THE HOMELESS ANIMALS, AND WE ASK THAT YOU SHARE THIS VIDEO WITH YOUR FRIENDS AND FELLOW ANIMAL LOVERS.






What's New
WE WOULD LIKE TO HEAR FROM YOU! As the internet has become more popular, "networking" has become an important tool for those involved in animal welfare. The number of rescue groups has grown each year, and rescues are now playing an increasingly important role in sharing the burden that used to be exclusively carried by shelters, humane societies, pounds, and animal control facilities. The good news is that--as a result of the efforts all these rescue groups--more animals' lives are being saved..... But the bad news is--because "rescue" is a fairly new concept--potential adopters often become discouraged and upset because they don't understand the ways in which rescues operate differently than shelters. And, we must admit, many rescue groups--either due to inexperience or rescue "burn-out"--often lack the empathy and patience needed to work with potential adopters and pet owners. We are the first to admit that there is plenty of blame to go around. Unfortunately, each unhappy interaction that ends in disappointment, misunderstanding, or hard feelings results in an animal missing out on an opportunity to find a loving "forever" home. Worse yet, if a disgruntled potential adopter goes away with a negative impression of rescue, that person then tells other people about their negative experience--essentially discouraging others from adopting through rescue. Naturally, not every inquiry will result in an adoption. Sometimes a rescue finds itself in a position of having to say "no" to a potential adopter, if they don't feel it is a good match for all involved. But we feel "rescue" owes it to their animals as well as to each potential adopter to treat everyone with respect, and to recognize that each interaction with a potential adopter is an opportunity for learning and good will. One Starfish Rehoming Connections has been doing rescue work for over ten years now, and we are well aware of the frustrations that rescues experience in their day-to-day dealings with the public. But, we feel that no one has yet offered a forum for pet owners and potential adopters, to share THEIR experiences (both good and bad). We feel strongly that "rescue" should be open to constructive suggestions regarding how we all might work together more effectively, which would--in turn--result in finding good homes for more needy animals. We would like to encourage and promote better understanding and empathy between rescue groups and potential adopters like you. In an effort to achieve this goal, we are in the process of creating a website called "UnderstandingDogRescue. net" We want to include on our website information that will be useful to potential adopters as well as to rescues who want to learn how to work more effectively with public. During this planning stage, we would appreciate your input. We would like to hear your suggestions on such things as: -what information we should include on our new website -what misconceptions about "rescue" you have had in the past (and what misconceptions your friends and acquaintances might have) -what common mistakes are made by rescue groups -how you feel "rescue" in general could improve its working relationship with potential adopters -how rescue might more effectively "spread the word" about adopting (rather than buying from a breeder or pet store) If you would like to help us with this project, please e-mail us at: rehome@onestarfish.net We thank you--in advance--for your suggestions and ideas! (And--although we promise to carefully read and take to heart every e-mail we receive--please let us know if you would like a specific answer to a question or acknowledgment of your e-mail.)
Adopting a friend
Call us overly protective "mother hens", but we are looking for a few near-perfect adoptive homes for our foster dogs. Because all dogs are basically "pack" animals who enjoy spending time with their owner(s)--and because many of our available dogs have a previous history of neglect and/or abuse--we want them to enjoy a lot of quality time with their owners. (In other words, we prefer that they not be "latch key" dogs.) We also prefer that the adoptive family/couple/individual have no young children because most of our dogs are quite small and could easily be inadvertently injured or frightened by a youngster. Finally, we would like our dogs to be adopted by folks who own their own home and have a fenced-in yard. Are we being overly fussy? Perhaps.... But our foster dogs are like our children, and we are willing to wait until what we believe to be the perfect home comes along! If you feel you would qualify to adopt one of our little ones, please e-mail us for an adoption application. (There is, of course, no implied obligation in filling one out.) Prior to adoption, we ask for (and check) references as well as set up a time to visit the potential adopter in his/her own home to discuss the particular dog being considered. Our adoption fees vary somewhat, depending on our out-of-pocket expenses incurred in preparing each animal for adoption. All of our dogs are spayed/ neutered, microchipped, wormed, tested for heartworms, and immunized for rabies, distemper, and bordatella, and our fees normally range between $200 and $250. We might not have the perfect dog that you are looking for in our own rescue program. But, once we have a better idea of your life situation and what kind of a dog you wish to adopt, we would be happy to help connect you with various shelters and other rescues (each of which has somewhat different adoption standards and requirements). Many shelters either don't yet have a Petfinder link or aren't able to keep their postings updated on a daily basis, but we can help you connect with these shelters to determine what dogs they currently have available for adoption. We hope you will give us the opportunity to help you untangle the "web" of various adoption options and to make the necessary connections. We offer this supportive service at no charge to you, and we receive no "incentives" from any shelter or rescue. What we do, we do for the animals, and because we enjoy working with folks in their search to adopt a dog that will fit their individual needs and lifestyle. Puppy mills, pet stores, and backyard breeders--along with unsterilized pets--are the cause of the pet overpopulation problem. Light one candle of hope for these homeless animals by adopting a rescue or shelter dog, and be sure to spay/neuter ALL of your animals!
---
One Starfish Rehoming Connections
P.O. Box 404
Columbus, Wi. 53925


Email: rehome@onestarfish.net.net
Click here for a list of pets at this shelter

---

[Home] [Information] [Shelters] [Search]