One whimsical, and highly coveted, 'Wild Thing' GlamKat. $40.
A $75. makeup application by talented professional makeup artist, Susan Hope.

Call 212.353.9783 or email nyckitties@yahoo.com for tickets. MORE TICKETS, MORE CHANCES!! IF YOU BUY 10 FOR $50, GET ONE FREE. BUY A BOOK OF 25 FOR ONLY $115., GET 2 FREE! Mail checks made out to N Y C Rescued Kitties, P.O. Box 614, N.Y., N.Y., 10002. Please include your name, address, & phone number, including an email address, & amount of tickets desired. The NYC Rescued Kitties thank you!
---

PLEASE HELP!!!
CASSIOPIA NEEDS SURGERY
New York City Rescued Kitties is a no-kill shelter. However, that doesn't mean that every animal we care for lives a long life. Many creatures that we take in are in such poor health, they require immediate medical attention. Even then, not all survive.
Cassiopia is one such animal. She's a gentle 11-year-old brown-and-white Norwegian Forest Cat. She was found in a lot on the Lower East Side with her brother, Jupiter, when she was 2 months old. Her brother only lived another year.
Cassiopia somehow survived the mean streets of the big city, but she faces new struggles: a half-inch stone in her bladder and rotten teeth. She needs an operation and major dental work.
Please donate something to help Cassiopia get well. Even a small amount would help. If you prefer to donate directly to Cassiopia's veterinary hospital, please contact New York City Rescued Kitties for details. Call 212.353.9783 or e-mail nyckitties@yahoo.com.
If enough people care, animals such as Cassiopia might have a chance to live a full life, free of suffering.
---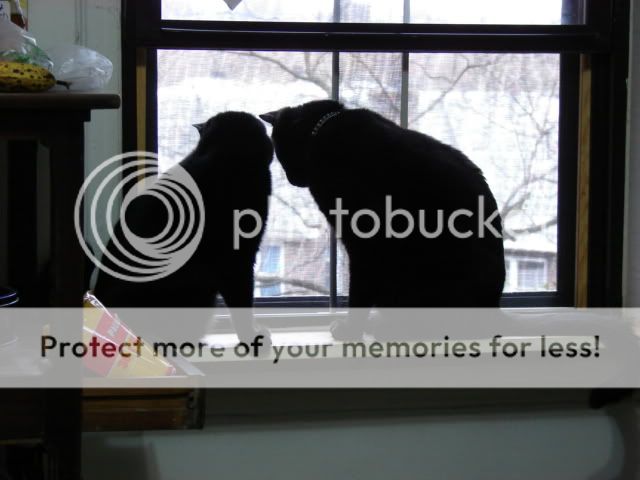 Little Dino Got a New Home!

Hi Everyone!

I wanted to share with you some good news about my new home. I am very happy there. Zebra, my new feline friend, started sharing some toys and even letting me play in his room. Anna, my new human mom, shows me lots of attention. I think I will let her pick me up soon.

Love to all of you.

Dino


DINO's STORY:
Dino was rescued by NYC Rescued Kitties in 2000. When Dino was little, he had gotten a severe infection that almost had taken his life. Luckily, Dino has overcome his illness but was left with an incurable eye condition. It took a myriad of vet visits and eye surgeries to stabilize Dino's eye vision.
Today, Dino is a healthy cat who, despite partial blindness, is very nimble and curious.

Click here to learn more about Dino.

---



Ruffin is a 4- to 5-year-old orange male cat who has definitely used up some of his nine lives. He was found in a box in a park on the Lower East Side, along with his three siblings. He was 2 months old.
When Ruffin was 9 months of age, he became sick. A veterinarian incorrectly diagnosed him to have Feline Infectious Peritonitis. FIP typically strikes cats less than a year old. And there's no cure. As such, the vet recommended that we put Little Ruffin to sleep. Of course, we refused.
Against all odds, Ruffin courageously fought for life and was fine until a few months ago. That's when we noticed a change in his behavior and physical condition. He started losing weight, crouching on the floor, and drooling. Sometimes, he seemed to be in a fog. In addition, he became very needy, clinging to one's neck when held, as if pleading for attention.
We brought him to a veterinary hospital, but the blood work was inconclusive, while the bill climbed to $600. The vet recommended that we take him to see a neurologist, but that doctor also failed to find anything definite.
Desperate to save Ruffin, we turned to a Chinese medicine veterinarian who proceeded to work a small miracle. Wonder of wonders, Ruffin stopped drooling and became much more responsive. The herbal remedies prescribed have halted his frightening downward slide. However, we are stuck with significant medical bills.
If you could make a small donation to help defray the cost of Ruffin's battery of tests, you'd be assisting in our ongoing rescue work and treatment of sick and abandoned cats. If you prefer to donate directly to Ruffin's veterinary hospital, please contact New York City Rescued Kitties for details. Call 212.353.9783 or e-mail nyckitties@yahoo.com.
When you see beautiful, brave Ruffin, abandoned as a kitten in a park, and, later, brought back from the brink of death, you can believe that, perhaps, there's such a thing as cosmic justice. But people have to pitch in to make it work.
---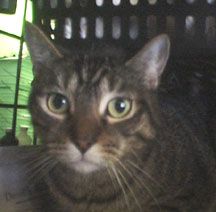 TOBY'S LAST CHANCE
Emergency Surgery Fund-- Please Help !!!


New York City Rescued Kitties goes to extraordinary lengths to rescue, preserve, and protect life, and our work sometimes costs a lot of money. Toby, a 6-year-old brown tabby, is a perfect example.

He was born in one of our homes and is a special cat who's used up two of his nine lives.

Toby's mother, Tara, was pregnant when we rescued her from the Lower East Side. We gave shelter to her and her kittens, and she was later adopted.

One of Toby's siblings, Samantha also was adopted, and the other, Boots, lives with him.

When Toby was 2, we found what we thought was a good, stable home for him. He was a well-behaved cat, but, tragically, two years later, he was returned to us when his adoptive family underwent a domestic crisis.

Then, recently, Toby experienced a sudden and severe urinary tract problem. He started bleeding and was unable to urinate.

Toby was within 24 hours of death when his veterinarian catheterized him. During the operation, Toby stopped breathing on his own for 10 minutes.

The doctors worked desperately on Toby, and after a life-and-death struggle, his respiration was restored.

He was unblocked but complications set in, and we rushed him back to the hospital, where a second emergency catheterization was performed. Now his veterinarian says that Toby needs yet another operation to be cured.

Toby's a sweetheart who's much too young to die, so we're going ahead with the costly procedure. However, we need to raise $2,500 immediately.

Even the smallest donation toward Toby's operation would help defray his unusually heavy medical expenses.

You can mail your checks to New York City Rescued Kitties, P.O. Box 614, New York, NY 10002. Won't you please help us to save Toby's life?

---


This precious baby desperately needs your help right now to survive a vicious attack!
A kind caring lady rescued this brave little girl named Sacha and her sister from the streets of Staten Island where a very cruel human had thrown her against a brick wall several times resulting in severe injuries to her back legs and possibly lower back area. She can't walk on her hind legs, but has an enormous will to live. Sacha desperately needs medical care to diagnose her injuries and help her to survive, but she needs your help to pay the vet fees.
Won't you please make a donation? Whatever you can give, no matter how small, will be so gratefully accepted. You can make a big difference in this kitten's life. Please email us if you'd like to contribute at: nyckitties@yahoo.com You can then mail your donation to:
New York City Rescued Kitties
PO Box 614
New York, N.Y. 10002

---
Lilly Peapod Emergency Surgery Fund
Dear Cat Lovers,
This rescued beautiful & affectionate 2 year old Turkish Angora mix has been suffering with urinary tract inflammation. She recently became completely obstructed.
Surgery needed to be done in 24 hours or she would have died of the metabolic wastes that had built up in her system. The reduced "shelter" fee for surgery, anesthesia, lab analysis, etc. is $1200, . . .$600 of which has already been raised.
Can you help with a donation? Whatever you can pay, no matter how small, is gratefully accepted and will help. Please email nyckitties@yahoo.com that your contribution is coming for Lilly.
OR CALL 212.353.9783 FOR MORE INFORMATION.
PLEASE FORWARD ALL DONATIONS TO:
NEW YORK CITY RESCUED KITTIES
P.O. BOX 614
NEW YORK, N.Y. 10002

---


This is a bittersweet story about a lovely 3 year old female feline that was rescued from the Manhattan CACC, along with her one remaining 3 week old kitten, by New York City Rescued Kitties.

This brave and loving creature then proceeded to nurse 7 three-day-old orphaned kittens to health. Her name was "Chopped Ear Mom" because some cruel human along the way had decided to chop off her ears and her tail. But, as you can see, she was a beauty--rather resembling a Scottish Fold.

Despite our best fund raising efforts and the last-minute kindness of two generous donors for medical expenses, Chopped Ear Mom did not receive the care she so desperately needed in time and passed away on May 1st, 2005. But her strong spirit and legacy lives on. Donations made in her memory are greatly appreciated and will help other cats in similar situations. Please help them get the treatments they need. The smallest donation can make a big difference!

Email nyckitties@yahoo.com OR CALL 212.353.9783 FOR MORE INFORMATION.

PLEASE FORWARD ALL DONATIONS TO:
NEW YORK CITY RESCUED KITTIES P.O. BOX 614 NEW YORK, N.Y. 10002

THANK YOU FOR YOUR CARING CONSIDERATION.
---
Funded Felines Need Their Space!
New York City Rescued Kitties is a no-kill organization that rescues, fosters, and places cats through an adoption process into loving homes. This is an ongoing and never-ending labor of love...and necessity.
We are in constant need of donated funds and other supplies to keep our work and our feline friends alive.
To help with this we currently sell a line of high quality crafts and gift items on our website and through events.
At this time we are looking for a space suitable for a thrift shop where items could be sold as another source of much needed funding. If you or anyone you know may have a store front or similar space to donate for a philanthropic nature... and a terrific tax deduction!...please find it in your heart to do so.
Contact us at 212.353.9783 or at nyckitties@yahoo.com
Volunteers Needed
In preparation for the holidays, NYC Rescued Kitties is seeking volunteers who are:
Fundraisers
Event planners
Artists interested in donating items
People who can sew, knit and/or crochet
Please contact us at 212.353.9783 if you are interested in donating your services.
---
The Seven Little Muffins in the Backgarden
There's a quiet backgarden behind an apartment building on the Lower East Side. You'd hardly notice it if you walked by, but something happened there that's part of life's continuing drama. A homeless gray cat found her way into the sanctuary, and gave birth to eight beautiful kittens.
When they were rescued, the pretty paws were only a few days old, and their eyes were not even opened. Unfortunately, when one was used to lure the mother into a humane trap, she seized the baby and raced off with it.
Newborn kittens must eat every 2 hours, but these feral fuzzy wuzzies missed their mother and refused to be bottle-fed for over 24 hours. Without their mother, they would have surely died. That's when NYC Rescued Kitties stepped in and started making telephone calls to find a nursing mother.
One sympathetic staffer at the CACC - where a hundred cats a day are put to death - kept an eye peeled for a nursing mother, and, sure enough, a few hours later, a suitable tabby was admitted. She was a white-and-brown cat who had lived a hard life. Her ears and tail had been cut off, but she was nursing a gray-and-white kitten.
The nursing mother and her baby were brought to a foster home with the seven kittens from the backgarden. The garden kitties were placed in a large cat carrier, and the gray-and-white kitten from the CACC was placed all the way in the back, so that its mother would have to step across the seven siblings to reach her newborn. She did just that, and then lay down and began to nurse them. And the kittens started thriving! If NYC Rescued Kitties hadn't rescued the seven little muffins from the backgarden - and then scoured the boroughs for a nursing mother - their lives would have been lost. Instead, they have a good chance to be adopted and placed in a loving home.
Won't you please try to help animals in need? Even the smallest donation can make a difference to a helpless, homeless thing. Don't leave the destiny of our most vulnerable creatures to chance.
---
Little D'Artagnan Was Down in the Dumpster
Not long ago, a lady was walking her big dog in Staten Island when she saw another woman toss a cardboard box into a garbage dumpster. The dumpster was full of debris, and the box fell to the ground, whereupon the woman proceeded to give it a few hard kicks until it rolled into the gutter. And then she walked away. As the passerby and her dog approached the dumpster, she saw that the box had broken open from the force of the kicks, and a tiny black-and-white kitten with a bushy tail had crawled out and was mewing helplessly at the curbside.
The lady's dog didn't get along well with cats, but, being a Good Samaritan, she hurried to her house, locked her dog inside and bustled back to the dumpster to rescue the kitten.
At first, she couldn't find the poor thing, but then she heard it mew, knelt down and spotted it, and scooped it up. The little fuzz ball was only a few weeks old, and its eyes were hardly opened, so she brought it to a neighbor who had a way with cats and looked after homeless animals. The Cat Lady took in the newborn and brought it to a veterinarian, who prescribed a nursing formula. Back home, the foster mom cleaned up the baby and bottle-fed it, and when it became sick, brought it back to the vet, who said it had worms. After a dose of medicine, the kitten regained its health, and the Cat Lady found a permanent home for it in a house with other rescued cats.
Today, lucky little D'Artagnan is full of vim and vigor. He has a lively personality, knows how to fetch and is very happy with his new friends. He's growing bigger and stronger every day and he likes to fence with his paws, hence his name, after one of the Three Musketeers.
Unfortunately, no one knows the fate of his siblings or what became of his father and mother. Perhaps, D'Artagnan was the only fortunate one. If you see a kitten in distress, think of little D'Artagnan and don't leave it to a certain death in the gutter. Take it off the street, and if you are unable to care for it, give it to NYC Rescued Kitties. No animal deserves to die in a trash heap.
---
---
Little Guy in the Basement
A lucky kitty gets a second chance
By Marc-Yves Tumin
We regret to announce that Little Guy passed away the weekend of August 1, 2003. Although Little Guy is no longer with us, you can still help many of our other kitties in need of food, medical care and good homes. If you wish to make a donation in Little Guy's name, please send your check or money order to NYC Rescued Kitties; P.O. Box 614; New York, NY; 10002.
At the sound of the cleaning men opening the freight elevator gate, Little Guy squinted and stirred, but he didn't have the strength to stand up and run away. The old cat usually slept in a box of painters rags near the boiler room of an apartment building on the Lower East Side, and was timid and preferred to stay out of sight.

However, that morning, he felt weak and dizzy, and even though he sensed that the maintenance crew didn't like animals, and he wanted to hide, Little Guy decided to remain where he was. Later, the other cat that lived in the basement with him came around to see what was wrong but there was nothing he could do, so he sat next to Little Guy and waited.

Little Guy was used to the dark, dank basement. He had turned up there 10 years ago in wintertime and stayed there ever since. They called him Little Guy because was there once was a larger tomcat named Big Guy that also lived there, but Big Guy subsequently died.

Meanwhile, Little Guy clung to life. He was always dusty and hungry. And he could never manage to keep himself clean. He'd lap up water from a dirty bowl under the broken pipe of the basement sink. And he ate some stale kibble that the recycling lady left him. And he passed the time in the darkness, playing with a scrap of wood, a piece of cardboard or a rusty bolt, until the recycling lady appeared.

Little Guy was always extremely pleased when she arrived, and he'd follow her around, rubbing against her legs, purring and meowing in a small voice. And he was forlorn when it was time for her to depart, and he'd stand by the freight elevator and watch her ascend to the unknown world outside.

One time, Little Guy suffered an asthma attack from some chemicals that he breathed. And another time, some of his fur fell out, after he was splashed with some paint. But, in general, he made the best of the miserable conditions. He had no choice. And he didn't complain, even when age started to catch up with him, and one by one the other cats perished, and only a single companion remained to keep him company.

That day, when Little Guy failed to greet the recycling lady, she went around the basement calling his name. When she found him in the box of rags, she could tell that he was ill. His eyes were dull and he mewed pitifully as he looked up at her. And so she gently lifted him from the box and brought him upstairs to her apartment, and fed him some table scraps and a big bowl of milk.

Little Guy was grateful for the good meal and purred loudly as he curled up in a corner on an old shirt. However, that night, his breathing grew labored, and toward the morning, he had a violent seizure.

The next day, the recycling lady brought him to a veterinarian, who told her that Little Guy had diabetes and prescribed insulin and special food for life. However, the recycling lady didn't have much money, so she gave Little Guy to NYC Rescued Kitties. They cleaned him up and brushed him, and told him what a handsome fellow he was, and they brought him to another veterinarian.

After taking an x-ray, the second vet said that Little Guy was suffering from heart disease, gave him Lasix to reduce the water around his lungs, and said that he needed to take an echogram and further x-rays for a conclusive diagnosis.

Now, at long last, after 10 years in the basement, Little Guy has a real home. He's finally getting some sunlight, fresh air, clean water and nourishing food. And the vet says that he has a few good years left, though he needs special care. Won't you help?

If you can spare anything, even the smallest amount will ensure that Little Guy gets his proper nutrition, tests and medicine, and perhaps a taste of the full life and happiness that he was deprived of when he grew up and grew old in the night city underground.
---
NYC Rescued Kitties in a Home of Their Own
In November of 2003, Sandy, on the right above, and Romeo were adopted into a home of their own. While they are both now very lucky cats, Sandy's story, as told by author Marc-Yves Tumin epitomizes the short, desperate life of the feral NYC cat.
"Sandy had somehow clung to life through the depths of a brutal winter, hiding in a corner of a busy parking lot on the Lower East Side. In the unforgiving icy weather, Poor Sandy sheltered in the wheel wells of parked cars and trucks, burrowing as close to the warm engine as possible. If no one tapped the vehicle hood in the morning, he'd have a narrow escape when the engine jolted to life. When it rained, Poor Sandy would huddle with a few other tattered homeless creatures under a dirty tarpaulin that covered some parked motorcycles.
One by one, poor Sandy watched them - the parade of homeless cats passing through his parking lot as one by one they moved on to a bleak, uncertain destiny. A few remained, some sickened, most died.
The parking lot owners were not bad people; not at all. They didn't even object to the occasional Good Samaritan feeding the rag-tag band. They were simply too preoccupied with other things to care for them themselves. So they just ignored poor Sandy and his suffering companions. For some inexplicable reason, the spark of life inside poor Sandy burned a little brighter than in the others. It flickered, it died down, but it didn't quite go out.
We found Sandy in the dead of winter and rescued him. He was thin, his coat was ragged, and his eyes were dull. He was limping heavily, from the time he was almost run over. He had a severe respiratory infection, which left untreated, probably would have killed him. Taken to a vet for crucial surgery, poor Sandy's heart stopped under anesthesia but he was resuscitated.
As I watched Sandy revive and respond to care, I wondered how many of his nine lives he used up, what terrible things he's seen, and why he was spared out of so many needy animals. Perhaps it was so that I could tell you his story. "
---
Read About Us in the NYC Resident!
New York City rescued kitties was recently profiled in the NYC Resident! Here's what author Marc-Yves Tumin had to say:
Snowy Weather
Homeless Animals Cling to Life in the Wake Of 9/11, the Big Chill & the Budget Crisis

By Marc-Yves Tumin

Last week, I saw Snowy once again, for a moment standing before me in the bitter chill, a wraith, a spectral presence, a shadow of white smoke on the pavement, thin and alert and furtive as ever. The poor homeless creature has been wintering on a construction site since she was abandoned with her kittens in a park a year ago. Their newborn eyes had not yet opened. Only a pair survived. I've been observing Snowy since last April. She's ermine-like, preternaturally shy and supremely intelligent. Though she's taken food from my hand, my efforts to catch her have been in vain. When Snowy had more kittens, I spent two weeks rescuing them. And when the cold weather set in, she had a third litter, rescued with the assistance of Good Samaritans.

I kept thinking of Snowy while I interviewed Karen Howard, the indefatigable founder of NYC Rescued Kitties (http://nyckitties.petfinder.com), one of many volunteer groups that care for feral critters. Janet Jensen has portrayed them in "Shadow Cats: Tales From NYC's Animal Underground" (Adams Media). Howard designs fashion accessories for a living, and launched her pet project in July 1999.

She describes on her Web site how "Robin was so terrified when someone put him out to fend for himself, he climbed to the top of a tree and stayed there for four days, until some firemen helped us get him down." And how "Frosty was put on the street without any claws, so he couldn't climb to safety." And how "Little Binky at eight weeks old was so eaten up by fleas that the vet could not even draw any blood from her veins."

"I used to volunteer for another group," she told me. "But I was doing a lot of work for them, and one day it was time to go off on my own. We care for about a hundred cats at a time. We have a core group of half a dozen people that do most of the work, but we have some volunteers who come in and out, and other volunteers who do different things for us like program the Web site." Placing rescued cats for adoption is "a slow process," she continues. "You want to make sure it's a good home, and not just find a home and find it back out in the street again. There's a never-ending supply of homeless animals, that's for sure."

Does the fierce city have a responsibility for feral creatures? "What the city is doing is just exterminating them. They're not trying to find homes for them, I mean, they're trying on a very small level, but from what I understand, the CACC puts down about 70 percent of the animals.

"There are groups that spay neuter and maintain. The Humane Society has a feral program where they do spay/neuter. The problem in the city is that they still die, they get poisoned; people don't want them on their property; they're hit by cars, so their life expectancy is not very long." How does she pay the freight? "We have not received any funding from the city. I've talked to other groups that were trying to get funds; they didn't get anything. We went to this meeting with the Mayor's Alliance, where they were trying to get funds, but the idea was to spay, neuter and adopt as many animals as possible, not really caring if the animal was going to a good home. It was more about numbers. We don't believe in just turning them out."

As if affected by the wrangling over the rebuilding of Ground Zero, the cultural wars and the debate over fiscal policy and foreign affairs, local rescuers seem unable to unite under an umbrella organization. Even the spaying of pregnant cats is contentious.

"Each group has its own ideas about how to do things," Howard said. "And nobody wants to work with each other because they don't agree on things. Within each group it's hard enough to keep everybody in that group! I doubt enough groups would want to get together."

Epilogue: Snowy still clings to life but she's suffering. As the arctic blasts unspool, I can trace her tracks in the ice. When I last saw her, her beautiful coat was dirty; her paws were surely hurting; she must have been in pain. I've never seen such a slender, ragged creature. "The fire for which all thirst" must burn brightly within her, but you can help by sponsoring a homeless cat or kitten for a few dollars a week. Call NYC Rescued Kitties at 212.353.9783, or your local animal rescue group. It's a cruel, cold, ravenous world out there.
---
Please note that we are always accepting donations and/or volunteers.
Wish List:
Computers and/or Laptops
Scanners (compatible with Apple Laptop or WindowsXP PC)
Veterinary Care
Storage Space
Store Front Space
Small Copy Machine
Paper Fax Machine
Paper
Unopened Cat Food (canned or dry)
Cages
Carriers
Toys (safe and non-toxic)
Litter
Humane Cat Traps
Yarn, Fabrics
Beads and Jewelry Making Supplies
Knick Knacks
Home Decor Accessories
Fundraisers
Event planners
Artists interested in donating items
People who can sew, knit and/or crochet
E-mail us at nyckitties@yahoo.com or call 212.353.9783 for details.
Who We Are
Help us find more great homes for rescued kitties

We are a not-for profit, registered with NY State, all-volunteer, cat-rescue group. We rescue cats off the streets of NYC. We vet, fix, feed, foster, and LOVE them till we find GOOD HOMES for them. We take care of 100 cats at a time. We are NON-KILL!!! We believe there's a perfect home for every cat, and that each cat has something to teach or contribute to a human being. We believe this so strongly, that we're devoting ourselves to it full time, through our organization, New York City Rescued Kitties.

Over the last ten years, we've been involved in the rescue and placement of hundreds of cats. Our plan is to help even more by opening a thrift shop/adoption center to raise money for abandoned and stray cats while finding homes for them. We've been showing cats on the sidewalk, but it's not an ideal situation, especially when the weather is cold.

A store will offer us an opportunity to show and take care of cats, meet prospective owners, and at the same time meet expenses. We've done considerable research, received lots of positive feedback and offers of help.

What's stopping us now is seed money. We need about $50,000 to get started (including a few months rent, security deposit, renovations, insurance, utilities and supplies.) Once we get started, we believe New York City Rescued Kitties can be self-supporting. Any contribution you can make would be greatly appreciated and will go a very long way to help cats and kittens find loving homes.

We appreciate your support.
Adopting a friend
Kitties are available for fostering and/or adoption. Contact us for a foster or adoption application.
Come Visit Us!
After adoption applications are approved, we invite you to come visit us by appointment only.

After a foster application is approved, we bring your new friend to your home.

Volunteers are needed! Please contact us. Donations are also accepted.