North East Humane Society
"The greatness of a nation and its moral progress can be judged by the way its animals are treated" - Gandhi
Our featured pet . . . .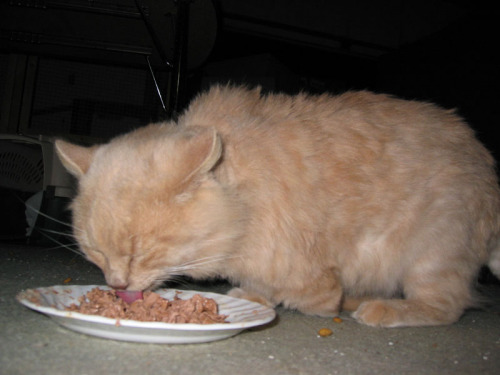 Simon - 3-legged cat Simon is a stray that was rescued off the streets in October 2008. He was nicknamed "fanbelt" by locals because they theorise that he lost his front left leg while warming up by a car engine. Simon is very handsome with an orange/peaches coat and bright green eyes. Simon is a very affectionate cat. He purrs when petted and loves to snuggle on laps. He walks with a hobble because he is still learning to adjust to life with just three legs. He is a real sweetheart and needs a loving family to give him lots of affection and love.


If you are thinking about adding a puppy or dog to your family, please read the following articles first: Important article no.1 and Important article no.2. We do not have any dogs for adoption right now. Please consider adopting a dog from us at a later date or from New Hope Dog Rescue or Precious Paws. Thank you.
News: help needed
Thank you for visiting our webpage. We appreciate anyone who is able to help us help those who cannot speak for themselves.

Volunteers: We are looking for people prepared to foster homeless cats and dogs pending placement into forever homes. We are also in need of volunteers to assist with fundraising activities, such as raffles. Please phone us for more information.
Donations: Donations are vitally important to the continuance of our operations. The business of providing rescued animals with a second chance is not cheap - the cost of veterinarian services, kitty litter and food is significant. We thank God every day for all those wonderful people out there who have donated to our organization. A donation of clumping litter and cat food is just as welcome as a direct monetary donation. We do not receive government funding and are therefore not paid to "clean-up" the streets by way of mass euthanasia. We have a "no-kill" policy so are only able to rescue those animals who we have space in foster care for. We rely entirely on community support. Please help!

Who We Are
The North East Humane Society was founded in April 2005 and goals include the promotion of humane attitudes towards cats and dogs, encouragement of spaying and neutering and rescuing strays and finding them good, safe homes. Please feel free to contact us if you are interested in adopting our animals or wish to volunteer.
Adopting a friend
Our goal is to place all adoptees into safe, loving forever homes. Right now we have three cats needing forever homes.
Come Visit Us!
Please email us and arrange to meet the cats we have available for adoption. Please be patient because we also hold down full-time jobs and pet rescue is an unpaid activity done in our spare time. Thank you!

North East Humane Society
Star City, SK S0E 1P0
Canada
Email: adoptnehs@yahoo.ca


Click here for a list of pets at this shelter

In loving memory
While our goal is to save animals and find them loving forever homes so they may have a good life, there are always those sad times when animals in our care pass on before their time. We are consoled in knowing that we were able to feed and care for them before they passed into Heaven; and we are thankful that they left knowing the love of a rescue person. We know that the kitties in Heaven are running free and will never know sadness, hunger, abuse or neglect again. We have euthanised four kitties before they could be placed into forever homes. Their lives have touched us in a profound way and they will never be forgotten.
Charlie: left us in January 2007. Charlie was a wonderful orange tom. He was 8 years old. He was rescued from a cage in January 2006. We had dear Charlie for one year and his strength of will is and always will be a source of inspiration to us. Charlie was kept in a backyard cage all by himself for 7 years before being rescued. Charlie was suffering from open sores from an embedded harness, absesses in his mouth owing to rotten teeth and matted fur. He was taken to the vet immediately and had all of his teeth removed. Charlie was such a dear soul and loved to cuddle on laps. He was amazing because of his big heart. He had been in prison (solitary confinement) for a long time yet never lost faith in humans. Charlie also liked to mentor the kittens in fostercare and walk with them around the garage and snuggle with them in the cat bed. Charlie never did get a retirement home because older cats are not easy to adopt. Over the course of December Charlie's kidney's started to decline and he had to be dispensed fluids through a needle. His appetite began to decline and he went from 6.0 kg to 3.3 kg over 2 months. He was withering away and we could not bear to see him suffer. We took dear Charlie to the vet so he could take his final breathes. As he lay on the vet's treatment table, our hearts went out for his dear soul. We petted him, told him we loved him, kissed him on the head one last time and asked he greet us in the light when our time came. Dear Charlie will never be forgotten and we will strive to rescue as many orange toms as we can, in his memory. Rest in peace li'l guy.
Sophie, Max & Stevie were three little black kittens who had to go before their time. They were kept in a cage with three adult cats in a back yard. The owner agreed to let us find inside forever homes for the three kittens. Within a week they had to be euthanised because of distemper. This disease can be vaccinated against but they were already incubating the disease before we rescued them. When first rescued they were placed in fostercare. They were lively dear souls. They snuggled together and played hard. As soon as a human came to visit, then started to purr really loudly. We had such high hopes for their future. We were looking into lining up loving homes for them when suddenly Max started to get sick. He had diarrhea, lethargy and no appetite. His brother and sister then began to get the same symptoms. Max had a seizure at the vet and he was euthanised immediately. Sophie then began to lose her motor skills and couldn't hardly walk. Sophie and Stevie then followed within minutes of their big brother. They were such lively little kittens we were all so heart broken. Please don't let their premature deaths be in vain. Vaccinate your cat against feline distemper. These deaths could have been prevented. If you don't have a cat, tell everyone you know who does have one. Rest in peace little guys and please greet Barry when his time comes to enter the light.
Sparky: was a lovely flame-point siamese kitten. He was dumped on a farm with his two siblings and mom in December 2007. We took the pretty little family into fostercare at the end of January 2007. Within a week, Sparky wasn't feeling well. The vet treated Sparky for a blockage because he could not pee. (Please get your kitty to the vet if he cannot pee within 24 hours otherwise his heart may quit. A blockage should be treated as an emergency). Sparky was so small the surgery was tricky. The blockage was removed but he blocked again within hours. The vet tried for hours to help Sparky but nothing could be done. We are so sad because we were looking forward to getting to know him and ensuring that he received a second chance. We feel gutted that he left us before we could show him what love humans are capable of. Sparky was euthanised by the vet who promised to kiss him for us and tell him that we love him. Now at least he is not in any pain and can be a guardian angel to his feline family on earth. We miss you already li'l guy and pray we can lavish you at a later date with the love and affection we had planned to provide you.



---

[Home] [Information] [Shelters] [Search]