Moosepuppy Animal Rescue
---
Who We Are
I am Jim Sinclair, an autistic self-advocate, disability educator, rehabilitation counselor, and long-time private animal rescuer. In 2008 I finally decided to make it official, get a Petfinder site, recruit some other people to help me, and apply for 501(c)(3) status.

Moosepuppy Animal Rescue is named in loving memory of my two "moosepuppies": Isosceles, the original moosepuppy (1991-2006), and Hercules, the junior moosedog (1997-2008).
I care for my rescued animals--the ones needing to be adopted and the ones in permanent sanctuary with me--in my own home. Fosterers would be most welcome!
I don't have a shelter facility that people can come visit. If you're interested in meeting one of the adoptable animals, please email to make an appointment.
The Story of Isosceles
In 1998 I was a counseling intern working with special-needs elementary school students. I shared with my clients the story of how Isosceles grew from a wildly out-of-control ADHD puppy to a highly-trained service dog. Then, also inspired by my clients, I somehow managed to illustrate the story, even though I thought I couldn't draw.

In the fall of 2002 Isosceles, now getting on in years, developed arthritis and pain in his hip and lower back. The veterinarian thought he would need expensive surgery. A friend helped us set up a fund to raise money for the surgery.

I took my "Story of Isosceles" and illustrations to a print shop and had it made into a booklet. I added an introduction about how I came to write the story and draw the pictures (even though I obviously can't draw). A history of my involvement with service dogs is also appended.

This is not a professionally-produced book. It's a photocopied booklet with a card stock cover. We are now sending it as a gesture of appreciation for contributions to continue Isosceles's legacy.

For your contribution of $15.00 (US) or more to Moosepuppy Animal Rescue, plus $3 per book for domestic mailing/$5 for international mailing, you can receive a copy of Isosceles's story.

For orders within the United States:


For orders outside the United States:



News
IN LOVING MEMORY OF SNOOPY
From this....
to this
How far he came!
Read about Snoopy's tragedy and triumph here.
HENRY'S HAPPY NEW BEGINNING!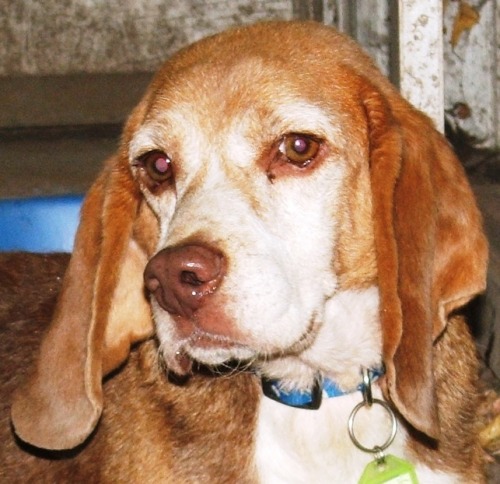 At the beginning of September, this sweet senior beagle was in a rural pound, scheduled to be euthanized because no one had shown any interest in adopting him.

He got out of the pound and into rescue, only to find himself under a different kind of death sentence: When he was taken to a veterinarian for vaccinations and worming, he tested positive for heartworm. He also had badly rotted teeth and diseased, bleeding gums.

Read Henry's (formerly known as Luxy) story here.



Adopting a friend
A completed application, reference check, and home visit are required in order to adopt an animal. Soon, there will be a link here to download the application. But in the meantime, you can email me and ask for it.

All animals adopted from Moosepuppy Animal Rescue are microchipped, vaccinated, and free of parasites (unless there's a situation where someone willingly adopts an animal that still needs vetting, and this is stated in the adoption contract.). Adult dogs and cats are spayed or neutered prior to adoption. The adoption fee you pay for a rescued animal is almost certainly less than the actual cost of rescuing that animal and getting it ready to adopt.

Puppies and kittens will be placed locally only, with foster-to-adopt contracts until they are old enough to be spayed/neutered. Final adoption contracts will be signed only after they have been altered.

If you're looking for a cat to adopt, and I don't currently have any available, please check with Wayward Paws.

Donations to help the animals are much appreciated!
---
Moosepuppy Animal Rescue


Syracuse, NY 13235
Email: moosepuppy@live.com
Click here for a list of pets at this shelter

---

[Home] [Information] [Shelters] [Search]