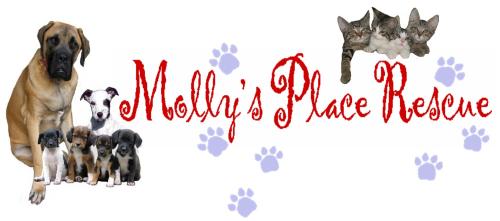 ---
Welcome to Molly's Place!
We are a non-profit pet rescue and adoption organization dedicated to saving the lives of animals through spay/neuter, education, and pet placement. Molly's Place Rescue is named in memory of the canine companion of the late Cynthia Magaro. Cynthia was a devoted animal welfare advocate whose untimely departure from this earth as a result of a battle with cancer was a tragedy to both two and four legged friends, and she will be dearly missed. Cynthia's generous bequest provided the startup funds to establish Molly's Place Rescue, as a tribute to her beloved Cocker Spaniel "Molly." Cynthia dreamed of a place where every animal would be assured a safe, warm environment, where not only their physical needs would be cared for but where a peaceful, loving existence would be guaranteed. She envisioned a community for animals unlike any other in this area, a safe haven for neglected, abused, orphaned, abandoned, and unwanted animals. It is this dream that is the inspiration for Molly's Place Rescue. Molly's Place Rescue, like its namesake, will symbolize the unique and lasting ways that animals touch the human spirit. Each adoption will be a living tribute to the memory of a wonderful dog, Molly, and a great friend, Cynthia, the individual who made it all possible.
---
Come Visit Us!
Store Location and Hours of Operation: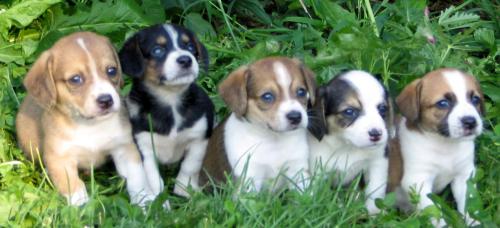 5220 East Trindle Road Mechanicsburg, PA 17055 ADOPTION HOURS: Monday & Tuesday CLOSED Wednesday - Sunday 12:00 - 4:00 EASTER SUNDAY CLOSED
ADOPTION FEES
Adoption fees vary based on the pet's age, breed, and size. For example, we do charge more for purebred and highly adoptable animals. This is not because we feel they are more valuable. There is a greater market demand for purebreds. This higher adoption fee allows Molly's Place to generate increased resources to help a greater number of animals in need. The fees we charge for our purebreds is a fraction of the premiums charged by pet stores and breeders. We do provide the initial veterinary care for all of our animals saving the new owners the expense and trouble of having these services performed. We may waive the adoption fee or charge a reduced fee for Senior or Special Needs pets.

Adoption fees cover the following services, which all Molly's Place animals receive prior to adoption:

Spay or Neuter Microchip & Registration Age-appropriate vaccinations Initial treatment for parasites (worms, fleas, ticks, etc.) Grooming FeLV and FIV testing (for cats and kittens) With every adoption, you will receive your new pets medical records & the current pet insurance offer.
---
For pictures our companion animals available for adoption, please visit our adoptable pet list. If you're interested in adopting a pet please visit our adoption center during business hours.

Thanks!
---
News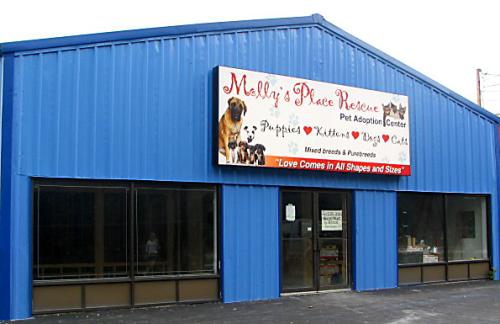 Extra, Extra, Read All About It............

Molly's Place Rescue opened a unique, non-profit, Pet Adoption Center on June 25, 2005. Our Pet Adoption Center reflects the vision of the late Cynthia Magaro, who lost her battle with cancer. Cynthia was a devoted animal welfare advocate who contributed many years of her life to helping homeless animals. Cynthia's selfless dedication to saving the lives of animals distinguished her from the crowd and her generous donation via her will has established the startup funds for Molly's Place. Molly's Place Adoption Center features non-traditional, free roaming kitten and cat areas as well as cozy quarters for the puppies and dogs awaiting new homes. The kitty rooms sport dangling mobiles to entertain the cats, challenging climbing trees, sunny perches, rugs, and plenty of toys. The doggie areas include comfy bedding for snoozing and lots of toys. The animals at the adoption center come from local rescues (including puppy mill rescues), surrenders, and homeless strays. We also partner with out-of-state shelters and rescue groups who are overcrowded or have limited resources to bring animals slated for death to the safety of our adoption center. The incoming felines and canines first go to an intake area or into foster care to make sure they are healthy. ALL kittens, puppies, cats and dogs are spayed or neutered, microchipped, and receive age-appropriate vaccines. They are also treated for parasites (worms, fleas, ticks, etc.) and receive any other necessary medical treatment prior to being made available for adoption. Cats and kittens are also tested for FeLV and FIV. The Adoption Center is only phase one of innovative plans for a no-kill, multi-faceted, animal safe haven, which will include an on-site veterinary hospital to enable aggressive spaying and neutering of owned and homeless animals; cat and dog "villages" for the housing of felines and canines, including fenced-in exercise and play yards; and a fully enclosed feral cat sanctuary.
---
---
---
What's new at Molly's?
Hat's off to the wonderful staff at Molly's Place who have made our twelve years of operation such a huge success! We are proud to announce that since our opening June 25, 2005, we have rescued many, many, many dogs, cats, kittens and puppies, over 13,000 companion pets.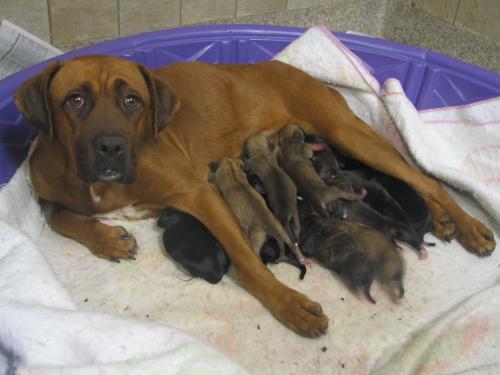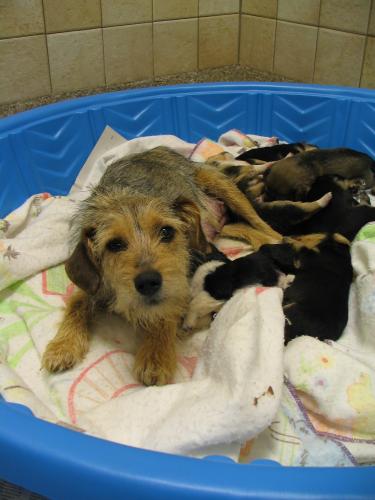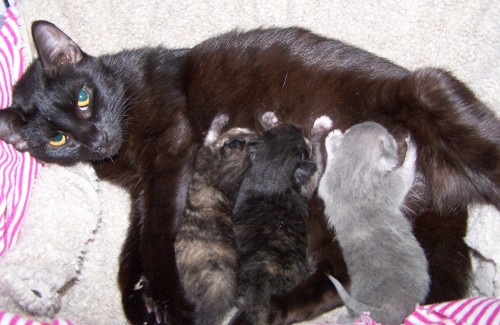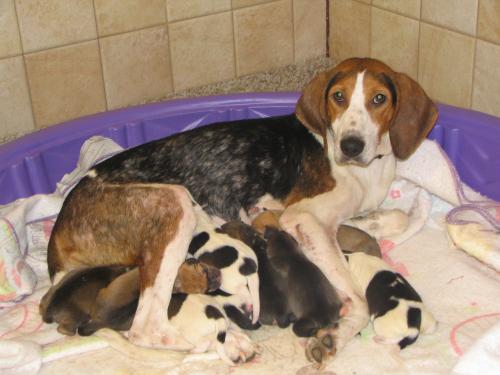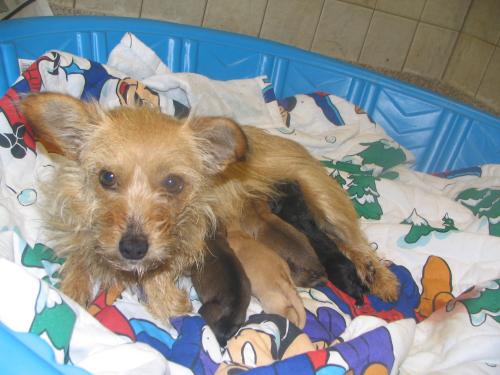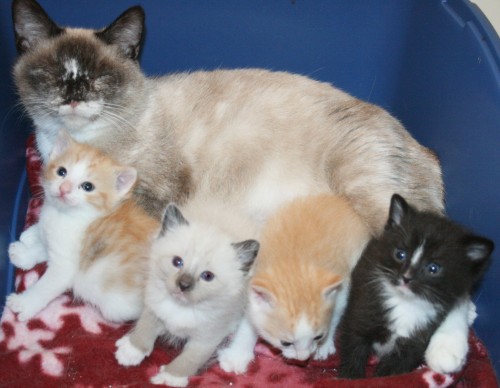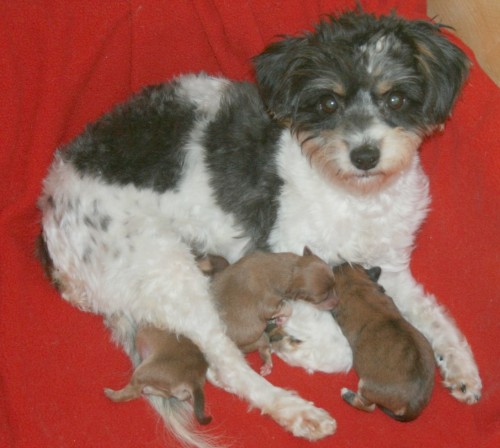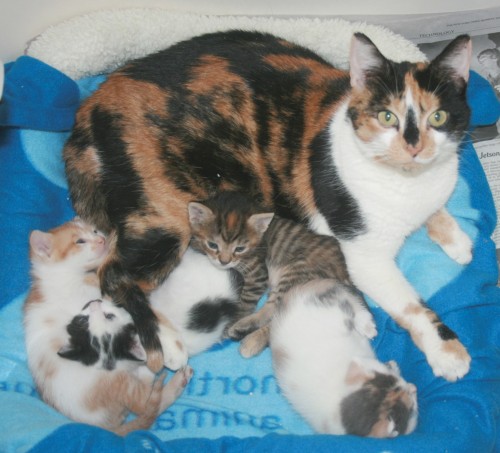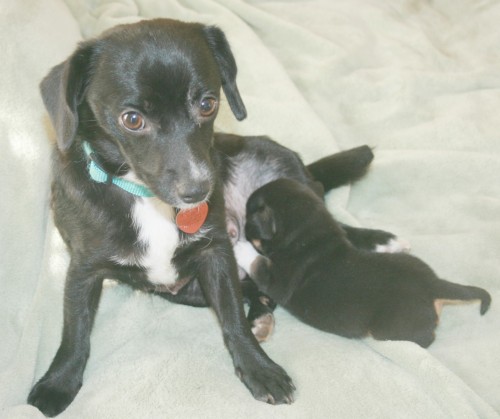 ---
OUR BEGINNING!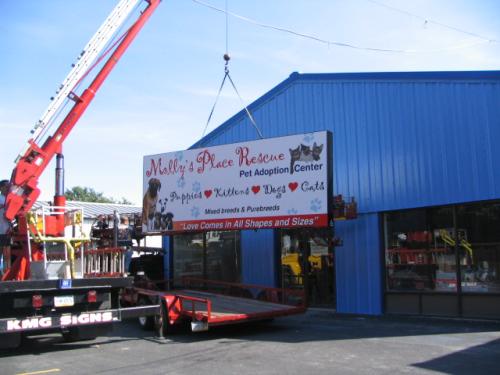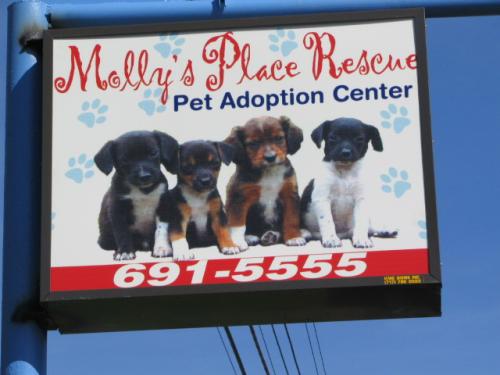 The magic of digital photography captured some of the fun along the way. The outside is really ready, but through the doors...wait...we need some doors, and we have to install some walls...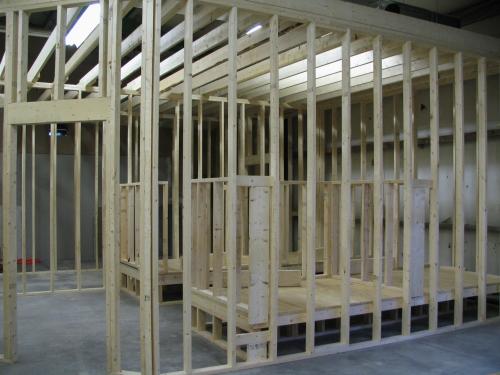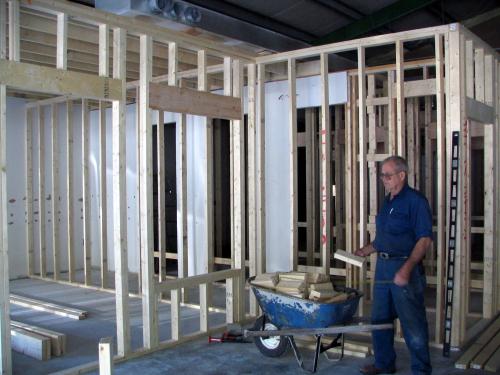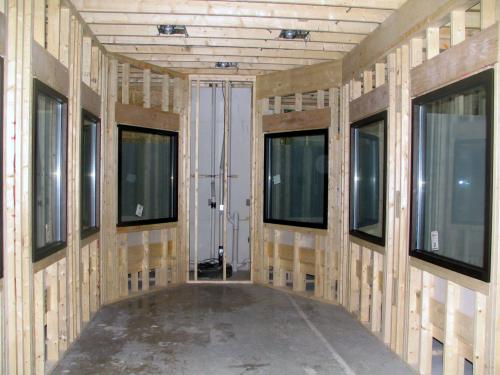 ...and some pipe by Matthew C. Johnston Plumbing. We are going to need some nice fresh water for our babies. Who knew it took this much work to get it!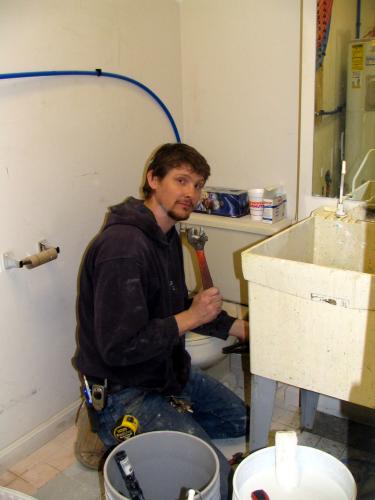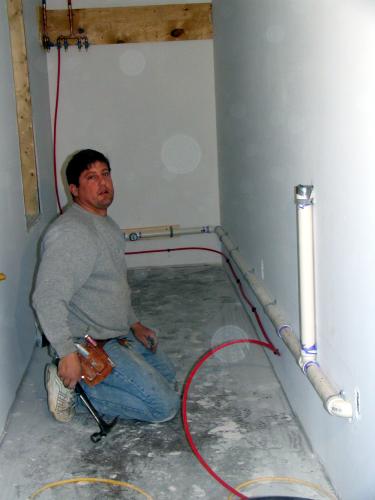 We had a lot of help from friends and supporters, who with great kindness, generously donated their time and some of the materials to help get us started.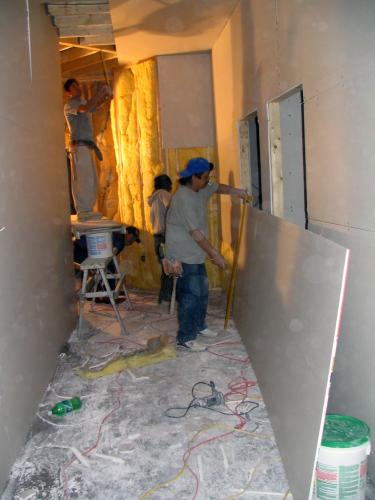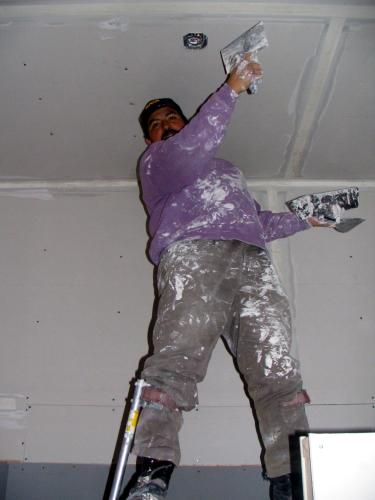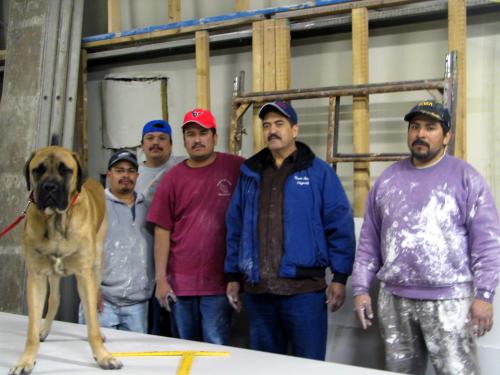 We were lucky to have Murphy the Mastiff with us to supervise. After first attempting the overwhelming task of painting on our own...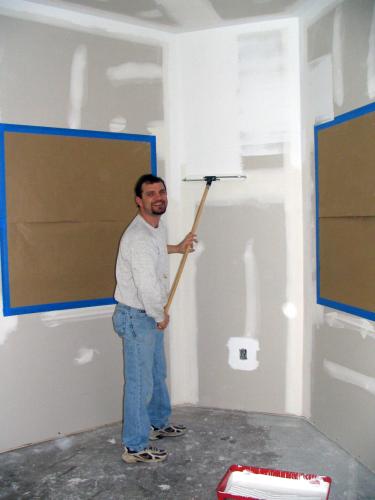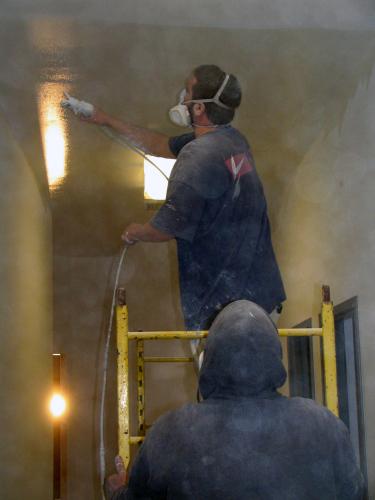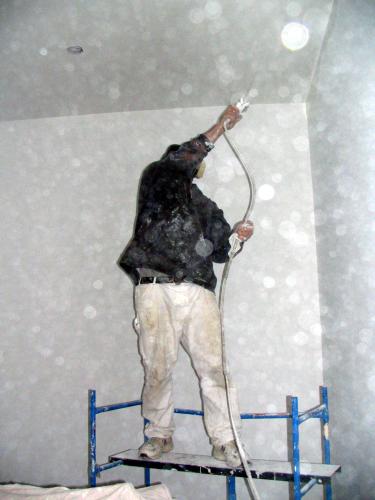 ...thank goodness some professionals came to our rescue. We had some talented people come to bring dreams of the great out doors to all who enter.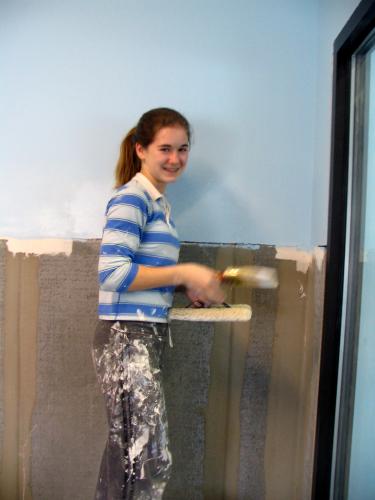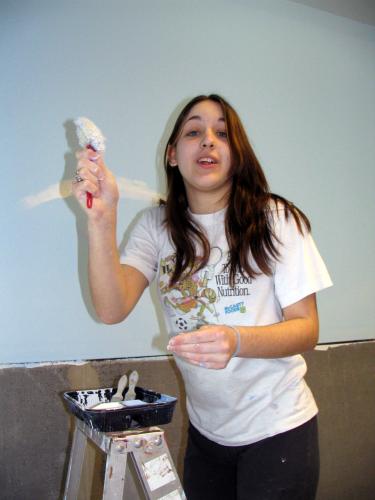 Specialty tiles were donated, so we could remember all of our furry friends who passed our way.

Arf, Arf, Meow.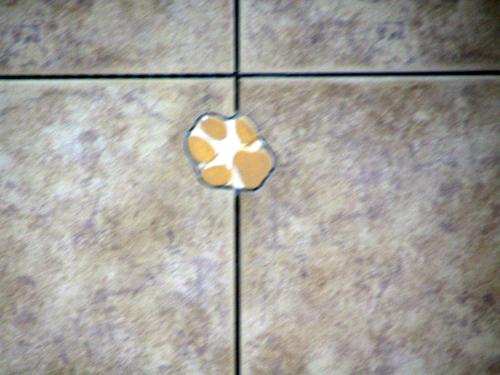 Last but not least, came tiles, tiles, tiles, and ...more tiles by our wonderful contractor Brian Reynolds of J.B. Reynold's Tile & Remodeling who spent nine months donating his time and labor to make the vision of Molly's Place a reality.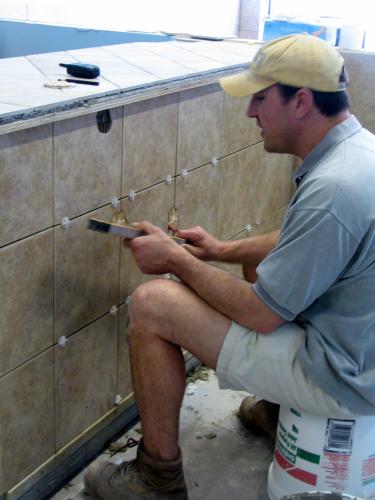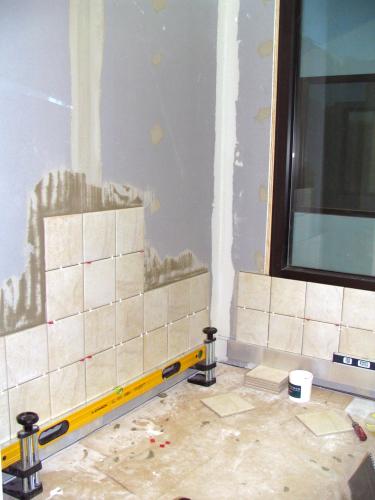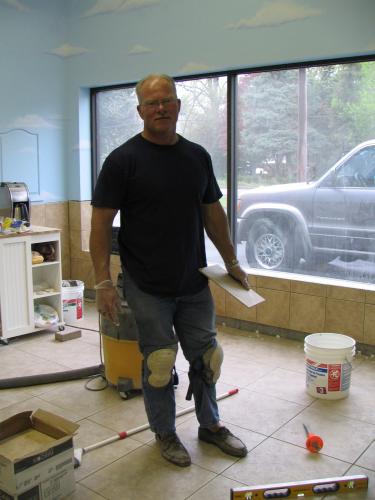 With the help of some dedicated volunteers, Brian tackled everything from framing, electrical, and tiling, plus soooo much more. Brian, along with everyone else who has helped make this dream come true, has certainly earned a special place in heaven for a job well done!!!

---
---
Who We Are
Molly's Place Rescue specializes in the rescue and placement of orphaned, abused, unwanted, and abandoned companion animals. We are committed to finding a loving home for each and every orphaned pet who passes through our doors, no matter how long it takes. We never discriminate on the basis of health, age or breed. By involving and educating the community, Molly's Place Rescue works to raise the public's awareness of the plight of homeless animals, as well as to help them realize the benefits of adopting an animal in need.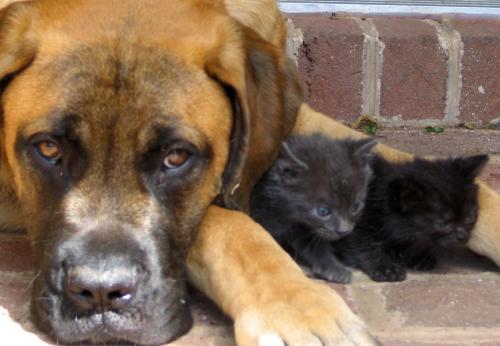 ---
DONATE: Your contributions are always needed and greatly appreciated.

Mail your donations to:

Molly's Place Rescue

5220 East Trindle Road

Mechanicsburg, PA 17050
---
FOSTER: We are always in need of foster homes for our puppies, kittens, dogs & cats. If you think you can help us, send us an email: mollysplace@verizon.net.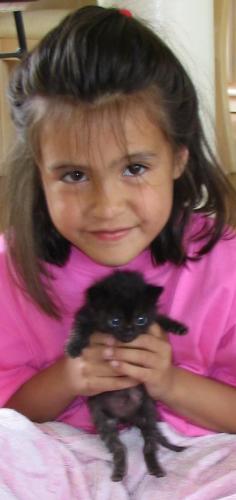 ---
VOLUNTEER: We are currently looking for individuals to help at the adoption center, if you think you can lend us a hand, please shoot us an email: mollysplace@verizon.net or stop in and visit us at 5220 East Trindle Road, Mechanicsburg, PA 17050.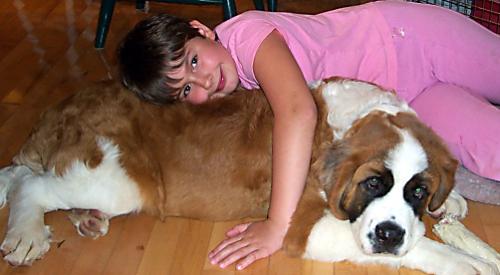 ---
Adopting a friend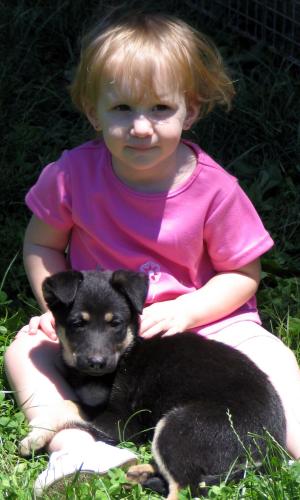 Our furry and lovable puppies, kittens, dogs & cats are waiting for you. We have many mixed breeds and purebreeds. Adoptions include Spay/Neuter, Grooming, Pre-Adoption Vaccines & Deworming - and much more!
---
ADOPT TODAY!!!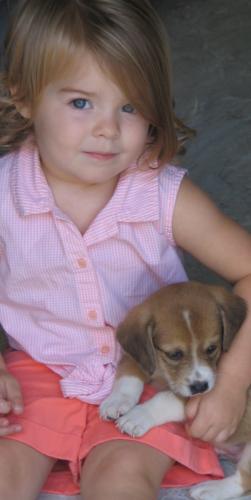 If you are interested in adopting a pet we have listed, or want more information about a specific pet, just send us an email at mollysplace@verizon.net or visit our adoption center located at 5220 East Trindle Road, Mechanicsburg, PA 17050.

Adopting a pet from Molly's Place Rescue is simple – just come to our Adoption Center and find the pet that's the right match for you. As long you meet basic adoption criteria, you can take your new pet home the same day. We have Adoption Counselors there to assist you and answer your questions. We have mixed breeds and purebreds available of all shapes and sizes. You can view our adoptable animals online before coming to the Adoption Center or just come visit us since we have new arrivals weekly.
Out of State/Out of Area Adoptions
If you're from out of the area or out of state, please email mollysplace@verizon.net or, if you do not have email access, please call the main phone line during business hours at (717) 691-5555 to make arrangements prior to traveling to the adoption center. That way, we can ensure that you will be able to take a pet home with you the same day as your visit.
ADOPTION FEES
Adoption fees vary based on the pet's age, breed, and size. For example, we do charge more for purebred and highly adoptable animals. This is not because we feel they are more valuable. There is a greater market demand for purebreds. This higher adoption fee allows Molly's Place to generate increased resources to help a greater number of animals in need. The fees we charge for our purebreds is a fraction of the premiums charged by pet stores and breeders. We do provide the initial veterinary care for all of our animals saving the new owners the expense and trouble of having these services performed. We may waive the adoption fee or charge a reduced fee for Senior or Special Needs pets.

Adoption fees cover the following services, which all Molly's Place animals receive prior to adoption:

Spay or Neuter Age-appropriate vaccinations Initial treatment for parasites (worms, fleas, ticks, etc.) Microchip Grooming FeLV and FIV testing (for cats and kittens) With every adoption, you will receive your new pets medical records and 30-days free pet insurance.
Come Visit Us!
Store Location and Hours of Operation: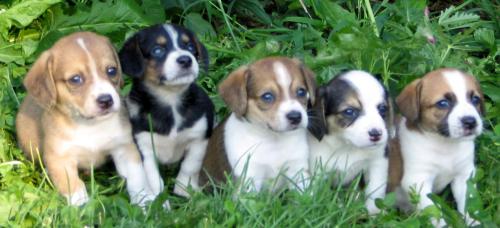 5220 East Trindle Road Mechanicsburg, PA 17055 ADOPTION HOURS: Monday & Tuesday CLOSED Wednesday - Sunday 12:00 - 4:00 EASTER SUNDAY CLOSED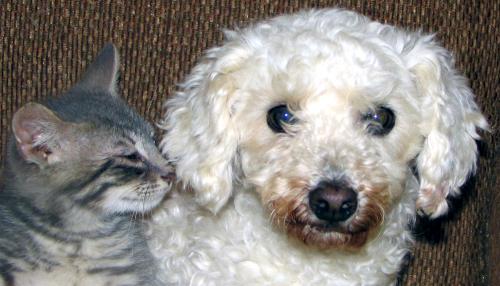 Choosing the Right Pet
Choosing the right pet means identifying the type of animal that will match your lifestyle, both now and in the future. Each pet is a true individual, so it's important to take the time to choose a four-footed friend who's right for you. A pet's size, exercise requirements, friendliness, assertiveness, and compatibility with children should all figure into your decision. To find out which pets have the qualities you are looking for, learn about the characteristics of different breeds and mixes, visit with animals at Molly's Place, and speak with an Adoption Counselor for guidance.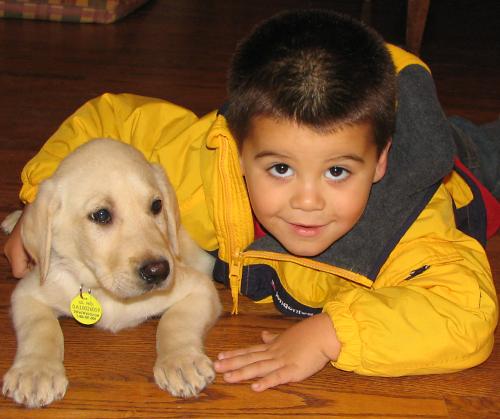 Choosing the Right Dog
Dogs fall into two categories: purebreds or mixed breeds. The only significant difference between the two is that purebreds, because their parents and other ancestors are all members of the same breed, generally conform to a specific "breed standard." This means that if you adopt a purebred puppy, you have a good chance of knowing how big he'll get and what general physical and behavioral characteristics he'll have. Of course, the size, appearance, and temperament of most mixed breed dogs can be predicted as well. Mixed breeds are simply combinations of different breeds. Mixed breeds are often considered the more "natural" dog. When you adopt a mixed breed, you adopt a totally unique companion. Ask yourself questions like these when determining what type of dog will match your lifestyle: - How much time can you devote to training your new dog? Young dogs require much more training and supervision than mature dogs. If you lack the time or patience to housetrain a puppy or to correct problems like chewing and jumping, an adult dog may be a better choice. - How active is your lifestyle? Although an active, bouncy dog might catch your eye, a more quiet or reserved dog might be easier to live with and care for. - Is the dog good with children? An active dog who likes to be touched and is not sensitive to handling and noise is a dog who'll probably do well in a house full of kids.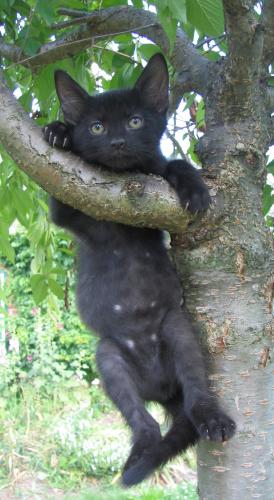 Choosing the Right Cat
Cats make wonderful pets. They tend to be less demanding than dogs and can easily adjust to a variety of lifestyles and living spaces. A cat's personality and age, as well as the kinds of pets you already have at home, are all things you should keep in mind when making your selection. Cats have very distinct personalities. Some are active and playful, while others are laid back or reserved. Some are comfortable with being held, while others prefer to only be stroked. Some cats who are usually quite social may be frightened or passive while at Molly's Place – these cats may need extra TLC to come out of their shells, but in the end will make loving pets. Kittens are curious, playful and full of energy, while adult cats are more relaxed and less mischievous. Cats are only kittens for a few months, so let the personality of the cat be your guide, not the age or size. In general, young children usually don't have the maturity to handle tiny kittens responsibly, so a cat who's at least four months old is probably the best choice for homes with small children.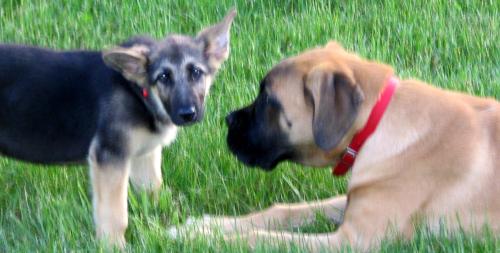 Introducing New Pets
If you already own a cat or dog, you're probably wondering how easy it is to add a new pet to the family. The good news is most cats can get along with other cats, and most dogs can get along with other dogs – and despite the common stereotype, most dogs and cats can get along with each other. The bad news is, introducing a new pet to a home with other pets will require some patience on your part. The best way to handle adding a new pet to the home is to provide time for a period of adjustment for all involved. Supervise interactions between the animals. Even though there may be some initial difficulties, most pets will learn to accept each other with time, and some may quite possibly become the best of friends. By carefully introducing your pets, most problems can be successfully managed.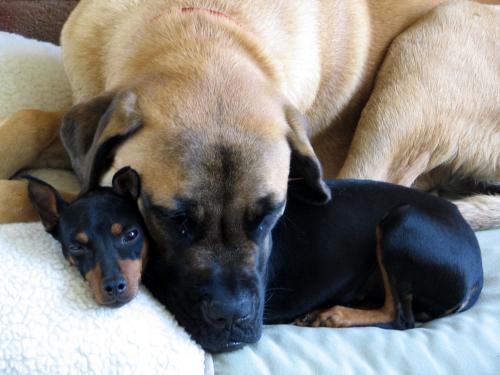 There's No Place Like Home
While you're at Molly's Place, keep in mind that as nice as the environment is, it can never be quite the same as an actual home. So even if one of our canines or felines isn't looking for your attention, don't dismiss him just yet. He may just be scared or lonely. Regardless of the pet you choose, you'll want to start being a responsible pet guardian from the beginning. Keep your cats indoors with you. If you don't let your new cat outside, he'll never miss it. Never let you new dog outside off leash or unsupervised. If you follow these suggestions, your pet will have a much better chance of being around to enjoy a long and healthy life with you and your family.
---
HAPPY ENDINGS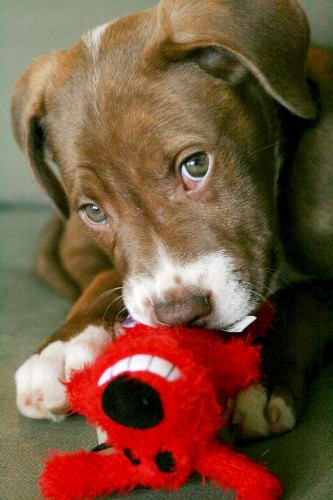 Dear Molly's Place,

We just wanted to send you a little note to let you know that "Howie" (who was renamed to Grady) is fitting right in! He's such a sweet, happy little addition to the bunch, and loves his baby, chewy, and couch cushions! He's such a little snugglebug... His foster mom can take comfort that he sleeps snuggled up in bed at night!

Thank you all so much for allowing us to bring him home, and know that he's very much loved.

-Lara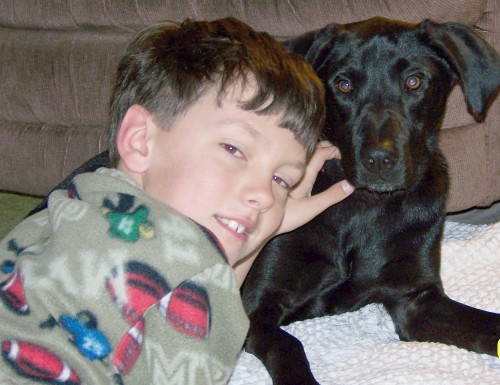 Attached is a picture of our son with "Shadow" (formerly known as Filippo). He's adjusting wonderfully and he's such a well behaved dog. We love him and he seems to be right at home already!

Debbie, Bob and Nick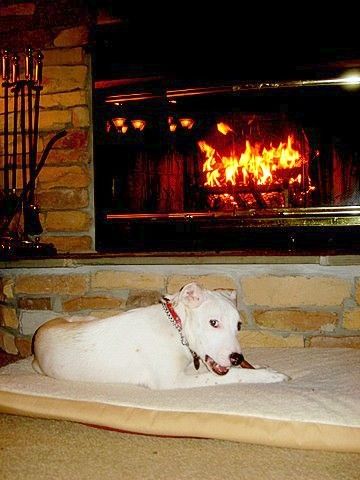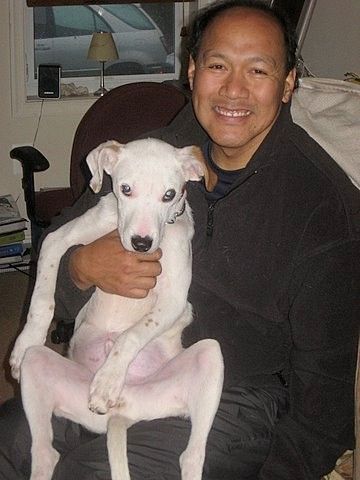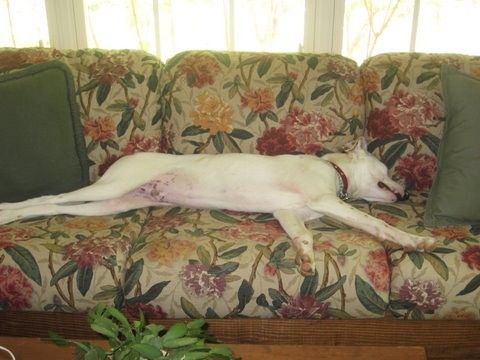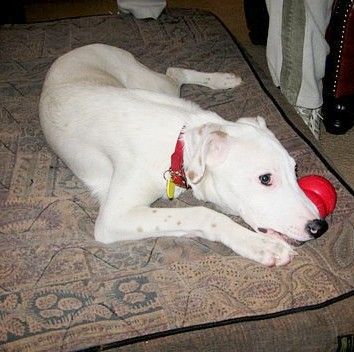 Dear Friends at Molly's ~

We adopted Tangelo ( who now answers to " Opie " ) in March from Molly's. Since then he's learned what rain is, the sound of birds and cars, and unexpected loud noises. We're still working on house breaking him which has progressed slowly because of his dislike of rain - and we've had a lot! He's gotten MUCH bigger so we know he's mixed with something bigger than a Bull Terrier. We love him to pieces; he's a very good boy who's learning more every day.

Thanks for your help with the adoption!

Marty, Melissa & Kieran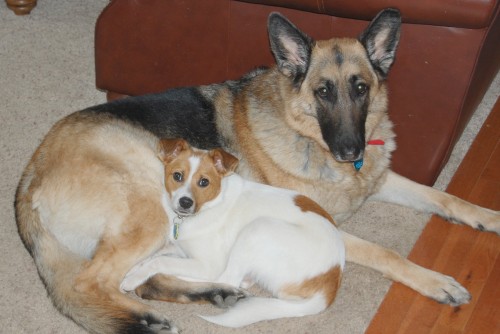 We adopted Buddy in December of 2008. He has fit right in with the family. He has two German Shepherd pals that he likes to harass on a regular basis. They have good fun together. They have lots of room to play and be dogs. He keeps up just fine with the two big dogs on our long hikes through the wood. He is a joy to have around. Thank You Molly's Place for all the good work you do.

Sincerely, The Breiner Family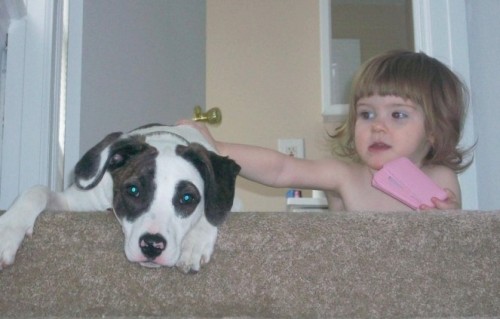 Hello Molly's Place!

Before we came to Molly's Place, our daughter was afraid of dogs. However, she began to warm up to the idea of having a dog and when we came to your place a few months ago, we immediately fell in love with one of your bull terrier mixes and knew we had to bring her home. Although our daughter was hesitant at first, she quickly warmed up to Lola and the two have been best friends ever since. Lola is the sweetest, most gentle dog. It was the best thing we could have done for her because now she loves all dogs. Thank you for what you do and for providing the best pets!

Sincerely, Sarah Llanso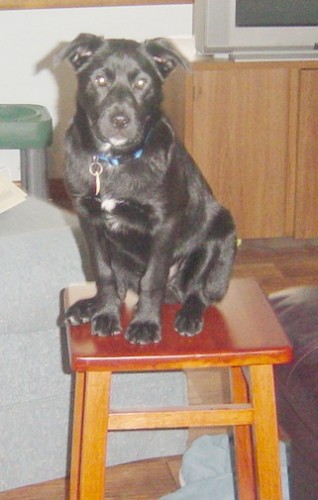 I adopted Harlo on March 26th. Since then he has changed his name to Ray Ray. He has become a constant companion already and is fitting in well. Ray Ray is very adventerous and likes to climb up on everything. My house isn't quiet anymore and it's a great feeling. Keep up the good work. I know it's not easy to keep up with all the animals there but they do need all the love they can get, they sure do give it for free.

Thanks, Derek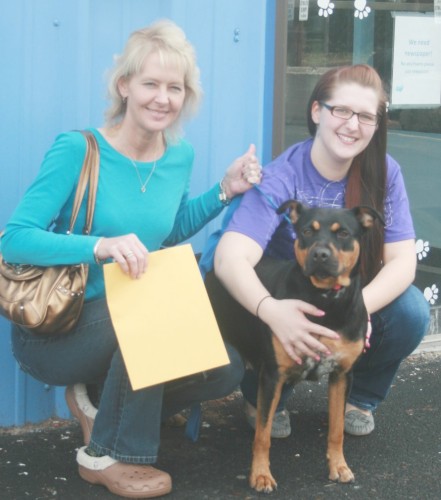 Hi, My daughter and I were in this past Friday and adopted Roxy (name changed to Riley)- she is making herself right at home, she loves to sleep on the sofa and enjoys running in the back yard. She is such a good girl, she knows the commands sit and stay. She is doing great with going to the "potty" outside- she only had one little accident in the last 3 days. We love her already.

Thank you. Robyn Hare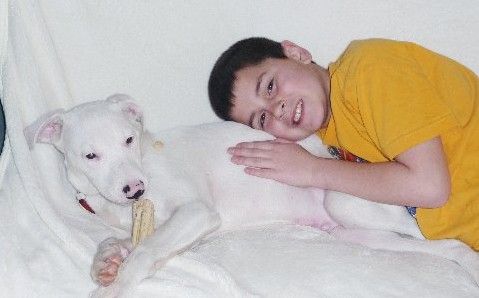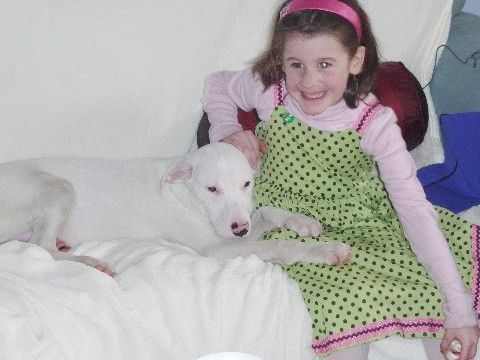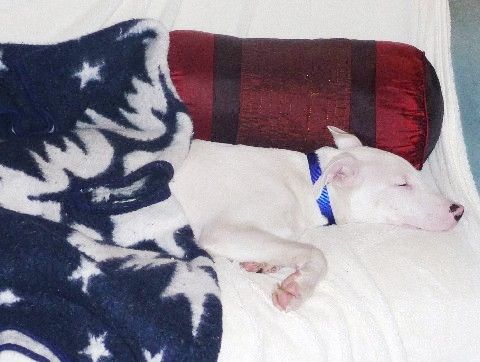 Here is our newest member of the family....Frosty! After a long day he is just tired! And he has already found his favorite spot in the house...the couch! He blends in so nicely with the throw blanket. Thank you Laci for your help in finding us the perfect new addition to our crazy family!

The Jensens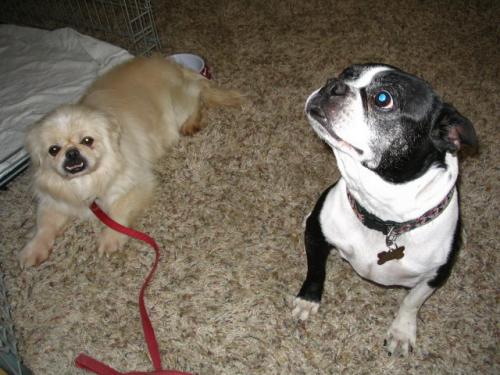 Hi, He's doing great. He didn't know how to use steps so I sort of had to coax him to do that. He's better going up than down. He's staying on a rug in my room at night along with the 3 cats and Darby (my Boston) and he actually wined because he had to go to the potty. He's extremely hand and body shy. Meaning, if I walk toward him he runs like crazy. He also doesn't like to be touched. So a couple times a day I get out the 'off the bone' turkey breast and I get the dog (have to change that Herman name), my dog and the braver cats and we sit around on my sofa and he gets a brushing and everyone makes out like bandits with the turkey. I was so worried about my Boston Terrier, who is highly dominant, but she's doing FANTASTIC!!! He watches her as well and sees how I treat her and the cats and he seems to be warming up a fraction.

Anyway, here he is in his new digs.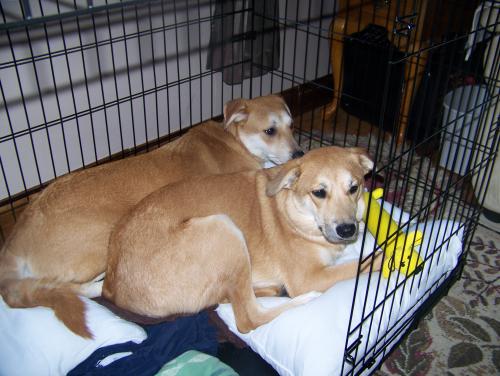 Buddy and Anderson are getting along great, I got a big crate and they slept together the first night. They did well. Buddy won't settle down he just wants to play and play with Anderson. Here is an updated picture of them.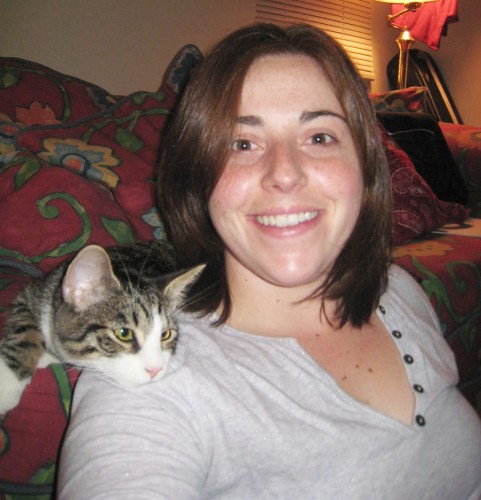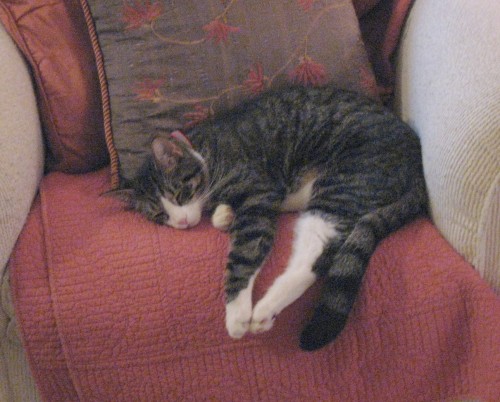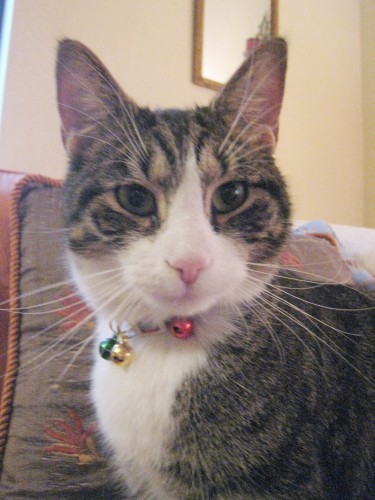 Dear Molly's Place Staff:

I was told you enjoy updates. I just wanted to say thanks, and give you an update on my cat Miles (formerly J Bird). Dorothy did an amazing job fostering him and we are so greatful. He had a head cold right before we came to get him and she made sure we had the medicine right away. She also followed through with me to make sure he was doing well.

Miles has become the perfect roomate for me. My fiance and I call him "cat-dog" because he follows us around, runs to the door when I come home, loves his belly rubbed, and meows for his favorite toy when he wants to play. I could not have asked for a better friend. We truly appreciate your organization and look forward to coming to you for new members of our family once we are married.

Thank you so much. Lisa, Andy, and Miles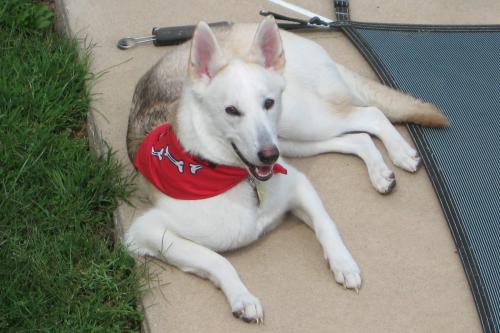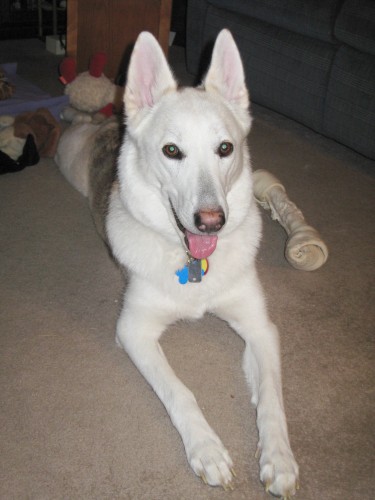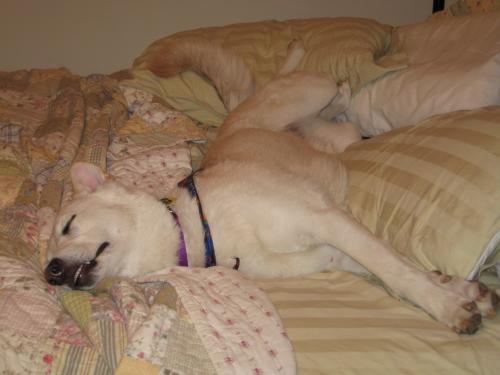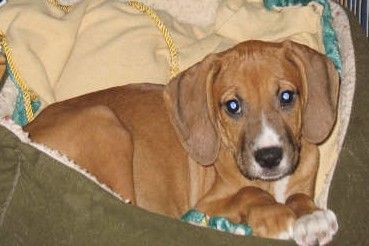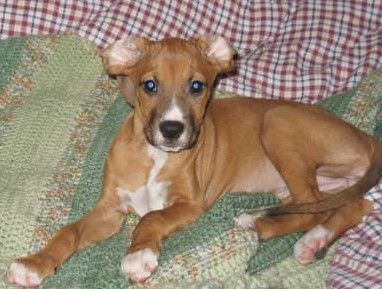 To all at Molly's Place:

Attached are pictures of the redbone/coonhound puppy named MaryJane. Her new name is Remi to which she has been responding to. She has settled into her new home quite nicely and actually prefers sleeping on the owner's bed to sleeping in her own crate. She is getting along well with her adopted Jack Russell sisters who tolerate her at this point. All in all, Remi has been doing well and is getting a lot of attention in her new home.

Thank you for all your help.

Sincerely, Rebecca and Joshua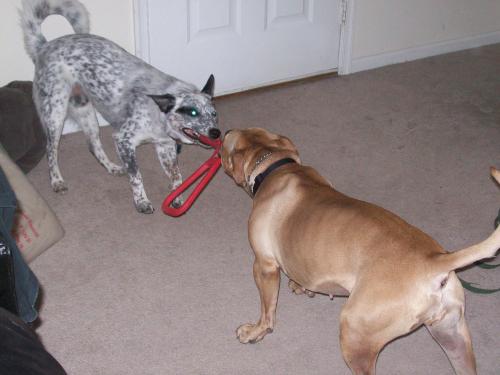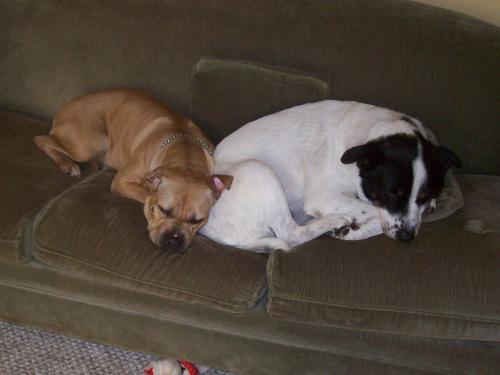 Hello,

I know I'm a little behind on giving you an update on precious, but I've been really busy the last two months. Precious now goes by Neeka, and has been doing pretty well. She gets along with her new roommate (the blue heeler), although sometimes he's a little too high energy for her. He would play with Neeka 24 hours out of the day if she would let him. My girlfriend's dalmation mix has finally warmed up to Neeka as well. It was a bit of a project for the first meeting, but now they're almost friends.

She's doing really well with people too, but I'm sure that doesn't come as a surprise. She loves everybody as long as they don't have a hat or sunglasses on. Lately, she's trying to be the gatekeeper of the house (which she learned from my parent's dog) but I'm trying to break her on that. Her obedience isn't bad either, and she's surprisingly good off leash. I attached a few as well.

Take Care, Cody

Have a great holiday season....I know that Calypso will! Mitch Meyer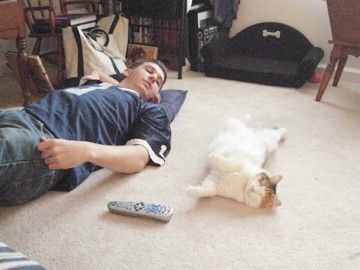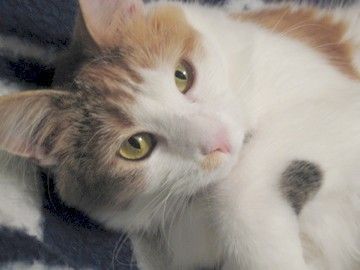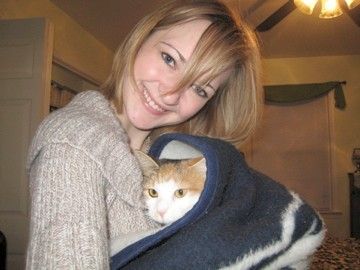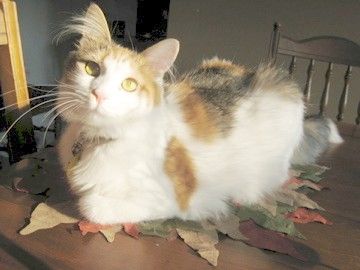 Greetings!

We are writing to update you about the newest member of our family that we adopted from your facility in June. Paisley, formerly "Dot", is our long-haired calico that has brought so much laughter and love to our family already.

We knew we had to have Paisley once she approached us at the shelter, rubbing, nuzzling, and purring for us immediately. Since then, she has grown and become a healthy, bright-eyed beauty. On her first trip to our vet, he remarked on her friendly, trusting nature and the beautiful long-haired coat he knew she would grow with love and care.

Paisley is a playful and loving cat. She talks to us daily, always making noises and purring as she struts around the house. She loves to make anything into a toy and play at a moments notice. On the other hand, she is also always up for a cuddle or petting session. My husband and I laugh at her funny antics daily and our other pet, a Pomeranian named Pumpkin, is trying his best to get on her good side.

Paisley has definitely made herself at home here and is quite comfortable with her new quarters, as you can see from some of these pictures.

hank you for taking care of Paisley and having such a wonderful adoption place! We are so overjoyed that we were able to find such a loving new furry companion.

Also, if you have any information about the person who was able to bring "Dot" to the shelter originally, please let them know that we thank them and are so glad they brought her there so that we could give her a better life!

Sincerely, Katie and Sam Hartman and Pumpkin and Paisley!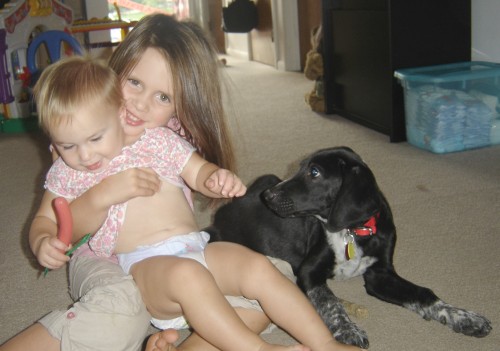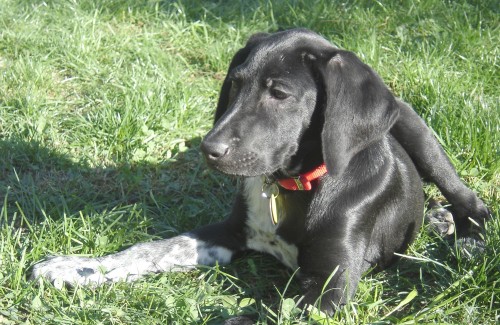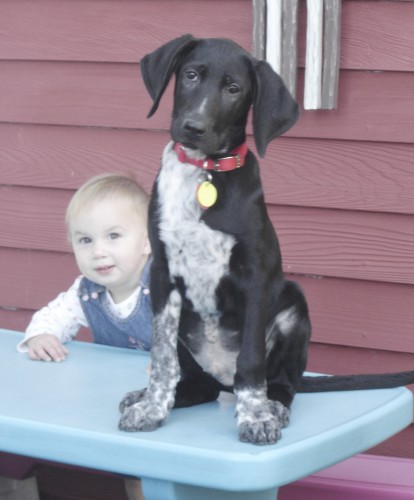 Hello to all the wonderful people at Molly's Place that took such good care of me and saved my life and my brothers'. I hope they are enjoying their lives as much as I am my new family. I love playing with my "sisters" Mady and Abi and I try to play with my other friend Kano (the other dog) but he does not like me too much...he's old :)

I just got back from the vets today and everyone there loved me....to be expected! I got on the scale and I weighed 34.4 lbs. Dr. Gabig said I was on the lower end and that my mom and dad needed to start feeding me a little more until I put on some weight but they should not have to worry with me getting too plump. I took the shot like a big boy only because the sneaky nurse fed me treats :) I can't complain though.

Thank you so much for taking care of me and giving me to such an awesome home. I hope my brother's are doing well and have all been adopted. Mommy wishes she could have brought them home too!!

I have attached some pictures of me having a blast and to show you how big I have gotten! And believe it or not, I still like to be held just like the day my family came.

Take care and say hello to my friends for me!

Pawserly, Jasper Brymesser (Justin, April, Mady and Abi)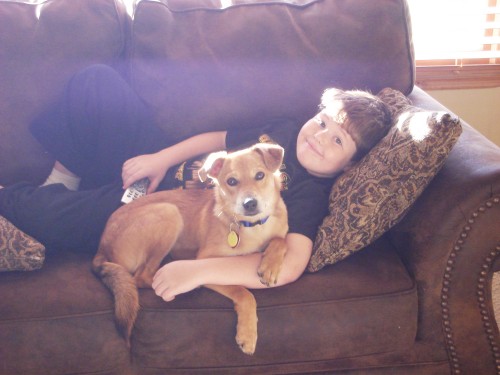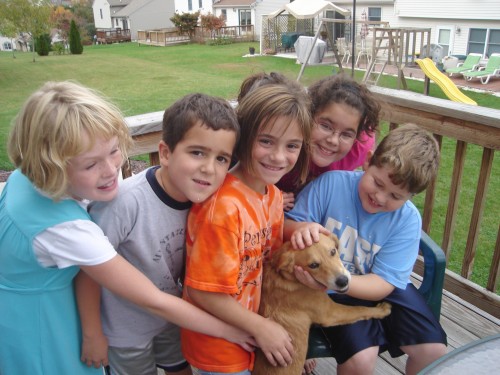 To all at Mollys Place,

My son and I adopted Freddy on Oct 4th from Mollys Place. I wanted to email you back to let you know how happy everyone is. Freddy is now Farrfol (named from a Seinfeld episode). He is a great companion and "little brother" to my son Jonas. Farrfol has completed our home. He is the most loving and well behaved pet anyone could ask for.

Farrfol enjoys his days relaxing at my office where the ladies here spoil him with treats and belly rubs. In the evening he plays with Jonas and all the neighborhood kids. At night he snuggles in with Jonas and crashes.

Thank so much for a wonder addition to our family.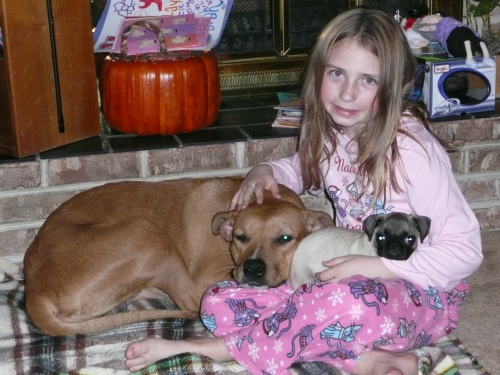 Gypsy & Apple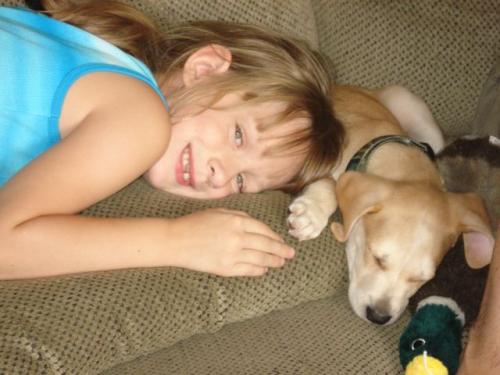 Dear Molly's Place workers and staff, We just wanted to let you know how happy we are to have Wyatt ("Mars", one of the lab/hound puppies). He is a welcome member of our family and has adjusted really well to life in our home.

Thank you for a wonderful pet adoption experience!

Sincerely, The Scott Family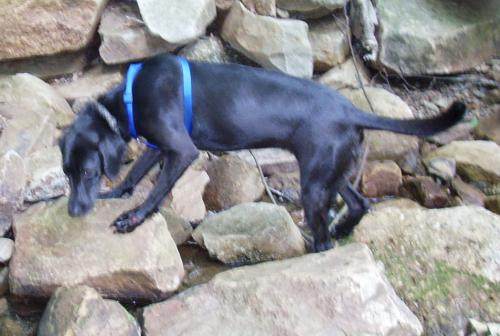 I adopted Crissy, a black lab mix, from your shelter a year ago. As promised, she's a sweethart. I'm so glad I found her at your rescue shelter & adopted her. She now goes by the name Rissy & is two years old. I've attached some pictures of her. She has gotten to go to the beach several times, overnight hiking, outdoor summer concerts, & gets to jog with me. She's still very shy, but around people who are part of her 'family' she has really opened up. And she is great with other dogs, especially her little pug cousin.

Thank you for the opportunity to adopt such a great dog.

Stacey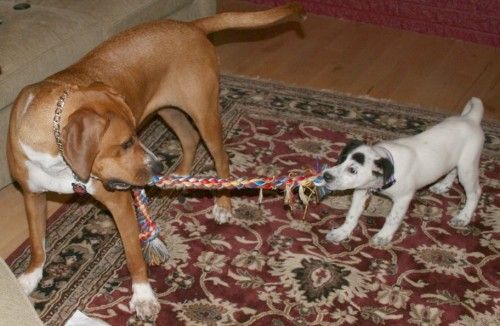 Hello all, Yesterday, Sunday, Jonathan and I picked up our puppy. Over the past two weeks, we have gone back and forth with names. I liked names that were too cute for Jonathan's liking; and I wasn't crazy about any of his names. Finally tonight, we found the name that we both liked... Boo. Kylie is having great fun with her new sister. Kylie does forget how big she is, but Boo has no problem holding her own, as you can see in the one picture. We are having great fun with them. The cats are not feeling the same way as we are. But they'll come around. As long as we give them catnip, they don't seem to mind them so much :) Hope all are well.
Kimmy and Jonathan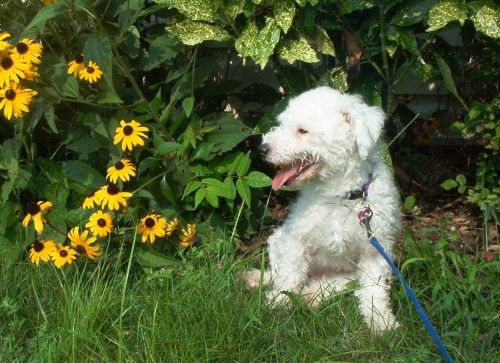 Hi, Sparkle Annie is on her way to the vet today. She is making progress and follows me around the house and the fenced area of the yard. She pottied outside today! I was so happy because she has really been "Holding it". I have attached a photo.

Thanks again, you are a terrific group.

Ginny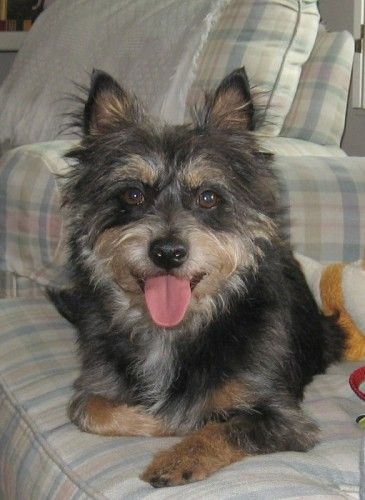 Thought you would enjoy seeing how happy Angus (formerly kown as Ernest) is in his new home. He is a great little guy and we are a perfect match. Can't imagine why he ended up in a shelter.
Thanks, Paula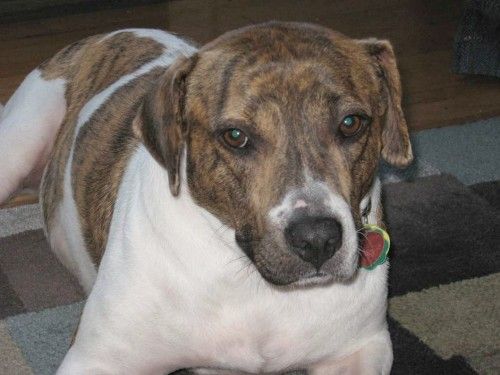 Molly's Place Staff: I just wanted to let you know that Lady, the dog we adopted from you guys about 2 and a half months ago, is doing great with us. She seems very happy and healthy and we couldn't have asked for a better dog. She gets about 2 miles of walking and jogging a day and seems to really enjoy the exercise. She also goes on hikes with us on the weekends. I know the one girl you had working in there was quite attached to Lady and I wanted to let her and the rest of you guys know that she is doing great.

Thanks for making it possible for us to adopt this dog, I can't believe any one would want to get rid of her!

Thanks again! Chris and Kate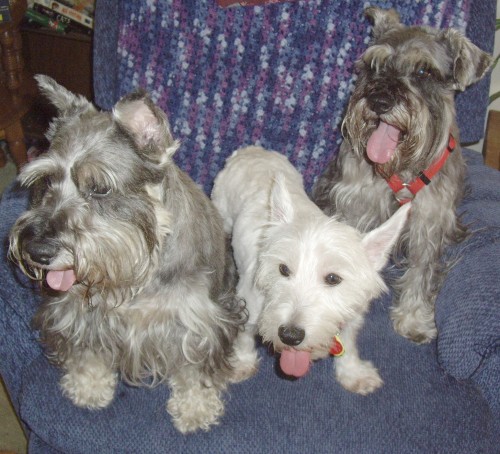 I adopted a Westie from Molly's Place Rescue in April 2007. Her shelter name was Lilly but we renamed her Abby. At first she was shy and unsure with my 2 schnauzers. She would snap out of fear at them. Within a short amount of time she has suddenly become a little "aggitator" to all of the other pets despite that fact that she's the smallest of all of them. She just loves to play with Oakley (one of the schnauzers) and Romeo (one of my cats). She is constantly on the go from the time she gets up til the time she goes to bed. She will get into her crate just by telling her. She is still not 100% housebroken but we are still working on it. But given her history as a breeder dog who spent a large amount of time crated, she is doing well. She's been groomed twice since she was adopted. She is a completely different dog than I brought home that day in April. I've attached a picture of her with my 2 schauzers.

Thanks for allowing me to adopt her into my family!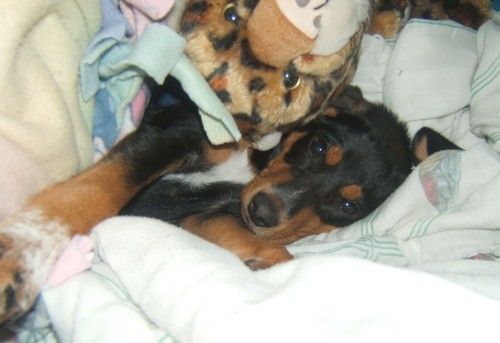 Here are some pics of Twix to show you how she is doing. She is a fun loving little girl and everyone falls in love with her that she comes in conact with. Just wanted to share the pics.
Belinda and Chasity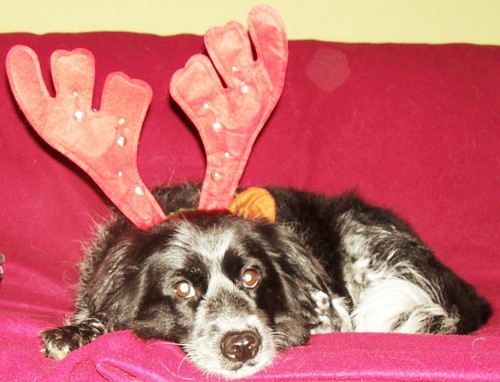 (2nd Update on Chloe) Dear Friends at Molly's - Just a note to wish you all a very Chloe Christmas! Chloe is so dear to me, and I am still thankful that you took care of her until we found each other.

We're still working on losing some more weight - you can see she only gets light ice cream. :) You can also tell she knew she looked stupid when I put the antlers on her, but she is very patient with me. I hope all the animals there find loving homes soon. Have a very merry Christmas and a happy new year!

Aimee and Chloe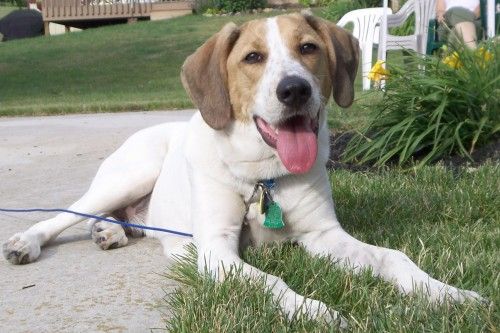 John and I adopted Winston (you knew him as Maurice – he has a big spot on his left side) on Feb 10, 2007. Here's a picture of him from the end of June at a family picnic. He has brought us so much joy…what a blessing that he was at Molly's Place, just waiting for us to take him home!

Thanks for all that you do to bring pets and people together.

Patti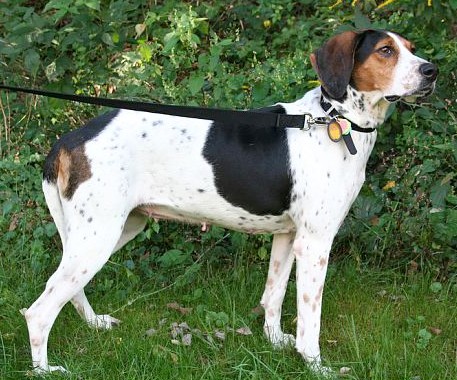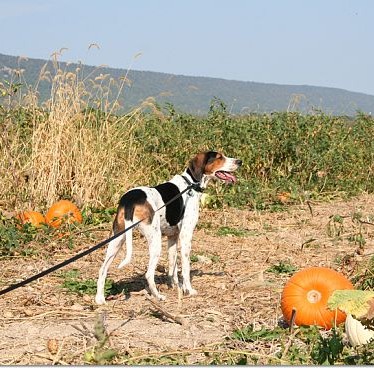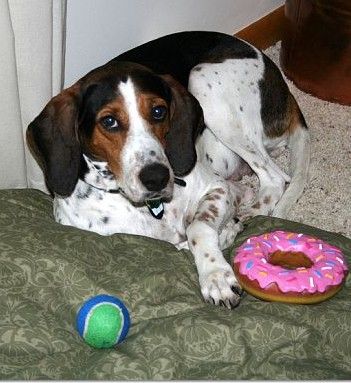 Hello! We just wanted to send you an update and a few pictures of Tess (the coonhound formerly known as Bahama Mama!). She's been with us for almost a month now, and we absolutely adore her. She was a little scared and very shy her first week with us, but she quickly came out of her shell and now plays with us and greets new people and is really losing the timidness that she first showed. We take her for a walk every evening, and we're trying to socialize her a bit and teach her that new things don't necessarily mean scary things. She's been around kids, other dogs, loud noises, the vet, strangers, and even cows and she is taking it all in stride. We're proud of her! She absolutely LOVES to be outside, and so we bought a long flexi lead so that she can have some freedom in our yard and on hikes even though she needs to be leashed at all times. There is a tree line behind our home, so she frequently comes across deer and other wildlife trails, which gets the hunter in her very excited!! She behaves beautifully in our house; we've had only a few housetraining accidents, and she's learning lots of commands very quickly (she's mastered 'sit,' 'down,' and 'come' and is currently working on 'stay'). The second week we had her, we scheduled a one-time meeting with a professional dog trainer in the area to get a better idea of the best way to work with a dog with her tempermant, and that helped us understand her a lot better. Tess does great in her crate, and even though she doesn't have to sleep in there, she chooses to do so (we're not complaining about that!). And on top of all of that, she's been very gentle with our cat (thank goodness!).

So all in all, we love her to pieces, and we wanted to thank you for giving us the opportunity to adopt her.

Thanks again, and we'll stay in touch!

-Kate & Mike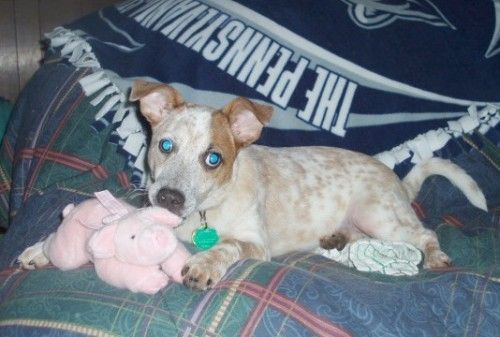 Greetings from Pittsburgh!
I wanted to let you know that Piper has turned out to be the perfect (well, almost) puppy. Piper, named partly because it is an aussie girls name and partly because it was several days before she even made a noise and partly for a champion agility dog (which we will start once she can focus and we get our obedience certificate).

She has put on about 2 pounds since coming home ( a month tomorrow) and is getting fuller and longer and her red is becoming more dominant by the day. She is a big hit everywhere we go. Everyone wants to know what she is and where we found her. She is so well adjusted and has been since the begininng. You all did a wonderful job socializing her. She loves everyone and everything. She was initially fearful at the dog play park since she was, by far, the smallest in the park, but she's grown to be a big dog in a little body and her favorite romp friend is a HUGE 8 month old white shepherd who can trot faster than she can run. But she can weave through the trees better than anyone in the park! She gets rolled a lot by the big dogs but gets right back up and in the mix. She loves to get wet and muddy, a far cry from when we took her home and she was so afraid of being outside.

We're not sure what she is mixed with but I've been told she is 90% red heeler with a little JRT or Beagle in the mix. She's a digger and not a barker, so we have no idea. It doesn't matter though as whatever she is, she is very sweet and great natured. She looks more like an ACD every day. She is enthusiastic about EVERYTHING and has endless energy. She trained quickly to walk on the leash, come, sit and fetch (the first day). We're still working on the potty training, mostly my fault when I am wrapped up in a work call and can't break free. She loves the cats, a little more than they like her, except the one you'll see giving her a bath. Her only fault, she is a nightmare to cut her toenails. My kelpie was the same, must be something in the breed they don't tell you about in books!

She has wrapped grandma and grandpa around her little paw and goes there when I travel and sometimes for an overnight just because they have so much fun with her. Having a "baby" changes everything and we've learned that a puppy is a little more work than we remembered and our idea of puppy proofing wasn't quite enough. But we are working through it and she has managed to find some items that we thought were long gone!

Thank you for caring for her until it was time for us to find each other. It was a long drive that day back and forth but was worth every minute and then some!

I have volunteered with shelters for more years than I can count and I can say that you all do an outstanding job with your pets. I am glad that I was unable to find what I was looking for locally as I would have been sad to have missed out on this wonderful, joyful little (getting bigger every day) puppy.

Sincerely, Laura, Piper and her kitties

Hi, attached are pictures of "Tucker" who has been renamed Ozzy. He is doing really well in his new home. His favorite thing to do is sleep on the bed or sofa. Although he is a little scared of my cats, they are beginning to warm up to him. He is such a great dog! He walks so well on a leash (although he has to be coaxed to do any exercise), eats well and has had no accidents!
Hilary


I thought you'd enjoy a picture of Lexie. She was named Hannah at your shelter (actually Lori's house), and we adopted her on 5/8/04. She's a very happy, healthy and much loved member of our family.

Thank you and keep up the good work!!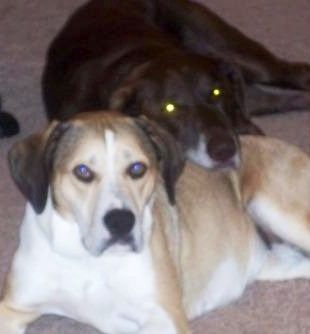 Hi, I hope all is well. I just wanted to give you an update on Dorothy. She is doing very, very well. She is very comfortable with us now and acts like a normal 2-3 year old dog. We had the summer off and spent a ton of time with her. This probably helped her become more adjusted. My 10 year old lab just loves her. They lay all over each other. She has the run of the house and is left alone when we are at work from 7:00-3:30. She doesn't have accidents in the house anymore which we are happy about.

My wife and I are both thrilled with Dorothy. She has really turned into a great dog. Take care,Jeff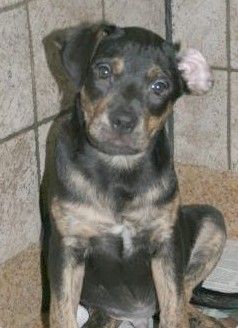 Good morning, I've been meaning to update you on Sammy's (formerly Morocco) progress for some time, but as I'm sure you understand, taking care of him takes up a good portion of my time. Although still rather timid, Sammy is beginning to adjust. For the first week or so, playing outside was not an option, however now he loves his walks and can't wait to get out there. He has grown rather close to me, as I have to him.

Thanks for putting me in contact with him and the great experience I had with Molly's place. Now if I could just get him to let me know when he needs to go outside....

Thanks again, Marcus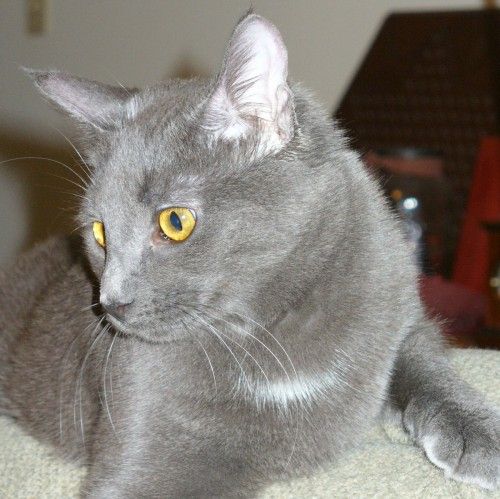 Hi, Here's an updated photo of Marcie (formerly known as "Georgina") - she is the sweetest little girl - she now sleeps between us on the bed (along with her 3 "siblings") and loves to play! Hope to talk with you again soon….

Diane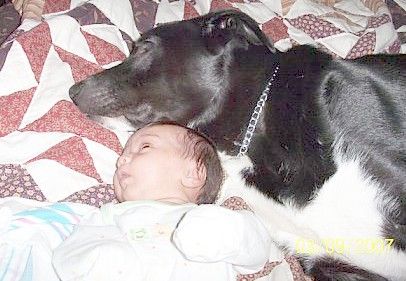 Hi, maybe you get a lot of these and maybe you don't, but I wanted to give you an update on our dog that we adopted from you 2 years ago. He is Tucker Sahoo and was 7 weeks when we got him. He is a huskey/lab mix that has grown to 90 lbs! He's very energetic and still very much a puppy and therefore has a lot to learn. He was our first dog, so we realize some of the mistakes we made along the way, but we wouldn't have changed any of it for the world. He was our first baby- who was soon followed by our second (this one of the human variety) Lily. We have a new house now and Tucker has a big backyard to run around in. We are working on fencing it in.

We are very happy with him and recommend your shelter to anyone who is looking for a pet.

Karolyn, Dipak, Lily, and Tucker Sahoo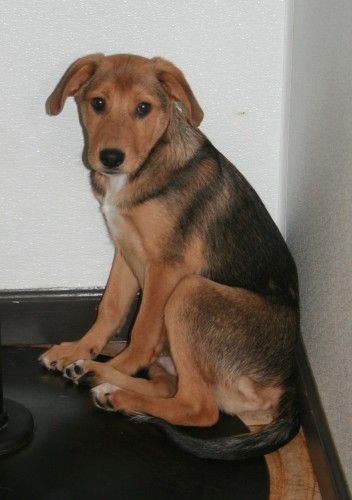 Hello! Mickey D. is now called Linus and he is doing really well. He's a really sweet little guy and we are very happy to have him.

You've got a really wonderful place. You guys are angels.

All the best - Beth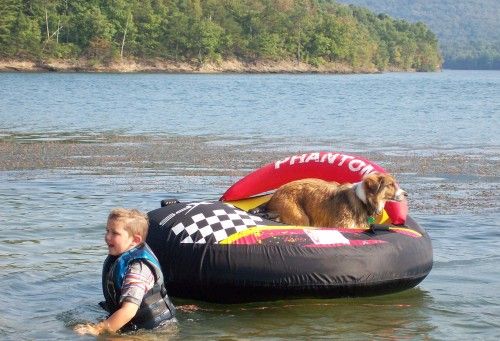 Dear Molly's Place, Hello here is an update on Wallace ( formerly known as Tuffy) he is doing great. We love him so much. He is funny, playful and loving. Hearing and seeing my kids laugh as he licks their faces or plays fetch with them is priceless. He loves to go camping and boating with us! He was the perfect match for us.

We recommend Molly's to everybody who is looking for a special member of their family.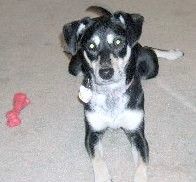 Dear Molly's Place, I adopted my dog Lily (named "Nala" by your shelter) just over 2 years ago from your shelter. The night I brought her home, my car had broken down just down the road from you about 10 minutes before closing time. Even though your staff wanted to go home for the night, they stayed and even came and picked me up from the side of the road to come to the shelter and visit the puppy I had found on petfinder.com that I just had to see in person because I was told that she was not available until the next day but her sisters were already claimed and I did not want her to slip away before I met her. Anyway, to make a long story short, the staff allowed me to stay until my friend could come pick me up (we lived an hour away from the shelter) and after all that, they let me take the beautiful little puppy home that night because of all the trouble I went through to see her. I just wanted to tell you how much it meant to me and my husband for you to make sure I got to see that puppy that night and even though she has her moments that I am so glad I took her home. She is so goofy and always makes me smile.

I just wanted to tell you thank you for what you do. If I decide to adopt another dog, I will definitely go to Molly's Place first!

Thanks! Diana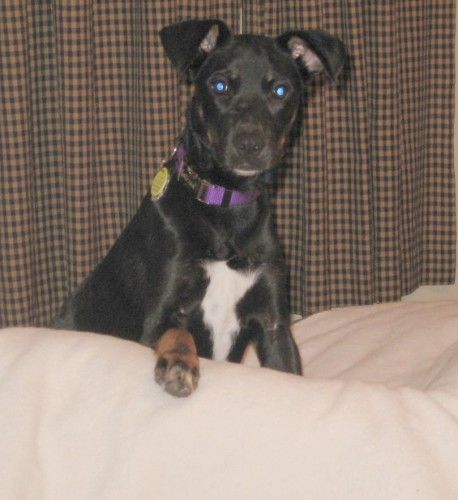 Hello, Just wanted to check in to show you a picture of our baby that we adopted in October - we named her Shelby and she is doing great - we are training her now for the underground dog fence - she is almost potty trained and has full run of house - she has only chewed a few pieces of furniture a couple weeks ago - she weighed 18 lbs. when we brought her home and now weighs 26 lbs.

Adopting her was the greatest thing and we love her alot.

Thank you, Crystal


Hi, We adopted a dog in October (Wizzer) and his new name is "Magee". He is doing well and just loves his new home and his "people". We've taken him to obedience class and he is doing well...he's a smart one! He'll need an operation to correct his hip that was dislocated sometime in his young life. That will happen next year sometime. Attached is a photo of Magee in his new home.
Marty and Marc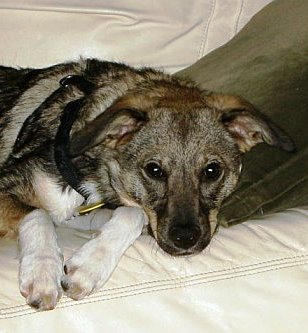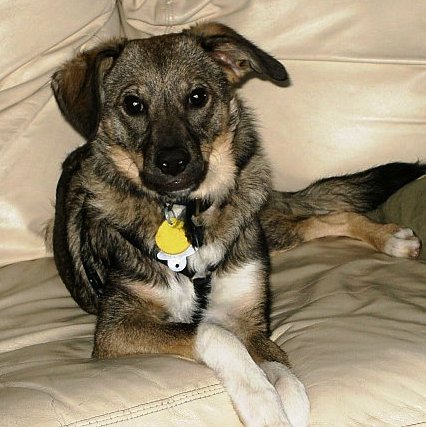 Hello to all at Mollys Place -- It has been 7 months since I adopted the adorable German Shepard/Sheltie Mix "Raccoon" (now named Ruby) from you, and I thought you would like an update and to see some pictures of how she has changed! She's a wonderful addition to my family and is a very sweet companion.

I found out a few months after her adoption that she has kidney disease and has had it since her birth. While it was a tough diagnosis, I have been able to work with my veterinarian to manage the disease and Ruby is doing wonderfully. I feel blessed to have found her and know that she found me so that I could help her live a wonderful life, for as long as possible!

Thank you for allowing me to bring Ruby into my life -- she's been a blessing!

Sincerely, Sara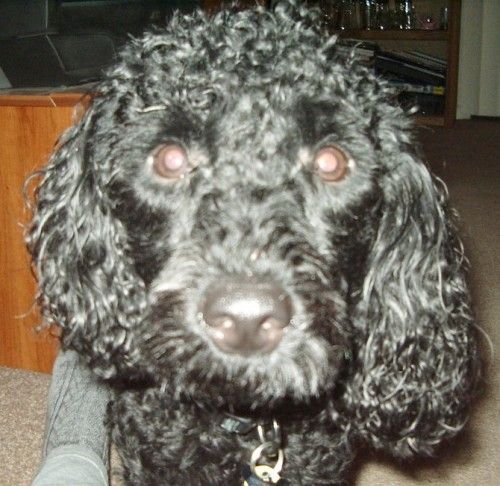 Dear Molly's Place, Sometimes, the greatest gifts in life come when you least expect them. I walked into Molly's Place one night not knowing what I would find; not knowing how it would change my life. This beautiful little boy with big brown eyes walked over, and he layed down next to me. After I left that night, I couldn't stop thinking about those eyes. In those twenty minutes I was with him, he had stolen my heart.

The next day, I brought Dempsey (formally named Cheech) home. That was two weeks ago. I thought I'd update you on how he's doing today. Dempsey is learning that his crate is a safe place and it makes a comfy bed to sleep in while Mommy is at work. And although he will go when we're outside, he is learning that outside is the only place he is supposed to potty. Actually, he gets better every day -- he has started bringing me my sneakers and his leash when he needs to go out. He is slowly understanding that even though I leave him sometimes, I will be back soon (this has probably been the hardest thing for him). He loves all people and other dogs. In fact, he had days of fun playing with his "cousin" Zoey (a black lab/dalmatian mix that my brother rescued from the Humane Society in Allentown) over Thanksgiving. He loves sleeping on the sofa and any toy that makes a crinkling noise. More than anything, though, he LOVES to cuddle and would lay with me 24 hours a day if he could.

So tonight, as we were laying together on our sofa, I realized that I can't imagine my life without him. He is truly a gift. Words cannot express how thankful I am for you and all the volunteers at Molly's Place for letting me give Dempsey a home.

Thank you so much for everything!!!

Sincerely, Kathryn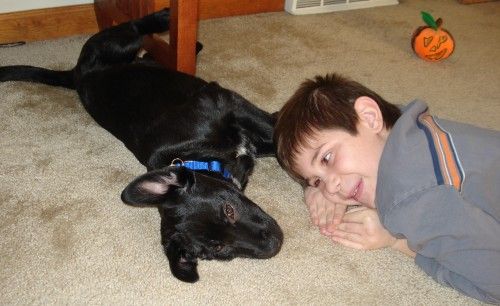 Hi Lori, I just wanted to tell you that we all LOVE our puppy, Sweet Pea. Everyone that visits wants to take her home. She is such a loving, mellow puppy (but still loves to run and play). Sweet Pea wags her tail so hard that her whole body moves every time one of us wakes up in the morning. She even loves our wild boys and will cry at their door until they come out in the morning. We walk them to the bus every morning and then head out for a walk together. She lays under my desk at my feet all day long while I work and follows me all through the house when I get up. It's great to have a reason to take a couple breaks to play. We are so lucky! She is already house trained and NEVER peed in the house once (just a couple poop accidents the first few days). Such a smart doggie! We adore her- I just can't express how much joy she has brought into the house.

Thanks so much for all the hard work that you and all the volunteers at Molly's Place do every day with every animal that comes through your doors. I will tell everyone that is looking for a pet to visit you.

Much love, Lori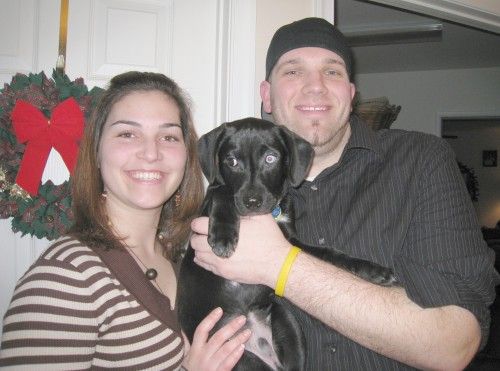 Bojangles (formerly Sambo) is doing wonderful. He adapted to his new environment right away with no issues. He is such a joy. He is getting so big already...just can't believe it.

Thank you again!!!! Jason & Amanda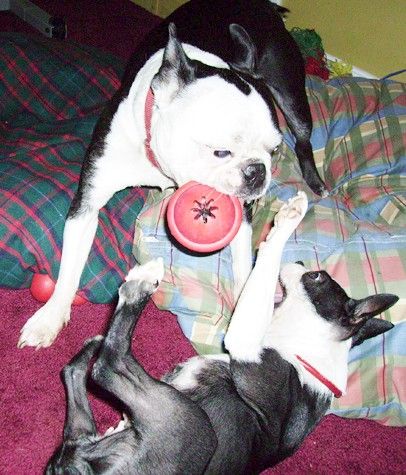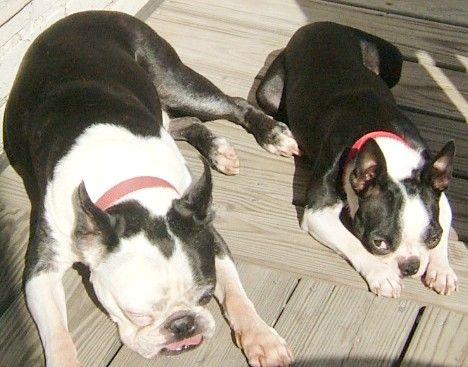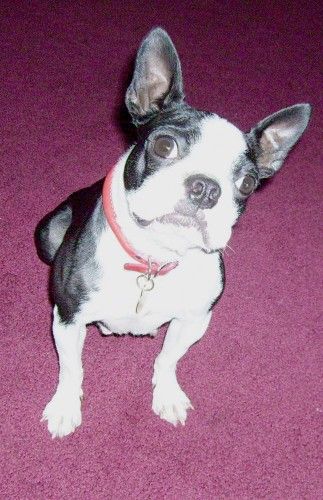 Hello! Just a few pictures of Bitsey at home. She is happy and loving life and everyone on my street just loves her!

Thank you so much for my baby – I LOVE her!! Angela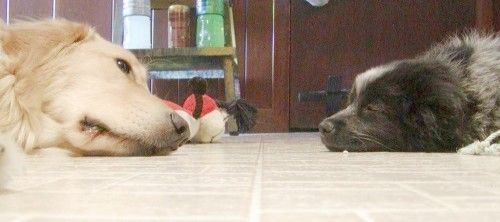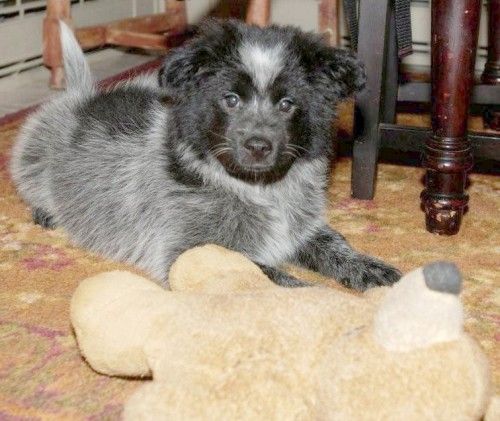 Update on Romeo (formerly Cecil)

It's 3:40am and all is well. Romeo and Zoe are having great fun. All of the usual puppy discovery scenarios. The shy and timid, needs to be held etc. Cecil has vanished. This little boy can run like mad. He carries heavy toys of Zoe's that a small pup like him should not be able to carry. He's very confident, having a ball and being all the incredible things a puppy should be. He's in his crate right now with a clock to replicate his mothers heart beat.

Your all courageous people with huge hearts. Thank you so much. Susan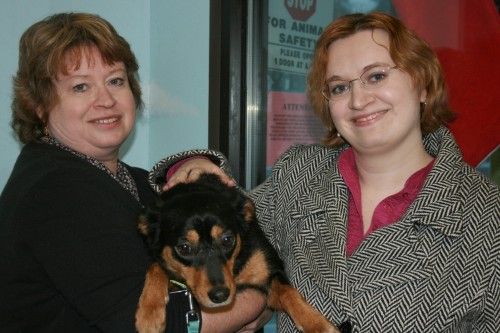 Hi Molly's Place, Amelia is doing so good. She loves her new back yard. Amelia and Cadbury get along really well. She and Cadbury walk well on the leash. I can tell Amelia came from a home where a 'man' wasn't very kind. I think in time she will get over that. I love the way she protects my daughter. Cadbury has come out of her shell for the most part - she still doesn't bark at all.

Thank you again for all your kindness to these sweet animals. Margie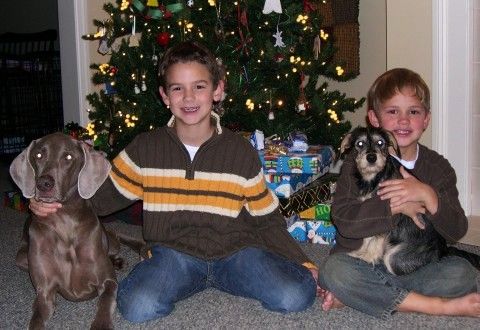 Wishing everyone at Molly's Place a wonderful holiday and a happy new year.

Enjoy the picture of Mia with her new brothers and sister. Mia is formerly known as Ditto at Molly's Place. She is doing well although she is being treated with her second round of medications for an upper respiratory infection -- hopefully the pet insurance will cover most of the cost -- but she is much better. She is still a snuggler and she loves to chase her big sister, Chloe.

Happy Holidays. From the Baer Family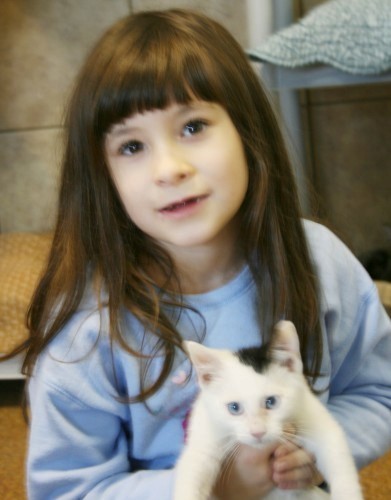 Hi: My name is Lisa Wesloskie. Myself and my daughter adopted "Pip Squeak" on Saturday. His name is now "Oreo". I just wanted to let you know that Oreo has made himself at home at our house and he's doing so well. This has been the PERFECT cat for my daughter. They spent the entire weekend together, he follows her around everywhere and sleeps with her in her bed. The only problem came this morning when my daughter had to go to school. Oreo cried for awhile, looked around for her, and is now sleeping in my office while I'm working. I can't wait to see his reaction when she comes home from school this afternoon.

Thanks for making this such a rewarding experience for all of us. Happy holidays! Lisa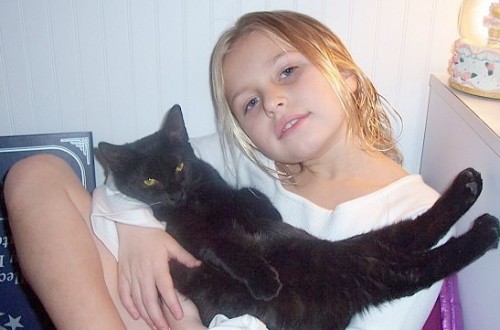 We just wanted to send you a few pictures of the kitten (India) that we adopted from your rescue. Her name is now Furgee and she is adjusting pretty well to her new home with us. Last Friday we had her to the vets and she had an upper respiratory tract infection and ear mites but with some medication, the last few days she is doing much better. She is such a great little girl...... when we brought her home, not once did she growl or hiss at our 13 year old lab.... they just touched noses, sniffed each other and pretty much let each other go. Furgee sleeps in her what we call "pink princess bed" with our 8 year old daughter every night. - Chris

Hello! I just wanted to say Happy New Year and give you an update on a dog I got from your rescue. You named him Periwinkle but we changed his name to Teddy because we thought he looked like a Teddy Bear and he certainly does now that his hair has grown out! I rescued him in May 2007.

My daughter just adores him and he adores her as well as all people. He is an excellent companion and great company. He has settled into life with us very quickly. There is just one thing we do have to watch and that is his desire to bolt. He loves to run and if you recall, I was told he was picked up as a stray and it had taken someone 2 weeks to catch him! He does not try to escape as much as he used to and he will come to us more readily than he did at first so this concern is not as great, however we never let our guard down. He has been to obedience training and did quite well. Everyone loves him wherever he goes. He is so docile with people and children. He tends to sound aggressive when near other dogs, however, that is only until they let him sniff them and then all he wants to do is play! He loves his walks and lets you know when it is time to go. He loves to jog too. And he acts like a little baby with his squeaky toys...he loves to squeak them as loud as he possible can! We just love him and he certainly has filled a place in our home that needed to be filled. When we brought him home, he and our other dog, an aging toy poodle with medical problems, got along fine! He actually gave her some joy in her last week of life. He was able to help us all with the grief of having to make the decision to allow Maggie to be put down. She was in congestive heart failure, diabetic (received insulin shots 2 times a day), had a huge tumor in her abdomen and was not enjoying a quality life. She then became worse and needed to get some relief. But in that last week after we brought Teddy home, she seemed to act like a puppy again for a few days.

I wanted to say thank you for allowing us to have a new pet. He is wonderful and we love him. We tell everyone about your shelter when they ask where we got such a handsome, adorable dog.

Wishing you all a very Happy New Year! Linnette, Gabrielle, & Teddy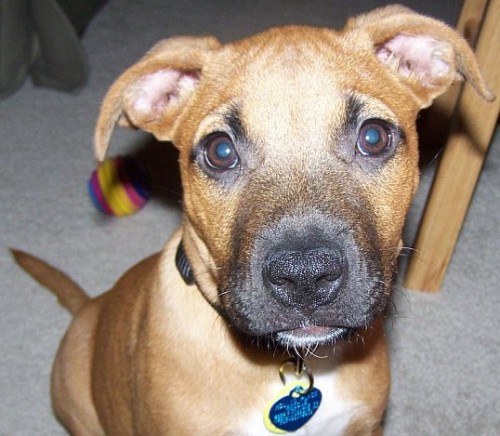 Hi Molly's place, Just wanted to update you on Wallis or Coach which is his new name. He is doing great. Very smart! He is potty trained now and sleeping through the night. His vet check up went well and he is very healthy. He loves his new home! thanks for everything.

Jen and John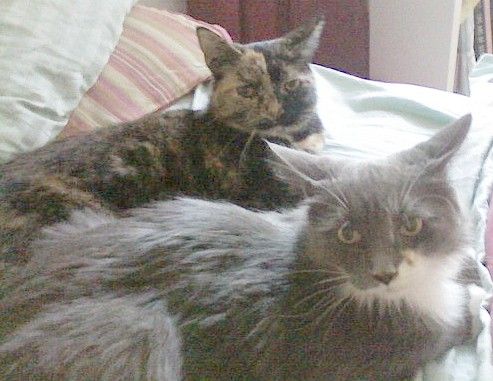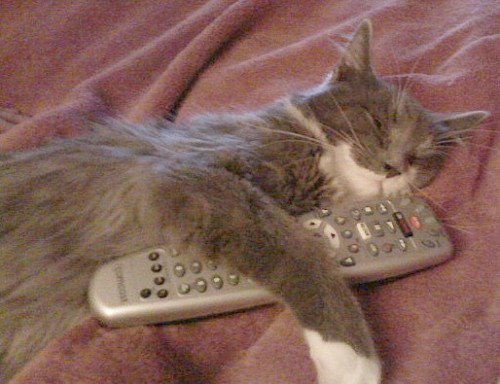 Here's some pictures of our new cats that love to lay on the bed and of course the man of the house loves the remote for the t.v.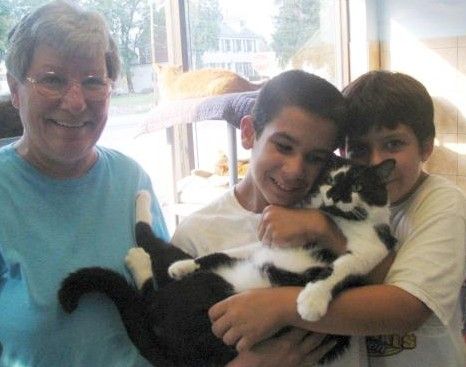 I wanted to tell you what a wonderful cat Lucky, aka Bob Evans is. He is so attached to my grandson Mike. Lucky adjusted real fast and we really love him.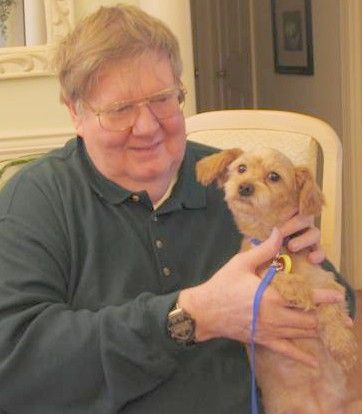 My birthday is December 10. On December 11, 2004, I drove from Waynesboro, PA, to meet Ziggy. Molly's Place had not opened yet, and he was being fostered at a home somewhere near Mechanicsburg. I had been searching the Internet for at least seven years for a dog to adopt. I was determined to have a Maltese--unfortunately, there were virtually no Maltese for adoption in this area. In my on-going search, I eventually discovered Molly's Place which is where I saw a photo of Ziggy--not a Maltese, but a Yorkie-Poo.

On a hunch, I phoned and made an appointment to meet him. He had not had an easy life. He was thought to be 3.5 years-old, had been a breeder, and was found to have a testicular tumor when he was neutered. He had had a dental and a number of teeth removed. He was very shy and had probably been abused. On my part, it was love at first sight. He had been at the rescue for several weeks and had been seen once, by someone who had expressed great interest in him but decided not to take him after seeing him. The fool!

Ziggy was very uncertain on the ride back to Waynesboro. We stopped at the Wal-mart in Waynesboro to buy him a carrier/crate, stainless steel bowls for food and water, a leash, and food and treats. When he got to his new home, he wanted to be near me at all times--it wasn't long before he jumped onto my lap. His room was/is a bathroom with a tiled floor opening onto a eight-by-four hall also with a tiled floor and which can be closed off. That first night, he scratched at the door and whimpered. I brought his crate into my bedroom, where he spent his first night. After that, he slept in his crate in his own room. I would love to have him with me at night, but I am afraid that I will stumble over him and seriously injure him or me. It didn't take long for him to adjust to his own bedroom and his crate. He was supposed to be house-trained, and he has had very few accidents since he has been with me--more my fault than his.

He has gone to Dr. McCulloch at the Waynesboro Veterinary Center since he came with me and is kept up-to-date on shots. He takes Front-line and Heart-guard, and on his last visit in November he had a complete battery of tests so I could he sure he is completely healthy. He is groomed regularly at Dawg- Patch Groomers. He is always beautifully behaved at the vet and the groomer. He also accompanies me on my visits to my doctor, who is a great Ziggy fan and always serves him ice-water.

Ziggy's main diet is Pedigree Dry Dog-food. He also enjoys chopped egg-whites and chopped carrots, which I also feed to Wozzo, my small parrot. Ziggy loves treats, of course--his favorites are Pupperoni, which he likes to hold upright between his paws and eat, SnawSome minis, and Recipe. If I am eating something, he immediately materializes beside me and expects to share. If it is something that won't harm him, he usually gets his way. He has the most beautiful eyes I have seen since Audrey Hepburn. Like hers, they are brown. But when the light hits them, their pupils are gold-colored.

The first night he was with me, I picked up a yard-stick that had fallen on the floor--and he immediately cowered and shrank back. That was the first sign that he had been abused. I have since taken care not to threaten him in any way and not to raise my voice at him unless absolutely necessary. He understands NO, but I don't have to tell him that very often.

I do, however, have one quibble. He is supposed to be a Yorkie- Poo (and I can see the Yorkie and the poodle in him), but he is also part cat and part rabbit. He bats his paws at toys and pounces on treats and toys like a cat. He also hops after things like a rabbit. He wasn't interested in toys for a day or so, but he soon learned what fun they are. He loves stuffed animals small and large--he likes to chase them across the room or down the hall. Each time he goes down the hall, he is cuter when he comes back than when he went down.

He spends most of his time in the same room with me, preferably on my lap. I can think of only one thing that I wish were different--I wish he could talk so I could understand what he has been through and what he expects from me.

Every night the last things I say to him are "God bless you" and "God love you." Not only is he the best birthday gift I have ever gotten, he is my best gift. He truly is the gift that keeps on giving!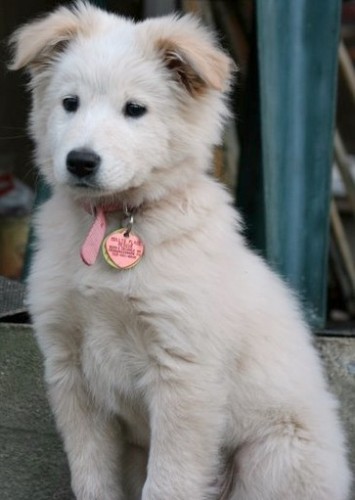 Hello! I just wanted to send you an update on little Claire (formerly Cache). She is very happy in her new home! She already knows how to sit, lay down, roll over, and shake. She is a wonderful puppy. Attached is a picture of her, taken on Christmas Eve.

Best wishes! Lindsay and Seth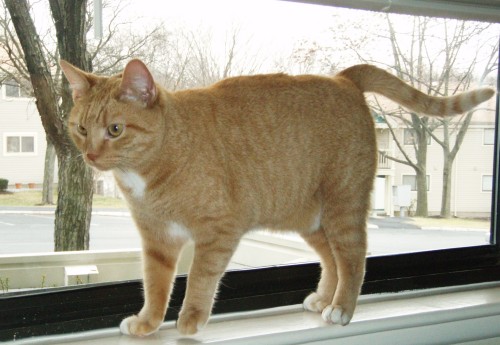 Hello! Good news. Sunshine is doing quite well.

She made herself right at home and seems to be adjusting quite well. Very friendly. Likes to rub, be petted and held. She follows me around the apartment a lot. She likes to look out the window. Very curious and into everything. Likes high places. Nothing is off limits. Eating good. No problems with litter box.

So far, so good. Regards, Bill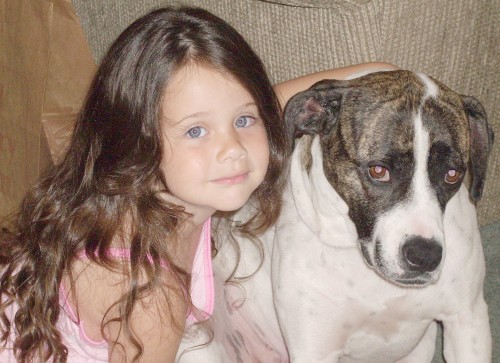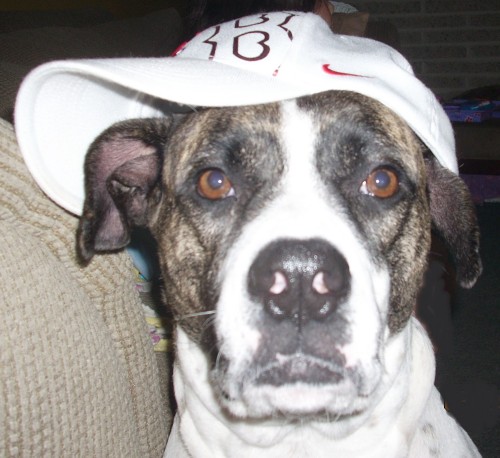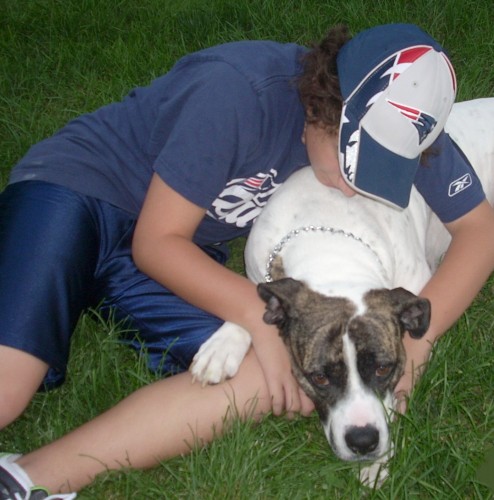 Hello, Its been awhile since we've gotten a hold of you but I wanted to share pictures of aka peaches/ we call her sadie and she responds better to that name.

She is a lover and fits so perfectly with our family. We are considering adopting another in the spring/summer but we may be looking for a puppy not sure yet.

Enjoy the pictures. - The Kohout Family.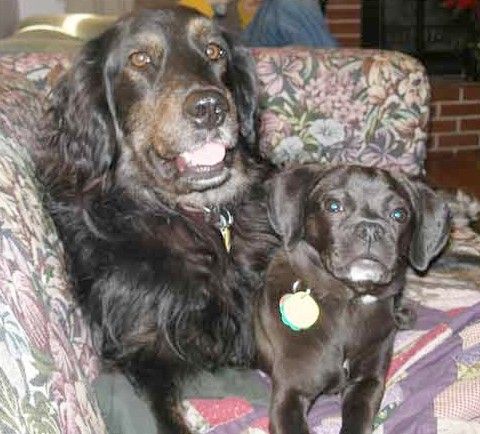 Just wanted to take a moment to update you on "Bobble's" adjustment to her new home. First off, she's got a new name: Snow Pea. We've had her about two weeks now and things are beginning to settle down. She's been treated for both a urinary tract infection and intestinal parasites. Housebreaking is going much better since the treatment! She's doing wonderfully in her first obedience class. She's got sit pretty well and is even beginning to get the idea of "down" and "wait!" When we brought her home she weighed 9.2 lbs and was food obsessed. She now weighs 11.4 lbs and still likes her food a lot but will also give the rest of us a little attention now and then.

This is a picture of her with her big "brother," Josh. We are really enjoying her and I think she's having a grand time here. Thanks so much!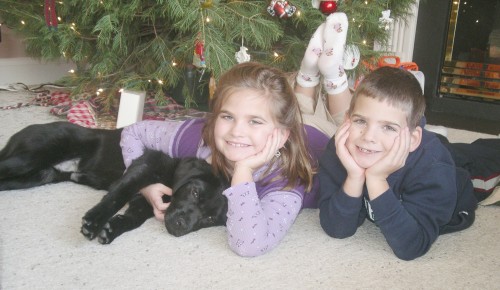 Hi everyone,

We just wanted to give you an update on Rocky. We adopted him on December 7th and he is just AWESOME!!!! He is the best - we couldn't have found a better dog! He's great with the kids. It didn't take him long to settle in and become very spoiled. We are VERY happy with him!
Thanks!!! Cindy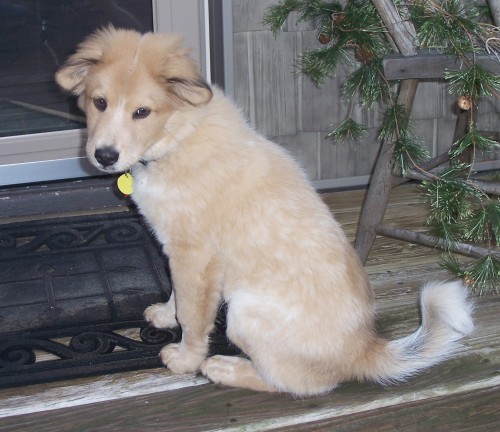 Hello, I wanted to give you an update and send you a photo of the puppy we adopted from Molly's place back in December. He was named 'Jouster' and is an Australian Shepard mix. We changed his name to Jasper. Jasper is doing great. He is almost twice the size he was when we adopted him and has turned out to be a terrific boy! He's been to the vet and had a good check up and he is 99 percent housebroken!

Jasper is a wonderful addition to our family and we are so happy we found him.

The Mabus Family, Helen, Wayne, Hannah and Logan.



TyDye's Story
We are so happy with our new puppy. He is learning very quickly, and has been enjoying the company of his new sister.

That's my sister Pearl. She's a ball hog, but…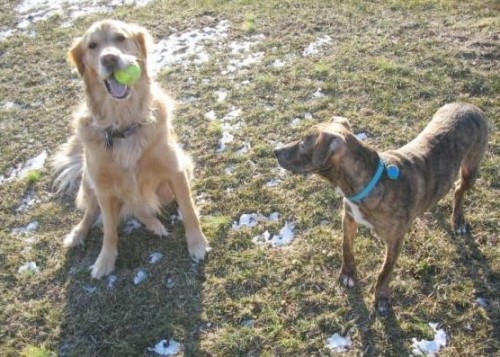 She usually lets me win.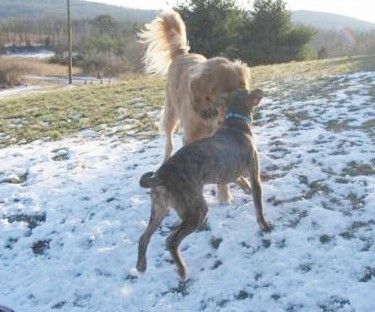 I like to chew on all kinds of stuff like firewood.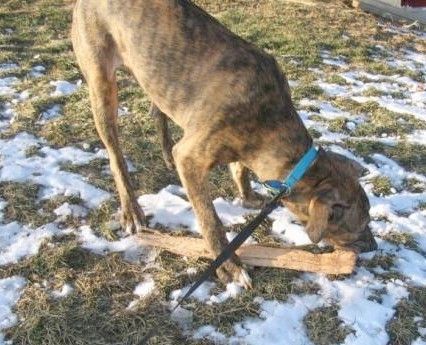 My new mom and dad bought me all of these toys so I do not chew on their shoes (or their firewood).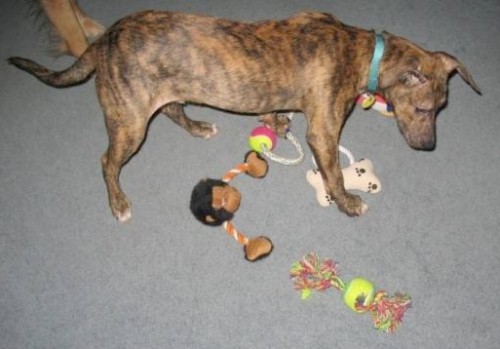 When I do this thing called "sit", I get a treat!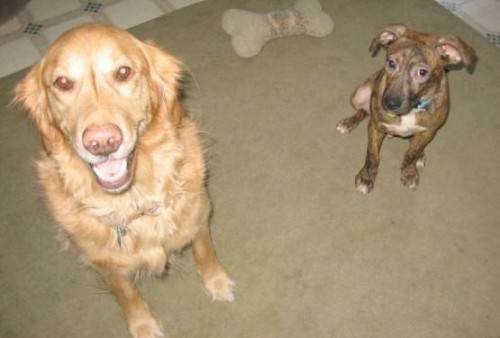 I've been pretty scared of the stairs, but I am getting the hang of it.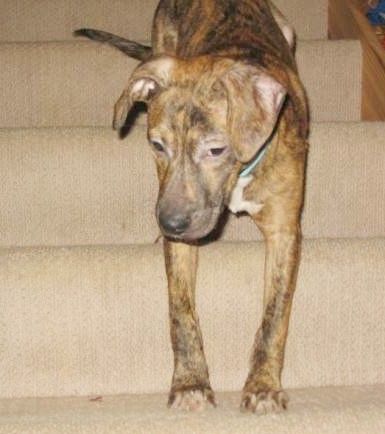 I have a bed that is as groovy as my name.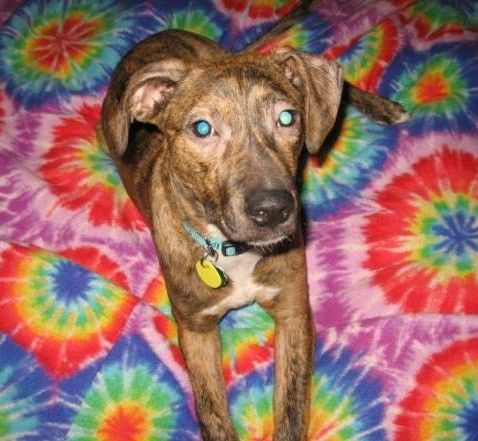 I've had a long week of playing with Pearl and my new toys.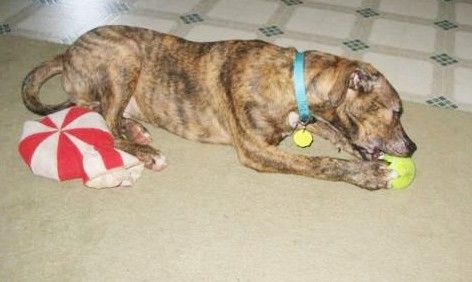 I am going to take a nap now.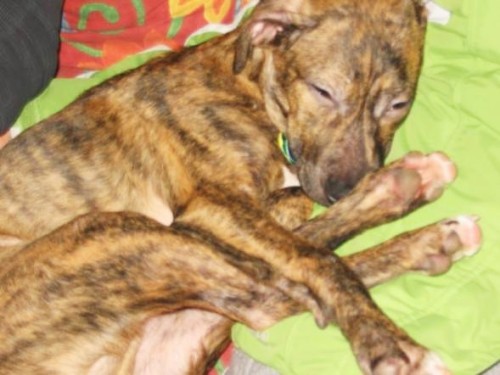 Thank you to everybody at the Pet Rescue. We are super pleased, and will tell everybody that we know about our experience. Thanks again.

Stephanie and Jonathan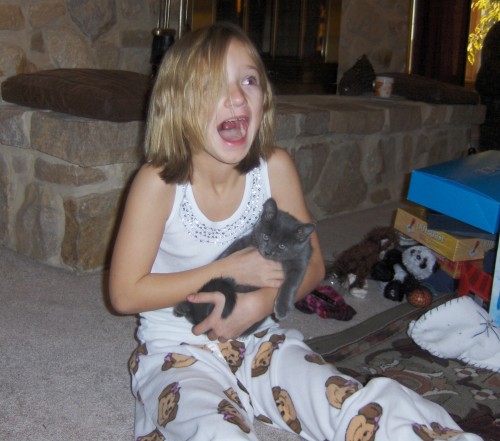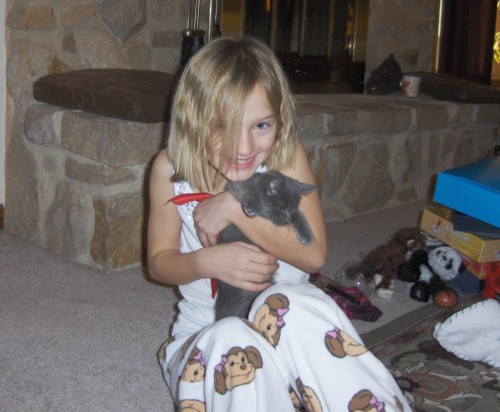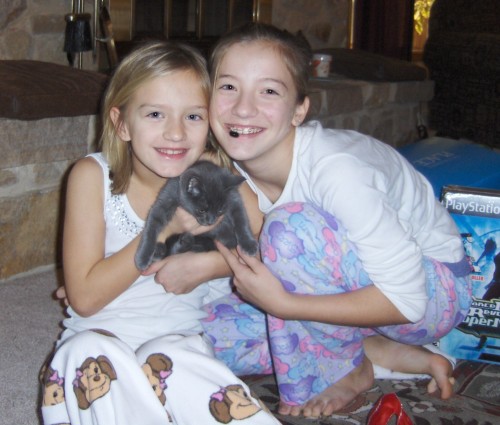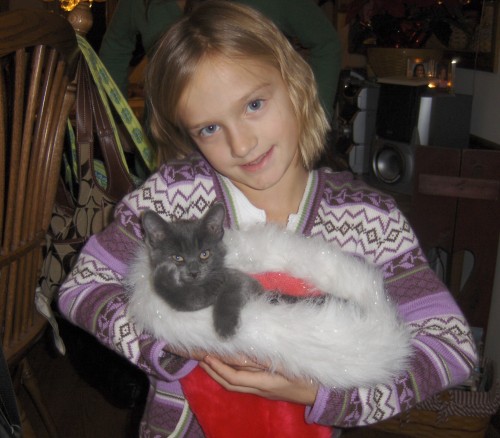 Hi there. We adopted (Strayer) who we've renamed Whisper. He was a Christmas present from my 12 year old daughter, Katie for her 8 year old sister, Alyssa. Alyssa loved Whisper and was thrilled.

Thank you for a great adoption experience! Terri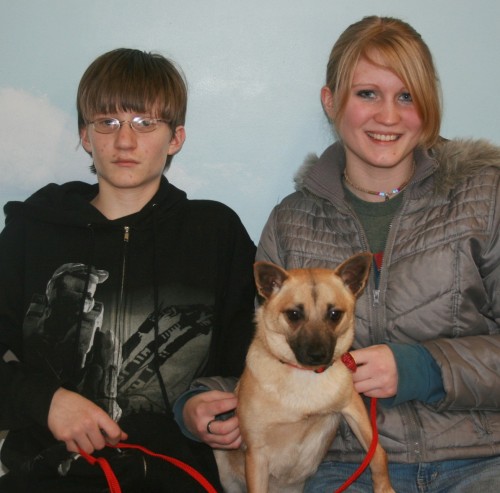 Hi There,

My kids and I were in on Sunday and adopted the little male terrier mix with the curled tail. They were going to call him Wubby, but have decided to change his name to Rocko.

He has made himself right at home and has not had an accident inside yet. It is very obvious he's been somebody's baby before. He understands no very well, and only barks when someone walks past the yard, but stops barking when we say no no. The kids absolutely adore him. I'll send a picture in a little bit. Thank you all so much!

Kelly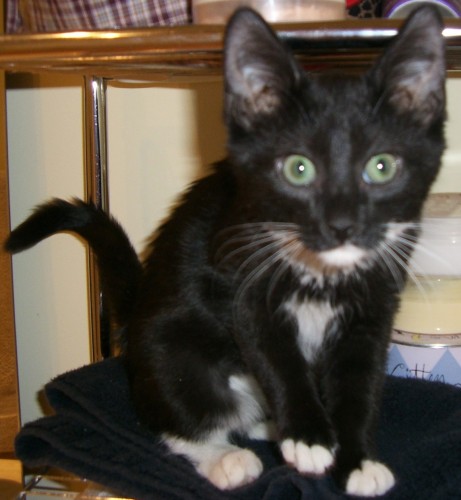 Update on Jingle...we changed her name to Onyx. We love her so much!!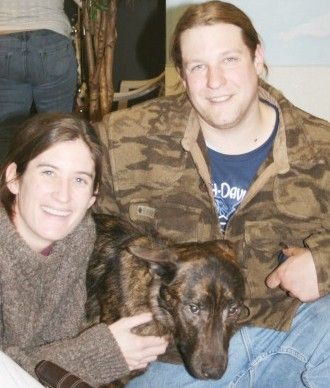 Hi there,

We wanted to drop you a quick note to let you know that J.J. is doing wonderfully. He is a total love! If it were up to him, he'd spend all day snuggling! Of course, he does love his toys and running at the park too.

He's turning into quite the retriever! He is still a little shy around the camera (and other new things as well), but as soon as we can get some good photos, we'll pass them along as well. He continues to get more handsome every day : )

Thanks! Joan, Mike and J.J.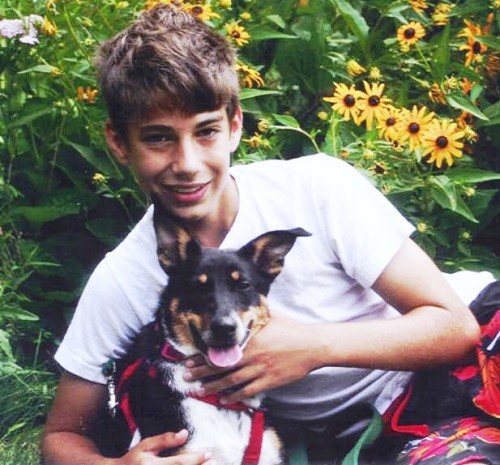 Dear Molly's Place,

We just wanted to give you an update on Sian (Cattle Dog Mix) that we adopted about 2 months ago. The children changed her name to Kai, in memory of a dog they knew in Hawaii, which she learned in about 1 day. She has been the most wonderful, smart, loving, playful dog we ever had. Our son, Will, keeps saying that he is lucky that he was able to save a dog like Kai because she is everything he was looking for in a family pet. The two of them are best friends and roam the neighborhood greeting every dog and child on their way. When Jon and I take her on a walk no one knows our names but they all know Kai! When all of Wil's friends come over to play, she greets each one on down the line. I have never seen anything like it.

Kai is on vacation this weekend in the Poconos with her best friend Cowey and 5 boys. It will be her first adventure with water and wilderness. We just had an invisible fence installed and she is doing great with her training. It will be so nice when we can let her run free around the yard and begin some agility training. She loves to catch frisbees and chase tennis balls.

Thank you for having such a wonderful place where we could visit with all the dogs and see how they all interact with one another. It was a very special experience for all of us and we are considering making the trip again and getting a playmate for Kai.

Sincerely, Jon, Diane, Kayleigh, Alex & Will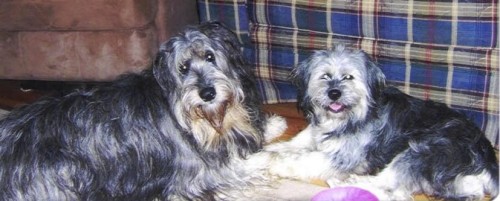 Jack and Benson - Friends at Last!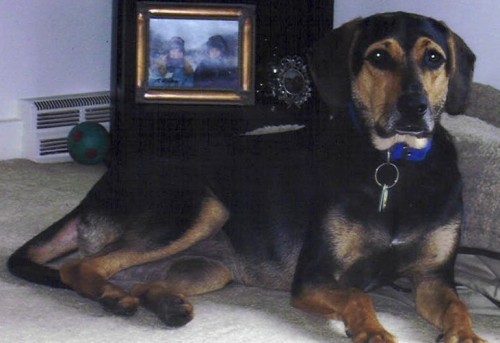 To Everyone at Molly's Place,

Here is a current picture of Petie! We adopted him from you in April. He is still shy, but the sweetest dog you will ever meet.

We love him!

Thank you for letting us adopt Petie. He has gotten bigger over the past year and is very protective of us and affectionate.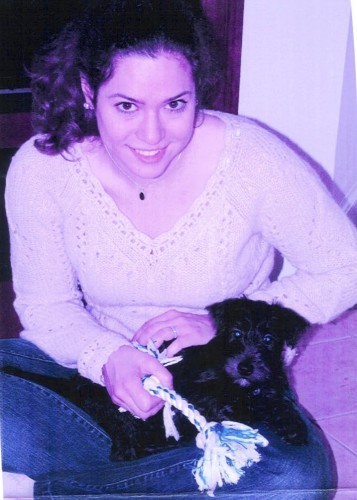 To all of the good people and great dogs at Molly's Place, Merry Christmas and Happy New Year. Here's a picture of Fritz and our daughter Suzanne. P.S. Santa asked you get the gang a few new toys.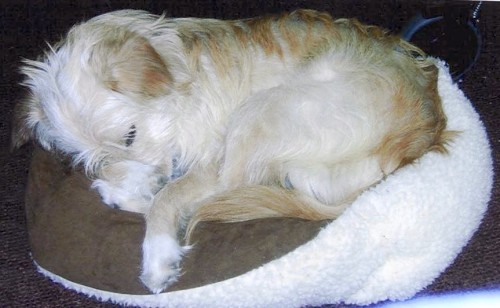 God gives us so many reasons to celebrate. Blessings, Pat & Gracie (formerly Lou Lou)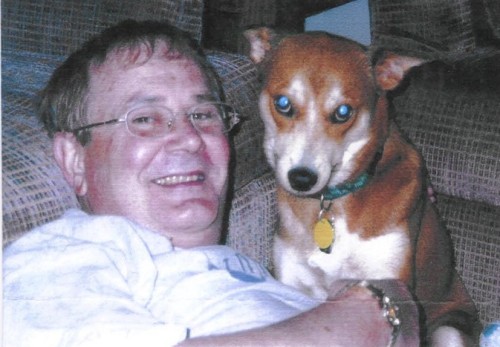 Hi Guyz,

It's me, Gerty (AKA Peaches)

Just wanted to drop a note and give a little donation from my family and me. So far I have chilled at the pool, went trick or treating, ate a BIG Thanksgiving dinner (I like peas), got a milkbone from Santa on the fire truck, and helped around my home. I always have a toy for mumsie when she comes home from work. She is fun and she picked me! Da is retired so I always have fun and learned lots of stuff. I think Santa like me. I have toys under the tree. (I peeked.) Have to go now...so much to do...I am the official cookie taster and supervise the gift wrapping. I also look after my Da.

Gerty Girl Brown> src=http://photos.petfinder.com/photos/US/PA/PA328/10234295/PA328.10234295-2-x.jpg?1202700626 Height=270 Width=136
Hi! I got Nora (formerly Roseanne) from you in May. She's the best dog ever, even though she got into the Christmas cookies :)

Thank you so much!

Love, Rob, Hollie, and Nora (Roseanne)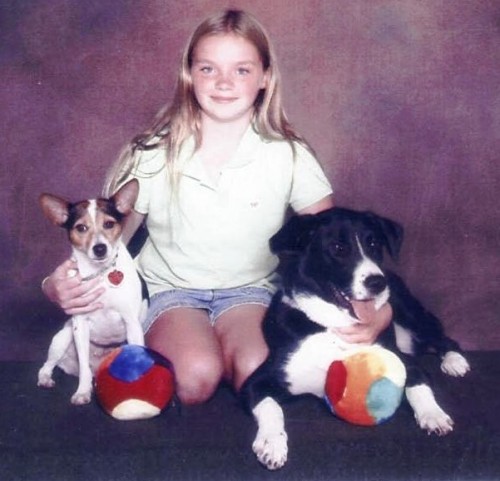 Hello Everyone,

These special dogs came from your terrific shelter. I adopted the Lab mix in February 2006. Her name was Derby, she was 5 months old. The terrier was adopted in July 2006. Her name was Temarie. She was 2 years at the time.

Now they are my "girls" and I adore them as does my stepdaughter, Klair. We are so glad that we found each other.

Your hard work and dedication to animal rescue has given us such joy. I though you might enjoy seeing my "girls".

May you have all the love and special moments as you have given us.

Best Wishes Always, Carol, Becky, & Bailey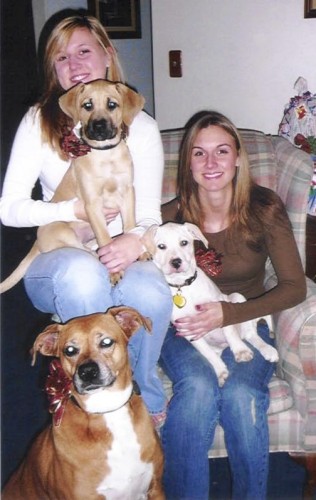 Dear Folks,

Here are pictures of the "girls" we got from Molly's Place. We changed Winnie's name to Bella and Delilah's name to Saydee. They are precious and growing very fast! They have mixed with our 9 year old female very well and were working on the cats - that will take time. They're doing pretty good with the house breaking, as long as we get them out in time!

Lot of love to all of you hard working folks. - Sally, Bob Katie, & Molly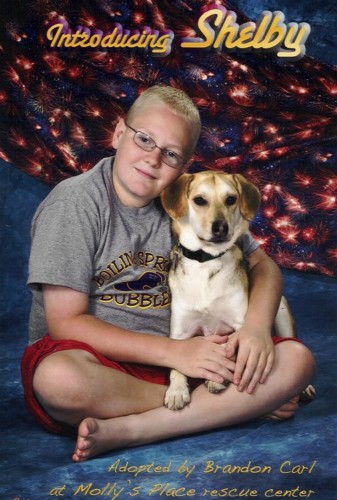 Introducing Shelby - Adopted by Brandon at Molly's Place Rescue Center.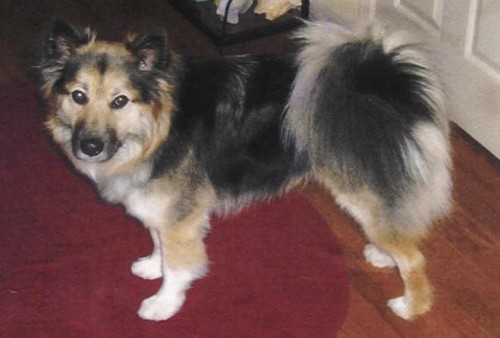 Dear Molly's Place,

My name is Chester and I used to live at Molly's. The nice people there helped me find a new home. I really like my new home, the people that live with me are nice, they buy me plenty of toys and they have a really big yard that I get to run in. They wanted to send this check to help my doggie friends that haven't found homes yet.
Please keep up the good work, and thank you for all you did for me. - Chester, Len & Patti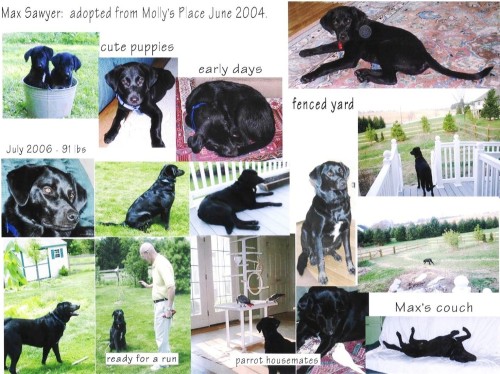 Max, Adopted from Molly's Place, June 2004.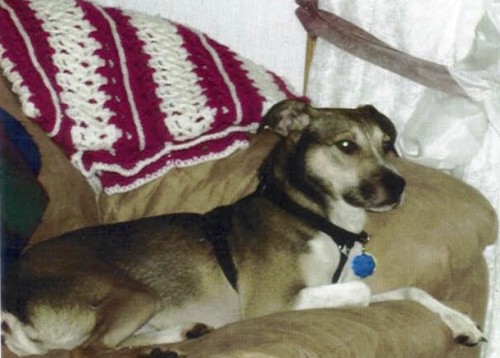 Dear Friends, Jack has been such a joy to us both. Unfortunately, I taught him to speak for his evening meal and he is very impatient. As soon as I set the table he begins his orientation and keeps it up until he is served. Good thing we don't live in an apartment. Every day around 4:30 in the afternoon he needs a belly rub and I have to put aside my knitting so he can climb on my lap where he lays belly up for a half hour.

He's not spoiled, just loved. Thank you, Edith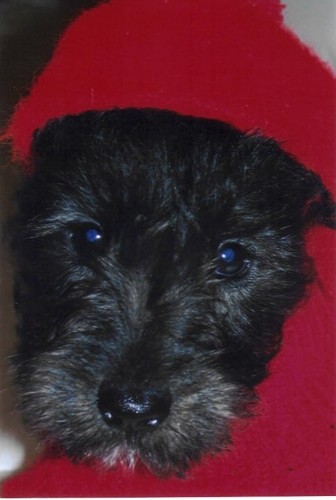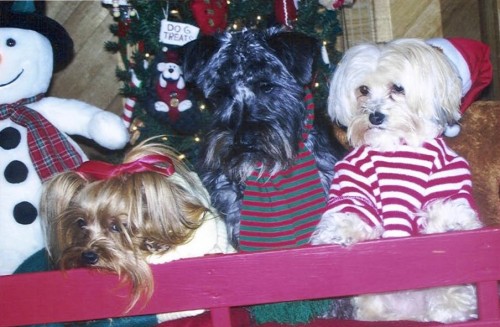 We just love the latest addition to our family. Her name is "Chloe" & she is an adorable, loveable, cuddly, miniature schnauzer puppy. She enjoys playing with her sisters, Rhiannon (our two year old Yorkie) and Chelsea (our two year old Bichon/Yorkie mix).

Our babies our the love of our life! - Marcia & Bob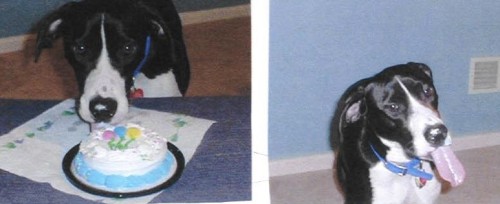 Hello! I adopted Clifford (now known as Giuseppe) on June 9th of this year. He's on thyroid medication, but other than that he's wonderful! He's extremely smart and well-mannered. He knows several tricks already, but we are starting Obedience classes with him next Monday so we can move on to other classes. Yesterday was his first birthday, so here are a few pictures of the big day! As you can probably tell he's very spoiled, but he's so sweet, he deserves every bit of it.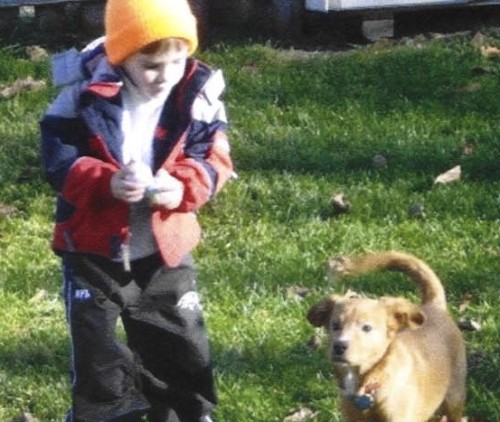 Well I know we've only had him a couple days, but here are some pictures of Oscar in his new home with his new family..he is adjusting very well...he found his voice today and is doing very well going potty outside...



Dear Molly's Place Rescue, We were adopted a few weeks ago and wanted to let you know how we're doing. We have settled in nicely in our new home and have really impressed our owners with our behavior and learning progress. We get so excited to see them when they return home that we jump high in the air and flip around like acrobats. In fact, we're like this a lot of the time. The nice kitties have taken a liking to us too (finally) even though we still like to pester them sometimes. It has certainly been a challenge for all of us and we are continuing to learn and understand new things everyday.

Thank you for rescuing us, Apollo & Macy (formerly Alfie & Butters)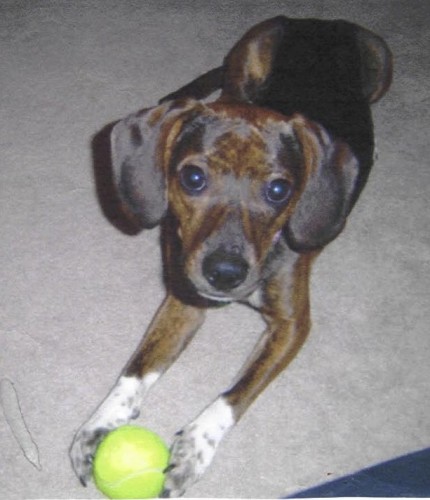 Hi! Emma (formerly Penelope) is doing GREAT with us. She is a new dog! And, a real pup! We took her to the Dog Park in Lower Allen Twp. today, and she ran and played for 2 hours! She was in heaven!

Thanks for all you do! Heather & Josh (and Emma)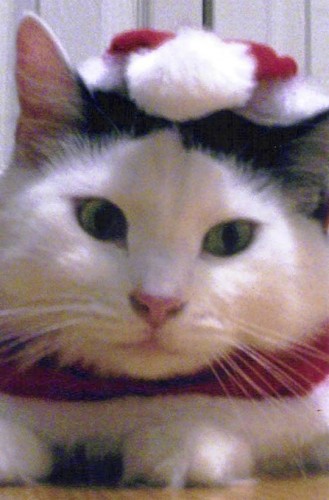 Dear Molly's Place Friends,

I hope you remember me... my shelter name was "Princess". I adopted the Andersons in July of 2007. They have been very good to me. They renamed me Senor Gato. I have lots of windows to look out and wildlife to observe. We also have a hampster named Lady. I like to look in her cage and frighten her. I hope you all are well and I hope that you are all lucky enough to find a family to adopt like mine.

Love Senor Gato, Lee, Michael, Kate, Zoey & Lady (the hampster)

P.S. I love my new family so much that I even let them put this stupid Santa hat & collar on me!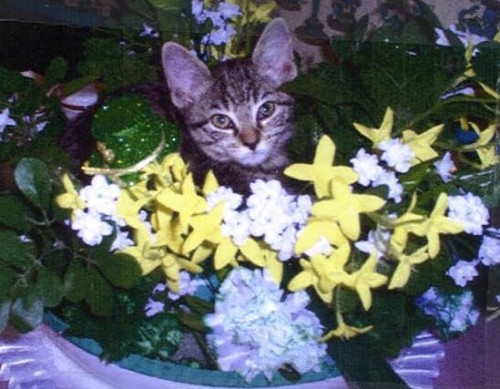 Just wanted you to see how "Molly" has made herself at home since her adoption on 2/17. She is a true joy!! Keep up the great work. I will definitely come back. - Georgann

P.S. This once was a very nice looking centerpiece on the dining room table!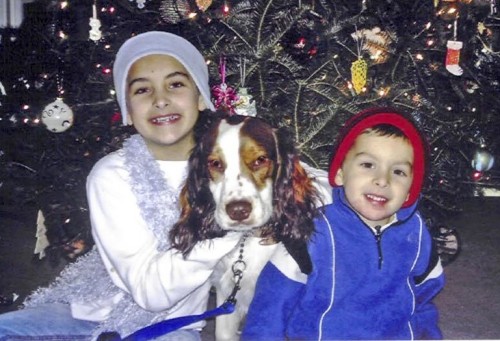 Dear Molly's Place, Our Jake has grown so much! He's such a great addition to our family. Thanks for all your care with all of the animals in your care everyday!

The Re Family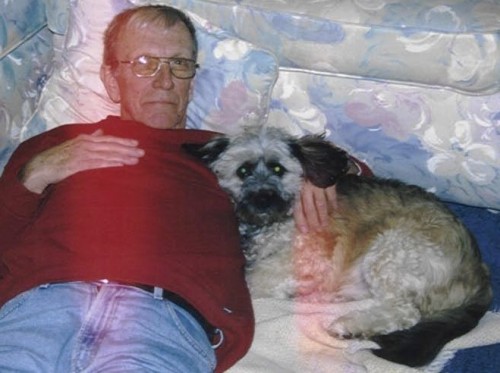 Lori, Thought you might get a kick out of seeing "Willie." He's been renamed "Guy." He loves it here! He's very loyal and loving. He loves being petted and groomed. He's such a joy. Very obedient and always wants to please. We had him shaved all over down to the quick and he was funny looking with his big head. He's grown in beautifully. We'll get him shaved again as soon as it warms up. I didn't want him - my husband picked him. It took 3 days to win me over. He's just a heart warmer! HE LOVES THE SNOW! Thanks, Sally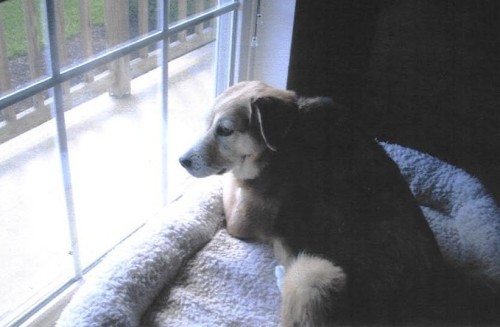 Last July we adopted Sadie, a beagle mix who lived in your back hallway because of her dislike of other dogs. She is doing great and loves laying in the sun on the deck at our new home. I am attaching a picture taken today of Sadie doing her favorite thing...watching the world pass by from her bed near the living room window. Hopefully some of your volunteers remember Sadie and will appreciate seeing her doing so well. - Rick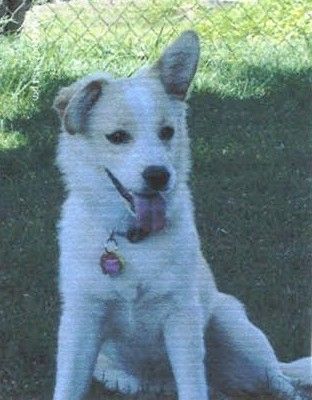 We just wanted to let you know how happy our family is with our new puppy Vanilla Puff. She was a little shy on Friday, but the difference in her in 2 days is remarkable. She is so lovable and loves to lay on the couch or on someones bed. She has lots of playmates to visit and is really coming along. Thanks so much for all of your help.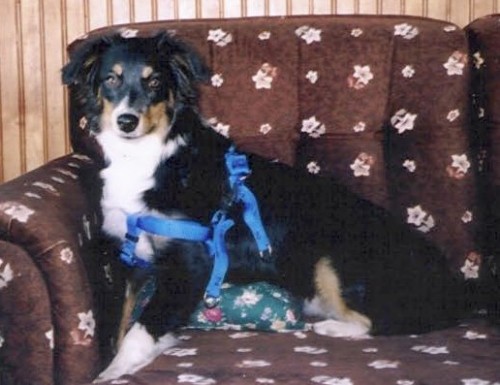 Dear Lori and Staff at Molly's Place,

Just wanted to let you know that Mindy (formerly Skyler) had a very good trip home. She slept on my lap most of the time. She got just a little car sick but it was over very quickly and it didn't seem to bother her.

She is doing great here at home! She loves her bed, blankets and toys. She's enjoying our big back yard and the big open field in the front. She is getting used to the leash and we are learning how to chase butterflies behind a dog on a leash. She loves the cats and they are making friends, on the cats' terms of course.

She is so happy and loving. She goes with me each day to greet the girls at the bus stop (both too and from school) she gets so excited when she sees the bus pull up to the driveway after school. And she loves snow!

Thank you for taking such good care of her until she came home and for all the info you shared with me about her. She seems so happy and content here and we feel truly blessed to have her be a part of our family. We love her so much.

We will keep in touch and let you know how she is doing. Thanks you again for everything on behalf of Mindy (Skyler)! - Wayne, Christina, Lorree, Justine & Mindy (Skyler), Abel & cats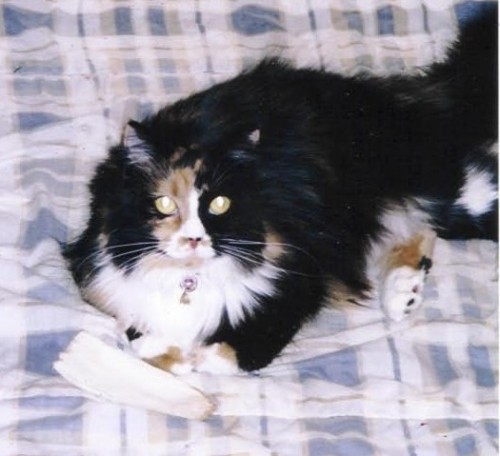 Dear Molly's, I am writing to again thank you for our adopted cat "Miss Polly", we had to doctor her for a few months since she was once a feral cat. She is doing well now and that makes us happy. She is not friendly to kids, but we love her very much and she likes to sleep with our three Shih Tzu's.

Love and Best Wishes - Carroll and Pauline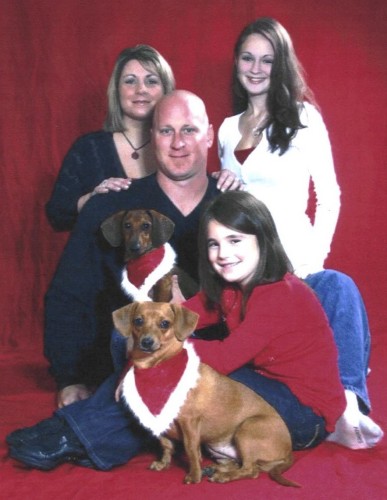 "Mimi's Family Portrait"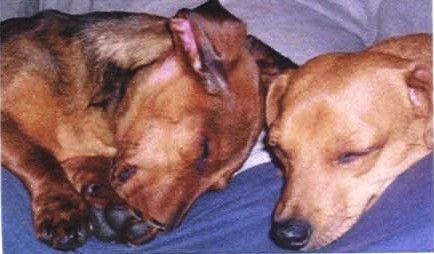 Just wanted to share with you that we adopted another Dachshund two weeks ago and now Mimi has a new playmate. They love each other! His name is Luey and they love to play! (Mimi is the lighter colored one. Luey has the big old nose!) Have a good day! - Dawn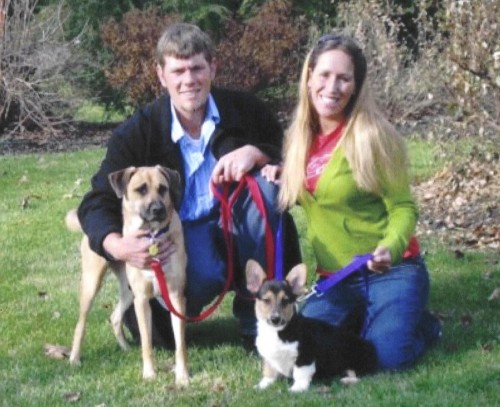 Hi, hope you are all well. Here is a photo of Ginger (now Maizie) with her new family. We adopted a second pup here locally over the weekend. He is a Pembrooke Corgi named Sonny. The 2 dogs adore each other and are inseparable!!

They are both going tomorrow to meet their new vet! Ginger (Maizie) now has a very healthy appetite..I think her loss of appetite the first 2 days was from all of the excitement, as well perhaps from her spay surgery. My father is a surgeon and has been over every day checking on her incision, which has healted very well.

Thank you again, we are all so happy!! - Terry

---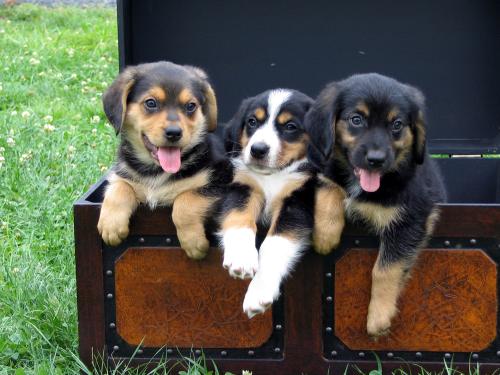 Molly's Place Rescue
5220 East Trindle Road
Mechanicsburg, PA 17055
Phone: (717) 691-5555 (please call during business hours)

Email: mollysplace@verizon.net
Click here for a list of pets at this shelter

---

[Home] [Information] [Shelters] [Search]