MINI MUTTS RESCUE
Who We Are Mini Mutts Rescue specializes in rescuing, saving, and finding forever homes for small mixed breed dogs. We will get pure breeds occasionally when other pure breed rescues are full and need our help. Most of these dogs/cats were on "death row" and in grave danger of being euthanized. Why? So many reasons are given: "bites", "owner moving and can't take dog/cat", "having a baby and don't have time" "found as a stray running the streets", etc. Unfortunately, when someone turns their dog/cat into a shelter or pound, or a dog/cat is picked up running loose on the streets, that dog/cat has very few days left to live as our shelters and pounds are so overcrowded. That's where rescues come in, to save these dogs and give them another chance at life. I promise all our dogs that they will forever be loved and happy and have a home, that's my goal and life dream for these "pound puppies" and kitties. This is all volunteer work and we use money out of our own pockets to take care of these homeless doggies. We charge a nominal adoption fee to offset the vetting costs but donations are always needed and welcomed!

---

FOSTER HOMES NEEDED We are growing by leaps and bounds and really need foster homes badly! The more foster homes we have, the more dogs we can save. Having to say "no" to saving a dog is heartbreaking when we don't have the space.
Fostering is so rewarding and a wonderful way to fill your life with a little one starving for attention and willing to give unconditional love in return. Watching a pound puppy thrive on your love and attention and then going to his/her forever home is bittersweet! Tears of happiness are shed as you watch this little one blossom under your care as well as tears of sadness when you say "good-bye" when he/she leaves for his/her forever home. But, those sad tears are quickly replaced with happy tears as we place yet another needy one in your care.
Won't you consider joining the Mini Mutts Rescue Foster Team and help us help these little ones? For more details, please send us an email and we'll contact you to discuss this further. Email: nels44077@yahoo.com OR

---

Featured Pet - PRISSY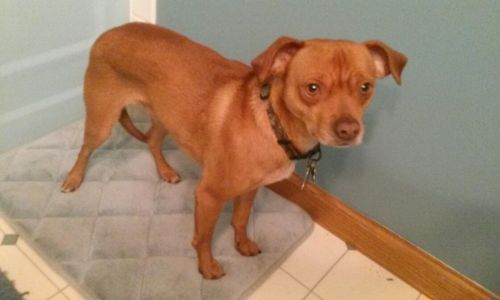 Little Prissy is a very sweet little girl. She's been abused. So bad that her abdominal wall on her one side is non existent and she has a hernia that pops in and out. We think this missing abdominal wall is from being kicked repeatedly. Because of this we are unable to spay her or fix the hernia because we're afraid her inside would literally blow up when we start the surgery. Prissy also has what looks like the beginning of a cherry eye. Despite all these issues Prissy is starving for attention and loves to be petted and cuddle when she feels safe enough to come over for the attention. We're hoping to find Prissy a forever home who will accept her for her issues and love her and take care of her until it's her time to cross the Rainbow Bridge. We don't know when that will be as we don't know if/when the hernia will burst. Do you have it in your heart and soul to love Prissy and show her that not all humans are bad?
---
We DO Consider Adopting to Families with Young Children!
Because we specialize in rescuing SMALL dogs, we will be very selective on families with small children when deciding on a new home for our little ones. We've learned from experience that small children and small dogs are generally not a good mix but CAN work out in some instances. Children under 5 usually don't fully comprehend how fragile a small dog can be and sometimes look at a small dog as being a small toy, something that can be picked up, dropped, thrown, etc. Little dogs' bones break very easily, they also get scared easily and can bite at a moments notice. We do not wish to deny a family a dog but will work with you on getting you just the right dog to fit your family lifestyle. Once in a while we'll get an exceptional dog that gets along and tolerates small children and we will put that information in the dog's description.

---

Adopting a Friend Simply check out our adoptable list and email us with an inquiry if one of our dogs interests you. If you don't see the kind of dog you're looking for, please email us to let us know you'd like to be on our mailing list for new dogs coming into our rescue. Should we get one that matches your description, we'll email you before posting the dog to the general public. Our adoption fees vary based on the breed of dog, how much vet costs are, special needs, etc. Once we receive your inquiry email, we'll send you an adoption application. In order to qualify to adopt one of our dogs, we'll need to check your vet references and conduct a home visit. We'll then determine what dog is best for you based on all the information we gather. The biggest advantage to adopting a rescue dog that's been in a foster home is getting first hand knowledge of what the dog's temperament is like, the dog's likes and dislikes, as well as housebreaking (if time allows).

---

Come Visit Us ONLINE only! We do not have a building or a warehouse or a store that you can come visit our dogs. We are all hard working citizens who are rescuing dogs in our own spare time and using our own hard earned dollars. All of our dogs are fostered in a home environment based on the temperament of the dog. This gives us an opportunity to observe the dog, learn what the dog likes or dislikes, bring the dog up to date on vaccinations, and teach the dog love and trust! Should you wish to meet a dog, please email us an inquiry and we'll make those arrangements with the foster home.

---

---

Donations are Greatly Appreciated Our rescue is run totally by volunteers who reach into their own pockets to buy food, treats, and toys for their foster dogs. Mini Mutts Rescue pays for rescuing dogs from shelters and pounds, vet expenses, collars, leashes, crates and car carriers, and miscellaneous expenses. We do charge an adoption fee to help cover these expenses but can always use more money to help make ends meet. We also accept donations of any of these items as well. Just send us an email asking how you can donate an item or items to us. If you'd like to make a donation to our rescue, please click on the donation button below. We are not "non profit" yet but are working on that. Any amount is greatly appreciated.
Mini Mutts Rescue

Cleveland area/Painesville/Mentor/ and Canada
Phone: Please email
Mini Mutts Rescue

Painesville/Cleveland, OH
Email: nels44077@yahoo.com



---

[Home] [Information] [Shelters] [Search]