---
--OUR PET LIST IS UPDATED DAILY--PLEASE LIKE US ON FACEBOOK-FRIENDS OF MANSFIELD ANIMAL SHELTER,CT--.
---
Pet of the Month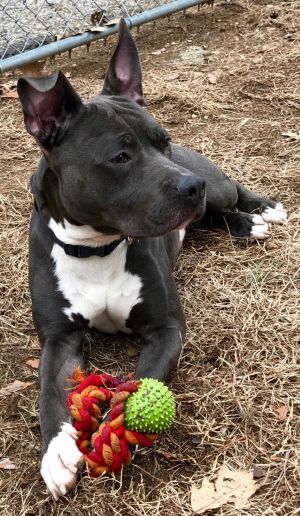 Bruno was found as a stray and never got claimed. He is a bully type dog on short legs, about 50 lbs. He is very sweet and loves other dogs. He loves to be with people also. He is about 1 1/2 years old. An ideal home would be a home with another dog and he should not be left alone for long periods. He knows sit and walks well on a leash, but could use a refresher course. He is very playful and loves al toys! This dog has a good temperament and has tons of potential. $85 adoption fee includes heartworm/lyme test, core vaccines, neuter and home again micro chip. Vet reference required.
To see our animals available for adoption please click "pet list" at the top. For events in the Mansfield area please visit the following site:
www.mansfieldct.gov
Who We Are
The Mansfield Animal Shelter's mission is to achieve the most efficient and effective use of resources for the benefit of the citizens and animals, to create an environment in which people can move about safely (law enforcement), and to minimize euthanasia by promoting our facility's pets for adoption in as many ways as possible.
Weekdays: by appointment between 9AM and 4PM
Weekends: open house 10AM - 11AM and by appointment
Holidays: closed
Appointments are necessary since the animal control officer is on the road on a regular basis.

We offer a clean facility with helpful and knowledgeable staff. The staff and our many volunteers spend a lot of time getting to know, socializing and training our pets. All pets receive medical attention, are checked for parasites and are groomed. Our pets are mostly Mansfield strays, some pets are surrendered by their owners. We use a pet adoption application to ensure the right match between pet and owner. Our goal is to place our pets in responsible and stable homes. The animal control officer has the authority to approve, delay or deny any application. The adoption is not a purchase, it is a lifelong commitment. We offer a "trial day" for dogs. This is a day in which new owners get to know the dog in a home situation. We are always prepared to take a pet back if it doesn't work out. We strongly recommend group obedience training for a successful relationship with your new dog. We want the adoption process to be a positive experience. We have placed many many pets in loving homes and we pride ourselves on having many satisfied adopters.
Fees
All pets old enough will be spayed and neutered before they leave the shelter. Our adoption fee is $5 for already spayed or neutered pets (at time of intake). If the animal is not already spayed or neutered (at time of intake), there will be an additional $45 fee towards the CT animal population control program. Additional fees apply for the feline AIDS and leukemia test ($25, cats), the heartworm/lyme test ($35, dogs), vaccines ($10 per vaccine) and microchip registration ($10.99).
Pet Food donations
The shelter is always in need of supplies. We currently need dry cat and dog food and cat litter. All donations, even small ones, are welcome.

THE FRIENDS OF THE MANSFIELD ANIMAL SHELTER (FOMAS). This non-profit 501(c)3 organization is made up of volunteers dedicated to make the animal's stay at the shelter more comfortable. They contribute towards vet bills, grooming, provide soft bedding, rawhides etc. Like us on Facebook.
Donations are welcome and are tax deductible.
FOMAS, P.O.Box 95, Mansfield Center, CT 06250
FOMAS

We have several $ donation boxes located around the local area including East Brook Animal Hospital and of course at the shelter.
| | |
| --- | --- |
| | We use Patented Kuranda Dog Beds because they are durable, chew proof and easy to clean. If you would like to donate a bed to us, click here. |
We can use medium sized Kuranda beds only.
Please help us by shopping thru our I-GIVE link and we will get $5.00 for each new shopper. Join by clicking on this link: www.iGive.com