Reducing the Number of Unwanted Animals
"One Spay at a Time"
Before and After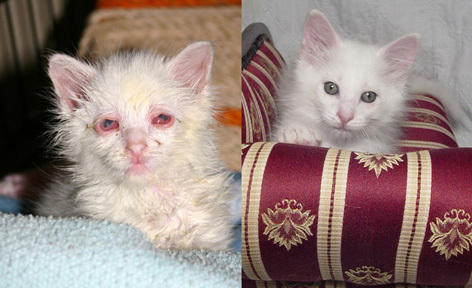 Cosmo came to us a very sick little boy. He had badly infected eyes with ulcers and such a stuffy nose that he couldn't breathe or eat. He was treated with antibiotics and eye ointment and hand-fed for several days. He began to shake his URI and the ulcers on his eyes began to shrink. Before we knew it, this ugly duckling turned into quite the handsome fellow.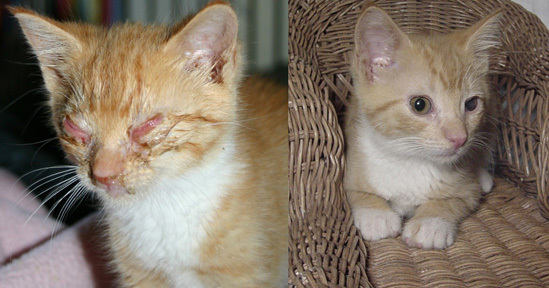 Tinkerbell was found by an elderly lady who called us for help. Her eyes were sealed shut and she could barely breathe. After only two weeks of meds and eye ointment several times a day, she improved and has been adopted. She is very happy with her new sister, Sweet Pea.

The three babies above started out as ugly ducklings - we received a call about three kittens abandoned in a shed by a feral mother. Which was not the case. The mother was there, but the three had such horrible eye infections, that it was necessary to take the babies and care for them. Mama was trapped, spayed and returned where she still lives. The babies grew into beautiful lynx point siamese mix kittens, and have all found their forever home.
Monthly spay/neuter clinic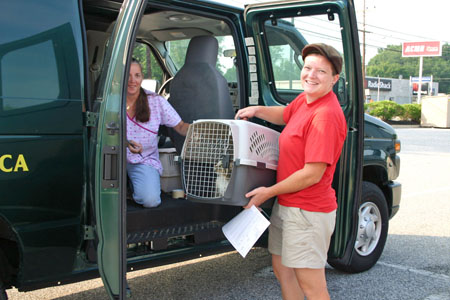 Moving into a new house doesn't always present such problems, but this gal faced hers head-on. She realized the elderly woman next door, although well-meaning, was feeding stray cats, that had never been spayed. The adults all had kittens.
She jumped into action, trapped all of the kittens, took them inside of her home to be socialized, then went after the mamas. She brought them to Maddie & Friends clinic, where they were spayed, given shots and released.
Prior to this, she had no experience with animal rescue or TNR, she just saw a need and got involved.
Maddie & Friends received assistance for this clinic from a grant from the ASPCA. We hope to continue to offer low cost clinics with their assistance in the future.
News

Maddie & Friends continues to be very active in the community. We have spay/neutered countless numbers of cats, which hopefully has played a role in reducing the number of cats/kittens who end up in shelters. It is a never-ending task, but rewarding when we see the numbers reduced in the feral colonies that we manage or assist with. When Maddie & Friends was just a thought, the original colony where Maddie was found, was home to approximately 60 cats.
It took a few years of trapping, rescuing kittens to be socialized and adopted, and caring for older cats who became weak or ill, but after 10 years, there are only three cats remaining at that location.
Here is a picture of Maddie taken in 2015. Unfortunately, we said goodbye to Maddie in January, 2016 - she was nearly 15 years of age. We miss her so much but know it was because of her that Maddie & Friends has been able to help so many cats and kittens.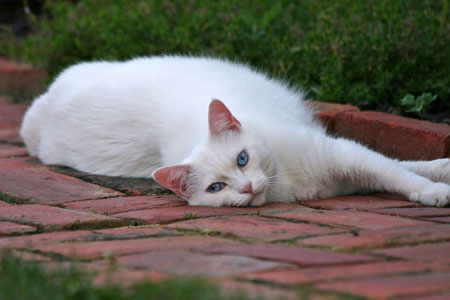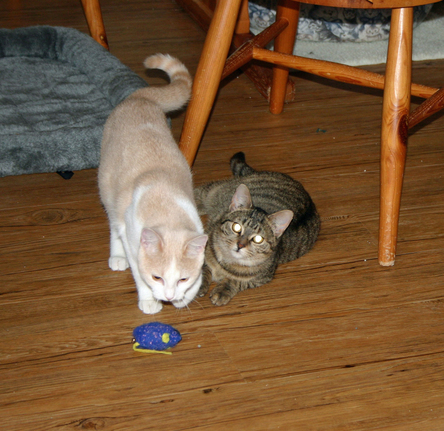 Maddie & Friends has been accepted into the BISSELL Partners for Pets Program, which will make our organization eligible to receive a periodic raffle item and be considered for various grants. Anyone purchasing a Bissell item, can visit bissell.com, select Maddie & Friends at the drop down box and enter the code "ADOPT" - a portion of the purchase price will be donated to our organization. It doesn't get any better, purchasing an item to make your life easier and supporting your favorite non-profit at the same time.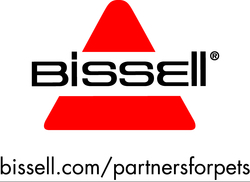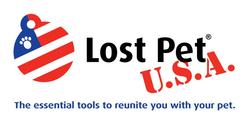 Maddie & Friends offers spay neuter assistance through monthly low-cost clinics held at various locations throughout Salem County, New Jersey.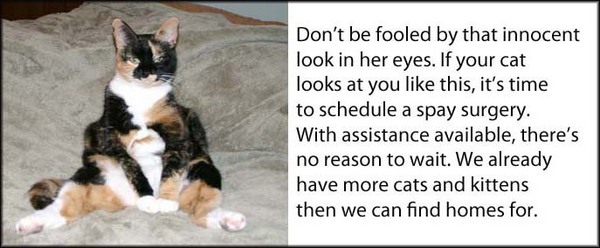 Photo Gallery
Below are pictures from some of the events that we held or attended.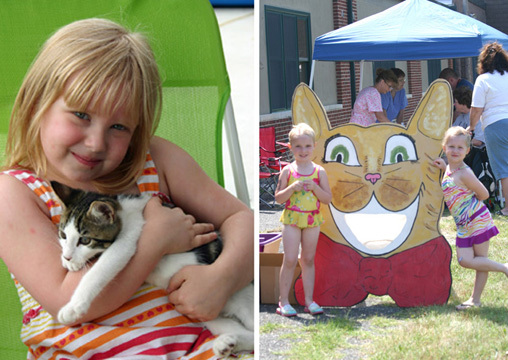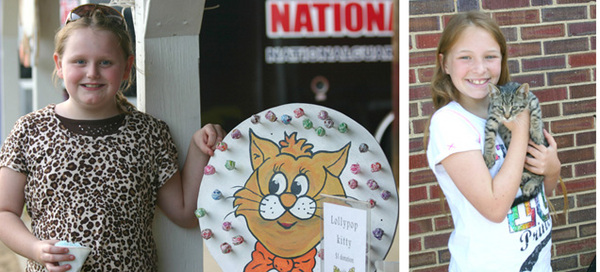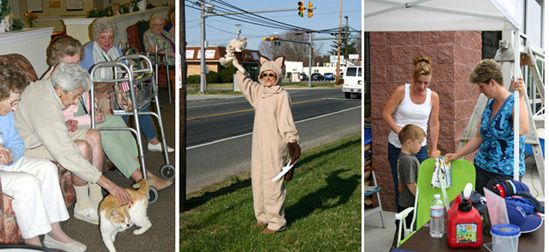 Who We Are
Maddie & Friends Inc. is an all volunteer 501(c)(3) non-profit organization whose main objective is to help stop the over population of animals. Maddie & Friends also aids in the rescue and rehabilitation of abused and abandoned animals, seeks suitable homes for animals without owners and provides support to individuals or groups managing feral cat colonies. Everyone involved is a volunteer, no one receives a salary.
Maddie & Friends relies on the goodwill and generosity of individuals and businesses. All donations are tax deductible and 100 percent of all donations is used towards spay and neuter costs and for medication and food. . . . and greatly appreciated. If you would like to support our humane work, please scroll down and press the donate now button. All gifts are so very appreciated. Also, kittens and cats waiting to be adopted may be "sponsored" by clicking the "sponsor me" button on the kitty profile page.
Adopting a friend
The adoption process involves filling out an application - e-mailed upon request - and scheduling a time to visit the animal. Most foster families are in Salem County in Southern New Jersey, near the Delaware Memorial Bridge and Exit 1 of 295.
Our cats are adopted after being spayed/neutered, vaccinated, treated for parasites and being tested for Feline Leukemia & FIV. These expenses are covered by various fund-raising events and from donations.
Become part of the solution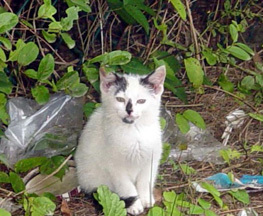 Donate today and help Maddie & Friends reduce the number of unwanted animals. Ralphie was one of the lucky ones. He was living behind a dumpster and sleeping in a box until he was found by Maddie & Friends and placed for adoption. So many like him are left to fend for themselves with little food and no shelter.



What your cat does when you're not watching

Some of Maddie's Friends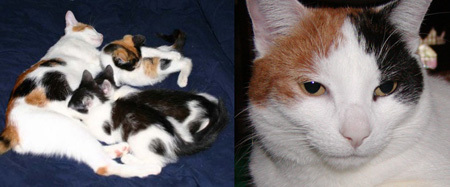 Jasmine nursing her three babies after being rescued, on the left, and today, on right.
Donation from Jasmine
What follows here is a note sent with a donation to Maddie & Friends. It was written for Jasmine, by her owners hand. Last summer Jasmine was tossed out beind a grocery store where a colony of feral cats live. Jasmine and her three kittens were left to fend for themselves, with no shelter other than a cardboard box.
Dear Maddie & Friends, Thank you for finding good homes for my three babies. I will never forget being put in that box and being dropped off with them. I was heart broken and terrified to be abandoned so cruelly.
You rescued us and lovingly cared for all of us until you found wonderful homes for my three children. You had me spayed so that could never happen to me again. Then you found a home for me. A home that every cat should be blessed with! Enclosed you will find a love gift to help you carry on such loving kindness to all the others you rescue.
May God bless the hands that caused my life to turn out so beautiful.
Jasmine Mahan

I Adopted Your Cat Today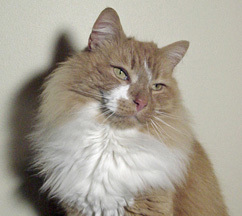 I adopted your cat today.
The one you left at the pound.
The one you had for 10 years.
And no longer wanted around.
I adopted your cat today.
Do you know he's lost weight?
Do you know he's scared and depressed.
And has lost all faith?
I adopted your cat today.
He had fleas and a cold.
But don't worry none.
You've unburdened your load.
I adopted your cat today.
Were you having a baby or moving away?
Did you suddenly develop allergies
Or was there no reason he couldn't stay?
I adopted your cat today.
He doesn't play or eat much.
He's very depressed,
But he will learn again to trust.
I adopted your cat today.
And here he will stay.
He's found a forever home
and a warm bed to lie.
I adopted your cat today.
And I will give him all that he could need.
Patience, love, security and understanding.
Hopefully he will forget your selfish deed.

[
Home
] [
Information
] [
Shelters
] [
Search
]