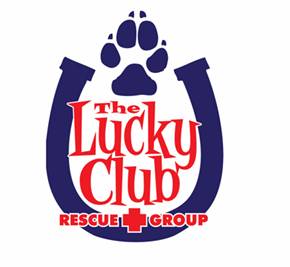 PO Box 1666
Prescott, AZ 86302
1-928-925-5650
---
Please help us help homeless animals by making a tax deductible donation
"Make your donations with PayPal - it's fast, free and secure!"



Or mail a check made payable to :

"The Lucky Club Rescue Group"
P.O. Box 1666
Prescott, AZ 86302

For a receipt please contact luckyclub3@aol.com
---
---
ADOPTIONS:
The Lucky Club no longer shows dogs at Petco or PetsMart, though we do continue to foster dogs in our homes and adopt dogs to forever homes on a one-on-one basis. For enquries about a specific dog, e-mail Lucky Club founder Cherie Mackenzie Watson at luckyclub3@aol.com. We are unable to check e-mail on a daily basis, so please allow up to 72 hours for a reply.







WHO WE ARE:
We are a small group of volunteers who rescue, foster, provide medical care (if needed ) and do off-site adoptions for dogs and horses. Donations are always needed and very appreciated and can be sent to:

The Lucky Club
PO Box 1666
Prescott, AZ 86302
1-928-925-5650
luckyclub3@aol.com



ADOPTING A FRIEND:
Lucky Club's adoption fees vary according to size, breed., and age. Most of our adoptions are $135.00 per dog. Horse adoption rates vary. Dogs will be spayed or neutered, microchipped, and will have received all appropriate vaccinations to date.


MAKING THE COMMITMENT:
These rescued pets are the truest friends and companions you'll ever know. If you give them unconditional love, they will give it back ten fold. But it takes more than love. Having a pet in your life takes time, patience, dedication and money. Consider this carefully before you decide to adopt. When selecting a family pet, look ahead.
Do you have enough time to commit to your pet?

Are you willing to commit to take the pet with you should you move in the future -either in or out of state??

Do you plan on having children and still let the your new pet share your life and home?

Do you plan on moving away from home, going to college?

What are the ages of your children still living at home, are they too young to understand to be gentle with a dog or cat?

What temperament in pet's breed would fit your family and lifestyle?

Are all members of the family in agreement with this decision to bring a pet into your lives?

How will the pet fit into your family routine?

Any allergies in the family, or with friends, or anyone who would visit that you need to consider?

Are you willing to make the financial commitment to this pet's health beyond the normal yearly check-ups and shots?

Do you realize a dog or cat can live up to 16 years of age, and sometimes longer, depending on the breed?

Are you prepared to deal with issues that require training and patience such as chewing, digging, barking, housebreaking or any other behavioral issue? This is the biggest consideration. Great pets aren't born, they are made by YOUR love and patience!
These are just some of the questions you should consider and answer honestly. These pets have each been given a second chance and they deserve to have it last for the rest of their lives, not until they become an inconvenience and are then passed on yet again. Before you make the commitment and adopt one of the Lucky Club's dog or cat, you need to understand that. If you find that this is the right time to adopt a rescued pet, we would love for you to consider a Lucky Club dog or cat!



SURRENDERING A PET:
Since our rescued pets are in foster homes, not a shelter, we have a very limited capacity for intake. The majority of our animals come from Prescott and Chino Valley Animal Control, many from their euthanasia list. Too often, animals are surrendered for reasons that could be clearly addressed with proper training, effort and patience. They CAN be taken with the family when they move if the family had really made that important commitment. Too many fail to remember that a commitment was made upon adoption. How you nurture, protect and value that life you once saved is a measure of your character. How you honor that commitment is a reflection of your heart and you as a person. We encourage you to make every effort to keep that pet in your family. You are their home and all they know and love. You owe them this much at the very least.



TO CONTACT US WITH QUESTIONS OTHER THAN PETFINDER PET ADOPTIONS:
The Lucky Club
c/o Cherie Mackenzie, President
PO Box 1666
Prescott, AZ 86302
Phone: 1-928-925-5650
Email: LuckyClubRescue@aol.com

Click here for a list of pets at this shelter


---

[Home] [Information] [Shelters] [Search]