Lost Paws Animal Rescue
Please click the following link to visit our new website... lostpawsanimalrescue.org!
---
---
Our Featured Pet...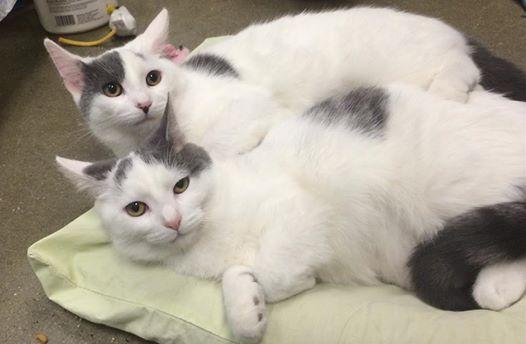 THELMA & LOUISE
Our featured adoptable cats are THELMA & LOUISE! Beautiful six-month-old sisters, sweet and loving. They were found by the side of a road after their mama had been killed by a car. They would love to find a forever family to love them. Please give them a furever home!

We depend on donations from animal friendly pet parents like yourselves to provide food, shelter, and costly medical care for these wonderful animals.
Please make a donation, however small, and allow us to carry on saving homeless animals from euthanasia and getting them adopted into loving homes.
We are a non-profit group and are a 501(c)(3) tax-exempt organization. All donations are tax deductible.
Who We Are
Like so many of the other rescue groups on Petfinder, Lost Paws is a group made up entirely of volunteers. All of the homeless animals you see listed are kept in the homes
of a network of volunteer foster pet parents. The fosters are able to provide a more home-like setting than the animals would find in a steel and concrete municipal shelter.
We rescue our animals mainly from high kill shelters where they are often on the list awaiting euthanasia to create room in those overburdened shelters.
We rescue them from this fate in order to give them a second chance at finding a loving home and enrich the lives of their adopters.
Our Mission Is:
1. To rescue animals from situations that are abusive, endangering and/or neglectful, such as kill shelters where overcrowding leads to euthanasia of wonderful companion animals
2. Increase the quality of life for stray, unwanted and homeless animals by caring for them and seeking suitable homes
3. To inform the public of these situations in order to put a stop to animal abuse and irresponsible breeding
4. To provide foster homes for these animals
5. To provide necessary veterinary care
6. To promote the importance of spaying/neutering and provide same as part of the adoption process
7. To place rescued animals into permanent adoptive homes

We need donations to exist and continue to do the good work needed to be able to help homeless animals. Adoption fees barely cover the cost. For the foster parents, the cost of time, housing, medical care, food, and other supplies are a labor of love which often comes from their own pockets. Please donate what you can. Monetary donations will go a long way to help us continue our mission. We are a non-profit group and are a 501(c)(3) tax-exempt organization. All donations are tax deductible.



If you can't adopt, but want to help the plight of these homeless animals:




Adopting a friend
In order to adopt a homeless animal from our group, send an email to the email link below (lostpawsrescue@embarqmail.com) and include your preference(s) for the pet you see. In you are undecided, put "any cat". We will promptly reply enclosing an Adoption Application. Fill out the application in full and return via email. We will review the application, ask questions if needed, and let you know when approved. We can then set up an appointment for adoption.


Email us at: Lost Paws Email
Come Visit Us!
Like so many other rescue groups, we have our animals sheltered in foster homes. Call (908-331-1551) or email (lostpawsrescue@embarqmail.com) us to set up an appointment to see the cat(s) you are interested if you are undecided. We will work out a time that works with both our schedules.

Visit Lost Paws Animal Rescue on Facebook: Lost Paws Animal Rescue on Facebook See our new Website at: Lost Paws Animal Rescue

Email us at: Lost Paws Email


We need you!


We need volunteers who can help us maintain our center at Petsmart in Bridgewater. If you can lend your time and effort to come and feed the animals and clean their cages, they as well as the rest of our crew would really appreciate it.
---
Lost Paws Animal Rescue
Bridgewater, NJ 08807
Phone: 908-331-1551

Email: lostpawsrescue@embarqmail.com


---
Click here for a list of pets at this shelter
---
---
---
---

[Home] [Information] [Shelters] [Search]

-->