LeLands Heart Sanctuary
Our Cutest Combination (all have homes!):
Chimichunga and friends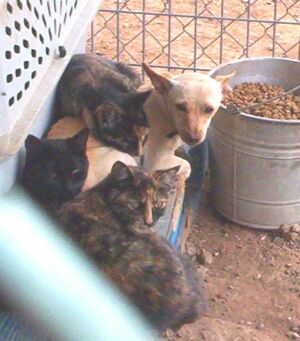 ---
The floral names & meanings of the animals comes from a list of Victorian/Edwardian flower meanings.
We hope to have a more picture intensive site available soon. Of course 'soon' is a reletive term, depending upon someone who knows how to develop a site volenteering to help!

WHO WE ARE
Le'Lands' Heart Sanctuary is a small shelter located west of Lubbock, Texas (in the Panhandle).
Our goal is the placement of abandoned or relinquished pets into a "forever home".
The Sanctuary is a non-profit organization (501(3)c). All donations are tax deductible.

ADOPTING A FRIEND
Our facility is very small.
After you contact the Sanctuary (either by phone or e-mail) someone will return your contact and arrange to meet you and your family at the Sanctuary.
If you live some distance away, e-mail, pictures and telephone interviews will be arranged.
Home visits are required.

Transportation costs will be the responsibility of the adopting family.

ALL ANIMALS are sterilized before leaving the Sanctuary and are current on their vaccinations.
Because all animals are sterilized BEFORE leaving the Sanctuary, you may pre-adopt or foster a puppy/kitten who is to young for surgery and after the surgery your adoption will be completed.
Most of the dogs are crate trained, house-trained and have basic obedience skills.
All cats are litter box trained and have ALL their claws (unless they arrived at the Sanctuary de-clawed).

Our basic adoption donation is $75.00. This donation includes: vaccinations, sterilization, heart-worm testing & microchip.

Of course, if the adoption does not work out, the animal is to be returned to this Sanctuary as quickly as possible.






To make a tax free donation to the Sanctuary you can either mail your donation to the address below OR use the button and donate via PayPal

Help us raise money for the Sanctuary just by searching the Internet with GoodSearch - www.goodsearch.com - powered by Yahoo!

Phone:806-885-1990

Adoption information e-mail: lelandsheart@hotmail.com

Volunteer information e-mail: lelandsvolunteers@hotmail.com

Click here for a list of pets at this shelter
---

[Home] [Information] [Shelters] [Search]