League for Animal Protection
Pets of the Month
Our pets of the month introduce themselves...
---
News
The LAP is having a fundraising raffle drawing on July 11th at the annual membership meeting. Tickets bay be purchased from any volunteer or contacting the shelter at: (540)473-3853. The tickets are $5.00 each or a book of ten tickets for $45.00. The following items are just a portion of the contents in the LAP Treasure Box: Italian dinner basket with wine, oil painting by Terry Lyons, veggie metal stakes for your vegetable garden, Lularae gift card, more gift cards to - Olive Garden, Applebees, Regal Movie Theater, Kroger, Cracker Barrel, three to Amazon, Athens Corner Grill, Hollywood Restaurant, Natures Emporium, Wine Gourmet, Firehouse Subs, Claire V, Greenwood Restaurant, Express Jet Carwash, two door wreaths, Princess House cast iron pot and lid from Sheril Hirsch, Merino wool - silk - alpaca scarf handmade by Beth Mullins. Scentsy Warmers, kitchen basket, P. Buckley Moss print, King size comforter and shams...on and on and on. Anita Richards Arnold created a beautiful photo art piece of the two LAP dogs - Ellie and Rusty. We have a pot baby created by Diane Meredith. Aromatherapy basket from Teri Coldreck and photo cards - so so much more.
Wish List: Purina One (red bag) dog food,good quality grain free dry cat food, bleach, Top Job, Mr. Clean, paper towels, laundry detergent, good quality canned cat and dog food, cat and dog treats, dog pooper scoopers and of course chocolate for the volunteers
Please come and visit the shelter over the holidays. We love visitors and walk a few dogs if you have time.
---
Thumper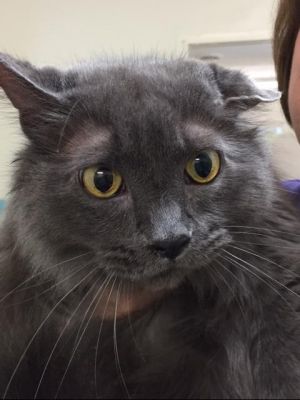 Get to know Thumper
Thumper is a long haired gorgeous grey kitty with a funny little turned over ear. He's UTD with all vaccines and has been neutered and tested for feline diseases. Sadly his owner passed away and he was brought to the shelter along with his sister. Sissy is quite shy but Thumper is outgoing and loves to be brushed and loved on. Thumper and Sissy are six years old.

Bruno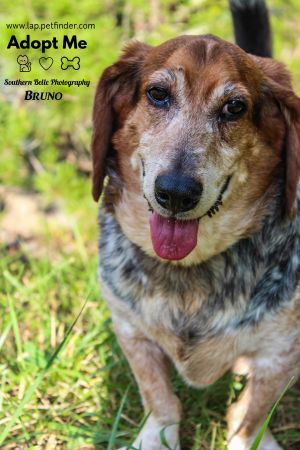 Get to know Bruno
Bruno entered the shelter with his sister, Sissy. Both dogs are housetrained. They are between 7-8 years of age, altered, all vaccines and chipped. Also, they are heartworm negative. Both dogs have recently been on television station WFXR and were instant hits with the whole staff. They are polite, gentle and love to go for walks.
---
Donations
Even if you can't adopt right now, you can still help the cats and dogs at the LAP shelter with your direct donation. You can also help our mission by donating to LAP's spay/neuter fund at Mountain View Humane. Because most of the animals that enter the shelter have not yet been spayed or neutered, this gift helps us accomplish this vital task that must occur before we put an animal up for adoption. Click the button below to get started on your direct donation, or follow the link to donate to Mountain View Humane, who will put the funds towards low-cost spaying and neutering of LAP's newest residents... and thank you!

Donate to Mountain View Humane
LAP is also a sponsored charity through Amazon Smile, so please consider making your usual purchases through Amazon Smile and designating LAP as your charity of choice. Click below to sign up and support us every time you shop!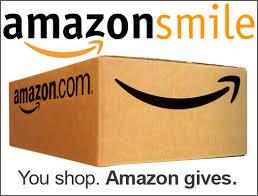 ---
Adopting a friend
If you are interested in a dog or cat on our Pet List, you may request additional information by email or by phone.
We do require that you visit the shelter and fill out an adoption application form. If an adoption is approved, we will deliver the pet to your home.
We do ask that potential adopters live within a 50 mile radius of our shelter as we do stand firm on home delivery and a home visit after placement.
Adoption Fees:
| | | |
| --- | --- | --- |
| Dogs/Pups | spayed/neutered and current on vaccines | $150 |
| Pups* | current on vaccines and worming | $65 |
| Cats/Kittens | spayed/neutered, current on vaccines and tested for feline diseases | $50 |
| Kittens* | current on vaccines, worming and tested for feline diseases | $50 |
*Spay/neuter will be required by the new owner on or before the pup or kitten reaches the age of six months
---
About Us
League for Animal Protection (LAP) is a non-profit, no-kill shelter in the Roanoke Valley. LAP was formed in 1991 by a group of concerned citizens in response to an especially cruel situation in which 40 pets were deliberately trapped in an abandoned house and left to die. Our volunteers and supporters help rescue abandoned dogs and cats, giving them medical treatment, shelter and care until they can be given a second chance in a new home. To date, LAP has helped find new, loving homes for more than 2,000 pets. LAP services are funded by private donations, membership fees and fundraising events.
---
How You Can Help
There are several ways you can get involved with LAP. Call us and we can give you more information. Better yet, come visit! You can see for yourself what a wonderful place this is for the animals and what a great feeling you can get by helping.


Adopt an animal. Include LAP on your list of places to look for your next adopted dog or cat. You can come for a no-pressure visit, play with the animals and ask the volunteers for input based on your particular wants and needs. Please keep in mind that because these animals have often been in abusive or difficult situations, we must be firm about our adoption guidelines, which may be more detailed than other adoption facilities.


Volunteer your time. If you are an adult searching for rewarding volunteer work, LAP is a great place to pitch in! (and the dogs will love it if you can pitch a ball, too!) The shifts are short (8-11 am and 3:00-5 pm) and you can choose weekly or monthly time slots. Most of the cleaning is done during the morning shift and both shifts are responsible for feeding. The work is somewhat strenuous and dependability is very important. If you want an opportunity to help animals, meet great people and fall in love with a new face, please give us a call.


Make a donation. Your donation will help LAP make a difference in the lives of abandoned and mistreated animals.


Sponsor an animal. Not ready for another pet? If you can't have a pet, or another pet, just now, for whatever reason, you can still provide for the shelter and care of an animal in need. Please consider sponsoring a LAP cat or dog for $30 per month.
---
Directions
Please come visit the LAP. We are open seven days a week, 8-11 AM and 3-5 PM You'll get a great deal... in more ways than one!
Exit 150B off Interstate 81
Take 220 North approx. 9 miles.
Turn right on E. Main St. (Rt. 606) through the town of Fincastle.
Follow E. Main St. about 0.3 mls and turn left onto N. Hancock St.
Drive 0.6 mls (past the elementary school) and turn left on Poor Farm Road.
The shelter is on the left about 0.3 mls there is a LAP sign at 603 Poor Farm Road.
(The shelter does not always show up well on GPS. Use the Botetourt Technical Ed Center, Poor Farm Rd)
---
Address:
P.O. Box 561
Fincastle VA 24090
Phone:
540-473-3853
Email:
lapinformation@aol.com
Facebook:
Click here for a list of pets at this shelter
[Home] [Information] [Shelters] [Search]