KittyKaretakers
---
Our Featured Cat: Lisa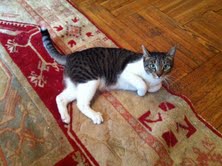 Lisa is losing her foster home this month and urgently needs to be adopted or find a new foster home.
She is a cute girl under 1 years old. She is friendly, affectionate and playful. She is curious and loves to explore. She loves playing with her toys. She will cuddle and sleep with you in your bed. She also greets you at the door when you come home because she is so glad to see you.

Please call 718-670-7221 to adopt Lisa or one of our other lovely kitties.
You can also email us at: kittykaretakers@gmail.com



We are now on Facebook and posting regularly with updates on adoption events, fundraisers, kittens/cats looking for a loving home and of course our success stories! Your loving support is always appreciated. Please log onto our page at www.facebook.com/kittykaretakers and "Like" us. Also please post your comments, personal stories, photos and videos of your pets for all to see. Please look for the link to make a donation as well. Your financial support keeps us active in the community. Let's grow a loving, caring KittyKaretakers community together!



Please Help Us Help Our Kitties - Thank You!





---
Click Here to view our video slideshow
Adopting a Friend
Meet our available cats and kittens online or let us know what kind of pet you are looking for!

Submit a completely filled out adoption application to kittykaretakers@gmail.com and we will contact you as soon as possible.

If interested in being a foster parent please fill out our foster form and email it to kittykaretakers@gmail.com and we will contact you as soon as possible.

We do not have a specific facility for you to see our cats and kittens. Many of our cats are socialized in foster homes, all located in the NYC metro area. As a result, we get to know our cats and kittens very well and can provide detailed personality descriptions to prospective homes. Visits are by appointment only. Please contact us at kittykaretakers@gmail.com, and we will be happy to make arrangements for you to meet your new potential feline companion.

If we have an animal that is the right match it can go home as soon as the application process is completed and approved. The adoption will be finalized by bringing the new companion(s) to your home.

We are a no-kill rescue organization, so all cats are safe with us until a new home is found. We are looking for permanent homes for all of our animals in the best way we know how. Prospective adopters are carefully screened as we strive for a "match made in heaven." All of our pets come with a lifetime guarantee that if at any time, for any reason, an adoption does not work out, KittyKaretakers will take the animal back. Lifetime homes are our ultimate goal.

Kittens are adopted in pairs or must go into a household with already another cat or dog. Our adoption fee is $125. This fee helps cover the cost of spaying or neutering, initial vaccinations, medical care and tests, flea control and de-worming, and the care of the animals for as long as it takes to find a new home. The fee not only covers the expenses of the cat being adopted but also the cats that remain in our care.



---
Who We Are
KittyKaretakers originally began rescuing and caring for stray and feral cats. In 2001, we officially became a 501(c)(3), not-for-profit, no-kill corporation. Patty Kline, the organization's founder, has worked to save countless cats and kittens for many years.
Today, KittyKaretakers consists of a small group of dedicated and reliable volunteers who all work together towards adoptions in the NYC-metro area as well as temporary placement in foster homes to help all our cats in need.

KittyKaretakers' most important goals are:
- to find homes for all our cats and kittens, and
- to rescue as many homeless and stray cats as possible.


---

Donations
Expenses for food, transportation, spaying/neutering and medical care are overwhelming. We must depend on the kindness and support of the public to continue this important work. All donations are fully tax-deductible as allowed by law. Please make checks payable to KittyKaretakers. Any amount you give is greatly appreciated and all our kitties THANK YOU!

You can make a safe, secure, online Donation via Paypal.




---
We are truly sorry but KittyKaretakers
is unable to take any more cats or kittens.
If you want to surrender your animal because you are moving into an apartment/home where no pets are allowed – please reconsider. Would a mother move without her children? "Well" you might say "children aren't animals." And you are right, but you can be assured that your animal companions consider you as their parent. You made a lifetime commitment when you welcomed them into your home and they deserve to be treated as family members. Among many others, the Humane Society of the United States has a list of resources that offer Animal-Friendly Apartments.
Before you part with your animal because you or someone in the family is allergic to cats please read the following article. Maxine Sitkowski, a licensed Neuro-linguistic programming (NLP) practitioner living in New York City, offers an uncommon cure for a common problem: Letting Go of Allergies
If your animal is exhibiting a certain unwanted behavior, please consider a session with a professional animal communicator. With an open attitude, whether you are skeptical or not, a consultation is an opportunity to understand your animal's point of view and to solve the problem. Most consultations are done over the phone and often as little as a brief description of the animal is needed. Check Animal Communicator Directory for a list of practitioners.
If you think you have to give up your feline companion because you cannot afford the medical expenses anymore please learn about IMOM's Financial Aid Program.

One way to have your animal(s) listed online is through the Muffin's Pet Connection, a non-profit Community Animal Service Organization serving NYC and surrounding areas. Muffin's is not a shelter and the pet owner or rescuer must be able to hold on to the pet until a home is found. Muffin's provides a Discount Spay/Neuter Certificate Program for people in need. They also offer humane cat trap rental.


---
All Grown Up: The Unique Joys of Mature Pets!
The Big Easy
Sure, puppies, kittens and other young animals are adorable. But just like their human counterparts, these babies require an extensive commitment of time and energy from their guardians. For many Americans, busy schedules and work commitments prevent them from being able to provide the kind of round-the-clock care that younger animals require.
But don't misunderstand: Although older pets may be less demanding, that's not to say adult animals don't require pet parents to be responsible and devoted—all animals require a lifelong commitment.
Animal Attachment
It's something that shelter workers hear over and over again from people who want to adopt a puppy or kitten: "I want a pet who will bond with my family" or "I want a pet who can grow up with my kids." The truth is that forming a strong connection with a pet has little to with the animal's age at the time of adoption.
The Awwwww Factor
While adorable kittens or pint-sized pooches have the power to seduce just about any animal-lover, it's important to remember that baby animals quickly become adults. Before giving in to the pull of a young animal, adopters need to remember that every animal up for adoption used to be a baby—and that adult animals can be every bit as sweet, cute and playful as their younger counterparts.
What You See…
Anyone who's ever observed an infant and wondered what he would look like as an adult knows that, without meeting his parents, it would be hard to guess. In the same way, it's hard to determine what kind of characteristics a puppy or kitten will have until the animal is an adult. In contrast, it's much easier for potential adopters to get a sense of an mature animal's qualities—including size, temperament, and personality—and to make a more informed decision based on their expectations.
Good Vibes
Helping a homeless animal will always be a natural high for adopters. But those who choose to adopt an adult pet can take extra comfort in knowing that they're giving a home to an animal who may otherwise be overlooked. As they age, dogs and cats tend to have an increasingly hard time finding an adoptive family. For many adopters, giving an older animal a home is an act of compassion.


---
Volunteer Opportunities
We are looking for responsible and loving individuals and families to become foster parents. Foster care is needed for adult cats and kittens - ALL in great need of a little TLC until adopted. Some of the cats are strays or semi-ferals and they are in desperate need of foster parents to socialize and show them love and affection while they wait for their new forever homes.
Our foster program is a wonderful opportunity to help decide if you are ready for a full-time commitment. Either way, you assisted a cat's transition from homeless to home at last! We provide the cat, supplies, and medical care, you provide the shelter and the much needed love.
Since we do not have a physical location, our rescue efforts completely depend on the number of temporary homes that are available. The more foster homes we have, the more animals we can save.
If you live in the NYC-metro area and are interested in helping make a huge difference in the life of a cat or kitten please contact us at kittykaretakers@gmail.com for more information.

If interested in being a foster parent please fill out our foster form and email to kittykaretakers@gmail.com and we will contact you as soon as possible.





Please help us help our cats by using Goodsearch for all your websearch! Every time you do, money goes to KittyKaretakers. Just click on the banner and pick KittyKaretakers as your charity to get started...


Wish List
canned cat food, paper plates, ceramic water bowls, litter, litter boxes
cleaning and disinfecting supplies, paper towels
scratching posts, cat toys, brushes & clippers
cages, carriers, blankets, towels
Advantage for fleas

To donate any of the above items please call 718-670-7221 or email . Thank you in advance for your generous support!


---
KittyKaretakers
Woodside, NY 11377
Phone: 718-670-7221
E-mail: kittykaretakers@gmail.com


---

[Home] [Information] [Shelters] [Search]