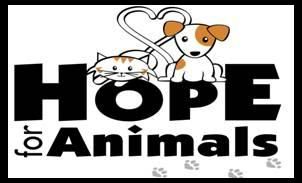 After filling out the adoption application, please e-mail it to Kittyadopt@gmail.com.
(Once you have completed the application, save it to your computer and add it as an attachment in an e-mail.)




Who We Are
We find beauty in the most incomprehensible places and the otherwise homely faces.
It is our gift to see beyond the dirt, terror, sadness, and defeat to find the true soul that lies within.


We are rescue.
We are a small group of volunteers that give a second chance to homeless and orphaned cats. We provide them with warmth, shelter, food, water, and love. We give them all the medical care they need. We keep them safe and prevent them from abuse. We work tirelessly to match each and every one of them with a loving and permanent home best suited for the animal and the pet owner. We are dedicated to educating the public concerning the issues of proper pet care and the importance of spaying and neutering. To do all this and more, we need whatever help the public can provide to us so these unwanted kitties can live the happy and healthy lives they deserve. You'd be surprised how far even the smallest donation can go! If you cannot give them a home, offer them hope. Every donation helps us rescue and help one more animal, and we humbly accept any contribution you might be able to help us with.
♥ DONATIONS NEEDED ♥
Monetary donations or gift cards in any amount are gratefully appreciated
Canned and Dry Cat Food
Kitty Litter (scoopable and clay)
Towels & Blankets
Cat Toys
Garage Sale Items (please call 732-549-1270 for pick-up arrangements)
Items may be left in our Adoption Room at PETsMART in Manalapan, Route 9 South.
To make a monetary donation, please click on the "Make a Donation" button below.

We are a 501(c)(3) non-profit organization so all donations are 100% tax deductible!



Our Featured Pet...
href="http://www.petfinder.com/petnote/displaypet.cgi?petid=32199502">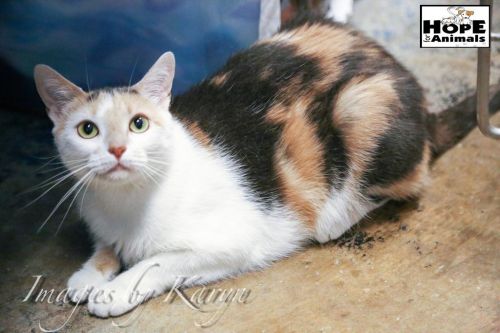 Charlotte is a sweet 3/4-year old DSH calico. Her broken-hearted owner could not care for her anymore. She is so affectionate, she loves to be be held! Charlotte perfers not to be in a home with other kitties, but bonds with her human owner. Please consider making this sweet girl a member of your family. If you are interested in adopting or meeting this kitty please call Eileen at 732-549-1270.

News and Events
ADOPTION DAYS
An adoption representative will be available in our adoption room at Manalapan PETsMART at various times each Saturday and Sunday. If you are interested in adopting a cat or kitten, we strongly recommend that you make an appointment, so we can ensure that a representative will be available to meet with you. We have many cats/kittens available for adoption that are at PETsMART as well as living in foster homes that may not yet be listed on petfinder.com. To make an appointment or to find out about cats that are not yet listed, please call 732-549-1270.
WE URGENTLY NEED FOSTER HOMES!
This is a perfect opportunity to help if you've always wanted to make a difference but don't feel that you can make the long term commitment to adopt an animal. To foster means that you would temporarily house the animal for us. You provide housing, warmth, love, hugs & kisses while we provide food and any vet care needed. To foster a kitty in need truly saves a life and helps us immensely in our efforts. To inquire about fostering a cat or a kitten, please call 732-549-1270.
Adopting a Friend for Life
Saving one cat won't change the world, but surely the world will change for that one cat.
If you are looking to adopt a cat/kitten and there are no other cats in the house already, PLEASE consider adopting two together. Kittens and most cats want and need a playmate. This way, they have a friend to play with, to snuggle in their bed with, and a friend to keep them company when you are not home. Please don?t think that by adopting more than one, that the cats will bond with each other and not with you. They will still crave your attention. What?s better than having a kitty in your lap? -- Having two kitties!
If you have your mind set on adopting only one cat, please consider adopting a cat that would prefer to be the only cat. Some cats do not get along with other cats because they want all the attention for themselves. We have some kitties that need to be placed into a one cat only household. Please ask for guidance from your adoption counselor.
Do you consider yourself a true animal lover? If the answer is Yes, why not think about adopting a cat with a disability. These cats need and deserve a good home just as much, if not more than a cat without a disability. Please consider opening your heart and home to a kitty with special needs; the rewards are endless.
How do I adopt a cat?
To adopt a cat from Hope For Animals, you must: (1) Be at least 18 years of age; (2) Complete an adoption application; (3) Speak with an adoption counselor; (4) Pay an adoption fee; and (5) Sign an adoption contract in which you promise to care for the cat in a loving and humane manner for its lifetime and to return the cat to Hope For Animals if you cannot keep your promise.
Come Visit Us!
You can meet some of our cats at PETsMART in Manalapan on Route 9 South. We have many more in foster care. To meet a cat that is currently in foster care, please call or email for an appointment.





---
Never Forgotten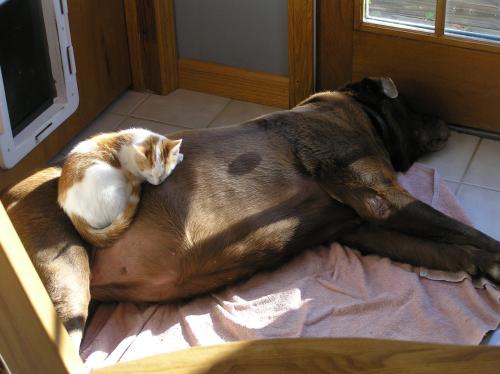 Lexus passed over the Rainbow Bridge on January 19, 2010. She was loved by all who had the pleasure of meeting her. She will be missed.
Diane Ketcham, one of our volunteers, took in little Georgie, our orange and white kitten, when she was only a bottle baby. The picture above shows Georgie sleeping on top of Diane's chocolate Lab, Lexus. When Georgie was 8 weeks old, we put her up for adoption and Diane would take her for the day to PetSmart so people could see her. Although Georgie is super sweet and adorable, she does have a slight neurological problem which causes her to walk a little funny, sort of like she's drunk. Many families were interested in adopting Georgie, but when we told them about her problem, no one wanted her. Isn't it a shame that everyone wants "pretty and perfect". Well Georgie lucked out, because Lexus, the Ketcham's family chocolate Lab has decided to adopt little Georgie. Georgie now has a permanent home with Diane and her husband, their Lab, two other adult cats and occasionally some foster kitties.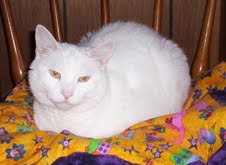 In Memory of Snow White
Snow White passed on to kitty heaven on Tuesday September 13, 2011 after a 6 month battle with cancer. She was diagnosed with a mammary tumor but it was deemed inoperable. The tumor remained stable for several months. The month before her death the tumor enlarged and became ulcerated and eventually spread to her bladder. Up until the day before her death, she remained active and had a good appetite. Snow White came to us in October 2006 when a gentleman brought her to a local vet office to have her euthanized because she was living in the house alone for the past 3 months since her "mommy" was going in and out of a nursing home and the hospital. While in foster care, she contracted corona virus which led to liver failure. Snow White miraculously recovered from that but due to her "cranky" nature she was difficult to place in a permanent home. In 2008 a very nice woman and her husband adopted her. However, she was returned within a month since she was urinating behind their couch. After she was returned to me, Snow White seemed happier and was more interactive with the other cats in the house even if it was just to hiss and swat at them. She would often combine her fighting into play activity especially with my boyfriend, Marc. She would actually purr when she would "fight" with him. She initially tried to trick him by first sitting quietly and letting him pet her, but then she would flip on her side and begin snapping and punching with her front (declawed) paws. She had quite a few idiosyncrasies. For instance, she would almost never cover up her "stuff" in the litter box. She would scratch at the wall next to it though in an attempt to cover it. Also, she would squat down and peek under the refrigerator door when you opened it as if she were looking for a snack. She was vocal when she wanted to get petted/fight or eat. She would race you down the hall to the bedroom. She also had a foot fetish. If you put your foot in front of her, she would hug it and attack it. She especially liked smelly shoes. She would stick her nose deep inside and rub her face all over the shoe while kicking it with her back feet. She really was a cat that needed to be understood on her own terms and it was my pleasure that I could share a part of my life with her. Snow White was unique and I will never forget her. Although it was heartbreaking as she jumped into my arms after she received a tranquilizer to anesthetize her in order to give her the injection to humanely put her to sleep, she needed to be relieved from her suffering. Yes, she was a fighter till the end. I told her that I was sorry that we couldn't help her anymore and gave her a kiss goodbye. Now she rests peacefully in my backyard buried under a cat angel statue near the table and chair that Marc goes outside to smoke at. I can only imagine the conversations that the two of them must have now. I know Marc misses playing with her. Rest in peace Snow, we will always remember you, and I love and miss you A LOT. Your foster mom and dad, Delia and Marc =^..^=
Hope For Animals

PO Box 144
Marlboro, NJ 07746
Phone: 732-549-1270
Email: kittyadopt@gmail.com

Click here for a list of pets at this shelter