Kids 4 Kats
Special Kids Helping Special Cats!
---
Our Featured Pet
Snoopy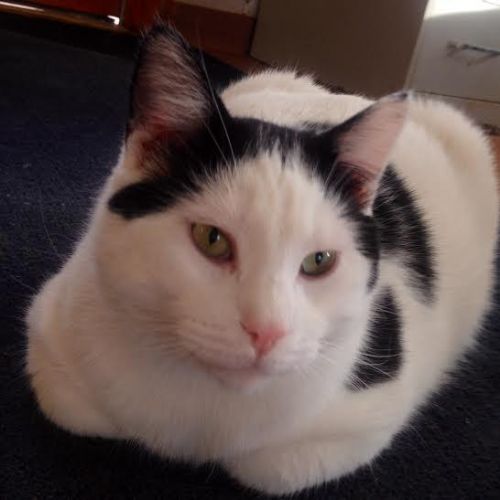 Meet Snoopy!

Meet adorable Snoopy (formerly known as Snootie)! Snoopy is a lovable four-year-old cutie, who would love a new home! His former family surrendered him when they moved. This big-hearted boy is nothing but a laid-back snuggle bug. If you're looking for a great companion who is excellent with other cats, animals, and children of all ages, that's Snoopy! Snoopy's great for anything!! Snoopy is being fostered by Kids4Kats for the Chester County SPCA. At Kids4Kats, children with special needs help foster homeless cats and other small animals. Our fosters live at our school, where they are surrounded by other cats and all the other species of critters we have here, and receive constant love and attention from our students.
Snoopy is up to date on his shots, microchipped, flea/tick treated, neutered, and ready to come home with you TODAY! He has a special adoption fee of $40!
Please see Snoopy's profile page for more information.
For more information about Kids4Kats, please contact us! Thank you!!

Check Out All Our Adoptable Kitties!
---
News
**COME MEET THE NEXT MEMBER OF YOUR FAMILY HERE**
ADOPTION FEES:
Kittens - $75 Cats - $50
Adoption fee covers veterinary examination, spay/neuter, vaccinations, microchipping, and flea and tick treatment.
---
Who We Are
We are Kids4Kats, located in Chester County, Pennsylvania: a very special kitten foster program made possible by some very special kids!
We are a school for children with special needs, and we foster abandoned and stray kitties, dogs, and small animals, as part of our school's animal-assisted therapy program. We bring them to the school's petting zoo where our students feed, groom and socialize the kitties while they await new homes.
Our program offers our students the opportunity to overcome fear issues, learn nonverbal social cues, and feel the sense of pride and accomplishment that comes with taking care of the kitties. The kitties also benefit. We've had everything from bottle-fed babies to senior cats over age 15. We've had some sick kitties, as well as victims of animal cruelty, that we've had to nurse back to health. But what all our cats have in common is that when they leave our program, they are very well socialized. Nothing bothers them. They're excellent with children of all ages and abilities. They're loving and friendly. They have been constantly handled and put into different situations. They also get along with other pets (including other cats), since they live in the petting zoo.
The experience our cats get here is unique; our kittens are very well socialized, both with all types of people and experiences! We've been able to find WONDERFUL homes for them. In the first year of our program, our children have saved over 350 cats and kittens! (And each one who comes into our program makes room for one more at the SPCA!)
Prior to adoption, all of our kitties are examined by the vet, treated for fleas, ticks and worms, vaccinated, microchipped, and spayed/neutered.
---
Adopting A Friend
If you are interested in adopting any of our available kitties, please e-mail us at Kids4Kats@gmail.com to obtain an adoption application.
When you've filled out your application, please e-mail it back to us (or ask us for our local fax number). After we receive your application, we'll be glad to have you come out and meet all our wonderful kitties!
Please note that because classes are held in our school zoo throughout the day, visits must be arranged ahead of time. We are available Monday through Friday 9:00-3:30, by appointment only.
---
Donate!
We also accept donations of cat items to help keep our program going! We are always looking for canned kitten food, canned kitten milk replacer (such as KMR), Pedialyte, treats, litter, toys, and old towels and linens for bedding! If you can help out, please e-mail us at Kids4Kats@gmail.com to make an appointment.
---
Contact Us
We are Kids4Kats, a foster program located in West Chester, PA.

Our e-mail: Kids4Kats@gmail.com
Our primary contact is through e-mail. You may wonder why we haven't posted our address and phone number! It's because we don't have drop-in hours like typical animal shelters. This protects the privacy of our students and allows our awesome zoo activities to take place!
We will provide additional contact information on receiving your approved adoption application.
Thank you very much for visiting our site!
Check us out on Facebook! Follow us on Twitter!
---

[Home] [Information] [Shelters] [Search]