Keeshond Rescue of the Central States
---
Welcome to Keeshond Rescue of the Central States' PetFinder Home Page. We hope, through this web page and our Pet List, you will learn more about this terrific breed and find a new family member. If you have any questions about our organization or our dogs, please contact anyone listed at the bottom of this page, under the "Contact Us" heading. Please contact Monica Johnson at monicalj49@comcast.net for an application or any questions you may have about the application/adoption process.

.

HAPPY TAILS TO YOU




(sing it like Roy and Dale)

Click here to see our Dog Happy Tails!

These are the pictures and biographies of just some of our foster children who are now in loving, forever homes.



OUR MISSION STATEMENT
The specific mission of Keeshond Rescue of the Central States shall be to rescue, care for, and place in qualified homes the canine breed known as Keeshond or Keeshonden (plural). It is the policy of this organization to provide humane care and treatment for all Keeshonden placed in our care; seek to return lost or stolen Keeshonden to their owners; to seek suitable homes for Keeshonden without owners; to provide euthanasia when necessary and only as a last resort.
Keeshond Rescue of the Central States shall try to provide a safe and healthy haven for all dogs placed in our care, until loving adoptive homes can be found. Every Keeshond place in our care will be completely vetted, placed in foster care, and evaluated.
WHO WE ARE
Keeshond Rescue of the Central States consists of volunteers who have had many years of experience in Keeshonden. Many are active in the national and regional Keeshond clubs.

The volunteers: take in unwanted Keeshonden from families and shelters; have all rescue dogs checked by a veterinarian, inoculated, tested for heart worm, and microchipped; spay or neuter before placing in a new home; check temperament with adults, children, dogs, other pets; and work with potential adoptive families to find the best placements.

We are proud to be affiliated with the Keeshond Fanciers of the Central States Keeshond Club.


Wisconsin Puppy Mill Expose
Milwaukee's TMJ4 News team has done a pair of news stories on Puppy Mill conditions. The video and stories are heartbreaking, but also "must watches" for anyone interested in helping change things for these animals.

NOTE: The response that TMJ4 News has received has been astounding; access to these videos may be slow.
http://www.nowisconsinpuppymills.com
PET FOOD RECALL
Menu Foods, the Ontario-based company that produced the pet food, said Saturday it was recalling dog food sold throughout North America under 48 brands and cat food sold under 40 brands including Iams, Nutro and Eukanuba. The food was distributed by major retailers such as Wal-Mart, Kroger and Safeway.

An unknown number of cats and dogs had suffered kidney failure and about 10 died after eating the affected pet food, the company said.

Two other companies, Nestle Purina PetCare Co. and Hill's Pet Nutrition Inc., said Saturday that as a precaution they were voluntarily recalling some products made by Menu Foods.

Many stores that sold the affected brands frantically pulled packages off shelves.

The recall covers the company's "cuts and gravy" style food, which consists of chunks of meat in gravy, sold in cans and small foil pouches from Dec. 3 to March 6.

"Main" page for the recall:
http://www.menufoods.com/recall

Press release describing the recall:
http://www.menufoods.com/recall/Press_Recall_03162007.pdf
(needs Acrobat PDF reader)

Specific lists of affected Dog foods:
http://www.menufoods.com/recall/product_dog.html

Also affects cats:
http://www.menufoods.com/recall/product_cat.html



FUND RAISING: Keeshond Checks!
Checks Your Way, Inc.will donate 10 percent of their sales to Keeshond Rescue of the Central States. Of course, in order for KRCS to receive 10 percent of the sale, purchases must be made thru the link on our website.

The company prints high quality personalized checks, business checks, business cards, note cards, return address labels. The "stock" photo, which is of one of our rescues can be used by anyone who chooses to use that photo for their order.

However, for those who wish to have a more personalized product, the company will take a customer's full photo(s), Logo(s), or artwork and make them into the background design for personal checks, business checks, note cards, return address labels.

Note that the customer placing an order thru our website link, can use any breed of animal, any piece of artwork, etc. For example, perhaps the customer would like to have a personal photo of their favorite cat.

Click on the sample check below, decide what you wish, and place your order. And thanks for helping support our rescues!



(click this check to see more details...)




FUND RAISING: Online Shopping!
If you shop online, start here:

http://www.givebackamerica.com/charity30.php.

EBay, Expedia.com, Amazon, Barnes & Noble, and many other online retailers will donate to KRCS with every purchase you make!


ABOUT OUR PET LIST
Visit Our Pet List to learn about some wonderful dogs needing truly "forever" homes. Please realize the list is constantly changing as some pets get adopted and other pets come in to our rescue program. Our pets that have found new homes will be under the "Happy Tails" section. See link at the top of this page. New pets will be listed as soon as possible, after our webmaster receives a bio and photo from the foster parent. Occasionally, a pet will be listed without a photo. Or a photo will be displayed with very little information as we learn more about that new rescue.

We are constantly adding new dogs to Our Pet List. Please click on "Our Pet List" link above to see all our dogs looking for permanent, loving homes. If, after viewing Our Pet List, you do not find a potential family member, please contact us anyway. We may have a family member waiting in the wings just for you.



ABOUT THE KEESHOND
The Keeshond (pronounced "caze-hawnd") puppy is irresistible: its little teddy bear face with the characteristic spectacles around its eyes and its woolly gray and cream furry body look so much like a live version of our favorite stuffed toy, it is hard not to feel that you have to take it home.

The adorable "puppy in the window", however, does grow up. To develop the wonderful, long-lasting relationship with your Keeshond, you need to understand some of the breed's characteristics.

The Keeshond is a loving, outgoing and playful dog, typically very good with children and other animals. Its lovely silver, black and cream, often heavy coat, with its perky curled tail, can make an owner proud. But, like all breeds, one must also understand its special qualities.

The Keeshond is a very people-oriented breed. It needs to be made an integral part of the family and given the attention and affection of a regular family member. It must never be chained outside. The Keeshond is strictly an indoor dog and must be with its family. The Keeshond is also a high-energy breed. A large fenced backyard and/or frequent walks are essential for the young dog. Since the Keeshond was bred as a watchdog for the canal barges in Holland, it will want to warn you when unfamiliar folks approach. You need to be prepared for the fact a Keeshond can be yappy. The Keeshond's beautiful, distinctive coat necessarily requires some care. It should be brushed weekly and bathed every few months.



ADOPTING A NEW FAMILY MEMBER
Individuals seeking to adopt a rescued Keeshond from us must complete an application with references, only one of whom may be a family member. Reference checks include three personal and one vet reference. A home visit will also be conducted if possible.
Please Note: We cannot adopt dogs to anyone under the age of 18 years. Please do not contact us directly yourself if you are under 18. If you are under 18 years old and are interested in one of our dogs, please have your parents or legal guardian contact us. Thank you.
For an Application for any of the keesies you are interested in, contact Monica Johnson at monicalj49@comcast.net. An adoption application can completed online, printed & faxed/mailed, or copied & pasted into an email; you can also visit :
http://www.keesrescue.org/adopt

... for more information Monica Johnson
596 Norman Rd
Bolingbrook, IL 60440


Please allow 2 weeks for processing your application. Often we can get it processed sooner, but that is dependent on the availability of references, and the applicant and processor to schedule and complete the home visit. We will make every effort to contact you within 2 days of receiving your application, to let you know we have it and are working on it. If you've not heard from us within 5 days of mailing your application (3 days for emailed applications), please contact us.
Adoptive families are required to visit the foster care site (primary location - Urbana, IL ; other foster homes in the Chicago, IL area Southwest MI, and IN) so that an appropriate match between family and dog can be made. We request potential adopters to bring along current pets as a part of that matching process.
All of our dogs are up to date on vaccinations; heartworm tested and on preventative; on flea and tick prevention; are spayed or neutered prior to adoption; and are microchipped as a form of permanent identification.
Adoptions require a contract specifying humane treatment of the dog and complete vet care for the duration of the dog's life. The contract also specifies that all rescued Keeshonden that have been in the care of this organization must be returned to the organization should it become impossible for the adopter to provide necessary care and shelter. A rescued Keeshond cannot be disposed of by the adopting party without consultation and written authorization from this organization. The organization will inform the public on properly choosing and caring for a Keeshond.
An adoption fee of a minimum of $200 is required. On occasion, we may have puppies available. The adoption fee for a young puppy (nine months old or younger) is $300. Some dogs are in foster care of several weeks or even months due to some medical condition they may have when they come to us with. Puppies require vaccinations every three weeks up to the age of 16 weeks. While these adoption fees do not cover all the expenses of providing care to our rescue dogs, it does help offset some medical expenses, food, grooming, and other financial burdens of fostering.
RESCUE STAR!!!!!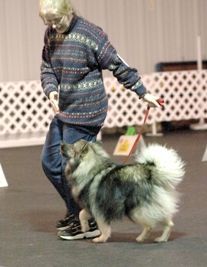 Victor


Victor, a lovely little former rescue boy, is creating news! Victor was adopted by Robin and Richard Clark just a year ago. Since then, Victor (as in "Victory") has been THE rising star in the Obedience, Rally, and Agilty rings. Victor easily earned his Rally Novice obedience title and his Companion Dog obedience title, all in a very short period of time. He has gone on to participate in Agility and has several events scheduled this summer.

Victor proves that with the right loving home, a Rescue Dog can do just about anything. If you're interested in finding out for yourself, please visit our list of dogs looking for loving homes. Our application process is outlined below under the section titled "Adopting a New Family Member."




MEMORIAL to LUCKY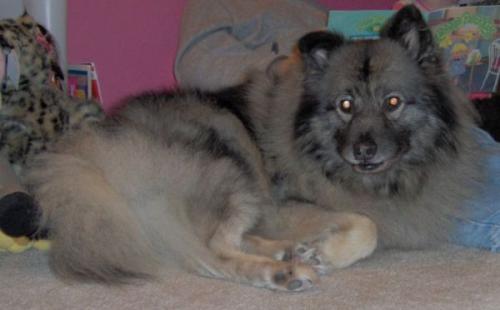 Lucky
On May 17, 2006, Lucky went to the Rainbow Bridge. His parents, Laura and Darren Crawford; siblings, Victoria, doggie brother Webster Crawford, and fish sister Wanda; foster Mom, Marilyn Burgoyne; and many doggie cousins survive him. Lucky was adopted on December 30, 2004.
Lucky had a hair and flower fetish. He would place his nose right in the middle of clean hair and move about like a performing Stevie Wonder. Foster Mom said that she would find Lucky with his nose stuck in the middle of any blooming flower he could find.
Lucky loved to go on walks with his brother, Webster. You never said the word walk until you were ready to go. If you made that mistake, he would nudge you with his nose until you relented.
Windy days and snowy days were the best. Lucky would lie outside looking like a supermodel being fanned. The song Wind Beneath His Fur was sung to the tune Wind Beneath My Wings. On a snowy day, Lucky's fur acted like Stainmaster carpet allowing him to keep his Abominable Snowman look.
Lucky got along very well with all dogs, fitting right in with a family of many doggie cousins and many neighboring dogs. He loved to talk to the neighborhood dogs and would even call them to come out in all directions. Calling all dogs. Calling all dogs.
At family playtime on the floor, he would make sure he sat right in the middle of the board game or activity. His attention-getting maneuver won him lots of pets.
Brushing Lucky was an enjoyable activity for all involved. Lucky liked to look and feel like a million bucks. Webster liked to place his nose in the piles of removed fur and produce sneeze after sneeze. Clean up became a two-part process. Clean the floor and clean Webster.
Lucky had a great appetite and even taught his finicky younger brother to eat. His favorite holiday and birthday treat was gnawing on bones that kept him focused on reaching the hard to get to marrow. How many gnaws does it take to get to the middle of the bone, he wondered?
Lucky was such a loving, happy pooch who brought so much joy into our lives and so many others. Although our time with him was short, we feel so blessed that he will always be a big part of our lives.
Love always,
Your family
ABOUT ELECTRIC (INVISIBLE) FENCING
Electric or invisible fencing is a very popular fencing option that many of today's homeowners are choosing. While there may be some aesthetic and cost benefits to this type of fencing, we in Rescue have discovered a great deal of problems related to safety, security, and humane treatment of the dog with this type of fencing, particularly with its use with a rescued Keeshond.

Because the Keeshond's coat is extremely thick around the neck, in order for the electronic shock collar to be effective on a Keeshond, the shock level must be turned up very high, the length of the prongs must be very long, or the collar on very tight.. The high shock level and length of the prongs can cause pain and injury to the dog. Some dogs we have known have tried to scratch the shock collar off, catching their foot in the collar and getting burned and receiving puncture wounds from the prongs.

Another problem with the use of this style of fencing is that a dog will still run through the "fence," accepting the first shock but refusing to return to the yard for a second shock. Keeshonden are very intelligent creatures. They CAN think and seem to understand cause-and-effect processes as it relates to their behavior. It does not take long for the average Keeshond to learn that if he received a shock leaving the yard, he'll get another shock going back into the yard. The result is a Keeshond loose in the neighborhood, likely a new, unfamiliar neighborhood. The dangers of further injury and possible death are enormous.

This leads us to yet another reason that the use of these fences with Keeshonden are a great concern. Rescued Keeshonden have lived in many different environments by the time them arrive into the Rescue program. Many have lived with several families during their lives, then find themselves either living by their wits alone on the streets or dumped in shelters. To get into Rescue, they may have traveled a great distance on what we call a "transport" or "railroad," being handed from one transporter to another. Then they are in foster care sometimes for several weeks or months, depending on their physical and emotional conditions. When they go to a new home, it will take quite a long adjustment period (several months, maybe longer) for them to realize and accept that this is finally their home. During that adjustment period, the risk of the Rescued Keeshond trying to "escape" is great. An electric fence will NOT prevent this.

Not only will an electric fence NOT keep a dog in the yard, it will not keep another animal or human from coming into the yard to either injure or steal your pet. Sure, a standard fence can be jumped or dug under by any creature (human or non-human) wanting to get in or out. But it does slow them down to some extent, and in many cases completely stops the creature from crossing the fence line.

Even staying with your Keeshond while in the yard, providing "supervision" is no guarantee that the Keeshond will not run thru the "fence" and will not prevent another animal from coming into the yard. All of us in rescue have experienced an owner who has had a dog at some point get hit and killed by a car because the dog ran into the street. The first thing those owners have said is "he never did that before." Well, he'll never get another chance to do it again. An electric fence will not keep a dog from running into the road.

These are just some, but not all, the reasons why the Board of Directors of Keeshond Rescue of the Central States has decided to not adopt a Rescued Keeshond into a home in which the intent is to use an electric fence. We would be glad to discuss alternatives to electric fencing. Please feel free to contact any Board Member listed at the bottom of this page.



Shaving a Keeshond
Often, people think a long haired dog should be shaved during warm weather. While on one level that may seem logical, in reality, it is not wise to do so with a Keeshond. The Keeshond coat not only acts as protection against cold in the winter, it serves the same purpose in the summer, protecting the Keeshond from the heat.

The Keeshond coat also protects against parasites such as fleas, ticks, mosquitoes. That's not to say a Keeshond never encounters these parasites, but that thick coat does slow those critters down. Another advantage to the Keeshond coat is that it repels dirt. Get rid of that coat and you're inviting dirt to attack your Keeshond and cling to its skin.

Also, the Keeshond coat helps to prevent that "doggie odor" that so many breeds have. Keeshonds don't typically have a "doggie odor," partially because of the coat. Take that coat off and the Keeshond may begin to smell like a dog.

While shaving may be necessary for medical purposes, such as in preparation for surgery, shaving just for convenient coat care should be avoided. Shaving too close can cause medical conditions from something as common as razor burn (which hurts like the dickens) to more serious damage. Some damage can be permanent, such as damage to the hair folicles. The fur may grow back in patches, leaving the Keeshond bald in various places all over its body, or the fur may not grow back at all. If the care of coat is inconvenient or too difficult, reconsider if the Keeshond is the right breed for you.

That luxurious coat is what makes a Keeshond a Keeshond. They know they are beautiful with that gorgeous coat. Some Keeshonds have actually acted embarrassed after being shaved. So, for the health, beauty, and pride of your Keeshond, please don't shave.



COME VISIT US!
Most of our dogs are at our Urbana, IL foster home, with Foster Mom, Dina Zinnes. If you would like to visit our dogs, please contact Dina at the phone number or email address listed below in the "Contact Us" section. If you have an approved application at the time of your visit, you may take your new family member home with you when you visit.

For a map to our primary foster home, click here. A new page will open.

HOW TO VOLUNTEER
Would you like to help save the lives of Keeshonden? We are always looking for Volunteers to help with a variety of items. Volunteers are needed to provide foster care to dogs; to evaluate dogs in shelters; pick dogs up from shelters; drive dogs to vets and foster homes; clean crates and the exercise yard; groom dogs; assist with obedience training; assist with housework; and to make telephone calls and check references.

If you are interested in being a volunteer, please contact Dina Zinnes. See below for contact information.



HOW TO DONATE
Since our only means of funding is through adoption fees and donations, with outstanding expenses being covered out of our pockets, we always welcome donations. Monetary donations are most helpful and are tax deductible as we are a 501(c)3 charitable organization. Checks can be made payable to Keeshond Rescue of the Central States.
Mail checks to:
Dina Zinnes
3204 Red Bud Lane
Urbana, IL 61802
Other donations are very welcome, too. These can be dog food and treats, paper towels, bath towels, dog toys, phone cards, and cleaning solutions. Please contact Dina Zinnes for specific details of the items needed, particularly dog food and treats.
CONTACT US
Keeshond Rescue of the Central States Board Contacts:
Dina Zinnes
President
(217) 278-7245
Urbana, IL
Email: zinnes@uiuc.edu




Angel Vogel
Vice President
847 922 2240
Holland (southwest), MI
Palos Heights (South Chicago), IL
Email: mykeesie@yahoo.com




Jen Shelby
Treasurer
Champaign, IL
Email: jen@atyourservicecu.com




Dawn Henry
Secretary
Mahomet, IL
Email: mndhenry@yahoo.com




Monica Johnson
Board Member
Applications Supervisor
Bolingbrook, IL
Email: monicalj49@comcast.net




Pat and Judy Sleigher
Board members
Stickney, IL
Chicago, IL area
Email: woofden@sbcglobal.net






Other contacts
Indiana:
Pam O'Rourke
Danville, IN
Email: Pamorourke@aol.com




Diana & Paul Embry
Solsberry, IN
Email: dsembry@indiana.edu




Minnesota:
Erik Anderson
Web site administrator
Email: sapota@gmail.com




Wisconsin:
Dawn Johnson Bankers
Madison, WI
Email: sunrise_dj@hotmail.com
---
Keeshond Rescue of the Central States
Dina Zinnes
3204 Red Bud Lane
Urbana, IL 61802
Phone: 217-278-7245

Email: zinnes@uiuc.edu
Click here for a list of pets at this shelter

---

[Home] [Information] [Shelters] [Search]