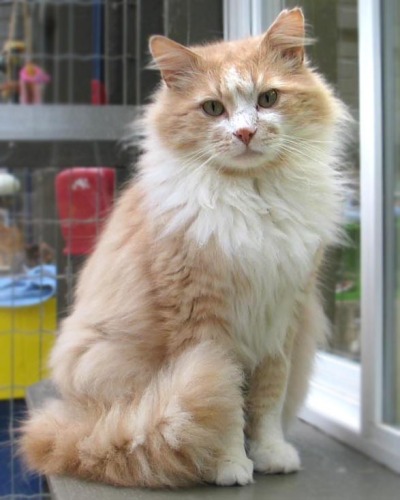 Henri is a handsome, affectionate boy who is an excellent house pet. He was adopted once but had to come back when he didn't get along with the other cats in the home. Henri adores people but he doesn't like cats. That makes it hard for his roommates at the shelter. And it's hard on Henri who does his best to avoid them. Henri has FIV (similar to human HIV or AIDS). He's still a robust, happy boy with a good appetite and a rollicking sense of fun. He should be indoor-only and an only-cat (FIV is not contagious to any other species). FIV makes them more susceptible to illnesses by compromising their immune system. However, living a protected, indoor life, Henri could have a pretty good life span. We are always prepared to set up a Permament Foster arrangement for 'special needs' cases wherein we retain responsibility for vet costs. So if you gave Henri a chance, it would be a win-win-win situation. You would have an affectionate pet with an irresistible personality. Henri would have a human family in a home where he doesn't have to deal with other cats. The cats in our special needs room could relax without wondering if they'll bump into Henri around the next corner. Come and meet this little guy. We're betting he could win you over in two minutes or less!
See more about Henri at his Petfinder page.
---
News
You can find our newsletters at Katie's Place Archives. If you would like to receive our newsletter via email, you can subscribe at Katie's Place Newsletter. Our newsletter comes out three times a year. We do not trade or sell email addresses, and you can cancel at any time.
---
Katie's Place Open Hours: Saturdays and Sundays, from 12:00 to 2:00
If you can't make it during our Open Hours, call 604-463-7917 to arrange for someone to meet you there. You'll find our shelter at 10255 Jackson Road, Maple Ridge -- right behind the Maple Ridge SPCA buildings.

Who We Are
Katie's Place is a volunteer-run nonprofit animal shelter in Maple Ridge B.C. We rescue and nurture small animals, adopting out those that we can and providing permanent sanctuary for the rest. The shelter is named after the cat who was its first resident and the rightful owner of the barn where we began. Katie's Place houses up to 125 cats with separate enclosures for new or convalescent cats and for the FIV/FeLV+ residents -- who still hope for loving homes of their own. There are also outdoor areas for rabbits.
Two principals guide us: all life is valuable, and we are responsible for improving the quality of life for all those in our care. We make no judgment on whose life is worth rescuing. The sick, elderly and homely are as precious to us as the healthy, young and attractive.
Katie's Place began in January 2001 under the auspices of the West Coast Spay and Neuter Society of Mission B.C. We became a registered charity in our own right in 2005. We ensure that all cats and kittens are spayed or neutered, tattooed, and have their basic inoculations prior to adoption.
We receive no funding other than donations or grants. These go directly to animal care. Less than 3 percent is spent on maintenance (eg. bank charges, insurance). Many administration costs are donated by the volunteers. We are grateful for the generous support of our vets who treat our animals on faith that we will pay them when we can. We are grateful for the support of donors whose generosity allows us to keep going. We are grateful to adopters who come out to meet our animals and take them into their hearts.
Adopting a friend
All our cats and kittens are spayed/neutered and tattooed (or microchipped if they came to us altered but not tattooed), and they have their first inoculations. Our adult cats are also tested for Feline Leukemia and FIV. There is an adoption contract stating that you will care for the animal appropriately and that if you are unable to keep the animal you will return it to Katie's Place. If you'd like to meet one of our animals, please call us at 604-463-7917, or email us at katies.place@shaw.ca, or drop by our shelter during our open hours on Saturdays and Sundays between noon and 2:00.
We ask $120 for cats and kittens and a donation for 'special needs' pets. Pairs of cats can be adopted for $200 total.
Our volunteers take turns checking the messages when they get home from work, so your call will be returned as soon as a volunteer has a chance to check for calls.
If a foster parent's phone number is given in the pet's write up, you can call the foster parent and set up a time to meet the pet at their home. If the foster parent is also one of our adoption counselors, they can complete the adoption in their home. Otherwise you will need to drop by the shelter. (Our foster homes are all within a 10-minute or less drive from the shelter.) Check with the foster parent when you phone.
Come Visit Us!
Katie's Place has open hours on Saturdays and Sundays from noon to 2:00 when people can drop in. If we have enough volunteers, and if enough people are interested in visiting, we hope eventually to be open several days a week. If you'd like to drop by, look around, ask questions and maybe meet a new feline friend to take home, you can come to the shelter at 10255 Jackson Road, Maple Ridge -- right behind the Maple Ridge SPCA buildings.
If you can't make it during our Open Hours, call 604-463-7917, or email katies.place@shaw.ca and set up a time to meet us there.
---
Katies Place:
10255 Jackson Road, Maple Ridge -- right behind the Maple Ridge SPCA buildings
Phone: 604-463-7917

Katie's Place's mailing address:
10255 Jackson Road,
Maple Ridge, B.C.
Canada
V2W 1G5
If you are searching for your lost cat, please be advised that due to the volume of calls for Katie's Place and the limited hours we can devote to it over and above our regular jobs, we are unable to return every call and would contact you only if there is a possibility that a found cat may be your cat. We do notify the SPCA of strays that we receive and we advise you to contact your local SPCA if searching for your cat.

We've put together a little basic advice for anyone who has a pet they can't keep and that we don't have space for. See Re-homing Your Pet.
We've also put together all the advice we have for anyone who has lost their pet. See Finding a Lost Pet. We hope with all our hearts that you are successful.
Here's our advice for people taking a new pet home which we hope will help ease your new family member happily into your family: Bringing your New Pet Home.
The No. 1 reason cats lose their homes is failure to use the litter pan or marking their territory. Here's some advice we put together to help families solve these problems: Failure to use the Litter Pan
A lot of people call us to take their cat when allergies crop up in the family. Please get a second opinion as you may actually be able to keep your pet. We can offer a bit of advice about coping with allergies (and even preventing them in children): Allergies, Asthma and Animals.
Another very common reason for giving up a pet is worries about the pet being with a new baby in the house. Actually, recent research has shown that it's good for children's immune system development to grow up with animals. See our page on allergies and asthma (link above) for more about that, and see Cats and Babies for help introducing your baby and your pet.
Kittens are a lot more fragile than many people realize, and there are many things in the average home that can seriously harm them. Have a look at our recommendations for kitten safety if you're thinking of bringing a furry baby home: Keeping Kittens Safe.
Email: katies.place@shaw.ca

Click here for a list of pets at this shelter

---

[Home] [Information] [Shelters] [Search]