K-9 RESCUE AND REFERRAL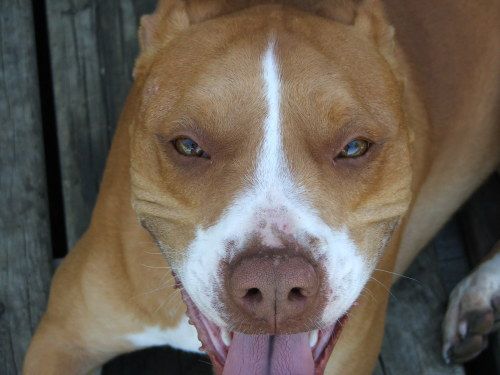 CURRENTLY NOT ACCEPTING SURRENDERS AT THIS TIME

We are working to find caring, committed homes for companion animals, including Pit Bulls, and to educate people. Myths do harm to everyone. Knowing the truth helps us to manage our dogs and avoid problems.
Caleb on death row please read his story on our main home page

We are a non-profit organazation dedicated to the mission of rescue and rehabiltation. We offer foster care in homes with volunteers and we take owner giveups. We are in desperate need of more volunteers in Texas. Help us continue to keep helping these animals in need. Become a foster or volunteer. Email us for details at : email k9rradoptions@yahoo.com
Who We Are
What is a Rescue Dog Many people have asked us, "What is a rescue dog"? First off, usually a rescue dog is one that most shelters consider un-adoptable. They could be heartworm positive, too old, food or toy aggressive, blind, deaf, crippled, and many other reasons to make them not be adopted quickly. Many require hundreds of dollars of treatments that no shelter is willing to do. If the expense is too high the shelter will put the dog to sleep. We rescue groups take in the so called throw-aways and provide them with all the medical help necessary to get them healthy again. We then take them into our homes and teach them what it means to be loved and safe again, which can take months. At that point we can find them forever homes. Some people ask why do you charge to adopt a pet? The answer to that is without money we can't rescue dogs. Every person in our group is a volunteer. We do pet fairs to raise money. We drive hundreds of miles to rescue a dog, or transport a dog to a new home. We make gifts to sell to earn money to pay expenses on these dogs. Everyone that does this gets no pay. They use their time, their gas, their car. Every cent we get goes to help another dog. We won't turn away a dog because it needs a thousand dollar operation - we find a way to get the money and help the dog. And in the end, the dog's adoption fee may be 100.00 dollars or more. There is no profit in rescue. We will go to any length to help a dog and many tears have been shed over one because, no matter how hard we tried or how much money we spent, we couldn't save this poor angel. The people who work in rescue are very special. The dogs are even more special. What someone throws away, we take and nurture back to health and show them what love is really all about until the day we hold them in our arms as they pass on to the rainbow bridge and never have to fear being cold, hungry, sick or alone again.

Visit our main website :

http://www.k9rr.webs.com

Please refer to policy terms and conditions for full details including deductibles. Conditions cannot be noted, symptomatic or pre-existing prior to enrollment.

Application To Adopt adoptingafriend.htm

IF YOU ADOPT AN ANIMAL AND CHOOSE TO RETURN IT, JUST LIKE THE SHELTER YOU LOSE YOUR MONEY.
Adopting a friend
ALL Applicant's must complete a adoption application prior to placement of any dog.
Come Visit Us! By Appointments ONLY!!!!
We are not a shelter, and foster from our homes. If you are interested in seeing one of our pets, we go by appointments only ......
---
K-9 Rescue & Referral


ALL OF TEXAS/Nationwide Services Available
Phone:
We are not a shelter or facilty. We foster in our homes and go by appointments only!!
Email: k9rradoptions@yahoo.com