Please visit our MAIN WEBSITE at:
http://www.juniorhumanesociety.com/
---


Our Adoptions are at the PetSmart on Davis Hwy in Pensacola, FL
every Saturday of the month.




All animals featured on the website may not be at each adoption event. Please call ahead if you are interested in a particular animal so we can make arrangements for you to meet them. Call (850) 968-3260


---
OUR FEATURED PET...
Diamond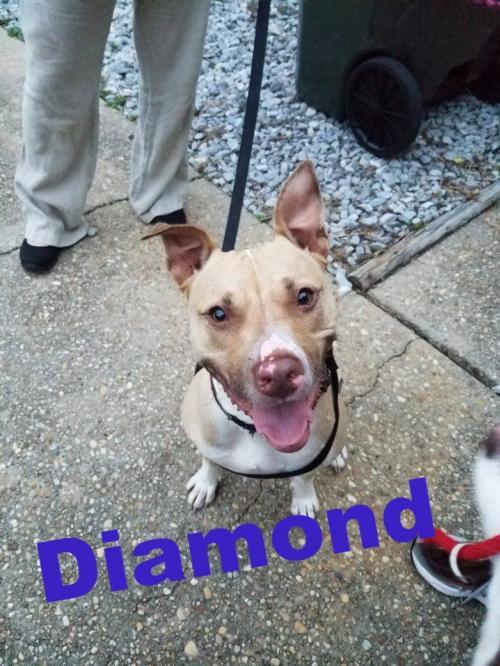 Diamond 2-3 yr old Pitbull mix. She is good with other dogs and already knows basic obedience. Diamond is a very smart, and active young gal. She will tickle you with her antics as she bounds around your heart!
If you would like to meet this sweet soul, please contact Frankie at 850-968-3260 or email at FrankieGone2Dogs@aol.com

You may also visit our website & Facebook page for many more of our adoptable dogs and cats.
JuniorHumaneSociety.com
Facebook.com/JHSpensacola


---
NEWS

We are in need of Qualified Temporary Foster Homes & Forever Homes willing to make an animal a member of their family.

Please e-mail Frankie for volunteer info.

To make donations or to donate food please call 850-968-3260

---

Who We Are & What We Do
The Junior Humane Society is a non-profit, all volunteer, animal rescue group. For the past 23 years, we have taken in owner released pets so they won't be taken to the pound/animal shelter. All animals waiting for adoption are placed in foster homes. Before placing the animal in a permanent home we provide all necessary vet care, including but not limited to shots, spaying and neutering.




---
ADOPTING A FRIEND
Visit our adoptable dogs and cats at PetsMart on Davis Hwy on the First and Third Saturday of each month and at PetCo on Airport the Second and Fourth Saturdays of the month. You can contact us or Petsmart for our schedule. Cats are available at petsmart throughout the week.

We do not have a shelter. We are able to save animals due to the kindness of others' opening their homes for fostering. YOU MUST CONTACT FRANKIE AT 850-968-3260 FOR AN APPOINTMENT IF YOU CANNOT MAKE ONE OF OUR ADOPTION DAYS AT PETSMART.
Our adoption fee pays for the spay/neuter, vaccinations and any other medical treatments needed.


---
WHAT IS PETLAND, AND WHY NOT SHOP THERE?

Petland is a large pet store franchise whose reason for being is to make a profit by selling as many companion animals as possible. While in recent years many other pet stores have moved toward selling supplies only--inviting non-profit rescue groups into their stores to adopt out homeless animals--Petland sells intentionally bred puppies, kittens, rabbits, birds, chinchillas, ferrets, and many other animals, with flagrant disregard for the tremendous animal suffering that this causes.

Here are a few links to show how these animals suffer:
10 Reasons Not to Buy Pet Store Puppies
Puppy Mills and Backyard Breeders
US Humane Society Investigates Petland.

Jr. Humane Society
C/O F. Van Horn
Cantonment, FL 32533
Phone: 850-968-3260
Email Frankie Here.

---
Click here to see our adoptable pets!