Siberian HUSKY HAVEN of L.A.
---
Our Featured Pet...

A GLIMPSE OF Husky LIfe at the HAVEN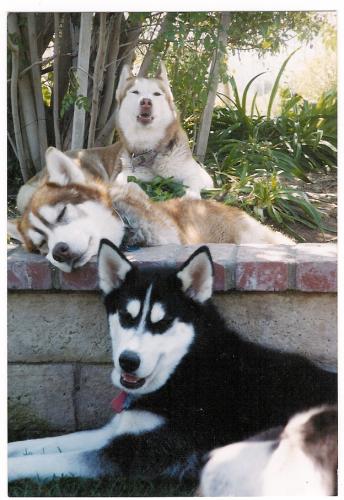 News
NOW CELEBRATING OUR FIFTH YR ANNIVERSARY AT THE NEW KENNEL.....Its been a long hard year getting the kennel set up properly and to our liking and things are starting to fall into place nicely-even though we have alot of work for the future. We have now added 3 lrg grass yards and even though were experiencing high temps the kennels themselves are staying at 82 degrees due to.a mister system. We are a fully licensed, insured kennel with an A Rating!!!!! .....PLease come out and visit us-The kennel is located in Palmdale-just north of the AV Mall. If you are looking for boarding, training or day care-KEEP us in mind! We offer reasonable rates, 24-hr live in supervision by a Red Cross Pet 1st Aid instructor and certified obedience/training instructor. To learn more about our facility, pls view : Huskyhavenofla.org WOULD YOU LIKE TO LEARN MORE ABOUT THIS BREED FIRST HAND? Consider visiting our kennel to interact with the huskies by walking, grooming, exercising with the dogs.
Who We Are
---------NOW CELEBRATING 35 YEARS OF SIBERIAN OWNERSHIP------- ONCE upon a time.....long ago in 1982 we lost our husky and thus began the shelter search. We never found her BUT I do believe FATE sent us to SAVE a red and white female-almost identical to our missing husky when she only had 30 minutes to live! That husky-LIBERTY-lived to 20 and 1/2 years-almost double the normal life span of 12. She was quite a learning experience and thus began our rescue years. All these years later, we have met hundreds and become quite educated in the behavior and needs of this breed. We strive to find lifelong adopters who are prepared and willing for the challenge of a Siberian. And in the long run......the challenge is worth it! We concentrate on those siberians impounded in kill shelters and saving them before their time is up. We rarely accept an owner surrender but instead hope to help them ovecome their problems in order to keep their siberian. Being a certified obedience instructor/problem solver, please feel free to contact us if you are having problems. This advice is always cost free. PLease visit our website at: www.huskyhavenofla.org for more info on our organization.
Adopting a friend
After you have carefully contemplated dog ownership and you would like to learn more about life with a siberian husky , please contact us by email and or phone. We would like to learn about you and your family and discuss how a siberian will fit into your lives. We use an adoption application, contract and perform a house check. We require an adoption fee between $150-$225 for adult dogs. When you adopt, we have already taken care of necessary vaccines, spayed/neutered the dog, micro chipped and usually have the dogs freshly groomed. We offer you advice and problem solving techniques to help you with the transition of siberian ownership.
Come Visit Us!
We are located in beautiful Santa Clarita Valley, just north of the San Fernando Valley. We are available 7 days a week for individual appointments. Our official kennel is located in Palmdale right next to the Antelope Vly Fwy and just north of the AV Mall.
---
You can find us on the web at www.huskyhavenofla.org


Husky Haven of LA

Valencia, CA 91355
Phone: .Kennel 661 266 9779

Email: HUSKYHAVENof LA@hotmail.com
On FACEBOOK at: Husky Haven of Los Angeles For monetary donations: We have a convenient PAYPAL button on our website or on our facebook page.. THANK YOU!!! Click here for a list of pets at this shelter

---

[Home] [Information] [Shelters] [Search]