Humane Society of Cobb County
SAVE A LIFE
Adopt Spay Neuter
---
Our Featured Pets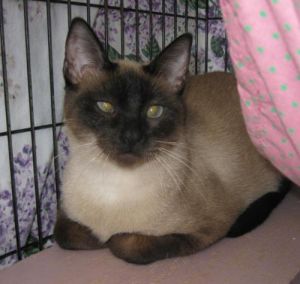 Honor is a female seal point Siamese, born May 25, 2010. She has been at the shelter since 5/26/12. She is a very sweet cat who came in with 3 kittens who have all been adopted.
Honor is up-to-date with routine shots, microchipped, house trained and spayed/neutered.
Visit her on Our Adoptable Pet List!!
Upcoming Events
HSCC's new website is LIVE! Go to http://www.humanecobb.com to check it out! We are now able to accept donations online, so your donations can make a difference more quickly in the lives of Cobb County's homeless animals!
Watch for us on Good Day Extra (Fox 5) every Monday morning at 9:45, with our pet of the week.
Who We Are
The Humane Society of Cobb County is a charitable, humane animal welfare organization founded in 1957. With the assistance of dedicated, caring volunteers and generous supporters, our programs continue to make a positive difference in the lives of innocent animals in need.
The mission of the Humane Society of Cobb County is to promote humane welfare and responsible animal guardianship through educational community outreach, shelter, and spay/neuter programs.
Below are just a few of the programs offered by the Humane Society of Cobb County. These programs are designed to help alleviate the suffering endured by helpless and homeless animals.
Home to Home & HSCC Placements & adoptions
Homes for All spay/neuter information & education
Pet Crisis Counseling
Home Forever assistance for "Meals on Wheels" recipients
Preventing Abuse Together
Comfort Sessions pet assisted therapy
Save a Pet animal aid & protection
Neighbor to Neighbor lost & found service
For more information about volunteering or making a donation, please visit our website: Humane Society of Cobb County
Low Cost Spay/Neuter Certificates
One of the many services we provide to the community is the Low Cost Spay/Neuter Certificates, which are available to those who need financial assistance. Of course all of the pets adopted from the Humane Society of Cobb County are already spayed/neutered, but if you have an animal who is not altered, please consider spaying/neutering your pet to prevent unwanted litters.
Cats are $45/$55, Dogs are $55/$75. Do not send us the money, you will pay the veterinary that provides the services. Please see our website www.humanecobb.org for the vet list. Ask the vet at the time you set the appointment, what other charges you should expect to incur over and above the surgery fee.
To obtain a certificate, mail us a self addressed, stamped envelope, with a brief description of your pet to:
HSCC
148 Fairground St. SE
Marietta, GA 30060
If you want to stop by our office to pick one up, they are located outside of the front door to the left for you to pick up at your convenience.
Adopting a friend
We thoroughly screen any potential adopter to make sure our animals are going into a safe, life-long home.
DOGS: Our adoption fee is $200 for dogs. All of our dogs or puppies will be altered before they can be adopted. They will have as many vaccines as we can give them for the time they have spent here. If the dog is over six months old it will have been heart worm tested negative and be on preventative. All of our pets are micro chipped and will have flea preventative on them. New adoptive dog owners will also need a home check before they can take their new dog home. Click here to see our Dogs!
CATS: Our adoption fee for cats is $125. All of our cats and kittens will be altered before they are adopted. They will have as many vaccines as we can give them for the time they have spent here. They are all tested negative for Feline Leukemia and FIV. They will have been micro chipped and be on flea preventative. No kittens are available for adoption before 12 weeks of age. The Humane Society of Cobb County always spays and neuters kittens before adoption, and that is the earliest recommended age for the procedure. Click here to see our Cats!
BIRDS: Our adoption fees vary for birds. Call for availability. Click here to see our Birds!
SMALL AND FURRY: Guinea Pigs, Rabbits and Hamsters are occasionally available for an adoption fee.
Come Visit Us!
As we are a very small shelter, please call us before visiting to see if we have what you are looking for.
Directions are 75 North to the GA-120 W exit, exit number 263 toward Marietta/Southern Tech. Merge onto South Marietta Pkwy SE/GA-120 Loop E. Turn right at the Civic Center onto Fairground Street. Our building is on the left across from Armstong Street. If you get to Roswell Street, then you have missed us.
Hours

| | |
| --- | --- |
| Monday | 12 noon till 5 P.M. |
| Tuesday | 12 noon till 5 P.M. |
| Wednesday | 12 noon till 5 P.M. |
| Thursday | 12 noon till 5 P.M. |
| Friday | 12 noon till 5 P.M. |
| Saturday | 12 noon till 5 P.M. |
| Sunday | CLOSED |
While we are open Monday through Saturday from 12 noon to 5pm, appointments are preferred for adoptions and turn-ins so that we can provide you with better service.
---
Humane Society of Cobb County
148 Fairground Street, SE
Marietta, GA 30060
Phone: 770-428-9882

Website: Humane Society of Cobb County
Email: humanecobb@aol.com
Click here for a list of pets at this shelter

---

[Home] [Information] [Shelters] [Search]