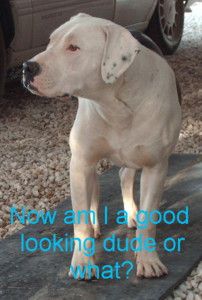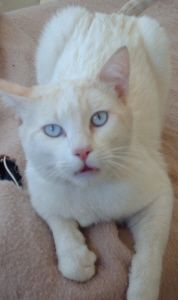 Helping Paws
E mail only: xhelpingpawsx@aol.com
---
Who We Are And What We Do
Helping Paws was established in 2004. We have rescued and adopted out over 4000 pets so far into loving homes. Many of these animals would not have stood a chance in our animal shelters because when we rescued them they were so deathly afraid of people, which would have deemed them unadoptable. Somewhere along in their lives, someone had been very unkind to them. We feel that to capture them and put them to sleep because they are so afraid is just not acceptable. We don't give up on any dog in need. In most cases they come around within a few days although some may take a few weeks, but how ever long it takes, we will convince them that we are their friends.
We have done just that with many dogs that now trust us and love us and they are happy dogs, however we now need some foster homes for some of these dogs because they trust only us and are still scared to death of other people. We need some very kind people that will show them that there are many more people out there that would love them and be kind to them too. Until they are comfortable with other people, they can not be adopted. Because of this some have been here for a long time and although they are happy here, if they could go to loving home and have a person that loves them and does not have to share with many other dogs, their lives would be better. We just have to show them that! If you would like to help to change a dogs life, please let us know. There are many to pick from and if 1 of those dogs becomes adoptable it will free up some space with us to save another life, so by fostering 1 you will be saving many. None of these dogs are mean. Just scared. You can work with them for as long or as short of time as you like. The more kind people they meet, the better. Even a week can change a life in some cases.
We are a no kill pet rescue and adoption group. Pets that are too timid to be adopted are worked with until they are adoptable or they will stay with us where they feel secure for the rest of their lives. Helping Paws is located in Lucerne Valley, Ca (The high desert) but does not have an open to the public facility yet. Many pets are in foster care. However more foster care homes are always needed. If you are interested in one of the cuddly k-9's or frisky felines please feel free to call (760)694-7187 or 694-7192 any time and set up a visiting appointment or visit us at one of the adoption events (See below).
Our Mission
1. Is to make a profound difference in the quality of life for the countless animals that are living lives full of neglect, abuse, fear and pain by saving as many animals as we can, one at a time and working together with other people who are also doing what they can to help animals.
2. To greatly reduce the abandonment of innocent animals in the High Desert by providing a place where adoptable animals can be taken and held till adopted without the fear of being put to sleep. This includes animals that would be otherwise deemed unadoptable just because they are so afraid of MANKIND who has not been kind to MAN'S BEST FRIEND.
3. To aid in the goal to reduce the number of animals put to sleep every year simply because there are not enough homes for them all by encouraging people to spay or neuter their pets and adopt a homeless pet rather than breed more while so many die.
News Flash of Flash Flood
We had a very bad flash flood out here in the desert this week. I knew they happened sometimes but I had never been in 1 before. It was something I will never forget. Our property was a lake in just a matter of seconds. We were able to get all the little dogs and puppies and cats moved to safety which was not easy with 4 inches of water even inside the house. We had 60 mile an hour winds and hail bigger than I have ever seen before. It rained for about 2 hours. Our dirt roads were rivers. It almost never rains out here so that was the last thing we expected to happen. Part of our wood fence blew down and we still have 1 dog missing. We looked on foot and by car as soon as we could get the truck unstuck from the mud. We looked for him until 2 AM and again in the morning. The dog missing is a smaller black and white Lab named Mellow. He is mostly black but has some white on his chest and neck and a white arrow head on his head. He is about 2 years old. Please let us know if you have seen him. I think he would come home if he could so I hope someone has him safe and will return him. He was lost in Lucerne Valley and was last seen running toward Fairlane Road between Highway 247 and Highway 18 on 8/26/10.******Mellow came home. We don't know where he was or who took care of him but someone did because he is in good shape. So thank you very much to who ever had him!*******
Right before the fence went down, when we thought the animals were all safe and the rain was getting lighter, while I was checking on the dogs I saw some wild birds holding on to anything they could so they would not fall in the water but if was so windy that many were falling in the water so I was trying get them out and on to something higher up, when I saw Canteen, a dog rescued from the cement plant up here. She was also getting these poor little birds gently in her mouth out of the water and setting them down on higher ground. Who would of the thought this little Pit Bull/Shepherd mix that someone had abandon to fend for herself would want to help me save the birds. When she was recued she had one 8 week old puppy nursing off of her. We took her in to get her spay within a week of getting her but since she looked fat we had her x rayed 1st and found out she was ready to have another litter. That was something I did not even know could happen. Her pups are now 7 weeks old and she will be spay this week and is then going to her new home with someone that works at the plant. He new she was great so he has adopted the dog thought to be the daddy dog now fixed and the single pup she had with her when rescued and mom, all fixed. Her pups that are almost 8 weeks old thou will be available this week. We still have 4 other adult dogs from that pack of dogs rescued. These dogs are all very smart and will be very devoted pets once they know you are their friend. A dog that was going to be trapped and put to sleep by animal control, who is just as sweet as can be and wanted to help me save the lives of little birds during a flash flood. That's just amazing!
Why We Rescue
Today we took in 15 puppies with out moms that were only about 2-3 weeks old. The 1st litter came from the people in charge of Silverwood Lake and campground. While making their rounds they came across 11 puppies alone in a ravine in a very remote area. They asked the other people in that area if they saw the cold-hearted people that abandon them there. They were told they saw a car speed out of the area just a little while before. But no one wrote down the license plate number. Someone then gave them a laundry basket and a blanket to put the puppies in and then they called animal control who told them puppies that young would be put to sleep right away because they canít bottle feed them.
The park rangers did not want that to happen so they started calling around looking for someone to take them, someone gave them our number. We told them we thought we had a mom that would maybe take over as their mom and so we would try. We met them near the freeway and after seeing the cute little pups we thought who could be so cold as to do that. If they had not have been found they would have either been eaten by coyotes or they would have frozen to death that night. The person who left them had to have known that and they did not want them to be found or they would not have left them in such a remote area that afternoon.
We went to Petsmart and got puppy formula and a bottle right away and began feeding the hungry little pups while on the way to rescue a mom dog and pups abandon months ago in a riverbed wash area behind some newer track homes near a fire road. We were returning after going there the night before. We found them but could not get them because of where they were located. They were in the side of the embankment to the wash area. The mom had found a safe but small spot in between a narrow ravine made from water run off which made a cave. You had to crawl into the narrow opening that made a few sharp turns and then we had to use a small shovel and a small pick to chip away the sides of the hard walls and use a hack saw so we could fit into to small little area where the 4 pups were. The night before we had left food and water in the little area with the mom and pups. When we went back the next day mom was no where to be found. We searched for her for hours before we gave up for the night. We felt so bad taking the pups but there were other dogs and coyotes in the area and we couldnít leave the pups there without their mom. We went back the 1st thing the next day and did get mom too and all are happy and warm and cozy now. Animal control was called out about them before we were but they said they could not get them because it was not safe for them to go in after the pups because it could cave in. It was no easy task but it had a happy ending! The things dog lovers will do for dogs! But they are so worth it ! The next day there was a bad storm up here with lots of heavy rain and even some snow and a wind chill that would freeze anything. The rain run off from the hills all around there would have drained into that little cave. The puppies would have died that night with mom trying to save them. We didn't know what was going to happen with the weather then because we didn't have time to watch the news the day before Thanksgiving. But their rescue made this the best thanksgiving ever!
On the same day we heard about a mom dog that was abandon and was so thin that she froze to death during the night but her puppies survived because she wrapped herself around them to keep them warm. The puppies were fat by momís poor little body was drained of all body mass and she was nothing but skin and bones.
All the time, pain and suffering of all these mom dogs and all their pups and the people trying to help them, did not have to happen. The moms should have been spayed. All this went on in San Bernardino County where owners of pets can get vouchers for free for $50 off the cost of the spay or neuter for dogs or $25 off for cats. Owners can get 3 at a time and if they have more pets than that they can get 3 more once the 1st ones are used. If the surgery is done at 1 of the low cost spay or neuter clinics the surgery would only cost $5 or $10 if they have a voucher for most pets. What a small price to pay that would save pets and people so much pain and suffering. Itís hard to believe there are still so many people out there that would rather drive for miles into remote areas to dump pets and spend more in gas to get there rather than make a phone call for the free voucher and drive their pet to the vet for surgery which would make their pet a much nicer pet that would be less likely to run away and less likely to have health problems that pets that have not been spayed or neutered have plus not to even mention preventing the birth of hundreds of pets that would be born just to die in the pounds simply because there arenít enough homes for them all.
For every person born there are 15 dogs born everyday. Next time you hear someone say they want to breed their pet because they have a dog that so nice or let their pet have just 1 litter because they want 1 puppy from it tell them to go to the pounds and look at all the wonderful sweet pets there. Some that are even purebreds. Most of them will be put to sleep in just 4 short days because there simple are not enough homes for them all. Inform them that for them to have the 1 puppy they want from that litter, they will also have anywhere from 6 to 12 more pups that will not be able to find a loving forever home. Ask them if they are willing to be responsible for that many other pets being put to sleep for them to have that 1 puppy. If they say they are, you should look for a better class of friends like maybe one of manís best friends! A dog! Mankind really does need to live up to their name and really be kind and the kindest thing you can do for your pet and all dogs and cats is to have them spayed or neutered.
Please feel free to call us if you are having trouble getting a voucher. We will help you get 1 if we can and if you have a litter of pups please be responsible and make it your last and donít abandon them. If you canít find good homes for them call us or one of the other pet rescues and see if we have room. If you donít wait until the last min. that they have to be gone by we will be able to help you. Contact us weeks before they are weaned. If you can email pictures of the pups when they are 5 or 6 weeks old. Then we can sometimes have a foster home or a permanent home for them lined up by the time they are 8 weeks old which is the recommended time to wean pups or kittens. But please donít just abandon them to suffer a fate worse than even death if they are put to sleep if you have to take them to the pound if no one has any more room.
If you send them to the pound at least give them a vaccine before you take them. Without it most will die from Parvo even if someone wants them. Also remember that when you wean the pups, if you donít get mom fixed right away, you will be doing the same thing again in 4 months and that can go on every 4 months. 2 months later from when they mate, the pups will be born and 2 months after that they will be weaned and it will start all over again. Thatís 3 litters a year and most litters are from 7-11 puppies so in 1 year you can be responsible for bringing 21-33 more homeless pets into this world and that is in only 1 year. Please spay or neuter your pet and donít breed while so many others die! Itís not just a animal ! Itís a life!
Below are pictures of some of the pups someone abandon and left for dead today and the reason we work 12+ hours a day! Notice the 1st one holding on for dear life!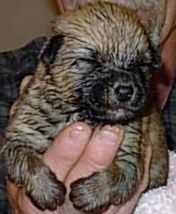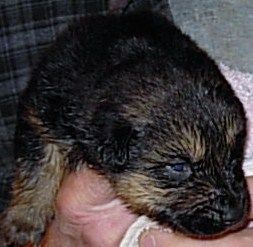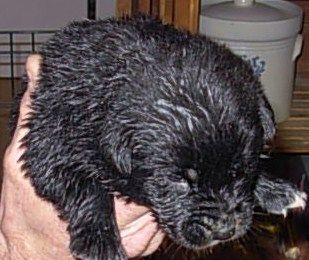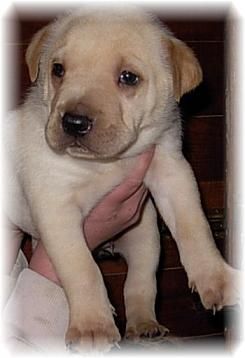 If it's not safe for you, it is not safe for your pet!
Never leave your pet behind! No matter what! Would you leave your child behind? The story of Wolfie who learned to trust again!
Wolfie was found as a little pup all alone in a ditch made from water run off at the base of a hilly rural area by someone walking there. She took the pup home to her parents home where she lived. Well months later she moved out when she found out her brother was moving back home because she new he was not a safe person to be around. She took Wolfie with her but was told she could not keep him at the the place she was staying at so she took him back to place where her brother lived. She would call and check on him sometimes and was told he was ok but she did not have a car to go there herself and see him.
One day her brother called her and asked her to come and clean the house. The Mom and Dad had moved out. She got a ride over there so she could see Wolfie. He was very thin so she got into an argument with her brother about it. She called for a ride out of there but once again she left Wolfie even after he said he was going to shoot him. But she returned with the Sheriff to get Wolfie out of there. After they got him back to the place she was staying at they could see he had been really abused and was in very bad shape so she called Sounds Of Silent Spirits Rescue to ask for help. We work under their non profit status and handle the dog and cat part of their rescue so they asked me to check out the dog and pick him up because the manager of the place where they were had already called animal control to come and get him in the morning and they did not want him to go to the pound.
It was already very late that night . I couldn't see any open wounds on him but you could tell his spirit and faith in mankind had been broken. They told me when I picked him up they thought he had been kicked in the mouth but they said he had ate and drank before I got there so I thought he was ok until morning. I took him to the vet 1st thing in the morning. They kept him there all day but could not get him stabalized enough to sedate him and look in his mouth or xray him. The next day it was decided that he was mostly likely ok to do that but there was still a risk becasue of the shape he was in but we had to find out why he was that way. After it was done they called me to tell me what he had gone through in the hands of that very bad person. As the Vet was telling me he had to stop a few times because even he was getting upset while telling me what he found and I could not believe what I was hearing! As I listened to what he said I too could not hold back the tears.
Her brother had indeed shot him. We did not see it thou because he had put the gun in his mouth and fired it but that wasn't it. It looked like he had also then stuck a screw driver or something in under his tongue to hold it out and then he poured something caustic down his throat
He stayed at the Vet for several days but then was able to come home but he still needed antibiotic shots twice and day and oral medicine too. He was already skin and bones and all he could eat is very soft canned dog food with cottage cheese and yogurt and vitamins mixed in.
He was scared of everyone and did not trust people at all! If you raised you hand to pet him he would duck like you were going to hit him. His spirit was broken totally! He was a lot worse with men but he was afraid of everyone. He stayed inside but we would take him out for short walks. The 1st time we took him out we could see that he was very happy when he saw that all the other dogs around us would run up to the fence wagging their tails and would lick our hands when we put them on chain link fence. When they did that he would look up at us and then even just for a minute, his tail would come out from being tucked between his back legs and wag. He was getting the picture that we were his friend. Once we saw how much he liked other dogs we started walking him with Shadow(named because he always at your side) because he gets along great with all other dogs but Salty Dog(named because he came from Salton Sea) also was very friendly with Wolfie. We used a retractable type leash on him so he could walk off a explore a little with the other dogs. It only took a few days for that tail to be wagging most of the time and it does all the time now.
Dogs like Wolfie are why dogs are Mans Best Friend. Dogs are smart enough to have seen many years ago that if they are friendly to humans we will let them into our lives and that's why they are such an important part of our families these days and many are house dogs that we take everywhere with us. Dogs want us as friends as much as we want them as our friends. There is no more loyal friend than a dog. Dogs want to please humans that is why once you show a dog what you wnat of him he will continue to do things that make you happy. For that reason dog training is so important. Take your dog to dog training classes and you will have a dog that is pleasure to be around. Most meet once a week for 8 weeks. Petsmart stores have them on many days and times as well as most cities have them at times too where they meet in parks once a week. If you just get a puppy and put it in the back yard with no training you will soon have large dog that is out of control and you are the person to blame for that. That is the reason many dogs end up at the dog pounds where their lives end and you are the only one to blame for that. Make sure you have the time to devote to your puppy before you get 1. If you don't you should get a older dog that has already had some training or you won't be happy and either will your pet be when it ends up at the pound. All dogs need some training and guidence just as children do. No body wants to be around an out of control either of them. Your child learns at school and dogs need the same. Once a week for 8 weeks is all it takes! But no matter what training you do, do it with kindness. Dogs naturally want to please so you can get farther with that than anything else. Dogs are smart ! But you have to show them what you want. Dogs are so worth it! And always remember your dog would risk his life to save you so don't just leave him behind in harms way if you can help it. But if you do have to, always send help right away!
A Pack Of Desert Dogs Not Forgotten
There is a small group of dogs that some very devoted people along with us have been trying to help for years. They were puppies whose mom was dumped in the desert years ago. We were in the paper rescuing their siblings years ago. There was 1 young mother dog that we just could not get. You may recall reading about her in the newspaper. She has been in there a few times. She is a white/gray, Akita/Shepherd mix. When we 1st saw her she was just a pup herself but she had puppies of her own. She has always just been to untrusting of humans for anyone to get too near to her and she is way to smart to ever get trapped in a trap. She has been seen in the area of Hook Street & Mojave street and El Evado in Victorville. She may disappear for a while, just as she has done now, but she surfaces again in the spring every year with puppies trailing behind her.
About 4 years ago there were about 8 dogs together. Most of them were surviving pups from her last litters but some looked just like the pups we rescued years and years ago. We thought we had got all of them except the white Akita we have named "Mojave." We must have missed a least 1 more because there is a very pretty female shepherd who has been named "Tess." She looks just like the pups we rescued that have grown up. Tess has been trapped and spayed and vaccinated in the past years but she managed to escape her kennel very shortly after that was done and within 1 day she had traveled for miles and miles and was back at Dog Town with her friends. Dog town is an area in the desert where a very nice man has built some dog houses for these stray dogs and puppies so they can have some shelter from the severe cold we get up here in the winter. This very nice man along with us and some other concerned people make sure that these dogs have food and water every day. Currently there are just 2 dogs still living there. We are not sure what happened to the others. The moms enlarge rabbit holes in the ground to have the pups in. The mom leaves the pups in these dens to go hunt for food. We were told that someone had buried the puppies alive in their den when the mom was gone hunting for food. Well when it was discovered, the person who found them was unburying the pups that were crying when the mom "Mojave" returned which made her not trust mankind even more. She thought he had buried them instead he was trying to help them.
Over the years we have got reports of other litters being buried alive or hit by cars or kids throwing large rocks at the pups. No wonder "Mojave" is the way she is! We have not seen her for months now and are worried that she might be dead. We pray for her safety and hope she resurfaces again someday. If anyone sees a dog that fits her description please contact us so that we can let her group of followers know where she is.
She has not been spay so she may have pups again. From what we see now, this sad cycle of litters being born and killed is finally coming to a close for these dogs at least. All these years of sadness just because 1 heartless person abandon a dog in the desert. instead of contacting a group like us to help place her in a new loving home after she was spayed. Now the only surviving female that we know of is "Tess" and she has been spayed. She is with 1 male surviving pup of "Mojave's" we think. We have named him "Survivor." He is about 3 + years old now. He walks with a limp from on old injury to his hind leg. Although it seems impossible to catch " Mojave", if the pups are caught young enough, they become very sweet and devoted loving pets. We know because we have 2 of them and the others that have been adopted out are the same way.
***News flash*** we have just rescued a mom dog and pups we believe is 1 of Mojave's daughters and her 5 pups that are 2 weeks old.. We haven't seen Mojave for about a year or more now and Mojave was just too untrusting to ever let any person close enough to her to catch her and the dog looks a little like her and was tough to catch too. She also is smart just like Mojave always was. This dog knew all the tricks that Mojave knew to keep from getting caught but she was a little more friendly than Mojave ever was. Maybe this is because she was just so thin and so hungry and cared too much for her new pups so she let her guard down and we were able to catch her with the help of a lot of caring people..
The day after we got them home we let Rain, 1 of the 2 Mojave grandsons that we have run in the large yard in front of the 5 kennels which we put the new mom, who we have named Mojave also, and her pups in one of the kennels . He ran straight over to her kennel wagging his tail and sat down in front of it. What surprised us even more was that the new dog (Mojave) that had not shown any interest in any of our other dogs and in fact had retreated into the dog house the min. we put her in the kennel and had not come out since, came right out wagging her tail and went right up to Rain, the grandson from the oringinal Mojave. These 2 dogs acted like they were old friends. She has not been friendly to any of the other dogs she has been around since coming to our place. However, 1 year later, she now is great friends with all the dogs she has been in a yard with.
We have now adopted out all of her pups but we got 1 back because he kept getting out and the owners were afraid he would get hit by a car because they live very near Apple Valley Road. His name is Dusty. He was the only male pup in her litter and he was the most timid. He still does not trust people that he does not know although his mom Mojave has gotten very friendly with everyone. He looks and acts very much like his grandmother. I feel that for some dogs, even when they get a lot of attention from people at an early age, they still remain very much untrusting of humans. It's just something in their breeding.
This is a picture of Dusty, Rain and Mojave. They don't look like they would be related but we are sure they are. Rain looks totally different but we know he is a grandson of the 1st Mojave. These dogs have so many things about them that are a like in the way they act and they all came from the same desert area. Dusty looks like his Grandmother and Rain and Mojave look a little a like. By the way, Rain was the only puppy in his litter that looked like that. The other pups looked like Mom and Dad.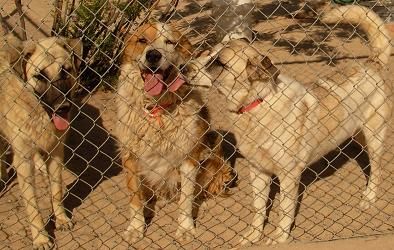 What Helping Paws Believes
Below are a few more stories of rescued pets. You can read about more of our rescued pets if you click on our Happy Tails above. Happy Tails are pets that have been rescued and then adopted out after we had undone the damage that so called "mankind" had done to them. It's just amazing to see these dogs trusting people again! It just takes time. Sometimes a lot of time just sitting on the ground in their kennels with pieces of hot dogs everyday and never raising our voices to them. We always talk to them and praise and reward them for everything they do. However small of step it is in the right direction. They are the reason that we just won't give up. No matter how heart breaking it is sometimes. Dogs deserve so much more from mankind than people give them. After all, they are "Mans Best Friend!"
A Rescue Story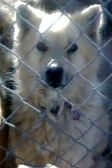 Tasha is a 1 1/2 year old American Eskimo, Female/Spayed. She is a very special dog although her story isn't all that different than many other dogs who have found themselves alone and afraid in a world they don't understand and deathly afraid of "Mankind" who has not been very kind at all in some point of their life!
Tasha belonged to someone, at one time in her young life, that cared enough about her to put a collar with a tag on it because she was wearing one. It looked like it was a harness that had become too tight as she grew and she had chewed parts of it off. From the part that remained, there was a hook that at some point held a dog tag on but the tag was now missing. This dog was very afraid but you could see the kindness in her eyes. She wanted to trust people but she was just too scared. She must have somehow became separated from her owner and found herself lost and alone and afraid. For about 1 year she made her home a vacant field in the desert along a drainage ditch in between houses on a fairly busy street in Victorville. One of the neighbors, 2 older women would sometimes throw her some food. Most people new she was there but just ignored her or chased her away. Animal control was called out many times but they could not catch her and eventually they gave up and ignored her too.
There was 1 nice family that spotted her one-day on the way to church. They bred purebred dogs and didn't really want her but wanted to help her. So for about a year they would bring her food and water and even worry about her when they went on vacation or when the weather was bad. They did what they could and it was way more than anyone else would do. The whole family was involved. Even the Dad would stop by on his way to and from work to drop off food and water over the year. The teenage daughter was able to get the closest to her almost being able to touch her but not quite. The family came up to our booth at the Farmers Fair at Victor Valley College one Thursday morning and told us her story and asked if there was anything we could do. Of course we said we would try. She was a dog in need and we had to try to help her! We exchanged phone numbers and arranged to meet with them that evening near the field just before dark.
As soon as we saw her we knew she was very afraid of people. Her coat was matted very badly and she kept her distance from us, but she was interested in us. Thinking we would have to come back with a trap to catch her, we were just about to leave when the kind 2 older lady neighbors returned home. They were just returning from chemotherapy for one of them. When they opened their gate to pull their car in, she was standing near the corner of their property. Neither of the women spoke English very well but we could see that she came closer to them than to anyone else so we talked to them, even though we don't speak Spanish either. They said the dog had developed a friendship with their dog over the year. We asked them if we could try to get her into their yard so we could try to catch her with out the fear of her running into the busy street. They said OK. We moved around her and she ran right in to the yard. We quickly closed the gate.
It took us about a half hour and a few bags of dog treats to be able to get close enough to her to slip a leash around her and lift her into our car. It took about a week for her to run up to the gate when she sees us and wag her tail. It only took another week for her to come up to us and give us her paw to shake hands when we sat on the ground in her pen. We did not teach her this. She just did it, which is another reason we think someone had loved and cared for her in the past and had taught her how to shake hands. This dog now is so happy to see us she actually runs in circles wagging her tail and just can't wait for us to go in her pen.
This dog came a long way with just a little bit of kindness.
You Have Come A Long Way Baby
The 395 Poodle is now called Angel Spirit and the name fits her well. This is her story and boy has she turned into a great little dog. She now acts like a young and very happy dog and boy does she have it made in her new home! This is 1 lucky dog!

I saw this little sweetheart 1 night late at night on rural Highway 395 just outside of town. No street lights out there. I just saw this little white something walking back and forth in the middle of the road with simi trucks flying by and cars too. They were honking their horns at her and trying not to hit her. I went from 65 miles an hour to stop just like that. I pulled to side of the road turned my flashers on and jumped out and ran after her. I was lucky and no cars were coming however with no street lights or head lights I just couldn't find her but then I saw her. The way she was walking I thought she had to be blind or was in shock. I ran up to her and picked her up and got off the road just in time because she was walking back into the traffic. I didn't even realize how far I had gone away from my car that was now on the other side of the Highway and there was a steady stream of cars going by. Then I realized my car was still running, keys in it along with my purse and cell phone etc and I'm out in the middle of nowhere late at night walking along the highway with a little dog that was full of stickers and needles from cactus plants she must have walked into and now they were sticking in me too. For a min. I thought I must be out of my mind but then all of a sudden I thought nope. I wouldn't have done it any other way. Then there was a break in traffic and I ran across to my car. When I got to where I was going to meet someone that was transporting 2 little chihuahuas to us from up north, I was able to look at her and get her some chicken from the burger place there. She was so hungry and thirsty and scared. She was shaking like crazy from both fear and being cold. I have no idea what she was doing out there alone and she was out there for awhile I think from the way she ate and drank. There are lots and lots of coyotes out there plus the simi trucks and she can only see a little bit but not much. She is an old dog and doesn't have to many teeth left at all but her rescue was 1 I will never forget. Now we have had her groomed and all the stickers are out of her and she has been checked out by the vet. Now the real hard part of finding someone loving and caring enough to take in an older dog and give her the type of life she so deserves. What is shocking is that she wasn't afraid of the traffic or being alone where she could have been a meal for a coyote but she is scared to death when people pick her up that she does not know. Someone has been very mean to this little girl for her to be that scared. She is so happy and content curled up in front of a warm fire place with a full belly. She is such a love. Below is her picture with her new Mom. She was adopted on her 2nd trip to Petsmart and we couldn't have asked for a better home for her

The 1st picture is how she looked the next day after a fast groom job which made her feel so much better but take a look at her now in the second picture with her owner for the past 3 years.

!

We are sorry to say Angel Spirit, the 395 Poodle past away on 9/7/2011. Her little heart just could not go on any longer. Her past 3 years with Alice Parks,we are sure were the best years of her life. She is gone but will never be forgotten. Thank you Alice for giving her the wonderful life she so deserved!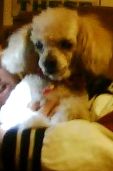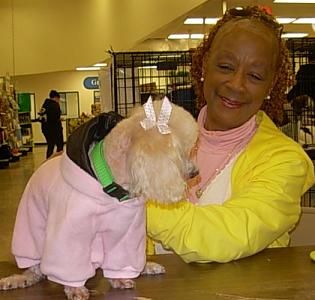 Miracle and her Rescue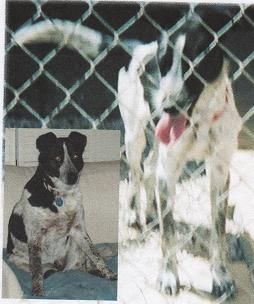 Before and after pictures of Miracle.

The larger picture is how she looked when she was pulled from a shelter about 4 years ago.

She just broke our heart when we 1st saw her. She was so sad. She had given up on life. There she sat. Her poor little starved body that was just skin and bones. We talked to her and she came over to us and when we put our fingers up to the cage she licked them and looked up with those eyes that said, "Please save me!" When we went to the office to ask about her we were told she was a livestock killer and a containment problem and could not be adopted. She was to be put to sleep. Her owners had turned her in and told them that. Now this is a small dog that only weighed 24 lbs. What kind of livestock could this weak little girl take down? If she did, she did so because she was starving to death but we did not believe she was a livestock killer. Also if she was a containment problem she most likely found a way out to look for food because it was obvious she wasn't getting any from her owner. Her owner should have been arrested for having a dog in that condition. Obviously they starved and abused her and anyone who could do that most likely would lie too! We were crushed by the news but we kept trying to spring her from the shelter.

We were surprised every time we went there and she was still there. We pulled a kennel mate of hers and when we got her back to our place we soon realized they must have labeled the wrong dog as the livestock killer and containment problem because it was the little chow/border collie mix puppy that we got out that did all that but it was nothing we couldn't stop which we did and soon placed her in a home with a secure fence and no livestock. Her life didn't have to end either! Imagine that! We had all but given up hope on little Miracle. She was still alive but we had tried everything to get her out with no luck. Then one day a friend that we knew who knew about how sad we were because we were having no luck saving her just showed up at our place with Miracle. Some how a miracle had happened. He had gone in to the shelter right at closing time and told the man at the counter he wanted to adopt her. The man gave him the paperwork and said she was already spay which she was not and took his money and gave him the dog. The poor little dog, scared to death was handed over to him and he brought her straight to us.

It was one of the happiest days of our lives and certainly one of the rescues we will never forget. Miracle still lives with us and always will and by the way, she has never tried to get out of any pen or yard we have put her in and she is scared to death of any livestock! Imagin that! This little dog has from day 1 been 1 of the best dogs we have ever been around.
How we feel about Impound Animal Shelters and Animal Control
In telling some of these animal stories, we were not trying to imply that animal control should be blamed for what has happened to these dogs. They are not the ones that abandoned the dogs and they are not the ones that turned in the dogs and doomed the dogs in the 1st place. Most animal control workers really do what they can to save the animals. They try to get Rescues to take in animals that they feel are just to nice to be put down simply because there are not enough homes for them all. Everyone involved in this line of work does whatever they can for the animals. But animal control workers and rescue groups alike are all over worked and there just is no where to put all the homeless animals that roll in. Until people decide to be responsible for their pets and have them all spay or neutered so the number of pets born everyday are reduced a great deal, animal control will continue to be over worked and be flooded the pets that have no where to go.
People make mistakes. No body is perfect. Dogs are one of the most forgiving creatures on this earth and they are the most loyal. The kindest thing people kind do for animals is to have their pets spay or neutered. There are many ways people can get help if they can't afford the cost to have it done. San Bernardino county has a program where you can get vouchers for $50 off the spay and neuter for dogs and $25 off for cats. Many Vets have low cost spay and neuter days. If money is an issue shop around for the cheapest price. You will find prices vary a lot even on different days of the week. Animals should be spay or neutered before they are 6 months old. 4 months old is a good age to do it. If you wait until after that, you may end up with a litter and that will bring 5-10 or more pets into a world that already doesn't have enough homes for them all.
The fact is that for every person born, there are 15 dogs born and only 1 out of every 10 dogs born ever finds a permanent home and 1 out of 12 cats born ever finds a permanent home. Pet population is everybody's problem! Don't blame animal control for doing what they have no choice to do! We as a rescue have the option to take in a pet or not. The impound shelters do not have that option. They have to take them in and if they have to make room, they do what they have to do. When ever any rescues have room, we go to the pounds and pull pets who's time has just simply ran out but we still get very sad about the one's we have to leave behind. Reducing the number of pets that end up in the pounds is the only answer. Please do what you can to make this happen. Have your pets spay or neutered and be sure your pets can not get out of your fenced yard so they won't be picked up as strays. If you have to place your pet in another home, don't wait until the last minute to do it. Start checking with rescue groups well a head of time. Most will take in a pet if you will foster care the pet until a home is found.
Here is a list of some other places that may be able to help you with the cost if you can't afford the cost of your pets spay or neuter: Actors & Others for Animals (818)755-6045 They really try to help in getting Pit Bulls spay or neutered. There are more Pits in the pounds than any other breed and they are the least likely to be adopted! Amanda Foundation (310)278-2935, Cat Crossing (818)759-6554, Cat and Dog Rescue Association (323)525-1471, Pet Assistance (877)772-9738, Mercy Crusade (818)597-2926, C.A.R.E. (818)999-4022.
Buddy and Belle Adopted Together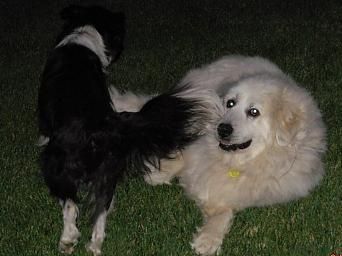 Buddy and Belle are the 2 dogs I found walking down a busy main street the night after Christmas. We wanted them to go to a home together and the right home was found and they were adopted together at the Pet Expo!
Why we Micro-chip / Scooby-Rescued Again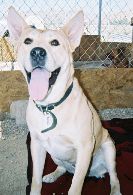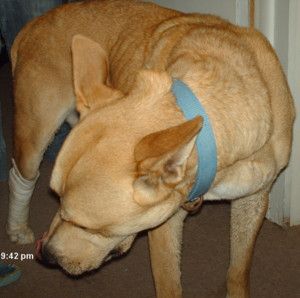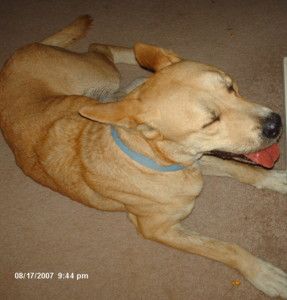 This is his story: We 1st met Scooby on July 4th, 2004 when he ran across a busy Highway 18 in Apple Valley. Over the next few days we did the usual. We ran a found dog ad in the newspaper and hung up found dog signs with his picture on it all over the place. We thought someone would call about him because he had a collar on and was well cared for. No one called so we ran the ad again and we also took him to the Vet to see if he was micro-chipped. He wasnít so we had him chipped and vaccinated. The Vet said he looked like a Yellow Lab/Boxer mix and he thought he was about 2 years old. He was already neutered.
It didnít take us long to realize what a nice dog he was. He was a trained young mellow dog. So after 2 weeks he was placed up for adoption and it didnít take him long to find a home. Everybody loved him. He had a way of catching peopleís attention, usually by talking to them! Yes I said talking to them. Whenever he saw someone he would bark in a low bark in different tones and you would hear him say ďIím Scooby Doobee Doo!Ē He was a perfect dog except for his fear of fireworks. So he was adopted out and his owner was told of his fears and how to deal with them. Unfortunately he was returned a week later. Not because he did anything wrong because he didnít, but their other dog, a female, just would not accept him. She was mean to him and pushed him around so he was returned.
He was adopted again about a month latter. Once again he was part of a wonderful family. A few months latter we got a call from them because they too wanted to return him. This time it was because we had been having some thunderstorms and he was just as afraid of them as fireworks. So if no one was home when the thunder started, he would go over the fence and try to find someone to hang out with. The problem with that is that they lived on busy Apple Valley Road and they were afraid he would get hit by a car, so his very sad family returned him to us.
We got some meds for him that would calm him when we were expecting thundershowers and he was doing fine. Then one day we went to do a short errand. We came home about 20 min latter and at the same time we pulled in the phone rang and it was the microchip company who said someone had found him up the street from us. We latter found out that the ranch next door had been shooting of a gun on a horses back to get him use to it for a hunting trip. We decided the best thing to do was to send him off to foster care at a place that was out up in the hills in a conservation land area where someone is always home and fireworks and firearms are prohibited because it was a conservation area. In fact there is almost no traffic at all except for a few off roaders once in a while. It was perfect for him and he relaxed and was the perfect dog again. He stayed there for about 3 months with no problems. Then 1 day we had gone up to see him and when we were just about to the top of the hill, we heard it. A gunshot and then another. We drove as fast as we could to get to him. When we got up there. We found that he had been placed in a very large kennel that the man that took care of him put him in once in a while when no one was home. The kennel was 12 feet high and there was Scooby on the top of the kennel. Just then the man came home and climbed up to the top to get him down. We then realized this very smart dog had pushed his doghouse over to the side of the kennel and got onto it and climbed up. He had some how tore off almost all of his toe nails in the process and he was bleeding. The gunfire was from some men shooting at bottles on the next mountain. They said they didnít know anyone lived up there.
So back Scooby went to the Vet. and then he came back to our place so we could decide what to do next. He healed and the next few months were uneventful. Then someone came out and wanted to adopt him. This young man was the caretaker at the Adelanto Motorcycle racetrack and wanted a dog that looked mean but was not because he didnít want a dog that would bite people that came out for the races. He said most of the time it was so quiet out there and no one was around. He promised that during the races he would put Scooby in an air-conditioned travel trailer and be with him most of the time. Scooby really liked this guy so once again he found a home. Scooby and the young man were always together and there was never a problem. About 6 months went by and all was great. Then there was the Adelanto Grand Prix and Adelanto was packed with motorcycle riders, which didnít bother Scooby a bit. He was fine around motorcycles and he always stayed with his owner. His owner had just grabbed him to take him in the trailer with him when just as they were walking in the fireworks went off and Scooby took off. His owner looked all over but there were so many people there he couldnít find him So he called us and we along with some other volunteers searched all night. But did not find him.
The following day we put up signs but this time they were lost dog signs and continued to search taking turns for days and even weeks and wondered why the micro chip company hadnít called yet. On the second week we found his collar stuck on the bottom of a chain link fence with his bandana and microchip tag attached. This was in a very remote area with coyotes everywhere. We were worried. After a month went by with no word we thought maybe he had been killed but we didnít give up. We even went to Cal Trans, which is who picks up dogs that have been killed on the road and ask for descriptions of everything they had found in the past few months. None fit Scoobyís description. Thank God. We continued to go out and look for him every week and then every two weeks. We continued to hang up signs every so often. This went on for two years. Even after the motorcycle track was sold and Scoobyís owner moved away.
We thought maybe someone that lived far away had picked him up after the race thinking he didnít have an owner because he had lost his collar and they had taken him someplace where there are no gunshots or fireworks. Because surely he would have got out and ran and someone would have found him and checked to see if he had a microchip.
Then when we had just about given up on ever seeing him again, we got a call from Apple Valley Animal Control. They said they had picked up a tan Shepherd Mix that was micro-chipped and registered to us. For some reason they said they were not able to get any info about the dog. Just that the microchip was registered to us. They said the dog had been found in Apple Valley near where we use to live but had moved from last year. We had to go threw our records to see which dog it was. Much to our surprise, it was Scooby! We were so happy! They said he was picked up after a lady on Bear Valley Road and Deep Creek had called and said he came to her house and would not leave. They said he might have a broken leg.
We rushed right down to get him and take him to the Vet. We thought someone must have found him and brought him to Apple Valley and taken care of him. So we decided that if he were in good shape we would try to find his new owner and let them adopt him if they wanted to. As soon as we saw him we new that was not the case.
He was in terrible shape. He was very, very thin. He also had scars all over him. His injures were much worse than a broken leg. He was some what in shock and seem dazed and disoriented but once we talked to him and called him his name like we use to say it ďScooby Doobee DooĒ he perked right up and looked at us and you could see he remembered us.
After the trip straight to the vet, we found that most likely he had traveled many miles and he had an old injury as well as a new one that was most likely caused by being hit by a car. After many x-rays we found that he had an old almost healed fracture on 1 hind leg. An old fractured pelvis and many BB gun and pellets in him and a dislocated hip joint on his other rear leg that was totally popped out, and 2 micro chips. We started treatment on him with antibiotics and pain meds and lotís of rest. However he needed surgery on his hip joint that is popped out. It needed to be held in place with screws.
After all he has been through and all we had gone threw trying to find him, even though he was in bad shape, we just couldn't put him to sleep! He didnít give up and we wouldn't either. Even with all he has been through, he is still just as lovable as before. He wouldnít hurt a flea. He is not holding a grudge even though Mankind has shot at him with BB guns and Pellet guns and ran over him with a car a few times and we wonder how many people saw the starving dog that was trying to make his way home and they didnít offer him any help or compassion. They just looked the other way or some may have even thrown things at him. But Scooby kept his head up. He didnít turn mean or timid or give up on Mankind. Scooby is still what he always was, Mans best friend!
If anyone out there remembers seeing this dog in the past few years, please let us know. Some one or some people must have cared for him some of the time because with all his injuries he would not have been able to hunt rabbits or other food so he would have staved to death without help from someone. If you know anything about this dogs travels please contact us!
Also please remember this story if you ever see a stray dog out there. Not all dogs or cats are abandoned out there. Some have just become separated from their owners and if they could get a little help from a friend, they just might make it back home to the people that love and miss them. This could happen to any dog, when you least expect it so plan ahead and have your pet micro-chipped. It could save his life and be his ticket home! If Scooby's owner could not have been found, he would have been put to sleep because the pounds don't have the funds to pay for the type of surgery he needed.
***Scooby had his surgery and the results are great. He even walked in the Victorville Christmas parade and after he was better than before. He never even limped after the walk and his walking even improved. He is doing great and is very happy. He is so funny and smart. He talks to us and is so happy to be alive and to be in a forever home. He will live with us in our house for the rest of his life! He loves to have visitors and many people that have come out to see other dogs or puppies ask to see him. He always comes out wagging his tail and will even say he is Scoobee Dobee Do sometimes. People can't believe how good he looks now.***
This is Scooby now. His wounds have all healed and he is happy to be home! The 1st picture is him saying"I'm Scooby Doo Bee Doo" You would never even know he had been injured so bad and what had happened to him if you saw him now and he still loves mankind just as much as he did before! We have never heard this dog growl at anyone or anything and he has never been in a dog fight. Even aggressive dogs are not aggressive with him! Everyone and everything loves Scooby!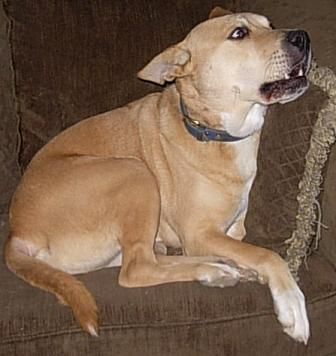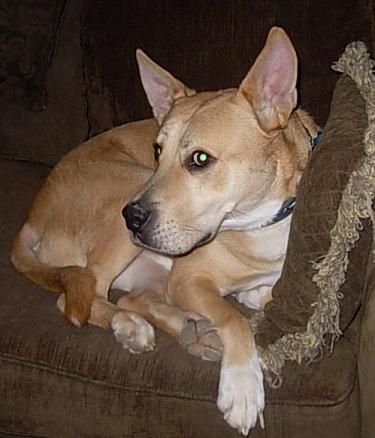 A Must Read Web Site
Here is a link to a web site page that everyone should read! You will find the facts about a breed of dogs that got a Bad Rap. This is something everyone should read. Don't judge the breed until you know the facts. http://www.badrap.org/rescue/breed.html
See Ways You Can Help Listed Below
Donations of Dog and Cat Food Needed
We really need donations of dog and cat food right now. Any kind and even open bags are fine. If you got some for your dog or cat and they won't eat it, we have a rescued dog or cat that will. Please help with this if you can. Or gift cards or money donations that can be used for pet food. We really need this now if you can help.
We also can always use Crates and pet carriers and cages for adoption events. If you have 1 that your pet has outgrown we can use it and the same goes for dog houses.
Foster Homes Needed
***Urgent***We need foster homes now! We must reduce our number of rescued pets at our place now. We have always tried to help as many as we can but now we will have to turn many away unless we have a foster home for them or if the owner is willing to foster them until they are placed. For that reason please don't wait until the last min. if you need to place your pet. With so many people losing their homes these days , there are so pets at risk of losing their lives with out our help. If you have the time and place and will open up your home for a short time, you can help save a life. We supply everything you will need. You just care for them until we can find someone for them to love and a place to call home. We have many and you can pick which one you want to care for. Foster homes in most cases are needed for adult dogs and cats. We only need them for puppies and kittens in rare cases because they are placed fast and we get many calls on them so we need to have them near us to show them to people. Please spay or neuter your pets and don't abandon them in rural areas thinking they will be OK. They won't. They are usual in a bad way when we find them and so scared that it takes days or weeks to even catch them. We were told of 1 dog that ran after his owner when dropped off for so far his pads where worn off of his feet! Put yourself in their paws! I'm sure there are many more out there that we don't even know about. We would never turn our backs on an animal in need but we sure could use a hand with some of the dogs. Many are in kennels at other locations but we still go there every day to feed and clean and give them some much-needed attention. The driving time alone adds hours to our days. Many people are willing to let us use some of their land for dog kennels but they don't want to care for the dogs, which is fine also. It still helps save lives but we sure could use some foster homes for some of these dogs where you would welcome the dogs into your home or yard for a short time and care for them and show them what a family is really like. It gets them out of the kennels and they become new dogs and also gives us a big break in what has to be done every day. We will provide the food and supplies for the dogs but if you could find the time to care for them and feed them it would be such a big help at this time! So if you have some free time on your hands and want to be kind to man's best friend please call. Thanks so much. Even a few days is a big help and a real treat for the dogs.
/
Volunteer programs!
We have several other volunteer programs all in which need volunteers. See below for a brief description and requirements. If interested call us or e-mail us.
Web Page Help
Mentoring
Our mentoring program may be our best yet. This program is designed for our adoptable pets who just need a little extra time and love with a human to make them more adoptable and for the kids who are just dying for a pet but don't know what it takes. This is a time costing program, your pet that you mentor will be kept at your house and you will care for it like it is your own however we will supply the food. You also will be required to transport the pet to adoption events and pick them up if not adopted. Requirements are that you have reliable transportation and can spend at least 7 hours a week.
Follow ups
We sure could use someone who likes to talk on the telephone to do follow-ups on the animals that have been adopted. You can do this from home at your own convenience. Do as many a day as you feel like. You would need to write down what you find out and give us the reports at least once a week or sooner if you think the animal needs help now! We would provide you with log sheets to fill in and questions to ask.
Helping Paws in Public
We are at Pets Mart in Victorville down the street from the Mall of Victorville every Friday and Saturday from 4:00 PM until 8:00PM with some of our adoptables. Plus you can adopt one of our cats or kittens that stay at Pets Mart by just asking for the manager. They do have certain hours that they do adoptions so please check with the store. Just ask for the manager to be paged to the adoption center and they can show you the cat and give you our paperwork to fill out if you wish to adopt the cat or kitten. You can also always see lots of cats there up for adoption from other rescue groups and shelters in the high desert too. If you want to adopt any of our pets at another time just give us a call and we can meet you at Pets Mart with the pet or pets you are interested in. Just let us know when you want to meet. We are available for adoptions every day.
Adoption fees
Our cat adoption fees range from $25- $55 with most being $45. and this includes the spay/neuter, current vaccines, deworming.
Our dog adoption fees range from $60-$150. Most are $85. however some may be a little more. The fee includes the spay/neuter, current vaccines, deworming, microchip and chip reg., a collar and leash.
Our adoption fees vary due to Vet Services needed for some.
All of our animals our tested in various situations and we promise to let you know the truth about each animal. We want you and the animal to be happy with each other, that's why we have a pre adoption screening.
Any animal adopted from us can be returned to us at anytime in it's lifetime if you can no longer care for him or her or no longer want them but please don't adopt a pet with the plan to return it. It's very hard on the pet when they lose their family. Pets love their owners forever. However we do realize that things happen sometimes in your life and if there is no way you can keep your pet you can return it to us so we can find it a new home. Please don't wait until the last minute if you need to return a pet. We may not have room right away and you may have to give us a little bit of time before we could take the pet in. It's always better for the pet if he can stay in his current home until readopted instead of going back to the shelter. In that case you would just bring the pet to Petsmart on the days we are there and drop him off. If readopted he would go to his new home from there but if he is not adopted, you would have to pick him up when we leave there usually about 4 hours later. Please call us before you do this to find out a drop off time. If you have to return the pet in an emergency we will do our best at making room for him.
If you don't find what you are looking for here, please visit the other rescue groups and animal controls. They all have lots of highly adoptable pets that are looking for love and a place to call home. If you do find a pet you like at one of the animal control shelters, donít waste any time getting them out because tomorrow may be too late. Most hold animals just 3 or 4 days.
If you have lost a pet
If you have lost a pet be sure to check at the Dog Days Inn on Bear Valley Road just past Apple Valley Road. This is the new holding kennel for animals picked up in some of the areas up here. After being held there for a short time they go down the hill to the shelter in Devore for a very short time in most cases before they are PTS so please don't waste any time in looking there for your pet. Many people just think the pet will come home so they wait before checking the shelters and by the time they do it's already to late and they are gone. You should start checking the very next day after your pet is gone and check at least every other day for your pet. You can go online and see many of the pets picked up but I would still go in person for the 1st few weeks after that I would still check every few days online. There is always the chance that someone has found your dog and is watching the newspaper for a lost dog ad and when they can no longer keep it then it goes to the pound. Or sometimes someone finds a pet and keeps it but it gets out at their place so even weeks or months later he could end up at the pound. If you do get your pet back please have him micro chipped so if he is ever lost again you won't have to go though all this again. Also keep a tag on him or just write your phone number on his collar with ink that won't wash off. It's your pets only way of telling someone who finds him how to get home.
If you find a pet don't just think it's a stray no one wants. Read Scooby's story above! Someone may be very sad it is gone. Even if it is very thin. Don't just think it has not been cared for and the owner should not get him back because of that. It only takes a few days for a lost stray who has had no food to look thin. A dog who has been lost for a week can look starved in a week with no food. So if you find 1 or see 1 give him something to eat and put a ad in the paper or pennysaver for him. It's free for found pets. You should also call the shelters and report a found dog that you wish to keep at your home if you can. They can tell you right then if anyone has reported a pet like that missing even many months before so you might not even have to keep the pet long at all. You should also take it in to a vet or animal control place and have it scanned for a micro chip. You can also contact us if you have lost or found a pet because may people do contact us about lost and found pets and we may be able to help him get back home. If his owner can not be found after doing what is listed above and you would like help in finding him a new home you can also contact us. We can only take in pets after you have tried to find their owner and done what is listed above and only if we have room. If you are willing to foster care the pet while we find him a new home we can always help you. In that case please email us a few pictures of the pet and everything you know about it plus your phone number and name and we can put him on our website after we check him out to see if he is an adoptable pet or can be adoptable after a little bit of care.
Help With Finding A New Home For Your Pet
Before you give up your pet please check out this web site: http://www.wooftags.com/rent.html These days the major reason pets are turned in to shelters is due to people who have lost their homes and who have to move into a rented place. This web site offers some great tips on how to keep your pet. Your pet is part of your family and should move with you. You would not give up your kids. Your pet loves you and needs you too. Please don't turn you back on them unless there is no other way!
If you have a pet that you need to find a new home for, we may be able to help you. Please contact us well a head of the time the pet must be gone by. Like most other rescue groups, we are usually full and we usually have a short waiting list for pets for us to take in. It is always better for the pet if you can foster care the pet while we try to find him a new home. If you would like to do this, you should email us 1 to 3 pictures of the pet and any info that would be useful in placing him in a home that he would be happy in and in a home that would also be happy with him. It's hard on pets when they are returned so let us know what your pet likes and dislikes as well as his age and how much training he has had and any issues he might have plus if he is ok with other pets such as dogs or cats or horses, rabbits, etc Is the pet good with children? or afraid of men? Let us know how much time you have until the pet has to be gone. We will put the pet on our website and if the pet has already been spay or neutered and is current with his vaccines then you can bring him to PetsMart on the days we are there which is usually on Friday and Sat. afternoons and evenings. If we don't have room for him yet at our place, then you would have to pick him up when we leave there. We would also have him on the list of pets to bring in. In most cases we can take in small dogs and puppies within a very short time because they are adopted out usually fast. Large dogs do not get adopted out as fast so we have them longer so there is a longer wait for us to have room. We have a book that people sometimes sign and list a certain type of pet they are looking for so sometimes pets can be placed right away but please don't wait till the last minute or we might not be able to help you!
You can also visit us on My Space and read more stories about rescued dogs. Check it out ! http://www.myspace.com/cahelpingpaws
Our New Place
Our new place is shaping up nicely. Dogs will be kept in large yards instead of kennels which we feel will be much better for them. Dogs will be grouped with other dogs that like each other. Our new cattery has turned out very nice. It has lots of areas to climb and sit and look out the lattice panels surrounded by tall pine trees.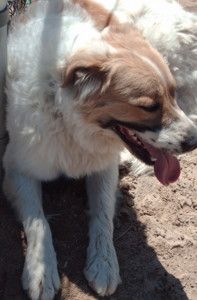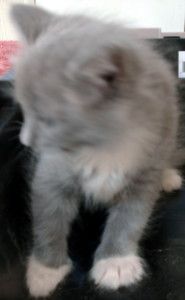 We add to our Home page often so be sure to refresh the web page so you don't miss any of the updates.
Please visit other pet rescue web sites such as:
www.SoundsofSilentSpirits.petfinder.org and www.localrescue.org for a listing of many pets available in our area. You can also visit the LA web site for listing of rescues everywhere at http://www.at-la.com/@la-pets.htm#welfare
Listings For Other Rescues
Sometimes we list pets under our adorable adoptables that are available for adoption with other people or other rescue groups. When an animal is available for adoption by someone else, we will list their phone number in the info about the pet. Helping Paws does not have those animals and we have no control over their adoptions. We are just listing the pets to help get these pets in a forever home. Helping Paws has always believed rescues should work together. If someone comes to us looking for a type of pet that we don't have at the time and we know another rescue has that type of pet we always pass the information along with the phone number of the group they can contact for their new pet. There are lots of thoughtful people out there that end up with a pet they have rescued but can not keep. Many of these people pay for the spay or neuter and vaccines and then ask for help in placing the pet. We all have the same goal and that is saving lives 1 pet at a time and we are always willing to do what we can to help others in saving an animals life! We all get by with a little help from our friends!
People In Animal Rescue Have The Same Goal
Most of us in animal rescue have the same goal and that is for Mankind to really be kind to man's best friend the dog and all animals! We see cases that don't even shock us anymore but the one thing that we can not except is people that let pets have litters of puppies or kittens over and over again while so many die every day in the pounds just because there are not enough homes for them all. Even if you find homes for every puppy or kitten in your litter, you still have taken a life because the homes you place your puppies or kittens in may have adopted a homeless pet from the shelter but instead one more life must sadly end in the pound. Please do your part and help put the killing of adoptable pets to an end. Please spay or neuter your pets and if you are looking for a new pet to add to your home, please visit the animal shelters and rescue groups. One of us has the pet you have been looking for just waiting for a home like yours!
DON'T QUIT
When things go wrong, as they sometimes will,
When the road you're trudging seems all up hill,
When the funds are low and the debts are high,
And you want to smile, but you have to sigh,
When care is pressing you down a bit,
Rest if you must---but don't you quit!

Life is queer with its twists and turns,
As every one of us sometimes learns,
And many a failure turns about,,
When he might have won had he stuck it out;,
Don't give up, though the pace seems slow-,
You might succeed with another blow.

Often the goal is nearer than,
It seems to a faint and faltering man,
Often the struggler has given up,
When he might have captured the victor's cup,
And he learned too late, when the night slipped down,
How close he was to the golden crown.

Success is failure turned inside out,
The silver tint of the clouds of doubt-,
And you never can tell how close you are;
It may be near when it seems afar,
So stick to the fight when you're hardest hit,
It's when things seem worst that you MUST NOT quit!
I Rescued a Human Today
Her eyes met mine as she walked down the corridor peering apprehensively into the kennels.
 I felt her need instantly and knew I had to help her.
 I wagged my tail, not too exuberantly, so she wouldn't be afraid.
 As she stopped at my kennel I blocked her view from a little accident I 
 had in the back of my cage. 
I didn't want her to know that I hadn't been walked today.
Sometimes the shelter keepers get too busy and I didn't want her to
 think poorly of them.
 As she read my kennel card I hoped that she wouldn't feel sad about my  past.
 I only have the future to look forward to and want to make a difference in
 someone's life.
 She got down on her knees and made little kissy sounds at me.
 I shoved my shoulder and side of my head up against the bars to 
 comfort her.
 Gentle fingertips caressed my neck; she was desperate for companionship.
 A tear fell down her cheek and I raised my paw to assure her that all 
 would be well.
 Soon my kennel door opened and her smile was so bright that I instantly jumped into her arms.
 I would promise to keep her safe.
 I would promise to always be by her side.
 I would promise to do everything I could to see that radiant smile and
 sparkle in her eyes.
 I was so fortunate that she came down my corridor.
 So many more are out there who haven't walked the corridors.
 So many more to be saved.
 At least I could save one.
 I rescued a human today.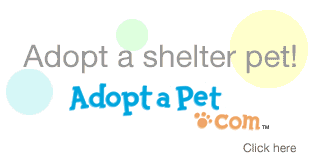 Spay/Neuter Facts:
1. IN SEVEN YEARS, ONE FEMALE CAT AND HER OFFSPRING CAN THEORETICALLY PRODUCE 420,000 CATS. 2. IN SIX YEARS, ONE FEMALE DOG AND HER OFFSPRING CAN THEORETICALLY PRODUCE 67,000 DOGS. 3. MILLIONS OF TAX PAYER DOLLARS ARE SPENT EACH YEAR TO CONTROL THE PET OVERPOPULATION PROBLEM IN THE U.S. AN ESTIMATED $50 MILLION IS SPENT IN THE STATE OF CALIFORNIA ALONE. 4. SPAYING/NEUTERING GREATLY INCREASES THE LIFE SPAN OF YOUR PET. 5. SPAYED/NEUTERED PETS ARE MUCH LESS LIKELY TO DEVELOPED CANCER. 6. SPAYED/NEUTERED PETS HAVE FEWER VET BILLS. 7. SPAYED/NEUTERED PETS HAVE LESS BEHAVIORAL PROBLEMS SUCH AS DIGGING, FIGHTING AND ESCAPING. 8. APPROXIMATELY 80% OF ALL PETS HIT BY CARS ARE UN-NEUTERED MALES.
Did You Know?...:
1. SCIENCE HAS PROVEN THAT PEOPLE WHO OWN PETS EXPERIENCE LESS STRESS, HAVE FEWER HEART ATTACKS AND LIVE LONGER! 2. IN THE US, APPROXIMATELY 1 MILLION DOGS HAVE BEEN NAMED AS THE PRIMARY BENEFICIARY OF THEIR OWNERíS WILLS! 3. 58% OF PETS ARE INCLUDED IN FAMILY AND HOLIDAY PORTRAITS, WHILE 70% OF OWNERS SIGN THEIR PETíS NAME ON GREETING CARDS! 4. 40% OF DOG AND CAT OWNERS ADMIT TO CARRYING A PICTURE OF THEIR PET WITH THEM! 5. MORE MONEY IS SPENT BY AMERICA ON DOG FOOD THAN BABY FOOD EVERY YEAR! 6. 50% OF CAT OWNERS HAVE MORE THAN ONE CAT. 7. BETWEEN 8 AND 12 MILLION DOGS AND CATS ARE SURRENDERED TO SHELTERS EACH YEAR. 8. 95% OF CAT OWNERS ADMIT THEY TALK TO THEIR CATS. 9. CATS HAVE MORE THAN ONE HUNDRED VOCAL SOUND, WHILE DOGS HAVE ABOUT TEN. 10. CATS, NOT DOGS, ARE THE MOST COMMON PET IN AMERICA. 11. EVERY HOUR 55,000 PETS ARE BORN IN THE U.S.
Cat Facts:
1. CATS ARE THE ONLY FOUR-FOOTED ANIMAL, WITH THE EXCEPTION OF CAMELS AND GIRAFFES, THAT WALK BY MOVING THEIR FRONT AND HIND LEGS FIRST ON ONE SIDE AND THEN THE OTHER 2. WITH POWERFUL LEG MUSCLES, ESPECIALLY IN THEIR HIND LEGS, THE DOMESTIC CAT HAS BEEN KNOWN TO REACH RUNNING SPEEDS OF UP TO TWENTY-FIVE MILES AN HOUR. A FRIGHTENED CAT CAN RUN UP TO 30 MPH -- WHILE THE FASTEST HUMAN CAN ONLY RUN UP TO 27.89 MPH 3. CATS ARE ONE OF THE OLDEST MAMMALS ON THE EARTH. AFRICAN WILD CATS WERE FOUND IN FOSSIL FORM AS EARLY AS THIRTY EIGHT MILLION YEARS AGO. 4. CATS WERE BROUGHT TO THE AMERICAS BY COLONISTS TO PROTECT THEIR GRANARIES AND AS PETS. AS SETTLERS MOVED INLAND, CATS ACCOMPANIED THEM. 5. CATS ARE NOT THE ONLY ANIMALS THAT GET HAIRBALLS, COWS ALSO GET THEM. 6. THE WHISKERS OF A CAT ARE EXTREMELY SENSITIVE WHICH ALLOWS THEM TO MANEUVER WELL IN THE DARK AND MEASURE DISTANCE 7. ON THE AVERAGE, CATS HAVE 24 WHISKERS, 12 ON EACH SIDE. 8. THERE ARE ABOUT 30 TEETH IN A CATíS MOUTH. 9. BOTH FEMALE AND MALE CATS REACH PUBERTY AT APPROXIMATELY SIX MONTHS OF AGE. 10. SIR ISAAC NEWTON INVENTED THE CAT DOOR. 11. CATS PURR AT ABOUT 26 CYCLES PER SECOND, THE SAME FREQUENCY AS AN IDLING DIESEL ENGINE. 12. CATS ARE CAPABLE OF ABOUT 100 DIFFERENT VOCALIZATIONS, COMPARED TO ABOUT 10 FOR DOGS. 13. CATS GET MORE SLEEP THAN VIRTUALLY ANY OTHER ANIMAL, AVERAGING AROUND 16 HOURS A DAY! 14. CATS GET ACNE. 15. CATS HAVE A SENSE OF SMELL THAT IS FOURTEEN TIMES STRONGER THAN A HUMANíS. 16. CATS ARE CAPABLE OF JUMPING 5-7 TIMES AS HIGH AS THEY ARE TALL. 17. NEARLY 30% OF A CATíS LIFE IS SPENT GROOMING ITSELF. 18. CATS CAN SEE BETTER THAN DOGS. 19. AN AILUROPHILE IS A PERSON WHO LIKES CATS. 20. A CAT HAS 230 BONES IN ITS BODY; A HUMAN ONLY HAS 206 BONES.
Dog Facts:
1. DOGS HAVE BEEN DOMESTICATED FOR 10,000 YEARS. 2. A DOG'S HEART BEATS BETWEEN 70 AND 120 TIMES A MINUTE, COMPARED WITH A HUMAN HEART WHICH BEATS 70 TO 80 TIMES A MINUTE. 3. THERE ARE OVER 200 DIFFERENT BREEDS OF DOG. 4. CANIS FAMILIARIS IS THE LATIN NAME FOR DOG. 5. THERE IS A DOGGY DISCO HELD IN ITALY EVERY YEAR WHERE OWNERS CAN DANCE WITH THEIR DOGS. 6. DOGS' INTERNAL CLOCKS ARE REALLY MAGNIFICENT. THEY KNOW WHEN IT'S TIME FOR YOU TO ARRIVE HOME, FEED THEM, OR GO TO BED IF YOU ARE NORMALLY ON A SCHEDULE. 7. EVERY MINUTE, DOGS TAKE TEN TO THIRTY BREATHS. 8. THERE ARE 42 TEETH IN A DOGíS MOUTH. 9. THE DOG WITH THE LARGEST EARS IN THE WORLD IS A BASSET HOUND NAMED MR. JEFFRIES. THE DOG'S EARS ARE 11.5 INCHES LONGS, AND ARE INSURED FOR $47,800 10. THE OLDEST KNOWN DOG LIVED TO BE 29 11. THE BASENJI IS THE ONLY BARKLESS DOG IN THE WORLD. 12. THE ONLY MAMMALS WITH PROSTATES ARE HUMANS AND DOGS. 13. VISUALLY, DOGS FIRST DISTINGUISH OBJECTS BY MOVEMENT, BRIGHTNESS AND THEN BY SHAPE. 14. DOGS ARE CAPABLE OF LOCATING THE SOURSE OF A SOUND IN 6/100THS OF A SECOND BY USING THEIR SWIVELING EARS LIKE RADAR DISHES. 15. DOGS ARE MENTIONED 14 TIMES IN THE BIBLE. 16. CONTRARY TO POPULAR BELIEF, DOGS DO NOT SWEAT BY SALIVATING. THEY SWEAT THROUGH THE PADS OF THEIR FEET.
Although we are a no kill shelter, many shelters are not just because they don't have enough room for them all. Below is a link to the Dogs in Danger website. Please visit that site. There may be a dog listed there that is just like the pet you have been searching for. Even when you adopt 1 of our dogs, it helps the dogs in danger because it frees up some space so we can save 1 of those dogs or a dog in danger at another impound shelter.


Email: xhelpingpawsx@aol.com