HillHaven Animal Sanctuary Rescue Inc
---
Our Featured Pet...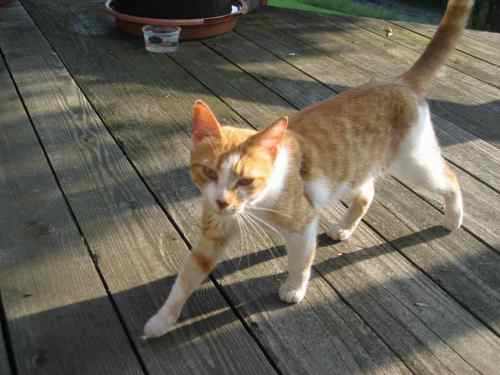 Meet Trina, our featured pet. Trina has been spayed and is up to date with her shots, and has put on a little weight, and is ready to go to her fur-ever home. Trina LOVES to play, and will play with anything~her favorite toy s right now are bottle caps and pencils. She never turns down a new catnip mouse either! If you would like to adopt Trina, please contact us & we will get an application emailed to you.


News
Great News!!! At long, long last, construction began on Friday, August 14, 2009 on our new dog shelter! We are so excited, and the dogs can't wait to move into their new home! We have had many set backs, and we still would not be able to actually complete this project if it was not for the help of A+ Home Improvements, Inc. of Clarksburg. They have been absolutely wonderful, and our new building is going up really quickly. They completed the building on August 28th. We hope to have pictures posted soon, keep checking back! If you would like to contribute to the cost of the construction, please contact us.

A special thanks goes out to Dave, John, Ed, Mark & Chuck of A+ Home Improvements~you guys are simply the best!!! A special thanks also goes out to Mark of Bridgeport Sherwin Williams Store, who donated the stain for our building. It turned out great!!

UPDATE: We have the interior wall built, and most of the drywall is up. The electrical work is done & is ready for inspection, so hopefully we will have the electric turned on soon, so we can work at night. We are still in need of fencing sections for the small dog yard, flooring, and help with the excavation & installation of the water lines. We are excited about the progress we have made, and can't wait until everything is completed!br>
More great news for our animals!! We were awarded the "Power to the Paws" Honda emergency generator grant! Thanks to Honda & Petfinder, when the power goes out this winter (as it always does), our animals will still be safe & warm! We also were awarded a grant from the Pedigree Dogs Rule Foundation~we can't thank you enough for believing in our work!


Would you like to help us help the animals? We always need the following items:

~Scoopable cat litter, any brand

~Bach Rescue Remedy

~Large bales of pine shavings for the rabbits, hamsters & guinea pigs
~Male cat diapers, size Medium for our special needs cat Cheese
~Frontline Plus, xl dog

~Bird food (any brand for finches, conure/lovebird, large parrot) and toys (our guys love to play & go thru a lot of toys!)
~Sam's Club or Walmart gift cards to purchase cleaning supplies, paper towels and garbage bags
~Fresh carrots, spinach, garden greens for the rabbits & guinea pigs
~Volunteers to help design an ebay store

Our dogs love to sleep on Kuranda Dog beds, but we don't have enough for everyone. If you would like to donate a bed at a special wholesale price for a another dog to sleep in comfort, please donate a Kuranda dog bed.

Can you help us with our vet bill? Recently, we have had three animals into the vet, and our bill for these three animals alone was almost $1100.00. Rajah the senior shepard mix had to have a tumor removed from his rear leg, and two FIV cats had to have dentals done, and several teeth removed. They are all doing fine, and have recovered quite well from their day at the vet hospital. We, however, are still reeling from the bill, and can use some help!





Do you have pets, and worry about air quality in home? We recently began working with Austin Air Company due to our concerns about the air our rescued animals and birds were breathing. They shipped us two Pet Units to use in our bird areas, and there was a HUGE difference in not only the health of the birds, but in the cats and dogs as well. These units also help control odors. We now swear by them~they are a must for pet owners! We are now distributors for Austin Air, and proceeds from the sale of each unit, filters and accessories will benefit the animals here at the sanctuary. Please contact us for more information and a price list.


Who We Are
We are a small, nonprofit 501(c)3 animal sanctuary and rescue group the north central WV area. This organization formed in 2001 to help the feral cat popluation and special needs animals in our area. Our main focus now is on sanctuary care for our seniors and special needs animals, and promoting spaying and neutering. Some of our sanctuary animals are blind, like Frack the cat, who does a remarkable job getting around, and really lives life to the fullest, and Drew and Pumpkin, our cats that have tested positive for the FIV virus. These wonderful cats are doing well here with us, and are very happy to be here rather than in the pound, where their illness would have been an automatic death senctence. Rounding out the mix are a blend of ferrets, rabbits, hamsters, guinea pigs and birds. Hillhaven is a no-kill sanctuary, and our animals will have a safe haven with us for their lifetime. All donations are tax exempt.


Come visit us at our new virtual home! www.hillhavenpets.org

Many thanks to Rob & Cecelia Walker for designing and hosting the site for us! Dont forget to visit them at www.rlwalker.net


Adopting a friend
We encourage you to check your local animal control to adopt a pet that is on "death row" first since our focus is mainly on sanctuary care, and the animals here are not in danger of being killed. We have a very strict adoption policy, which is outlined below.

Our animals are ONLY placed into well screened homes. We require our adoption application be completed, and we will schedule a home visit, and will do reference and vet checks. Our adoption fee is a very modest seventy five dollars for a cat, one hundred dollars for a ferret,and one hundred twenty five dollars for a dog.

WE DO NOT ADOPT OUT ANY ANIMAL THAT HAS NOT BEEN SPAYED OR NEUTERED,AND WE WILL NOT PLACE ANY ANIMAL WITHOUT DOING THE REFERENCE CHECKS LISTED ABOVE. NO EXCEPTIONS!

We reserve the right to reject any application if we feel it is not in the best interest of the animal. Please email us and a adoption application will be mailed to you.

WE ARE UNABLE TO ACCEPT ANY NEW ANIMALS AT THIS TIME.


Come Visit Us!
We are a private sanctuary, and do not operate as a traditional shelter. Due to the many animals we have had dumped on our doorstep, sanctuary visits are now done by invatition, and only AFTER your application has been completed and approved. Please allow 24-48 hours for your emails to be returned.

---
HillHaven Animal Sanctuary Rescue Inc
PO Box 254

Anmoore, WV 26323
Phone: EMAIL ONLY PLEASE

Email: hillhavenpets@yahoo.com
Click here for a list of pets at this shelter