Meet our Star......Sofie!

SOFIE!
Sofie is our star!!! She has been through a ton of medical issues from mastitis to heartworm treatment but has shown throughout what a true star she is!!! Sofie is now completely healthy and thriving well in her foster home. Sofie has even completed her beginning behavior training class!!! Just ask her foster mom what a star she is!!
HERE ARE 15 REASONS TO GIVE ALL DOGS, PUPPIES AS WELL AS ADULTS, DA2PP (DISTEMPER & PARVO) VACCINATIONS!
#1 THELMA, #2 BELLE, #3 CANDY, #4 SUNNIE, #5 TROY,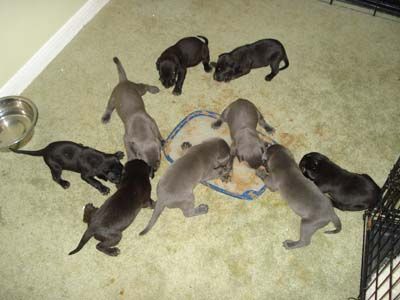 #6 TINA
#7 SIX , #8 CASEY, #9 DEXTER, #10 NOAH, #11 ELVIS, #12 CLAIRE, #13 SAMSON, #14 MICAH,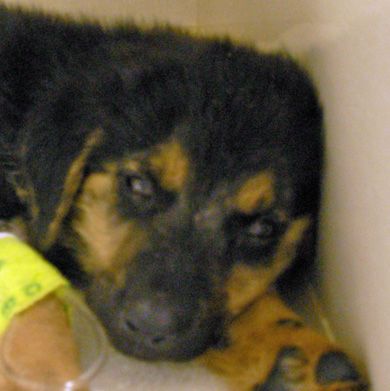 #15 PUP 4
DA2PP vaccinations for puppies should begin between 6 - 8 weeks of age. Your veterinarian will give them in three seperate series, three to four weeks apart; 6-8 weeks of age, 10-12 weeks of age, and 14-16 weeks of age. All Adult dogs should be vaccinated yearly or every 3 years as determined by your veterinarian.
The pictures above are of 14 unlucky puppies (9 are a whole entire healthy litter) and 1 adult dog who were born into this world without proper veterinarian care for the mother dog or them. These are the faces of Distemper and Parvo which are hideous diseases of which there is not a cure. The survival rate of Distemper virus is under 25% and those that do survive are not always without some lingering effects of the disease. Distemper is not just a puppy disease. It can affect all dogs no matter their age. Parvo is a puppy disease. The survival rate of Parvo virus is 50/50. With proper vaccinations to the mother of these puppies, they would have been passed the mother's immunity which lasts up to their 6th week of age. Again, with the series of DA2PP vaccinations properly administered by a veterinarian three to four weeks apart, all of the faces you see would still be with us today!
PLEASE KEEP YOUR DOGS VACCINATED AS DIRECTED BY YOUR VETERINARIAN!!
Want to give us a helping hand?

Join IGive and up to 26% of each purchase will be donated to our rescue organization.


CONSIDER FOSTERING A DOG FOR US!
So why foster? Because of the love in the eyes of an animal we have opened our homes and hearts to; because we can make a difference in just this one dog's life; because of the joy in seeing a dog once beaten and discouraged, now happily playing with it's friends; because dogs can teach us how to be better human beings. There is not enough thanks in the world for what foster families do! It is definitely worth it!Happily Ever After Dog Rescue is a no-kill rescue that fosters rescue dogs in our own homes. This means we can only save as many dogs as we have room in our foster homes for. That's where you can help. We desperately need loving foster families to care for our rescued dogs until we can find great, forever homes for them. We provide all vet care as well as food, a crate, toys, collar, leash, monthly heartworm prevention as well as flea control for each of our foster dogs. Fostering a homeless animal is not always easy but always rewarding! Sure it is hard to say goodbye when one of our foster dogs finds the perfect home, but it is such a wonderful feeling to know that you helped save that dog's life and that you made the difference by nurturing them, taking care of them, and giving them the love that they deserve. The smiles definitely outweigh the tears. Consider becoming a foster for HEADR, we guarantee it is worth it!! Please contact us today for more information via email at happilyeverafter4dogs@yahoo.com.
We are also looking for dog-loving volunteers who would like to help us at our adoption events. You can help walk a dog, sit with the dog, and talk with potential adoptive families. Drop us a line by email at happilyeverafter4dogs@yahoo.com. We would love to hear from you.

---
Happily Ever After Dog Rescue
Houston, TX 77062
Email: happilyeverafter4dogs@yahoo.com


Click here for a list of pets at this shelter

---

[Home] [Information] [Shelters] [Search]